OR Tambo is Southern Africa's air transport hub and is one of the biggest airports on the continent. It lies 30km east of Sandton (about 45minutes drive). More than 18 million people pass through each year, and the airport is spacious, modern and easy to get around with plenty of shops, cafes and restaurants.

Passengers are served by two terminals - A and B International flights depart from Terminal A. Check in for domestic and South African Airways (SAA) flights can be found in Terminal B. The airport has a reputation for baggage handlers rifling through luggage, so make sure your bags are safely locked or wrapped before you check them in. We recommend giving yourself up to three hours if you are taking an international as the queues at security can be long - especially in the evenings when most trans-continental flights depart.

After you've passed through security shopping and eating opportunities abound, as do luxury lounges and of course there's the Big Five Duty Free store.  For real-time flight information, text your flight number to 35007. Pay very close attention to what is happening on the information boards as announcements are no longer made after security and bear in mind that boards are known to update slowly so make sure you have left plenty of time to get to your gate. We have almost missed flights when boards have been slow to update and the gate has turned out to be further away than anticipated!
Getting to/from O.R. Tambo Airport
Gautrain
Catch the Gautrain rapid rail from O.R. Tambo to Sandton in Johannesburg, where you can change to the north south Gautrain line which links to Rosebank and Park Station (City Centre) and north to Midrand and Pretoria. The journey takes 12 minutes. For trains to Pretoria or downtown Johannesburg, change at Sandton. Trains run from 05:30 until 20:30 at intervals of 15 to 30 mins.

Ride-hailing and taxi transfers
You will never have to wait long if you are ordering an Uber at the airport. Just be mindful of the pick-up instructions indicated on your app as the airport arrival terminals are large and it can be confusing. If you don't want to get an Uber you'll find there are loads of taxi touts at the airport, but only one official taxi company Ortiata. Follow the signs in the airport to find the official taxi booking office.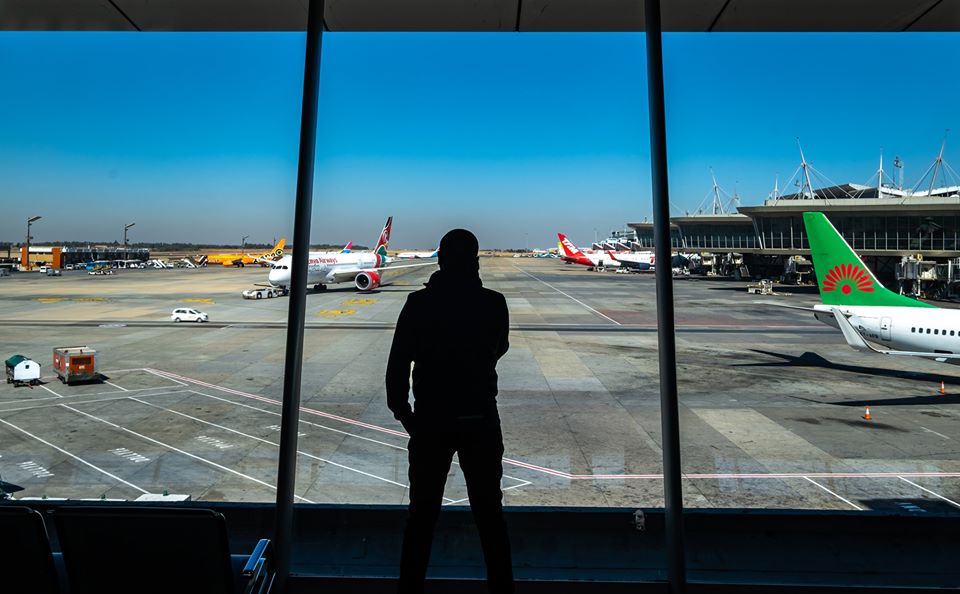 Covid-19 airport safety protocols
In the space of just a few months Covid-19 has changed absolutely everything about travel, here are some changes to the flying experience that you will find when using a South African airport.

Airport screening
All travellers will be screened before entering the terminal. If you have a high temperature you will not be allowed to access the airport. You must wear a mask at all times during your time in the terminal and on the flight, so make sure you have your mask with you before heading to the airport. There are also now vending machines at the airport selling masks should you need a spare. As with all other public buildings you will be asked to sanitise your hands at the entrance (there are also hand sanitising stations available throughout the airport).

Only passengers who are travelling (or people who work at the airport) are allowed to enter the building, so say goodbye to your friends before you join the queue to enter! At the entrance to the airport you will be asked to complete a questionnaire detailing your recent travel history. 

Check-in process
Passengers are encouraged to check-in online before reaching the airport to speed up the process and minimise contact at check-in counters. Alternatively, you can also make use of the self-service check-in machines in the terminal. All checked-in luggage must be wrapped and there are numerous baggage wrapping stations inside the terminal to do this (it's free!).

Security and boarding
Passengers need to scan their own boarding pass at all security checkpoints and at the boarding gate. You will need to remove your mask briefly to verify your ID at security and before boarding. It is important to continue to follow the standard rules for boarding and disembarking the plane. Be patient and help maintain the appropriate social distancing by only approaching the gate desk to board when your row numbers are called.

During the flight and after landing
You must wear your mask throughout the duration of the flight. Rather ominously the airport authorities say they may be required "to offload you" if you do not comply. No food or drinks will be served during domestic flights, although you will find a bottle of water on your seat to keep hydrated during the flight. There will also be no more inflight magazines provided.

When the plane lands don't be one of those annoying travellers who races to get out the moment you hit the tarmac! For one thing, you shouldn't leave your seat before the plane reaches the terminal anyway. Secondly rushing into the aisle to get out of the plane before everyone else makes social distancing impossible to manage. Similarly travellers are asked to not overcrowd the baggage collection carousel on arrival. Be patient!