Art, fashion and music are in the mix. There's a rooftop bar with some of the best views of Joburg and it's all happening in the city's most walkable neighbourhood. Radisson RED hotels globally are part of a cool and creative hotel brand designed to appeal to young and outgoing travellers, and Radisson RED Rosebank is a proud exponent of this flagship brand. 

This is the kind of place where your lunch counter on the terrace doubles as a ping pong table, where you will find a pinball machine in the conference room and a DJ set on the rooftop. Adding to Rosebank's art gallery DNA, Radisson RED Rosebank is a consciously art-focused hotel.

It's also super fresh and welcoming. You will be greeted as you enter the lobby by a young and willing front desk team, who were recruited via an auditions process, for their enthusiasm and outgoing nature. It's another breath of fresh air in a space that is often all too corporate in its approach.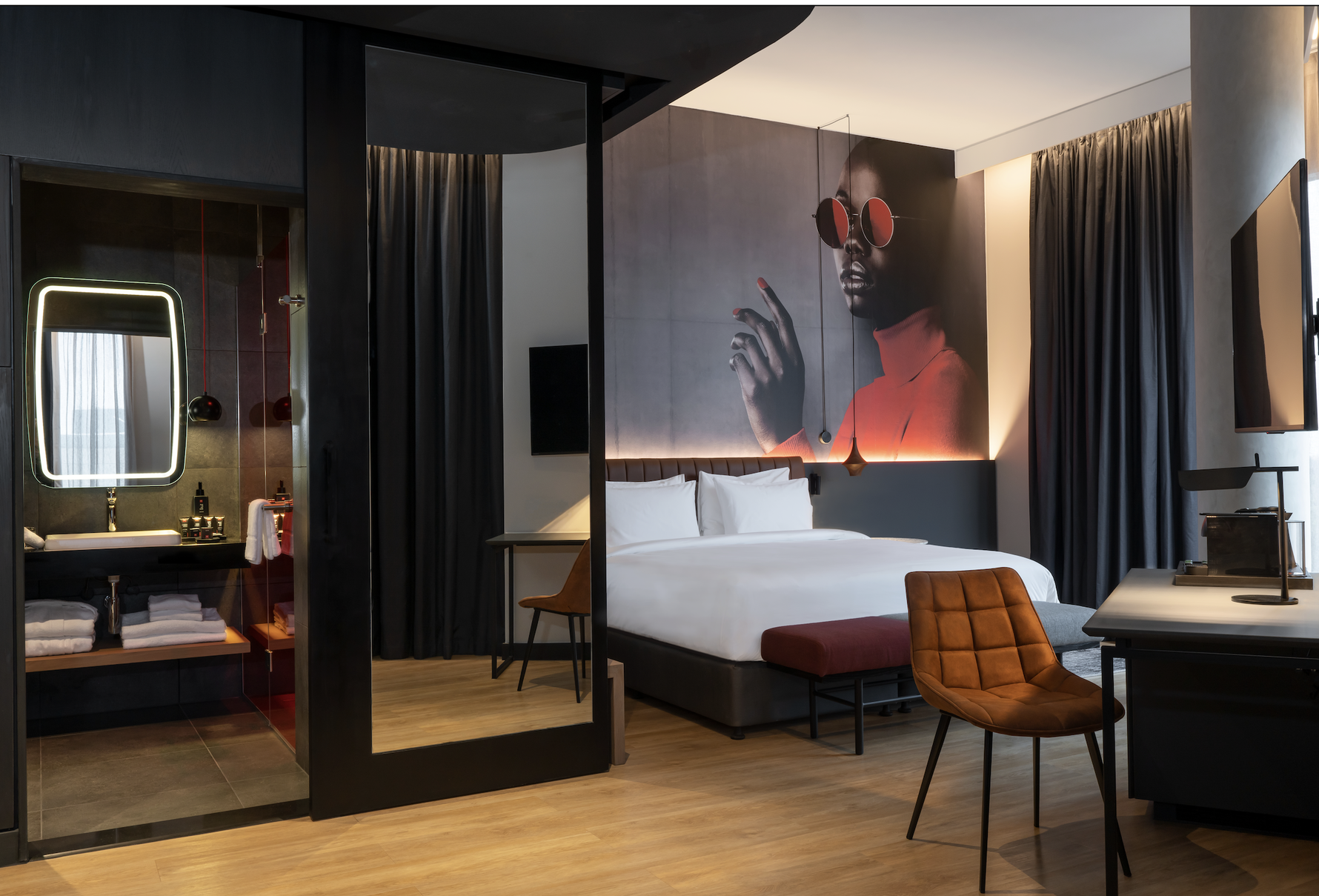 You will be struck by the Hollywood star lighting and the huge format bold contemporary photography by Zanele Muholi who was commissioned to create these new works (some of them several floors high) for the hotel. We love the proud support of local so evident in the furniture, lots of which comes from the studio of South African design icon Haldane Martin, the showstopping sculptures on the stairwell by Jake Michael Singer, and the support of local craft brand Moonbasket by the hotel.

In front of the hotel, marking its space in the Oxford Parks precinct, a huge red angel wing sculpture made from old domestic irons by local artist Usha Seejarim has already become a major selfie spot, and the hotel plans to host regular art-focused activations.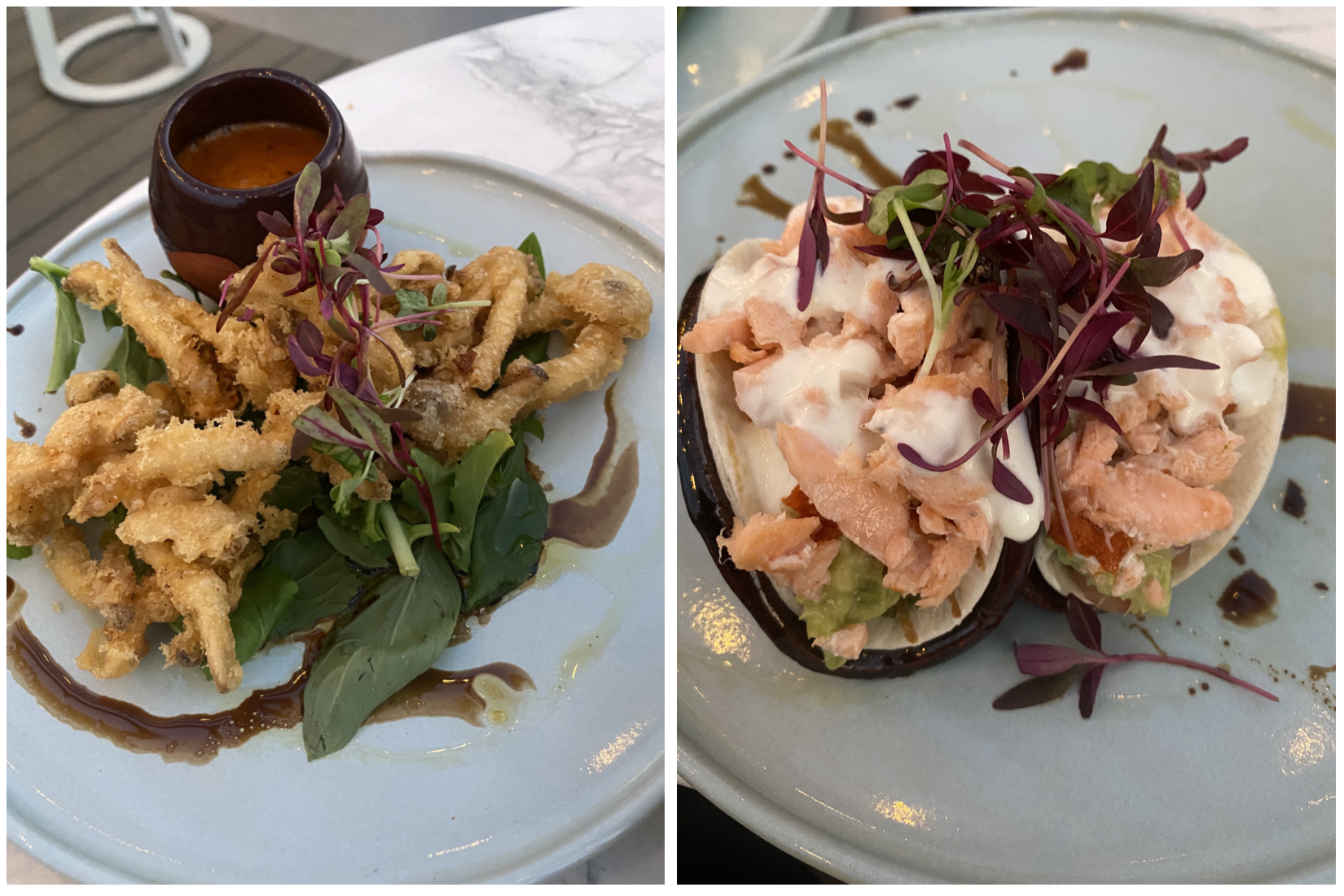 We spent a Saturday night there recently – we loved our suite with its view of Rosebank's manageable cityscape, but as soon as the luggage was installed in our room we made a beeline for the rooftop bar (the hotel is seven floors, with 222 rooms, so request a room high up). The rooftop bar is the kind of spot that you will find hard to leave. Saturday afternoon it's all good tunes and cocktails as you nestle into comfy seating at the poolside and watch the sun sink over the suburbs - you might even catch the evenings with bottomless bubbles! You can see the great tree expanse of Joburg, your view uninterrupted and stretching all the way to Northcliff ridge. It's quite exceptional. Make sure to pre-book, as we know Radisson RED Rooftop Bar & Terrace is very popular.

Food is from the OUIBar + KTCHN, devised by chef Genghis San. The flavours are fresh, focusing on casual dishes, from bao slider buns to tacos and small plates (try the stuffed olives), burgers and poke bowls. We feasted on these dishes with drinks and as the sun descended and the temperature shifted we ordered dinner to our room. We highly recommend the lamb chops.  

The rooms are contemporary in style, with fresh bursts of imagery on the wallpaper, lifting the mood instantly. You'll find the bathroom has some interesting features including very cool lighting ((in fact, the bathrooms in general in this hotel have become a media talking point for their vibrant appearance). And the double-glazed windows and block out blinds mean you'll be sleeping late in your comfy king-size bed with its crisp linen, despite being near one of Joburg's busiest thoroughfares, Oxford Road. Don't oversleep as breakfast is worth moseying downstairs for.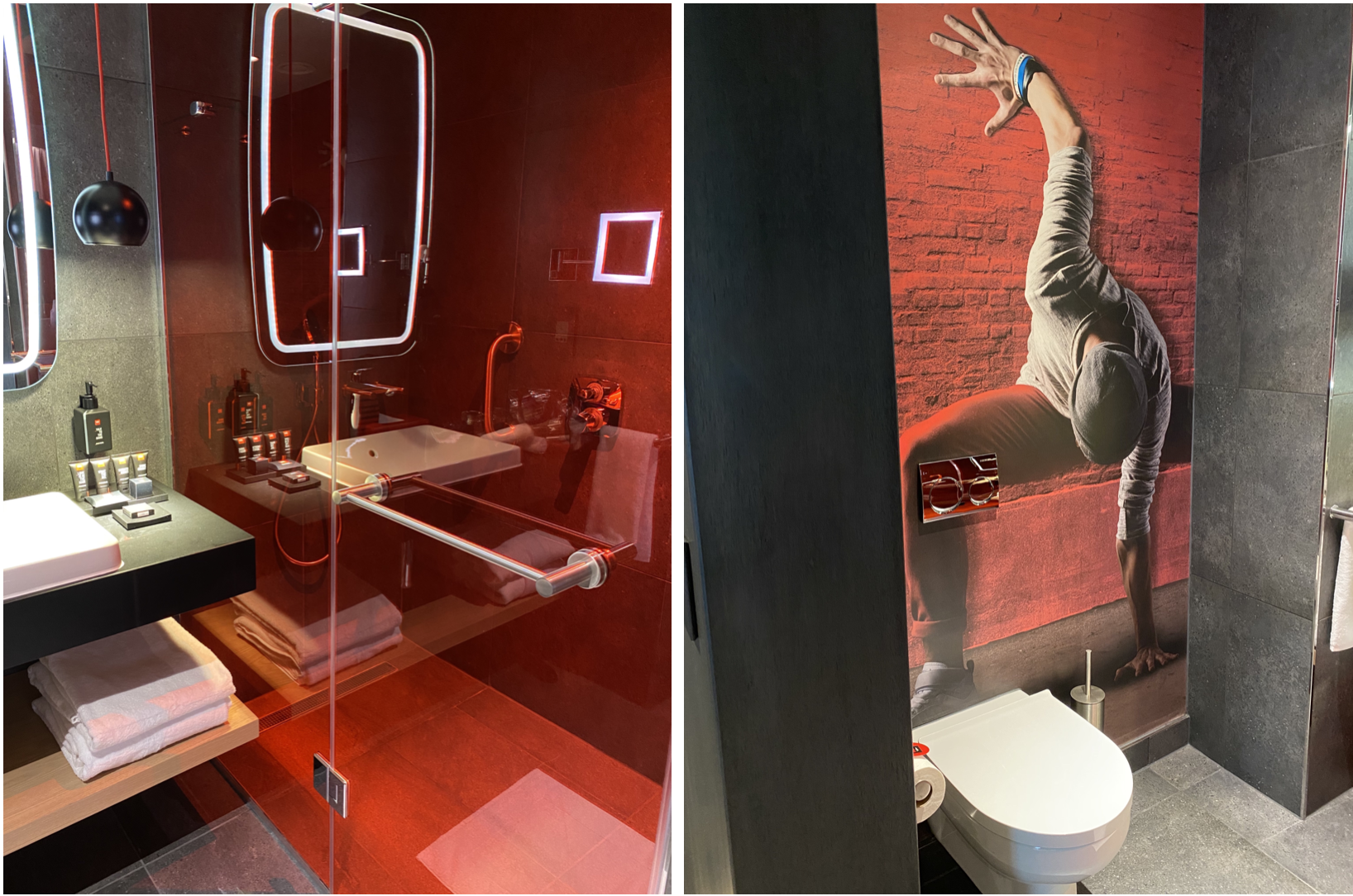 If you haven't taken a holiday for far too long, there is just no excuse. Even if it's a few minute's drive from home, we think a stay at Radisson RED Rosebank is just the thing to freshen up the senses. 

If you can only manage a short visit, it should include their Seven Colour Sunday lunch, and bottomless bubbles at the their rooftop bar.
GET THERE WITH GAUTRAIN
This attraction is within close walking distance of the Rosebank Gautrain Station. See our guide to the Gautrain here and download the Gautrain app for real-time updates on when the next Gautrain and Gautrain midi-bus is due. Visit www.gautrain.co.za for more information on the timetable and fares. #YourGautrainJourneyStartsHere