Resonance at Constitution Hill is a new public art installation by Jenny Nijenhuis in collaboration with Lizamore & Associates at the Women's Prison Atrium. The installation is open to the public to view over the month of August, Women's Month, to mark a significant time of change. 

Resonance is a site-specific installation consisting of a handmade white dress stitched with red thread. It contemplates the escalation in gender-based violence (GBV) in South Africa as it intensified during Covid-19 lockdowns. The installation is a reflection on the pain and anger informing expressions of masculinity with its underbelly of violence and brings awareness to what became known as the shadow pandemic during the time in which 90 countries were in hard lockdown in April 2020.

"Four billion of the world's 7.8 billion people sheltered at home to protect against Covid-19, while behind closed doors the increase in reported violence in South Africa, specifically sexual violence with an intimate partner, saw the growth of the shadow pandemic. A global estimate stated that projections showed that if violence increased by 20% during periods of lockdown, we could anticipate an additional 15 million cases of intimate partner violence in 2020 for an average lockdown duration of 3 months at that time. Lifeline SA chief executive Molefi Takalo said that the number of GBV distress calls shot up from 12 000 to almost 80 000 following the first week of lockdown.

This highlights the intensity with which negative emotions like anger or fear lead to aggression and violence which is most often inflicted on loved ones. Violence and gender-based violence are an epidemic in South Africa and Nijenhuis believes boys and men learn to behave violently through what they were taught as children, their social environment and how these things are processed. Violence is very likely caused by social conditioning which results in children becoming violent adults.

Bound and tied onsite, the installation explores interconnectedness and how we remain caught in cycles of violence. Jung establishes that we all fall into categories or archetypes. "Pre-set templates of how we will behave during our lifetime."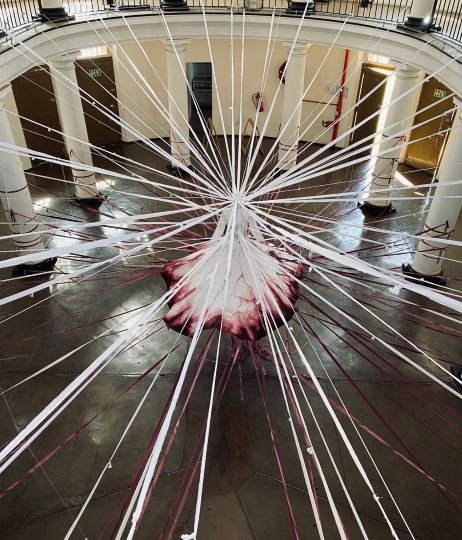 Nijenhuis explains that these pre-sets are considered to be unconscious in that we adopt them without knowing and mostly because of conditioning and circumstance – life as it were. 

The use of red thread in the installation creates a web of lines — traversing, connecting, binding, and entwining all of humanity to each other. Every story told and untold is not random, but a rich weaving of one to the other in the endless formation of scarlet embroidery which we weave ourselves. Nijenhuis says that at the core of all faith is an inherent belief in unconditional love, yet as children and as adults, we no longer know how to give, show or even how to allow ourselves to feel unconditional love. This is to the point where our current life experience is so fearful that violence, hate and disconnect form our reality. Even our religions come from this place.

Nijenhuis suggests that we have it within us to change the state of the world and human consciousness one person at a time through intentional resonance connections. Like an invisible scarlet thread.

The Women's prison on Constitution Hill as the site for this installation has been specifically chosen since women [were once] imprisoned here for protecting their rights to life, their families, to have liberty and equality. Now, as home to South Africa's Constitutional Court, the site plays a significant role in endorsing human rights and has a long history reflective of South Africa's past."

Resonance is on show until 28th of August 2022 at Constitution Hill, 11 Kotze Street, Braamfontein. Entry is free.