'Unhurried'. It's the perfect sum-up of the ethos of Monwana Game Lodge, a luxury lodge in the Big 5  Thornybush Game Reserve, in Greater Kruger Park. We started 2023 with a visit to this newly renovated lodge. Perhaps renovated is not the appropriate word for a two-year build that saw a former corporate lodge that was due for an upgrade, mostly razed to create something quite special –  a luxurious eight-suite lodge, with suites and villa accommodation. Monwana Lodge officially opened in late-2022.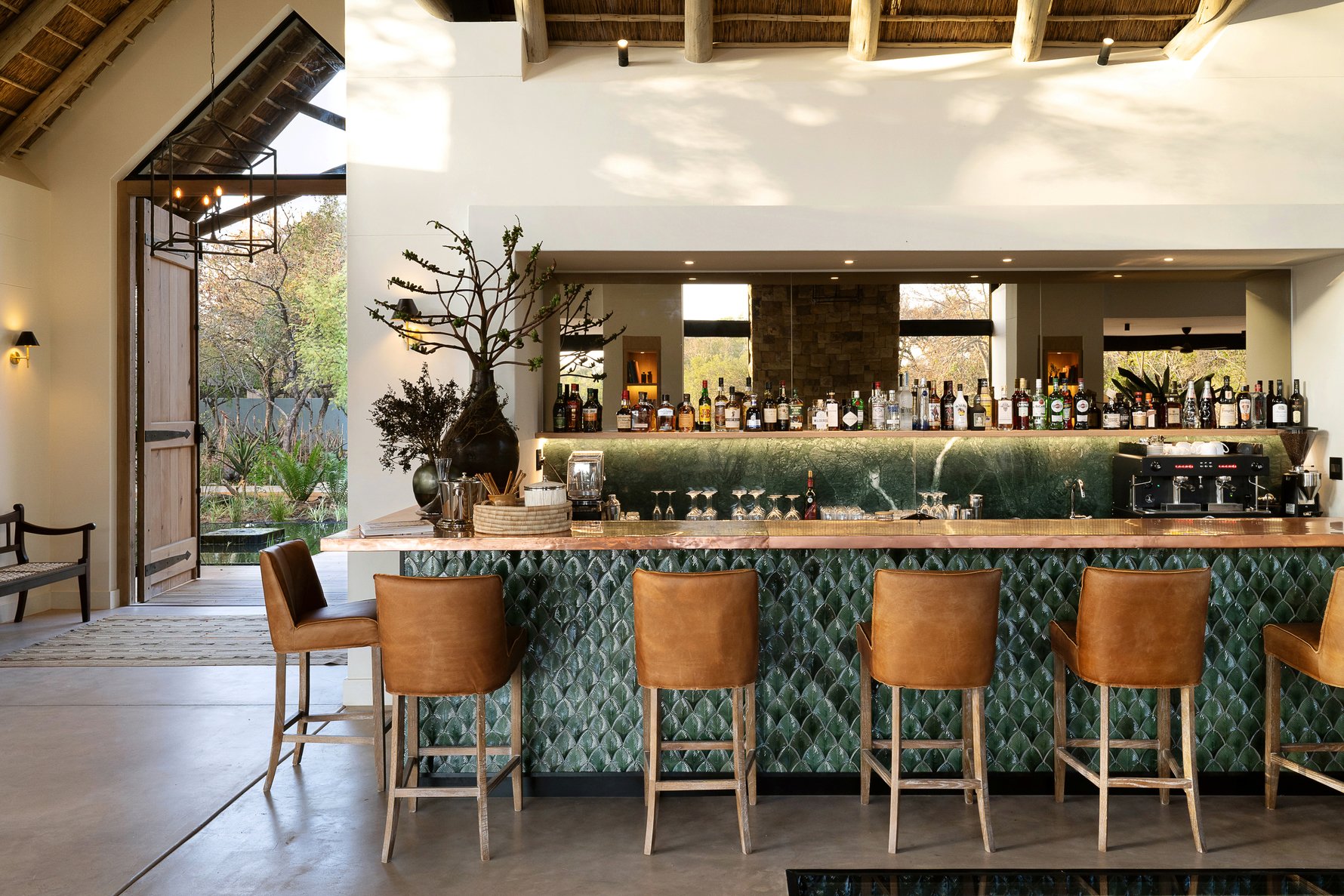 A watering hole commands pride of place with the entire lodge built to take advantage of the view of wildlife ambling to and from the waterside. As land was excavated for the new rooms, nothing was removed and instead the soil used to build up mounds of earth that were replanted and have created a natural cushioning across the property, giving you a sense of comfort and privacy, without detracting from the wild setting.

On the day we arrived we ate lunch on the deck, while watching a family of warthog, with two tiny youngsters in tow in a highly playful mood. This proximity to the wild, where fences are laid low beneath eye level to ensure uninterrupted views is its own form of luxury. You feel it in every part of the design. We enjoyed dinner on a high deck overlooking a dry river bed; in my suite, the bathtub was placed to offer a view of the watering hole and its activities. The lodge takes its name from the Monwana River, with Monwana in Sesotho translating to "finger" in English.  Water is a key thematic of the lodge – with it's 11 pools (including a staff pool), and a glorious glass-encased spa.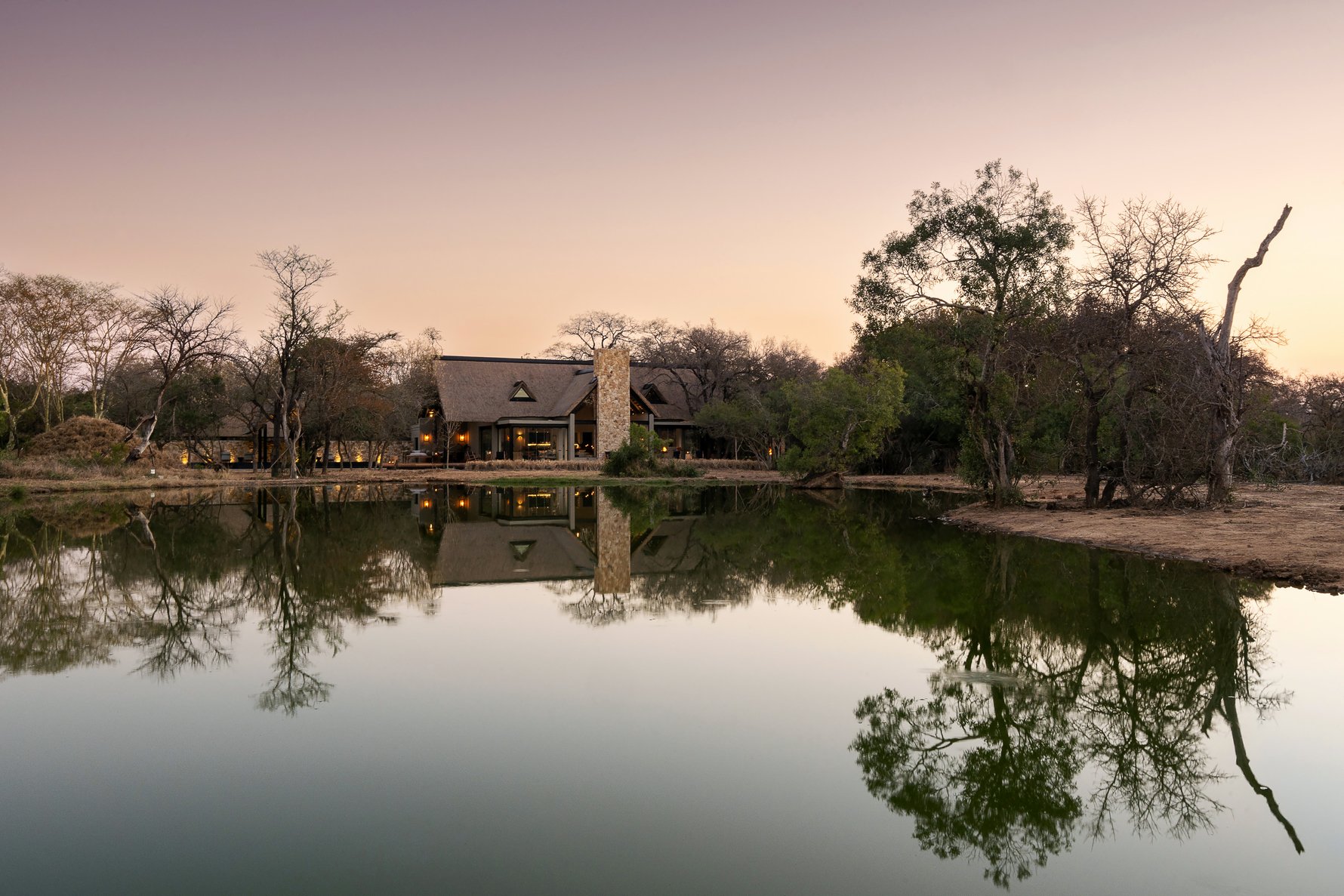 The team at Monwana have a zest for what they do – and perhaps that's catchy. On our first morning this intrepid traveller was awoken with a 05:30 loud tapping on the bathroom window (this after expressly asking not to join the early morning game drive), and stumbled out of bed to find an enormous, and I am told particularly rare Ground Hornbill insistently using its beak against the glass of the bathroom door. It then flew off a short distance away to join two others of its ilk, seemingly quite proud of its antics, the skulking figures appeared to be comparing notes as they tottered off in an easterly direction. 

"Coming home" is how the lodge has thought through it's guest welcome – and that sense of purpose around making someone feel at home, and creating intimacy with the space, is there in many tiny footprints. On arriving in my suite I found a handwritten note on the mirror that was an introduction from the housekeeper, the marker left there for any special requests I might have. Returning later that evening from a game drive to find my bedroom prepared for sleep, there was a new note wishing me sweet dreams.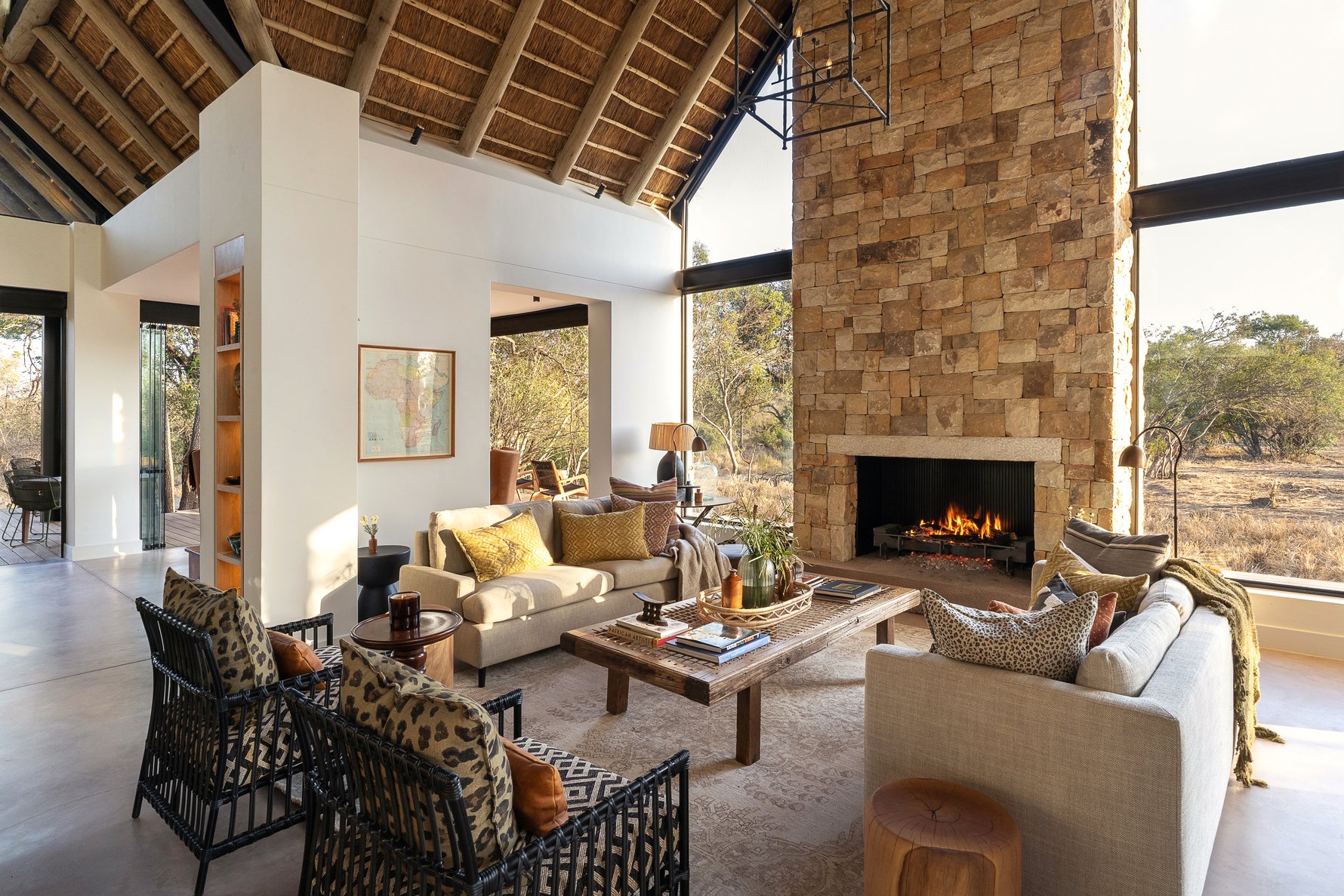 The game in this part of the park is bountiful and you'll feel utterly rewarded for your efforts. One evening ride yielded sightings of a hyena, two honey badgers crossing the road, and an exquisite young male leopard making his way across the plain. We stopped for a drink in an open clearing and were joined by an elephant who circled the safari vehicle, as we looked on in silence, spent some time surveying us as we gazed out in wonder and then moved off among the scrubby bush. When our group managed to speak again, we realised this was the closest encounter any of us, barring our expert guide and tracker, had ever come to an elephant while on foot. To be honest, having a whisky in hand at the time did help to steady a wildly beating pulse.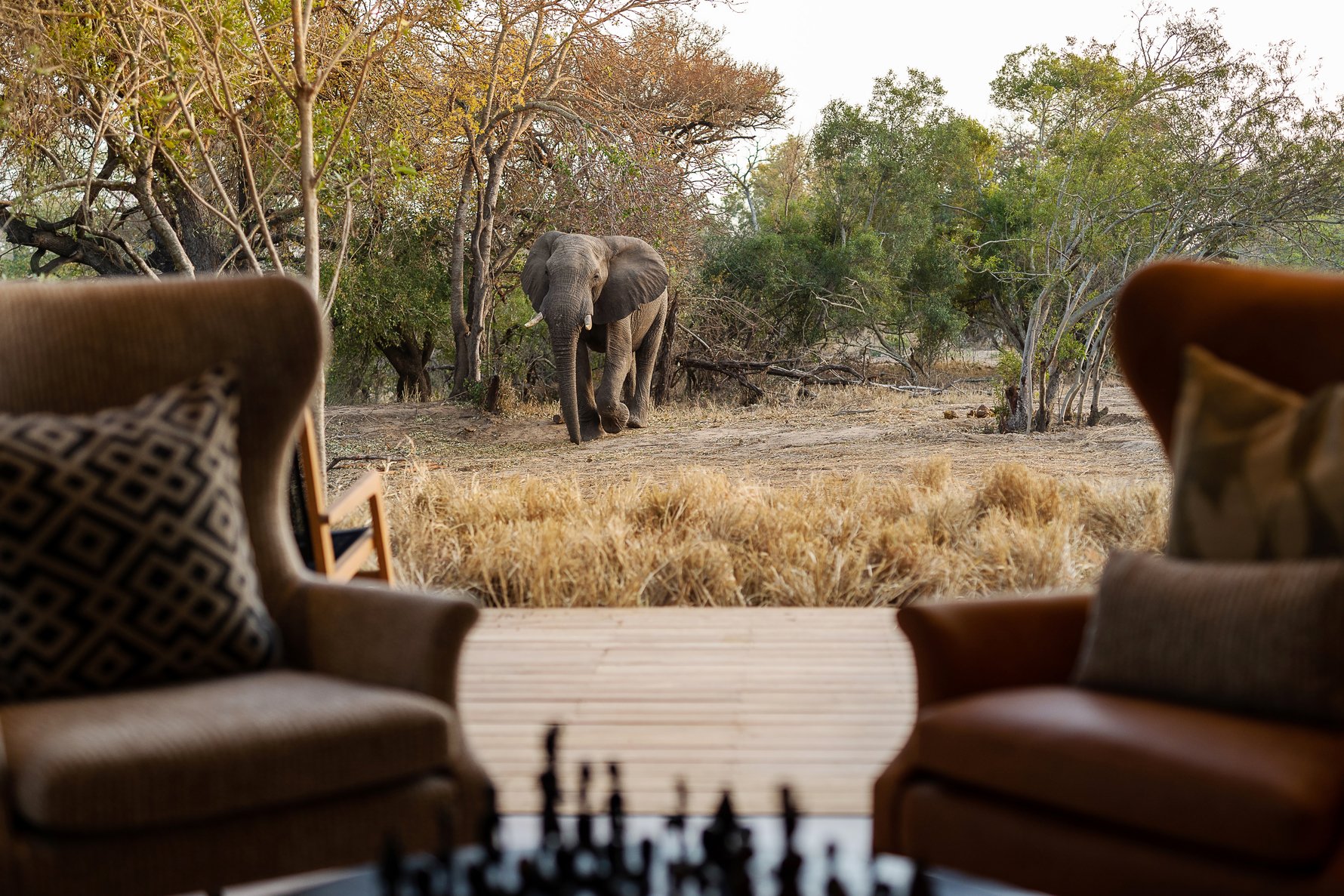 The lodge itself is beautifully appointed, harmoniously melding contemporary design elements with traditional lodge features. So there are thatched roofs cut through with large glass sections, creating incredibly light-filled spaces, clever nods to the outside so that you always feel part of the landscape, rather than an interloper on it. The deck of the main lounge area was cut around the remains of a leadwood tree, the lighting sculpted as a delicate black metal "cage" with distinctive local birds. In the main lodge reception area a glass section of floor at the bar lets you peek beneath into an impressive wine room and cellar. Carefully selected antique pieces add a personal touch to Monwana, often lacking in similar beautifully curated spaces that can feel as if they were ordered by number straight out of an interior designer's catalogue. 

The owners are all about the detail. With a background in mining, geology, and ship-building, precision was applied to every aspect of the lodge. It included them sitting in every chair suggested by the interior design team headed by Sarah Ord, to make sure it lived up to the idea of comfort. Across the lodge you'll encounter an array of stones, rocks and crystals that speak to the geological interest, and also nicely hint at how the Monwana experience is not just concerned with things at the surface. It was pointed out that because Africa never experienced an Ice Age it is a continent rich in natural wonder with uniquely rich rock formations, and the lion's share of the world's trees and its bird species.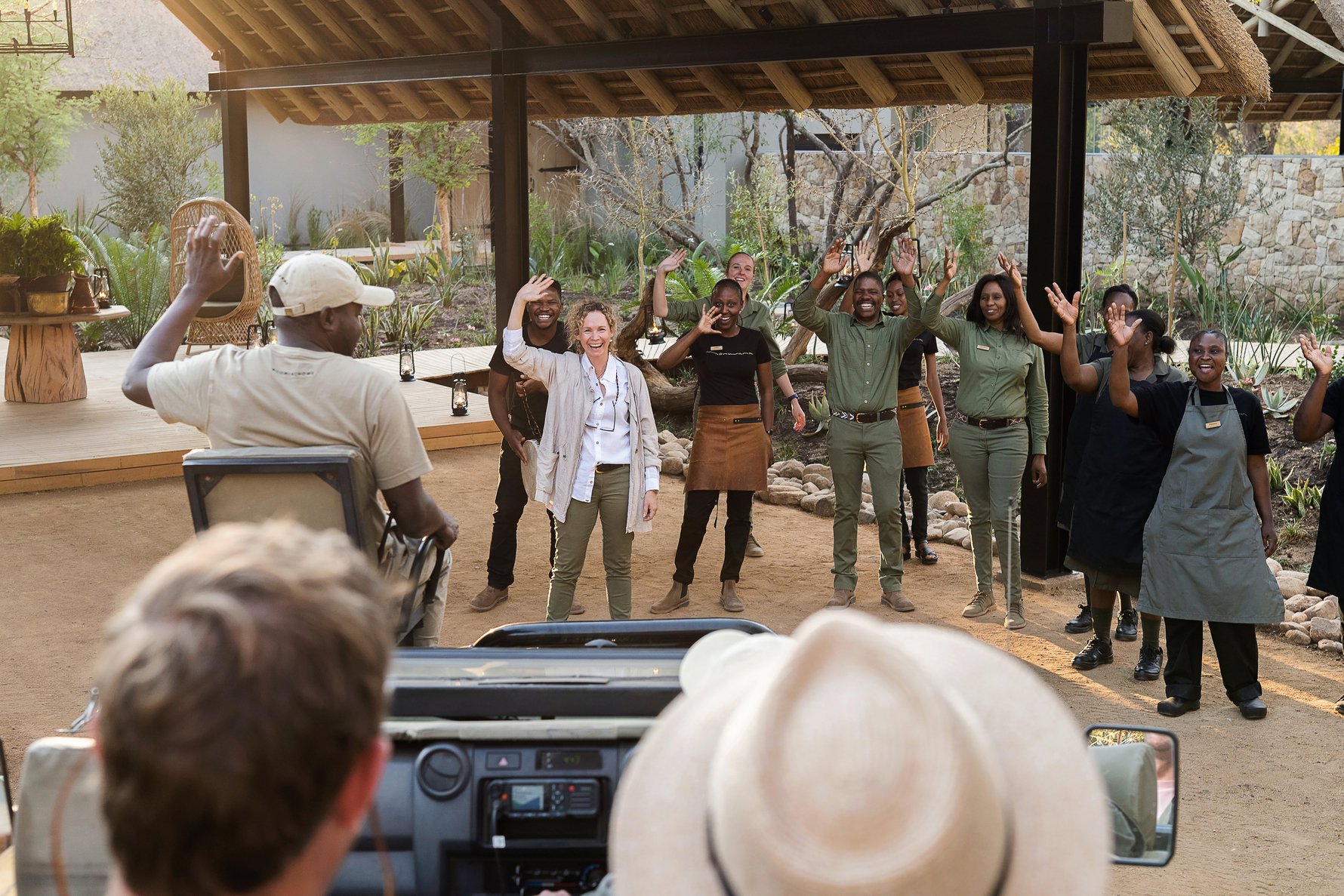 The food experience of the lodge has also been paid careful attention – and there's a homely aspect to the menu. Our pre-afternoon game drive tea had everyone asking for the recipe of the sweet iced coffee, and gasping with delight at the upside down apple cake with homemade caramel sauce. Every meal comes with a printed menu selection and our vegan colleague was catered for with a unique set of dishes. Even the gluten-free request was catered for at every meal. Here there are no afterthoughts. The meals were light – rather than rich, meaty and weighing down the plates. Flavoursome and fresh food, elegantly plated, is the order of the day. 
 
Something that struck at Monwana is not only the immense pride of the team in charge of taking care of you, but the pride of the owners in taking care of their team.  After many years of visiting game lodges and having been privileged to experience luxury lodges in South Africa, Botswana and Namibia, this was a stand-out. A media trip is always a privilege – we get to see more, and to understand the inner workings of a property. We also get to see things that most guests will never know are there. For instance, a walkthrough of the impressive alternative energy sources that are keeping Monwana Lodge green and mostly off the grid. It's an ongoing and highly expensive challenge but something the lodge owners, Dutch-born, are committed to doing. It was the first time that I have ever been taking on a tour of the staff accommodation – something that was done with great enthusiasm by our hosts. The lodge owners are highly conscious of what it takes to build a luxury safari lodge and the impact of bringing together such different backgrounds of staff and guests. It's a gap we have often felt conscious about.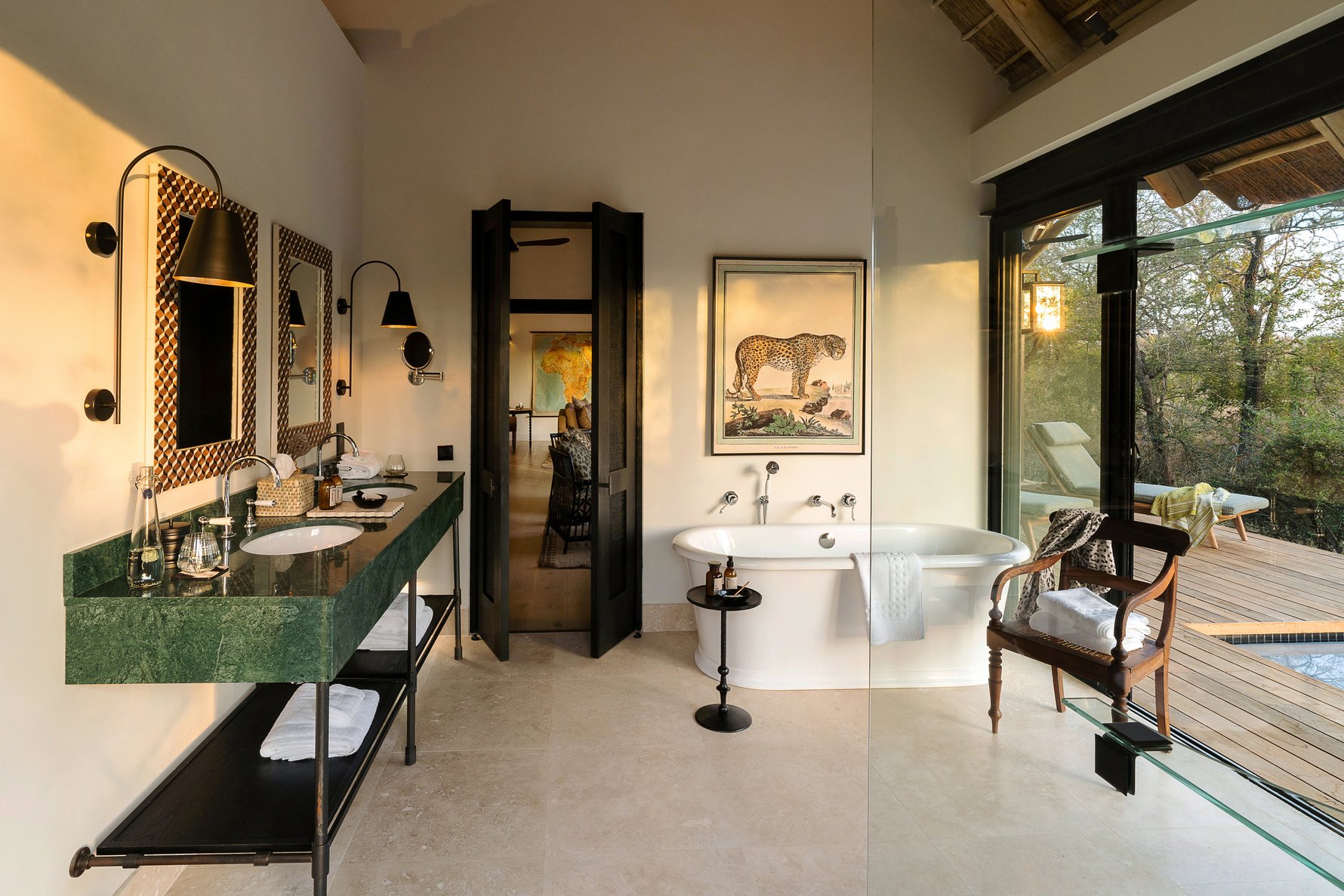 We flew into Hoedspruit airport – a 45-minute AIRLINK flight from OR Tambo – that leaves daily at a most reasonable time. Late enough to not get caught in airport traffic and early enough to be in time for a light lunch. The visual shift as you head over Limpopo is dramatic – as is the effect of seeing the city and urban landscape dissolve into rich red earth, and purple-blue mountains. From the airport – a delightful transit space with a large enclosed fever-tree filled garden – it was less than a 45-minute drive to the lodge. While you can self-drive, we would highly recommend taking the flight, and being driven. It fundamentally alters the experience. The road in can be a little bumpy or as our driver commented – "too much massage on this road".

It's always a good time to go the bush as each season yields its own unique beauty. In January we did hit day temperatures slightly in excess of 30 degrees Celsius, so if you are more of a wilting flower perhaps your plan is for Autumn and Winter.  

With luxury comes a price tag – but if you are in the market for this kind of safari stay, you won't be disappointed. Click here for full details of rates and special packages available.