"It may be thrilling to touch them, but you must know that it is even more exciting to see them thriving in their natural habitats on a proper safari". We couldn't agree more with this statement by South African Tourism endorsing the nationwide movement led by the Southern Africa Tourism Services Association (SATSA) to curb the promotion of captive wildlife interactions by July 2020. 

Released in late 2019, SATSA's Animal Interaction Research Study is an extensive set of guidelines designed to help tourism operators, guides and the tourism industry at large make responsible decisions about supporting attractions that are potentially harmful to animals. The guidelines are described as a 'homegrown' approach to a worldwide problem that will help South Africa to 'draw a line in the sand' and successfully position itself as an 'ethical tourism destination'. SATSA aims for the guidelines that brand captive animal interaction as an 'unacceptable' practice to be taken up across the country by July 2020. 

While petting cubs and walking with cheetahs is not illegal in South Africa, partaking in these activities perpetuates the further establishment and growth of such attractions. In very simple terms, if tourists en masse stop paying for these activities, the activities will ultimately stop being offered. 

Say no to animal interaction experiences

According to SATSA's guidelines the following animal interaction experiences are considered unacceptable and should be discouraged: 

Say no to performing animals
SATSA's research shows that the training of animals to perform in 'shows' and other performative acts exposes them to physical and mental abuse and has no educational or conservational value. This includes all types of animals such as elephants, monkeys, reptiles, lions etc.

Say no to interactions with infant wild animals
Tactile interactions with young animals, such as lion cub petting, have been shown to have a highly negative effect on the infant animals who are naturally scared of humans and need to be separated from their mother in order to be exposed to human contact. Again it has also been proven that these interactions have no educational or conservational value and they are therefore considered unacceptable.

Say no to predator interactions
In order for a predator, such as a cheetah, lion or orca, to 'safely interact' with humans (this might be as part of a 'predator walk' for example) it must undergo extensive training which usually involves harmful or negative techniques. Keeping these animals in captivity in order for them to interact with humans also has negative effects on their behaviour and there is no educational or conservational value to these forms of interaction that cannot be provided in other ways.

Say no to the riding of animals
As with the experiences above, having a human ride a wild animal is completely contrary to their natural behaviour and for the animals involved, such as elephants, to accept humans riding on their back, usually means they have to be trained or participate in the activity against their will.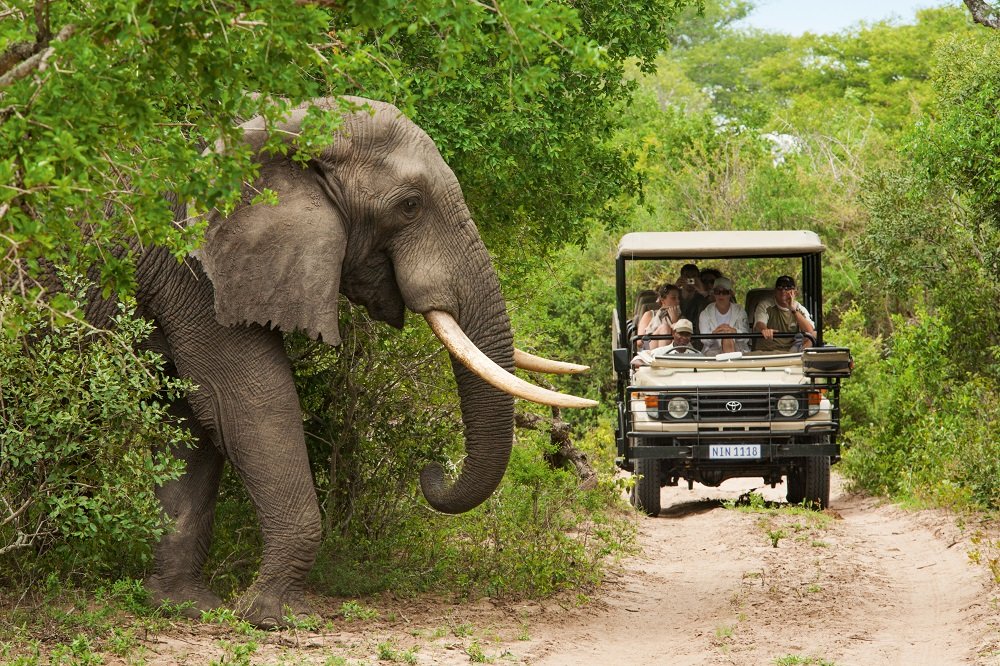 How to choose a game reserve or park for your South African safari
By far the best, and most ethical, way to encounter and learn about South African wildlife is on a game drive. The thrill of encountering large animals in their natural habitat while on safari is one of this country's greatest attractions and an unforgettable experience. The South African National Parks authority (SANParks) is a world leader in environmental conservation and research and by visiting South Africa's national parks you are also supporting the important work they do to protect the environment and wildlife.

Do your research before booking. If a park or reserve offers animal petting or performances in addition to guided drives then you know its a no-go.

When considering the environment and the kinds of animals you'd like to see, and the amount of time you want to spend on safari, check the size and environment of the place you're considering visiting. To support wild hunting groups of predators, a park or reserve needs to be of a significant size (this can be anywhere from 100 to 10,000km2) to ensure that the eco-system can sustain a large enough food chain. Parks where predators (such as lions) are kept in a separate area and are fed as opposed to being left to hunt, are by comparison relatively very small (sometimes just 10km2). 

SANParks is the national body responsible for running South Africa's 21 national parks which include big safari destinations such as the Kruger National Park as well as areas of outstanding natural beauty like the Table Mountain National Park and the Golden Gate Highlands National Park in the Drakensberg mountains. All parks offer a variety of accommodation, including campsites and lodges, run by SANParks which should be booked via the SANParks website.

For safari lovers the most impressive SANparks include; Kruger National Park, a park the size of a small country that is around 5.5hrs drive east of Joburg; the Addo Elephant Park, one hour's drive from Port Elizabeth and famous for having more than 600 elephants and the Marakele National Park in the Waterberg Biosphere in Limpopo.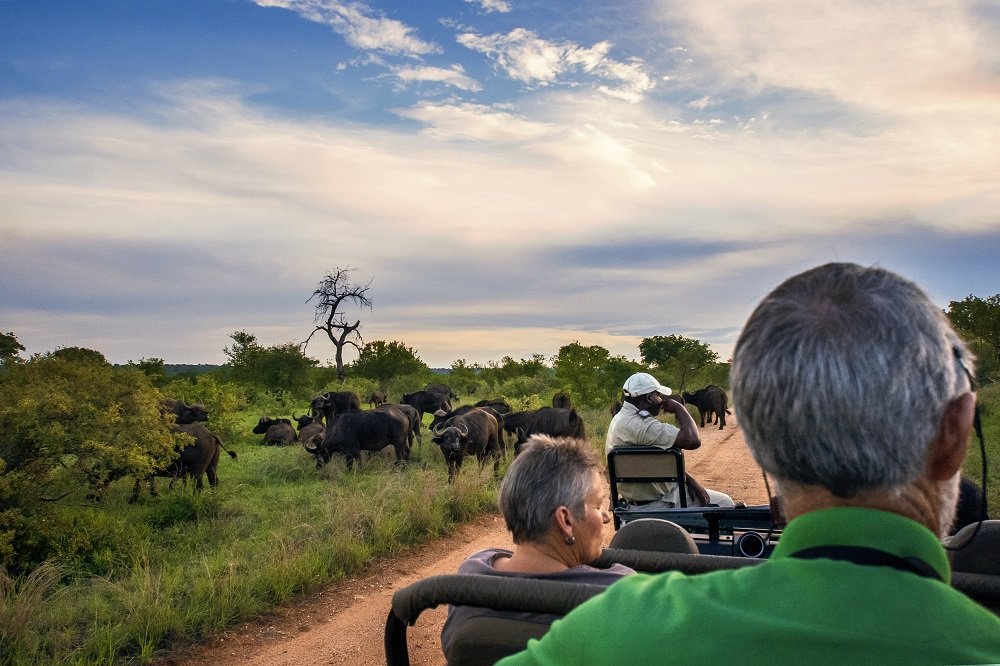 Generally speaking most game reserves are large-scale, privately managed areas that have been established to repopulate regions of the country with wild animals, including the Big Five. A game reserve will typically have multiple independent lodges to choose from where you can stay and often limited or no self-drive options, requiring you to book guided drives from your lodge. Among some of the most outstanding (and luxurious) private game reserves are the stunning Madikwe Game Reserve (a 700km2 reserve on the border of Botswana) and the spectacular Sabi Sands (a 650km2 network of connected luxury game reserves in the greater Kruger area).

Confusingly there are also some state-run game reserves that are managed provincially and so do not come under the SANParks umbrella. These include the famous Pilanesberg Game Reserve (a two and half hour drive from Johannesburg) which is run by North West Province, and the superb, rugged Hluhluwe-Imfolozi Game Reserve in eastern KwaZulu Natal which is run by Ezemvelo KZN Wildlife.

You may also find hotels, lodges and self-catering houses based within a 'Conservancy'. These are usually areas of land (often former farms) that are being rehabilitated to become home to wildlife. You won't find any dangerous animals like buffalos, rhinos or big cats resident, but there's usually lots of other small game to admire such as antelopes, zebras and even giraffes.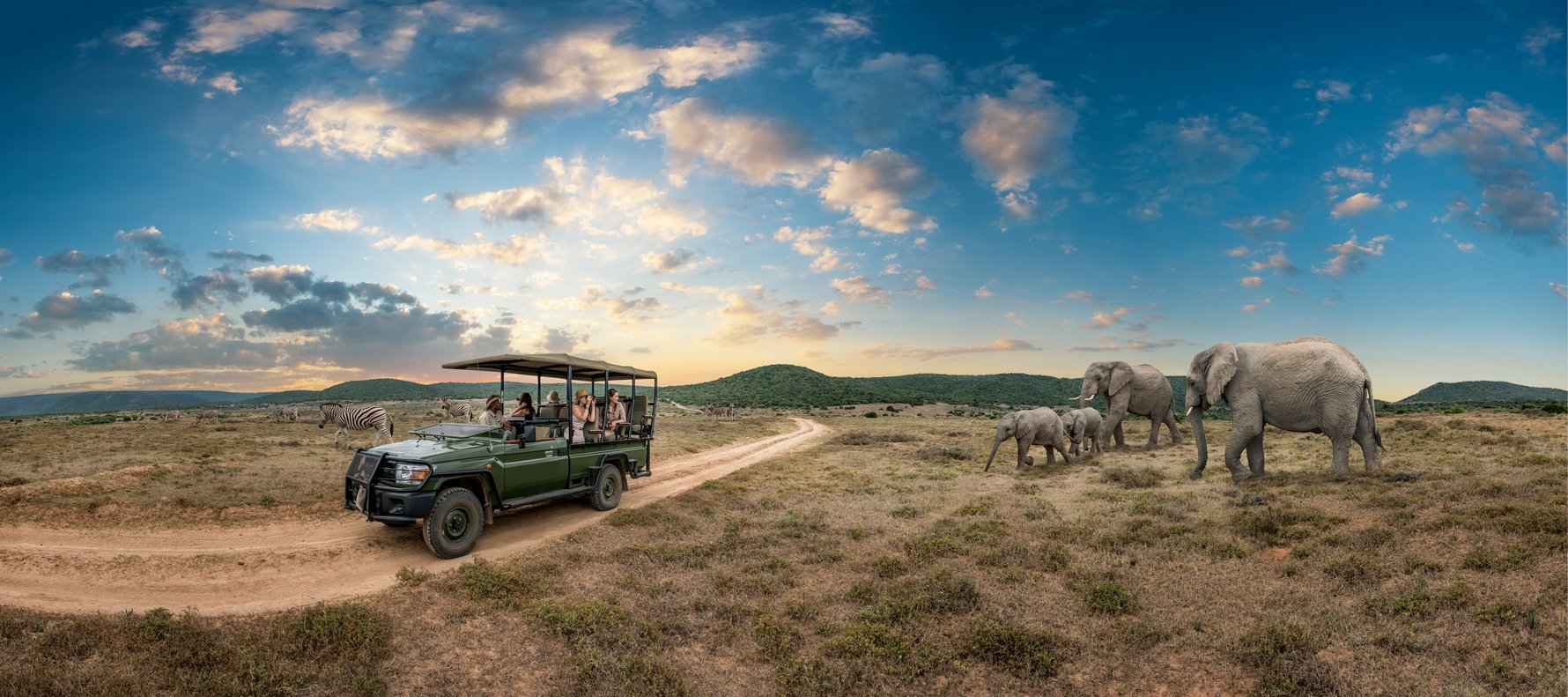 Where to go on safari from Joburg
From South Africa's biggest and busiest city Joburg, you don't need to travel far to experience the thrill of the Big Five. Joburg is the number one gateway for international visitors coming to South Africa to visit the world-renowned Kruger National Park (five hours drive east of the city), while there are also a number of other major safari destinations within in easy reach of Joburg. 

Kruger National Park
Distance from Joburg by car: between five and six hours
Accommodation options: SANParks has more than a dozen rest camps and campsites to choose from that are located inside the Kruger National Park. Rest camps can be booked via the SANParks website and for the most popular camps such as Orpen or Lower Sabie, you should book several months in advance. In Greater Kruger area are a number of luxurious private game reserves such as Singita and Sabi Sands.

Pilanesberg Game Reserve
Distance from Joburg by car: approximately three hours
Accommodation options: The famous Sun City resort sits right on the edge of the national park. For a more rustic experience try the Bakgatla Resort or the Manyane Resort, both of which are close to the park gates and offer campsites as well as big chalets. The upmarket Bakubung Bush Lodge, run by Legacy Hotels, is located inside the park and has a great waterhole view.

The Waterberg region
Distance from Joburg by car: approximately four hours
Accommodation options: The riverside platform tents at Marakele National Park (run by SANParks) or the boutique luxury lodges at the private game reserves Welgevonden and Mabula are great options.

Madikwe Game Reserve
Distance from Joburg by car: four and a half hours
Accommodation options: The sky's the limit at Madikwe with some of South Africa's most luxurious lodges. The very atmospheric Mosetlha Bush Camp & Eco Lodge is the cheapest accommodation available inside the park. See madikwegamereserve.co.za for a guide to all accommodation options. 

Dinokeng Game Reserve 
Distance from Joburg: 1.5 hours
Accommodation options: There are dozens of accommodation options to choose from ranging from camping to bed and breakfasts, conferencing venues and rustic self-catering lodges. See dinokengreserve.co.za for a guide to all overnight options.