From cut-price vintage designer treasures to thrift shop finds that you can pay for with small change, shopping for vintage and second-hand clothing in Joburg is a pleasure – you just need to know where to look. Here, we have rounded up a range of gems – from pop-in, to visit by appointment only, and online-only vintage sellers.  

Stores are generally open Monday to Saturday. For individual opening items contact the seller. Instagram is mostly the social media platform of choice and often the easiest way to make contact is with a direct message. 
VINTAGE AND THRIFT SHOPS
​​​27 BOXES
27 Boxes, a shipping container shopping development in Melville, is home to small and quirky independent boutique stores. Look out for the regularly rotating selection of vintage pop-up stores with every era from the 1920s flapper to the 1990s grunge rockers catered for at prices that won't break the bank. 
Where: 75 4th Ave, Melville, tel. +27 11 712 0000

BOUNTY HUNTERS CHARITY SHOP
Bounty hunters Charity Shop, 'the second hander's darling of Johannesburg', has a jumble of forget-me-nots embedded ever so fondly with the personality of their previous owner and it's not just vintage clothing, bits and bops you can find there. According to regular Bounty shoppers, the owner, Gale, is a lover of cats who makes sure proceeds go to towards the strays in store, rescued by her team. You don't always find what you're looking for, but when you do make a find, it's always that right something.
Where: 71 4th Ave, Melville, Johannesburg, tel. +27 11 482 6094

FRAYZNIX RACK
In addition to being one of the best vintage clothing sellers in town, Frayznix is also a fashion designer. His studio (and sales room) is in his historic home in Brixton, right across the street from Breezeblock. Even so, Frayznix is usually open for walk-ins so make sure you check out his Instagram feed to find out when to pull through. The majority of his stock is casual menswear, with lots of well-known brands, but most of it is quite unisex, impossibly cool and affordable.
Where: 34 Chiswick St, Brixton, Johannesburg, Melville, tel. +27 82 487 4692 

HUNTRESS
Sharing the block with Rags & Lace, Huntress is a small store with an always interesting selection of gently worn items. Here you'll find a range of big street brands like Zara and Top Shop but also authentic handbags from Louis Vuitton, Fendi and Miu Miu. There's always a great selection of dresses too. 
Find @huntressjozi on Instagram where daily items are showcased and reserved online for collection or delivery by courier. 
Where: 358 Jan Smuts Ave, Craighall, Whatsapp +27 66 236 3802

IETSIE THRIFT
Ietsie Thrift is a small clothing shop in Linden, in a little centre across the street from Arthur Bales. It's mostly got items for women but there are a few men's racks, as well as some houseware goodies. One of the bonus' of Ietsie is that it's extremely well curated. If you need a last-minute outfit, just pop right in and you'll easily find something cute. It's got a great vibe and a beautiful selection of vintage jewellery but it is on the pricier range of things (most of the clothing ranges from R100 – R350). Sale items, of course are cheaper, so it's just a matter of getting there at the right time before the good stuff gets sold. Oh, and make sure you ask for a bag when you're paying, they make gorgeous shopping bags out of recycled shirts.
Where: 65 4th Ave Linden, Johannesburg, Rosebank & The Parks, tel. +27 71 684 2544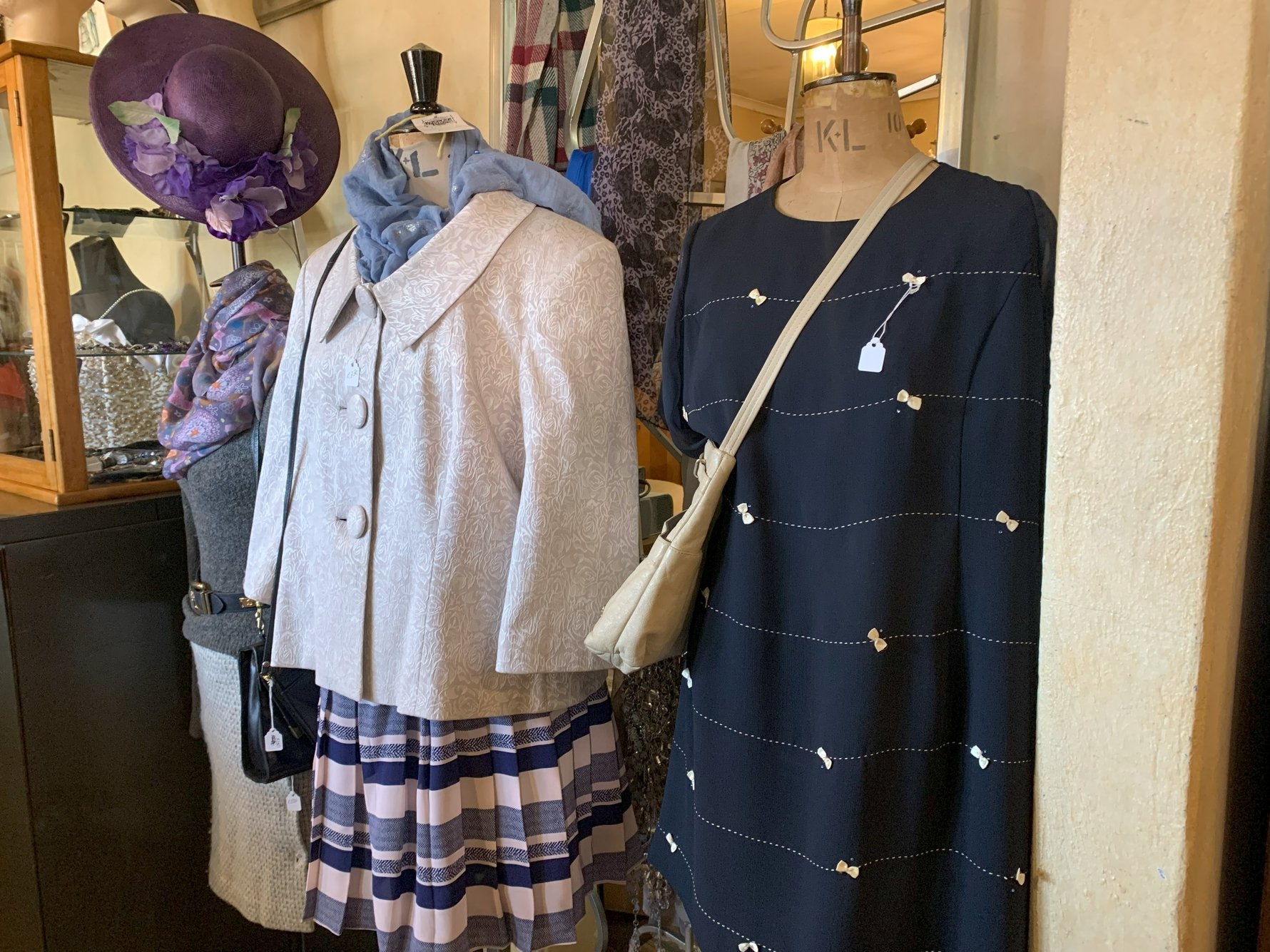 KENSINGTON TRADING
Established by Colin Kaufmann in 1985, Kensington Trading is an institution, offering a unique selection of antique and vintage furniture, clothing, vinyl and one-of-a-kind decorative pieces for sale. Kensington Trading also specialises in furniture restorations and rents items for use as props by film production companies.
Where:​​​​​​​ 174 Queen Street, Kensington, tel. +27 11 616 1295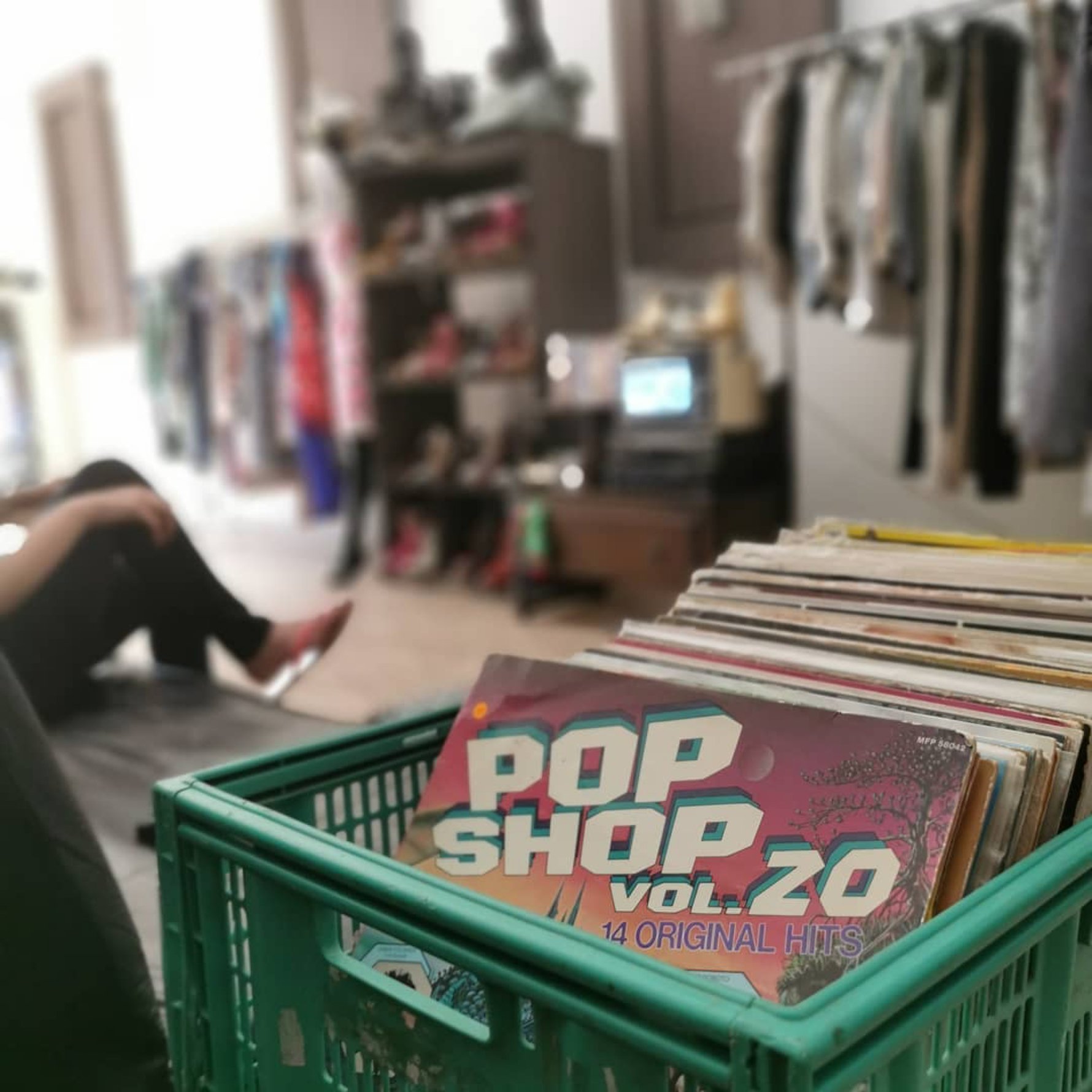 KEVDON & CO
This cool store on Melville's main street owned by Kevin and Nomsa Dondashe is filled with vintage items from clothing and denim items to leather goods for him and her. There will always be vinyl on the turntable and other interesting vintage finds. There's also a comfortable seating space for hanging out.
Where:​​​​​​​ 6 7th Ave, Melville

KITCHENER'S CARVERY BAR
Kitcheners is a sanctuary for the city's underground scenes and the queer scene is no exception. But did you know, you can browse the rails at their pop-up vintage market on Saturdays? You'll find thrift markets with styles ranging from cool, contemporary looks to denim and 80s aesthetic.
Where: 71 Juta St, Braamfontein, Johannesburg, 2017, tel. +27 11 403 0166

PRETTY OLD THING
Pretty Old Thing is run by photojournalist Madelene Cronje who carefully curates vintage treasures on her Instagram and sells them online to the first person interested. There are some absolute gems in her feed and, honestly, we don't know how she gets her hands on all these exquisite antiques, so it's worth it to keep an eye out for the next rare find. Pretty Old Thing sells mostly dish ware and home décor but you'll get the occasional piece of furniture here and there too. She ships around Joburg and to other places at an additional cost.
Where:​​​​​​​ Online only @pretty_old_thing_za

RAGS & LACE
This upmarket vintage store on Jan Smuts Avenue has been in business for some three decades and is still regarded by regular vintage shoppers as one of the best around. The rails are stuffed with pre-loved clothing from all eras – many of them from high fashion designer brands. All items come with a 'sell by date' meaning that they become cheaper the longer they remain on the rails. Rags & Lace caters exclusively to women. There's always a number of exclusive label items tucked into the rails  – from Paul Smith to the occasional Yves Saint Laurent precious find. 
Where: 358 Jan Smuts Ave, Craighall Park, tel. +27 11 787 2130

REMINISCENE
Also at 27 Boxes is Reminiscene which has been a Joburg fixture for more than three decades, starting off on Yeoville's buzzing Rockey Street and later moving to Melville. Owner Rosemary has an exceptional eye for beautiful items, and her shop – a giant vintage wardrobe – is a trousseau of time and texture, with fringed embroidered shawls, lace gloves and silk flounces, beaded Sixties glitz, and enough glinting baubles (some costume, some precious) to make any magpie happy.
Where:​​​​​​​ 4 9th St (opposite Bamboo Centre), Melville, tel. +27 83 256 0813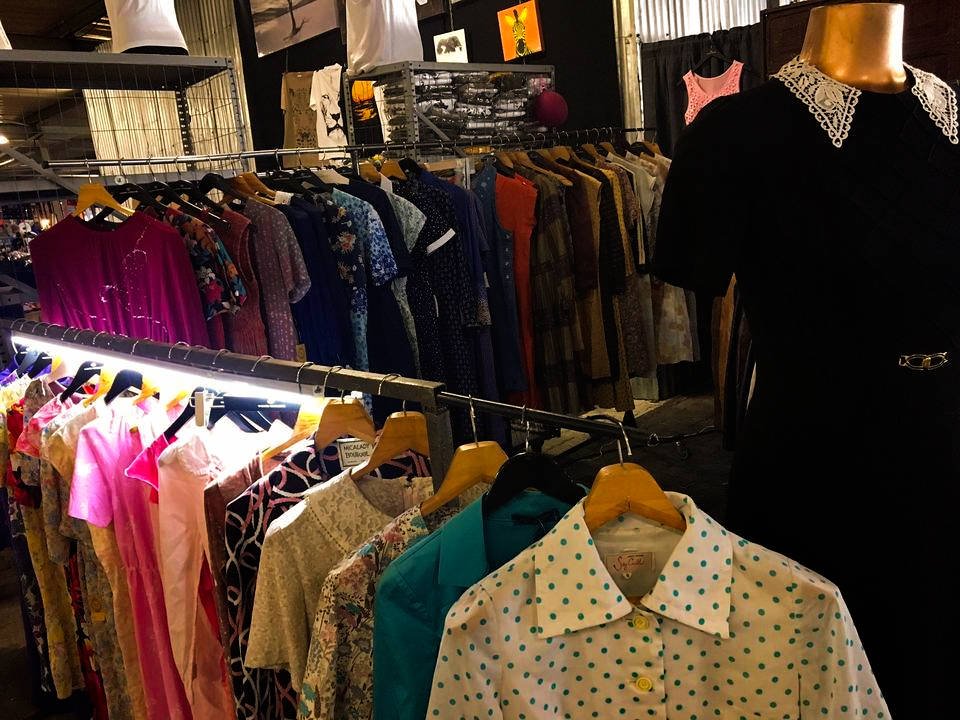 ROSEBANK SUNDAY MARKET 
This expansive rooftop market on the top of the Rosebank Mall specialises in colourful crafts and artworks, with plenty of food stalls, African fabrics and some brilliant vintage clothing and antiques traders thrown into the mix too. For cute vintage clothing dresses check out Dirty Pink, who specialise in high-quality vintage clothing sourced from Japan and South Korea. Every week brings new treasures to be found, especially on the third and last Sunday of the month when the market also hosts their famous flea market-style Rosebank Sunday Car Boot Sale. The twice-monthly car boot sale is a real treat for those who love trawling through boxes for unusual antiques, quirky accessories and second-hand clothing.  
The Rosebank Sunday Market is open every Sunday from 09:00–16:00, the car boot sale happens on the third and last Sunday of every month.
Where: Entrances on Baker St, Bath Ave and Craddock Ave, Rosebank
 
THE RETRO COLLECTION
The Retro Collection sells beautifully restored, mostly mid-century furniture and unique items right on their Instagram account. Everything is kept in a storage unit in Constantia Kloof while each piece gets photographed and advertised on Instagram. It's a pretty efficient setup they've got. They also source items for buyers, if you're looking for something specific.
Where:​​​​​​​ Online only @the_retro_collection_

TROUVÉ
Trouvé Vintage Merchants & Coffee is at the end of the famous Long Road antique strip, one of the more high-end (and less dusty) ones. What makes Trouvé stand out on the strip is its wider range of merchandise and little coffee shop at the back, if you feel like a refresher or sandwich. The family-owned business boasts a stylish collection of lovingly curated furniture and décor from vintage, industrial, painted pieces to farmhouse and repurposed items. The store also stocks Annie Sloan Chalk paint products if you're ever looking for some, and there's a few workshops and custom painting sessions available every now and then.
Where: 118 Long Road (cnr Long Rd & 9th St), Greymont, Johannesburg, 2195, tel. +27 81 547 3652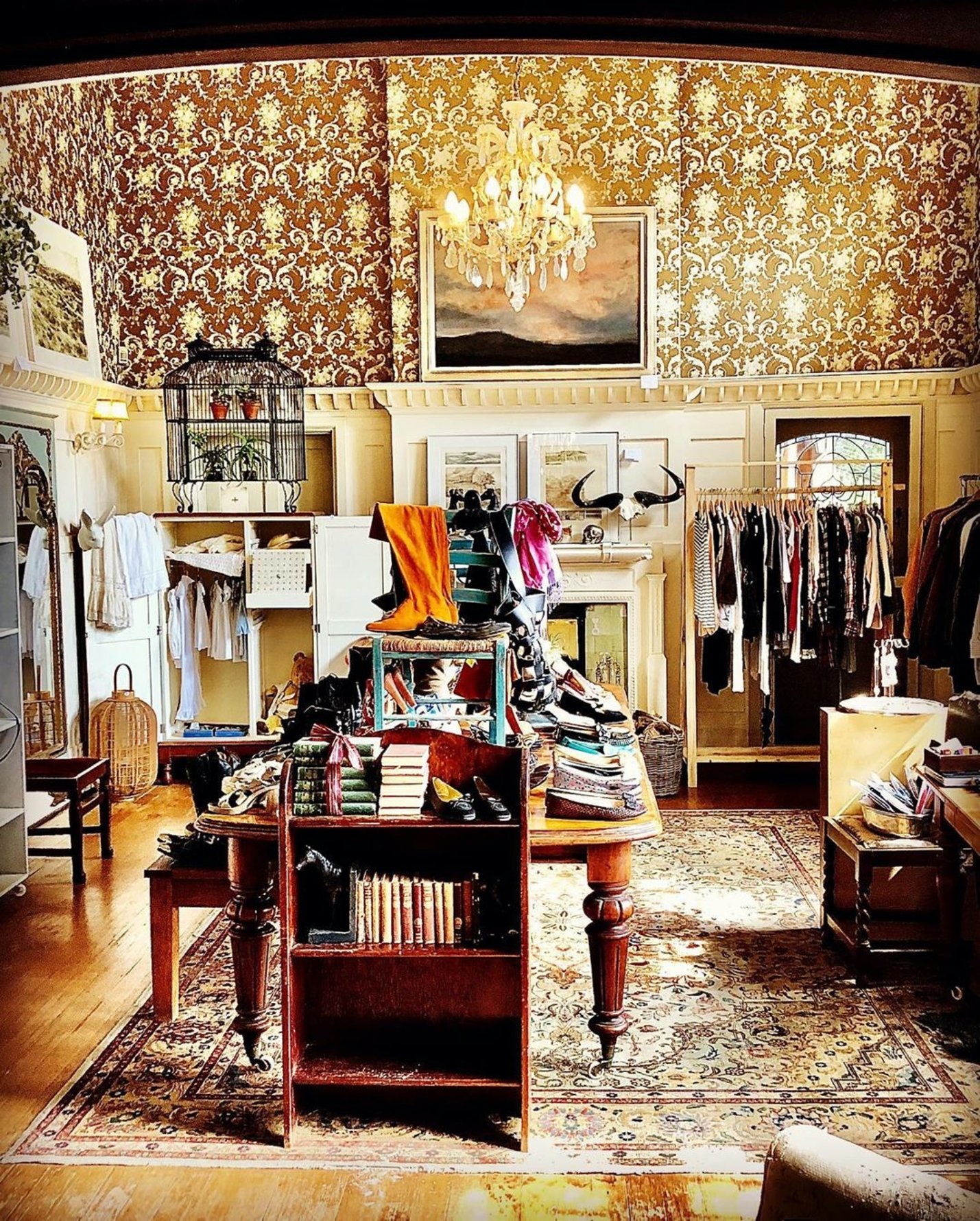 WIZARDS VINTAGE 
By appointment only Wizards Vintage, owned by Annabelle Desfontaines, is a Joburg institution. Located in a Westcliff mansion, the store is a treasure trove of designer label brands from Giuseppe Zanotti and Anya Hindmarch to Alexander McQueen and Marni. Stocking a wide range of clothing, shoes, accessories and handbags, a visit here is worthy of you booking off a few hours to try on some new looks and get great advice from the on-site experts.  
Follow @wizards.vintage on Instagram for a vintage outfit posted daily which is always an exciting mix of items. Each is available for purchase separately. 
Where:​​​​​​​ 48 The Valley Road, Westcliff. Email karinorzol@gmail.com

YELLOW PRE-LOVED
Yellow Pre-Loved is a tiny shop (really more like a large closet) tucked into the back of the Bamboo Shopping Centre in Melville. They have a small but lovely collection of high-end women's fashion on consignment. It's sustainable, affordable and available via Instagram and Yaga too, so you can buy online if you don't feel like taking a drive, but you might miss out on some gems in store.
Where: Cnr Rustenburg Rd and 9th St, Melville, Johannesburg​​​​​​​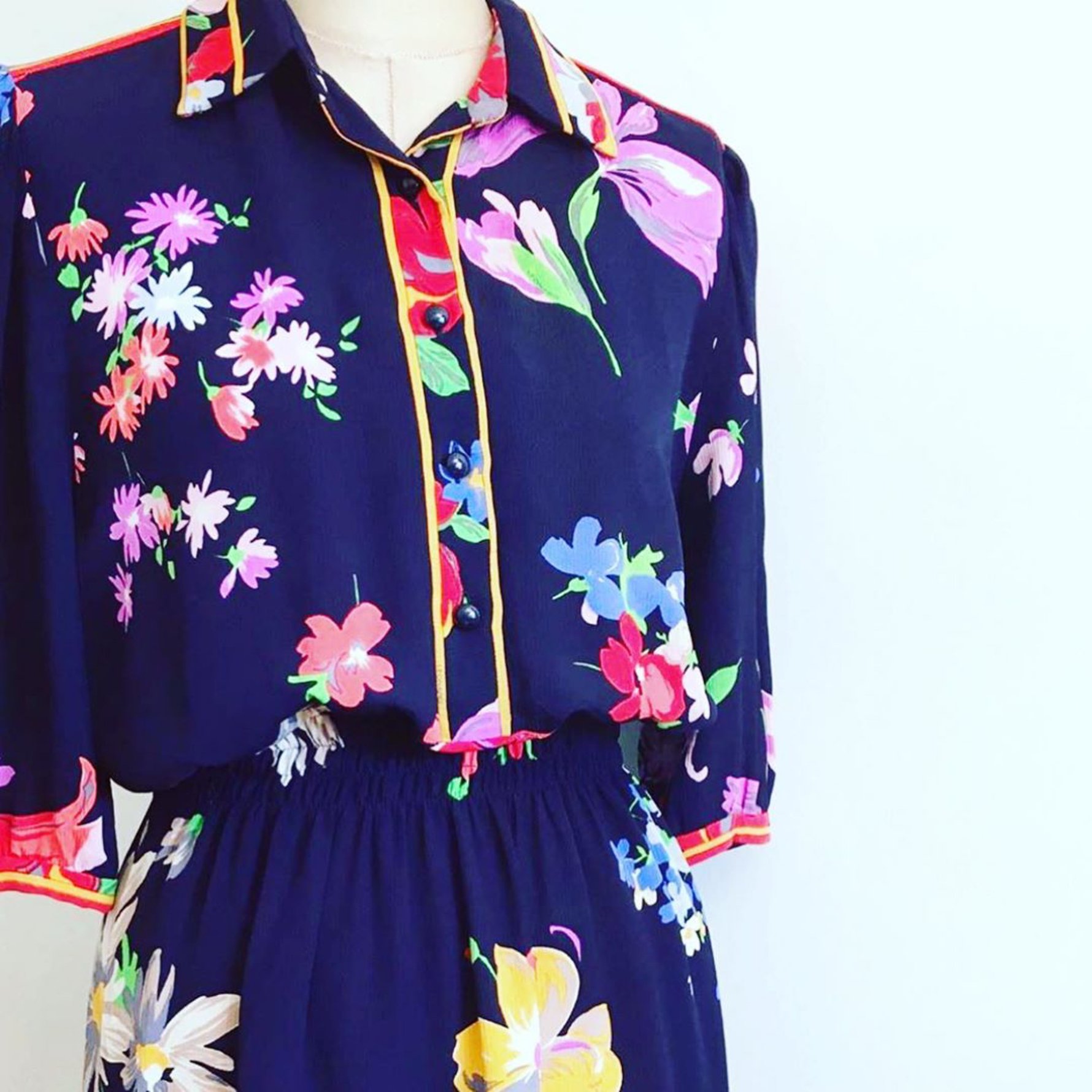 VINTAGE MARKETS

Picnic and Thrift 
For the younger crowd, this picnic and thift event is great for vintage finds at budget prices.

Vintage with Love 
An annual event in aid of charity it's worth following this account to get an update on their plans. 
'DUNUSA' MARKETS
Set less than 2km apart and next to major inner-city thoroughfare and taxi ranks, lies the inner-city's best shopping open secret - the dunusas - sprawling informal outdoor second-hand clothing thrift markets. Dunusa is an isiZulu word meaning to bend down and point your bum, alluding to the way shoppers bend down and hunt for clothes.

Controlled by the African Traders Associations, the dunusa traders and clothes come from all-over Africa and as you shop you are surrounded by a cacophony of languages from Swahili and Igbo to isiXhosa and isiZulu. With clothing prices starting at R2 per item, the dunusas offer a haven from the high cost of living in Joburg, affording the student population and the underprivileged affordable, stylish and quirky fashion options.

There are three major dunusa markets in the inner city, all of them are easily accessible from Park Station.

ELOFF STREET AND PARK STATION CRAFT AND ACCESSORIES
Directly behind Park Station on De Villiers Street is a craft and accessories market, perfect for bargain on-trend African-inspired fashion and décor. Across the street on a pedestrianised section of Eloff Street, the first dunusa market shares a canopy with a fresh fruit and vegetable market. This is the place to head to for 1950s-style dresses in summer, often in unusual fabrics like velvet. The dresses range from R3 to R50.

DE VILLIERS STREET CLOTHING
A few blocks east, also on De Villiers Street between Wanderers Street and Klein Street lies downtown's largest dunusa market. Head here for vibrantly patterned jumpsuits in summer and quirky blazers in winter. Jumpsuits range from R2 to R50 and blazers range from R20 to R150.

DIAGONAL STREET MARKET
The third dunusa market is found at the start of the pedestrianised section of historic Diagonal Street at the corner of Pixley Ka Isaka Seme (formerly Sauer) and Rahima Moosa (formerly Jeppe) Streets. Take a T1 Rea Vaya bus from Park Station and get off at the Chancellor House Westbound stop. Alternatively take the CBD Gautrain bus and get off at the FNB Bank City stop. Here in winter, you can find Matrix-style leather trench coats for under R150.

HOW TO SHOP AT DUNUSA MARKETS
Prices: Each stall in the market consists of a trolley filled with clothes. There's often a standardised price on each stall. For example, in one stall all the clothes in the trolley will be R3. The prices range by season. In summer, for example, tops range from R2 to R50. In winter, however, prices go up and clothes range from R20 to R150. If you're looking to spot designer pieces, look in the stalls with higher price tags. The most expensive stalls, however, are usually no more than R150. Some of the original designer labels spotted at the dunusas include Guess, Chanel and Gucci. Note that all stalls are cash only and might not have small change.

Sizes: When shopping at the dunusas one interesting quirk quickly becomes clear. The sizing systems should be taken as suggestions, and the key is to look for fit not size. The clothes are sourced from different countries with different sizing systems; you can buy a skirt in a size 10 in one stall, and the perfect jeans in a size 6 at another. To check if a pair of pants will fit you; make a fist then try and fit your forearm in the waist of the pants. If your fist and elbow touch both seams of the pants; it'll probably fit.

What to bring and wear: When setting out to shop the dunusa market, dress comfortably, leave your valuables at home and bring cash in smaller denominations. Be vigilant and hold bags close to your body. It's best to head to the dunusas in the morning, the inner city is also often less hectic on the weekend.