One of South Africa's most influential sculptors is the late Edoardo Villa, of Italian descent, who came to South Africa in 1942 as a prisoner of war during World War II. A prolific artist, he created more than 1,000 sculptures during his career and profoundly influenced the way that modern, abstract sculpture is understood and celebrated today in South Africa.

Born in Italy in 1915, Edoardo Villa was an art student in Milan before he was conscripted to join the Italian army and sent to the battles of World War II. In 1942 he came to South Africa as one of some 70,000 Italian prisoners of war who were incarcerated at the Zonderwater POW camp near Pretoria. Run by Hendrik Frederik Prinsloo, who had himself been imprisoned during the Anglo-Boer wars, the Zonderwater Camp was credited for its humane treatment of the prisoners. Housing schools where illiterate Italian soldiers learned to read and write, the camp also allowed prisoners access to art materials and musical instruments and subsequently, art flourished within the camp with regular musical galas and art exhibitions. Following the end of the war, Villa created a bronze bust of the camp commander which can now be seen in Joburg's Ditsong Museum of Military History.

Villa later described his decision to stay in South Africa as influenced by the "open' artistic opportunities that Africa offered as opposed to "the 'closed' life of a continental. If anything could sum up my fundamental concern in art, it is that of the human and the individual – the human condition … Museums are marvelous but human participation, physical proximity and tactile engagement are more important."

Inspired by cubism, constructivism and stylised abstraction, Villa began to experiment with welding pieces of metal together in the 1950s (as opposed to simply casting in moulds), a technique that would define much of his work during his long career. Throughout the 1950s he also taught at the Polly Art Centre in Johannesburg, one of the few institutions in South Africa where black artists could pursue a career and stage exhibitions. 

In 1961, along with Cecil Skotnes, Cecily Sash, Giuseppe Cattaneo and Sydney Kumalo, Villa became a member of the Amadlozi (ancestors) group of artists, known for their conscious appropriation of African sculptural traditions, incorporating African geometric forms into his increasingly abstract representations. In 1967 Villa met with his British contemporary Henry Moore and was profoundly influenced by the organic, almost sensual nature of Moore's monolithic bronze abstract artworks, incorporating this visual language into many of his distinctive bronze abstract sculptures.

Living in Johannesburg, the grid-like rectangular shapes of the urban city landscape also found their way into the language of Villa's sculptures, while Villa's experience of imprisonment and his humanist concern for the ever-tightening stranglehold that the apartheid state held on South African society was a constant influence, particularly during the increasingly repressive and violent 1970s and 1980s when he produced his Prisoner series of distinctive caged anthropomorphic figures.
Where to see Edoardo Villa's sculptures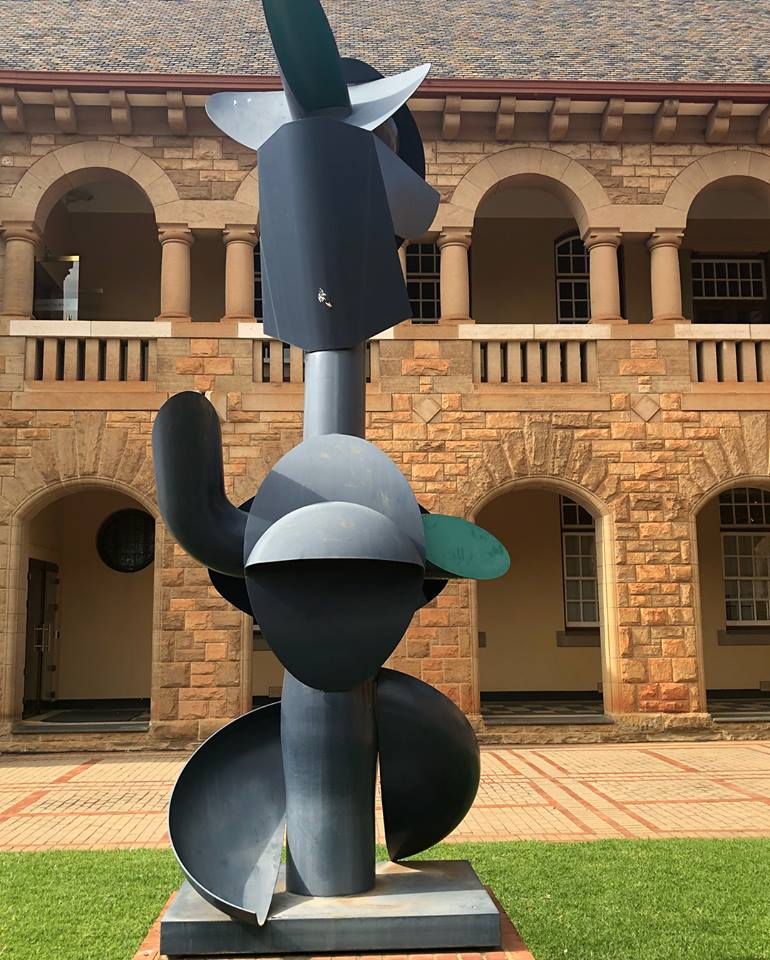 A prolific sculptor (Villa died aged 95), many of his works were installed in public spaces, such as in front of the Civic Centre in Cape Town and on the University of the Witwatersrand campus, as well as at corporate headquarters across the country. More than 150 Edoardo Villa sculptures and drawings can be seen at the Edoardo Villa House museum, located inside the University of Pretoria campus. 

Edoardo Villa sculptures from private collections also occasionally appear at auction, with the auction preview days providing a great opportunity to view these works before they disappear again to private collections. 

At leading auction house Strauss & Co's May 20 live auction of Post-war, Modern and Contemporary art, nine sculptures by the artist will go under the hammer with estimates for some of the larger sculptures on sale reaching up into the hundreds of thousands of Rands. These wonderful sculptures can be seen at the Strauss & Co auction preview exhibition which is on display at the Wanderers Club in Illovo from Fri May 17 to Sun May 19 (10:00-17:00).

This feature is part of our ongoing series highlighting the works of South Africa's most celebrated artists. Previous features have included profiles on Alexis Preller, JH Pierneef, Gerard Sekoto, Irma Stern and Vladimir Tretchikoff.