COMPETITION! Enter our competition on Instagram here and win three bottles of some of the finest vintage South African brandies

South Africa is famous for its wines and has a winemaking tradition that dates back more than 400 years. Less famous are the country's excellent brandies that have been manufactured for almost as long. As with the wine industry, in the past two decades especially South Africa's brandy industry has undergone a major transformation garnering much acclaim internationally. A revival of interest in South African brandy has arrived and many fine restaurants are setting their sights on presenting the best to curious diners.

Brandy is produced from the distillation of wine, which is then (usually) aged in old French Oak barrels which lend their own special flavours and aromas depending on the levels of toasting on the barrel and the length of time the brandy is left to quietly lie. The first South African "brandewijn" is thought to have been distilled aboard a Dutch ship in the Table Bay harbour in 1672. The ship's cook distilled "two leaguers" (1164 litres) of Cape wine to make "three ankers" (126 litres) of much stronger brandy. It is said that a tradition at the time was for the first sailor on board a ship approaching the Cape to spot land would receive a to tof brandy in celebration.

South Africa's talent for making world-renowned brandies is not new. In fact the title of Worldwide Best Brandy at the International Wine and Spirits competition has been awarded to a South African brandy 15 times in the past 20 years! Most recently in 2022 KWV Brandy's Héritage XO received the trophy for Best Cognac, and KWV 15, the trophy for Best Brandy while KWV itself was named Best Producer overall.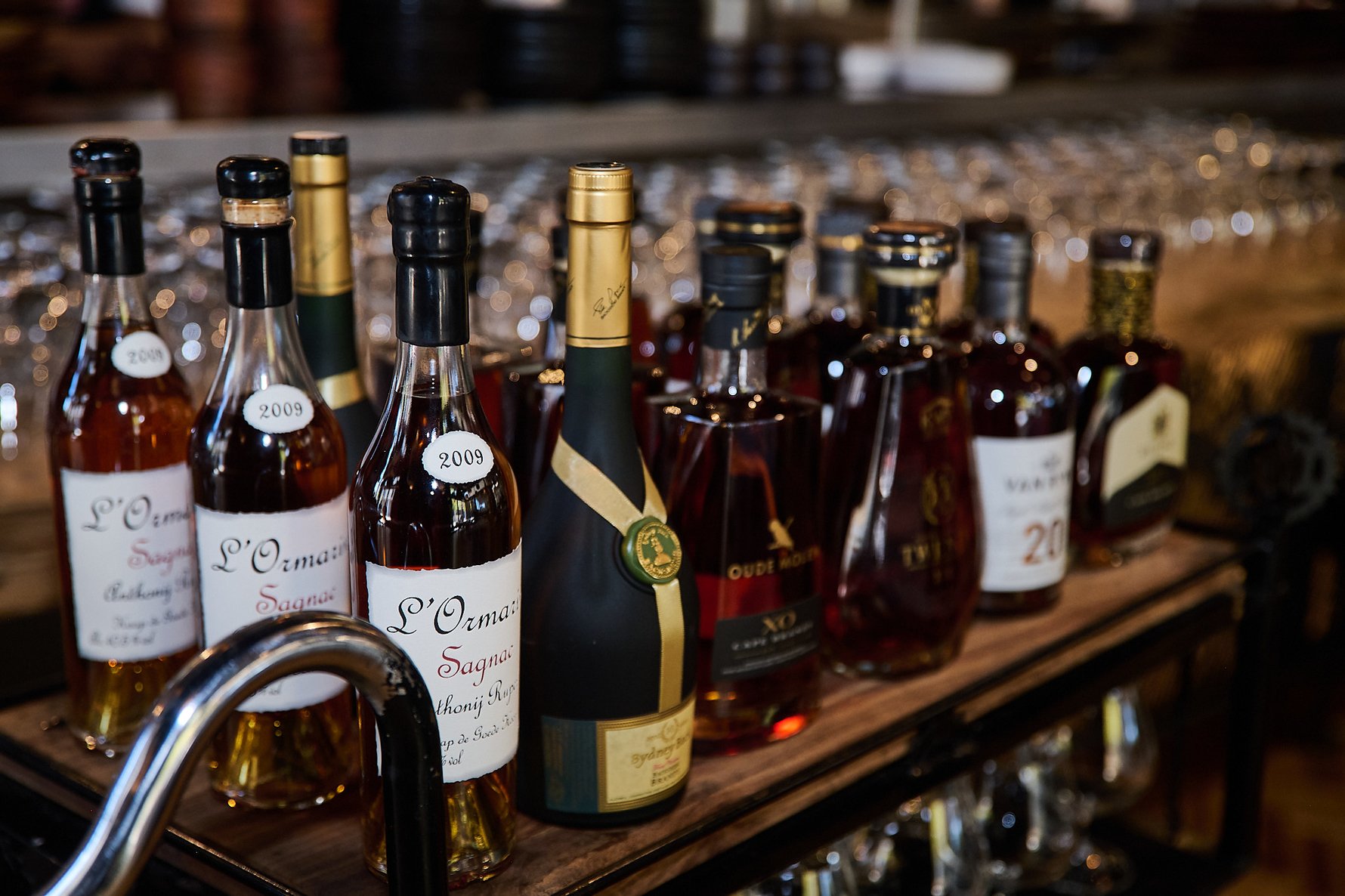 Due to smart marketing, or sometimes just plain stereotyping, fine European brandies such as those made in France's Cognac and Armangac regions, have often been seen as superior to their high-quality counterparts made at some of South Africa's oldest wine farms. This trend is now gradually changing as more upmarket brands find their way onto local restaurant and bar menus. South African potstill brandy or ''Cape brandy'' is made under the same strict production requirements as Cognac and overall has stricter requirements than any other grape-based brandy in the world.

While cheaper, less refined brands are still ubiquitous, when it comes to high-end brandies, South Africa has some world class offerings and many trend forecasters have high hopes that a new fashion and interest in high-end South African brandies could at last be on the way. 

According to Tinashe Nyemudoka, sommelier at the acclaimed The Test Kitchen Carbon restaurant in Rosebank, the status of South African brandy is on the rise, notable potstill brandy whose segment of the market is growing 27% year on year. "The high-quality credentials of these products is undisputed" he says.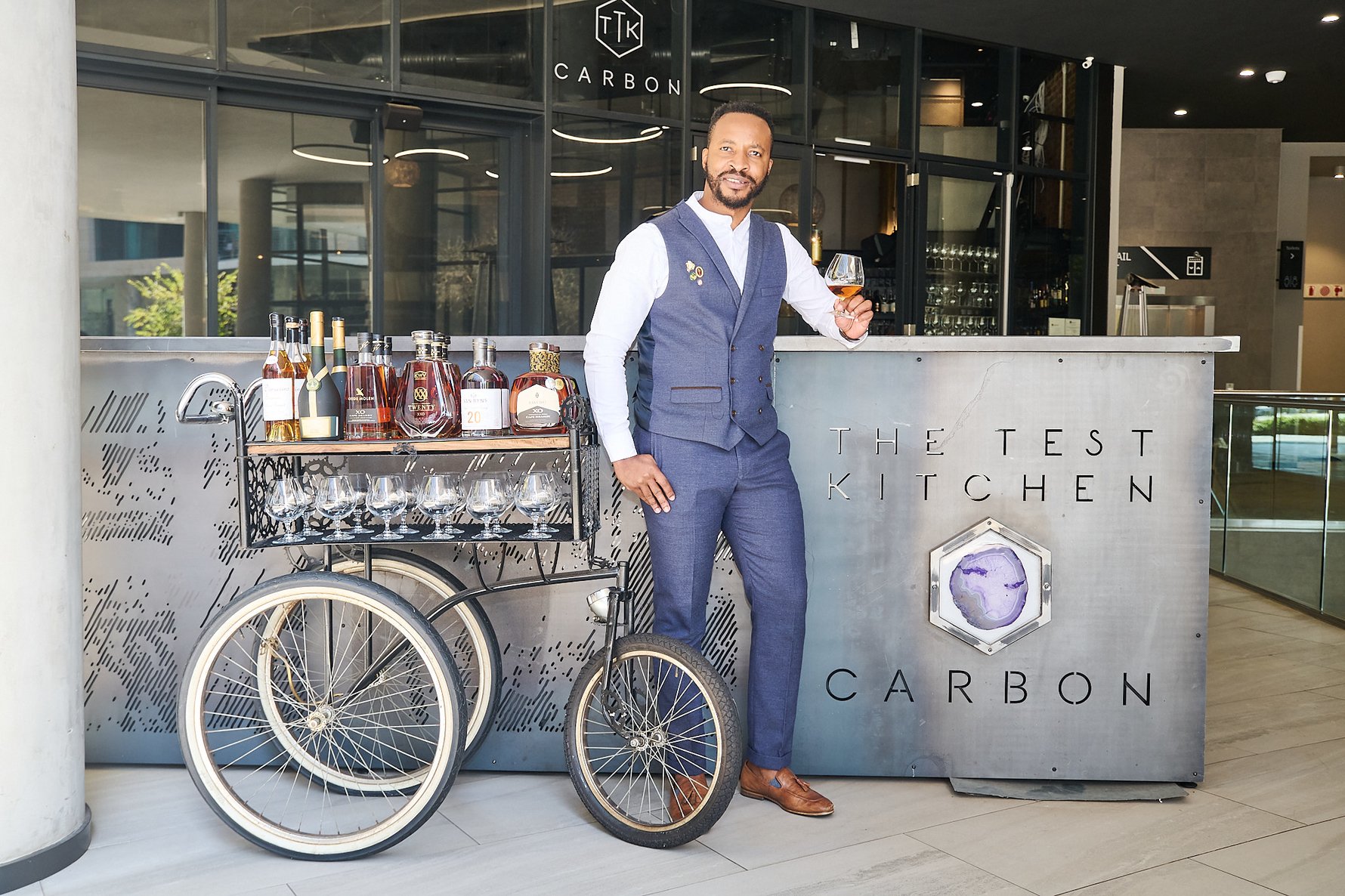 We were recently invited to Luke Dale Robert's fine dining restaurant The Test Kitchen Carbon to try an exclusive pairing menu based around the finest South African brandies. Taking us through the brandy tasting, sommelier and brandy connoisseur Tinashe Nyumedoka explained that South African brandy is accentuated by the grape varietals used locally for the base wine – notably Chenin Blanc and Colombard. "These grape varietals give a fruitier finish that is more pleasing to the palate. Because local grapes are exposed to more sunshine, our brandies are more aromatic and softer in the palate. Longer maturation in oak barrels gives our brandy a softer finish and deep amber colour." 

When it comes to enjoying brandy Nyumedoka recommends drinking it neat or on the rocks (hold that Coca-Cola). Furthermore when it comes to tasting the SA Brandy Foundation holds that you should not swirl your glass as when tasting wine. Rather start 'nosing' from about 5cm from the top of your glass and move slowly down. Take a small sip and swirl around your mouth. After a few seconds the intensity of the alcohol will diminish and the flavours will come to the fore.
South African brandies to try
Keen to learn more about South African brandies? Here is an extensive guide to 20 top South African brandies to try as recommended by The Test Kitchen Carbon.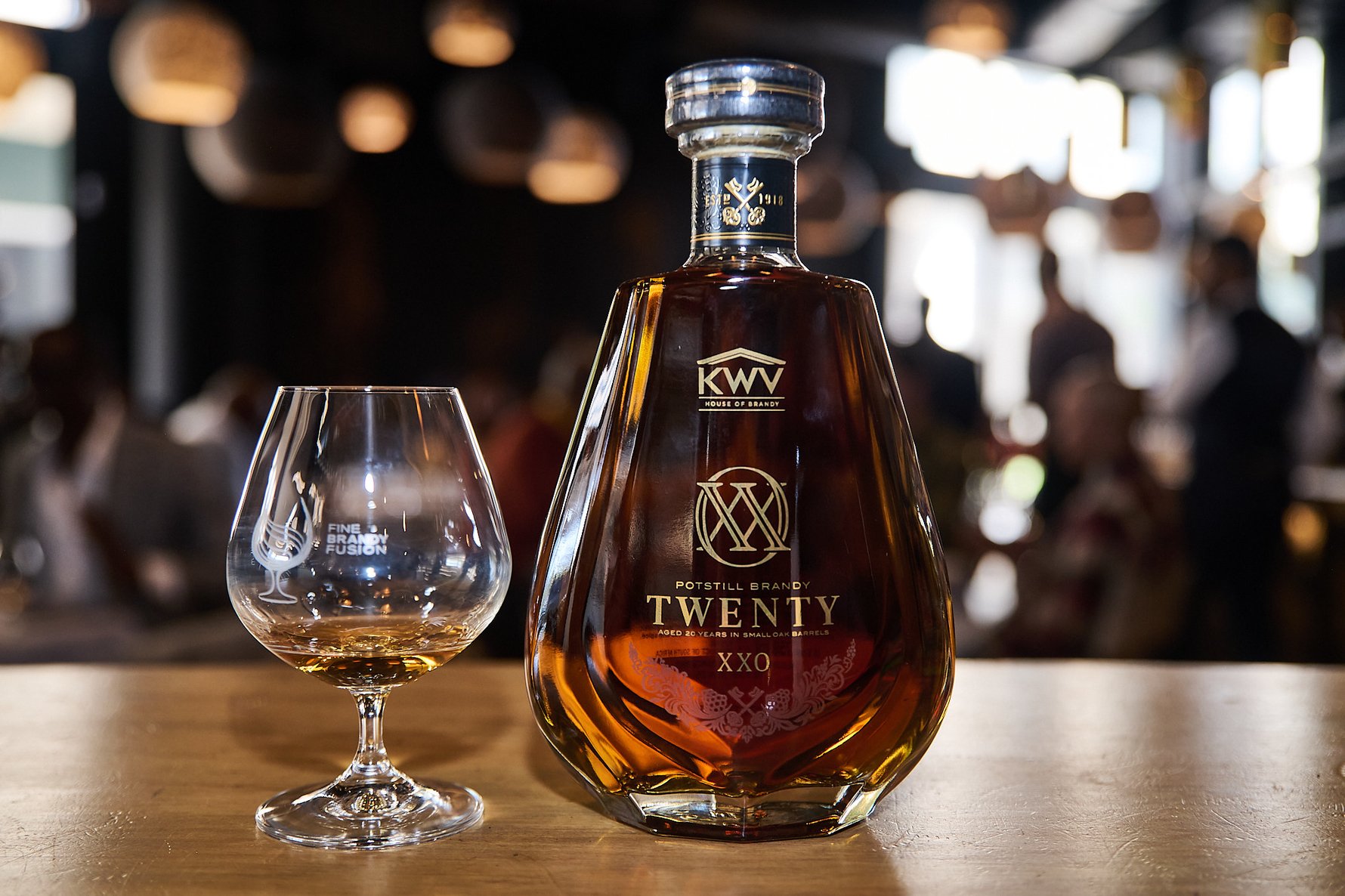 KWV Ten A deep, alluring amber in colour, on the nose you'll find prune, peaches and ripe apricots with vanilla and oakwood. Beautiful nose offering ripe fruit, dried fruit, spice and oak. This fine 10 year old brandy has a complex palate highlighted by a wave of floral and vanilla notes. Balanced and fine texture finish.

KWV Twelve With a rich golden colour this brandy presents dry fig, potpourri, citrus and a hint of white chocolate on the nose and tasting notes of dried fruit flavours with honey and oak.

KWV Fifteen A bright golden brandy with an aroma of ripe and dried fruit, plum, cinnamon, citrus, honey, tawny port, vanilla and sweet tobacco. Richy tastes of oak, dried fruit, a hint of coffee, crème brulee, delicate nuances of coffee, caramel and nuts.

KWV Twenty A deep golden amber brandy with notes of citrus, honey, cigar box, tropical fruits and pineapple on the nose and fruit cake, spices, oak wood, honey on the palate. 

Grundeheim Natural Potstill This amber-honey coloured 12 year old brandy offers aromas of vanilla, banana, stewed or dried fruits and an aftertaste of almonds and mixed herbs.

Bayede! XO A 10-year-old brandy with delicate peach and apricot notes and deeper layers of cloves and curry leaf, and a smooth vanilla and African honey palate.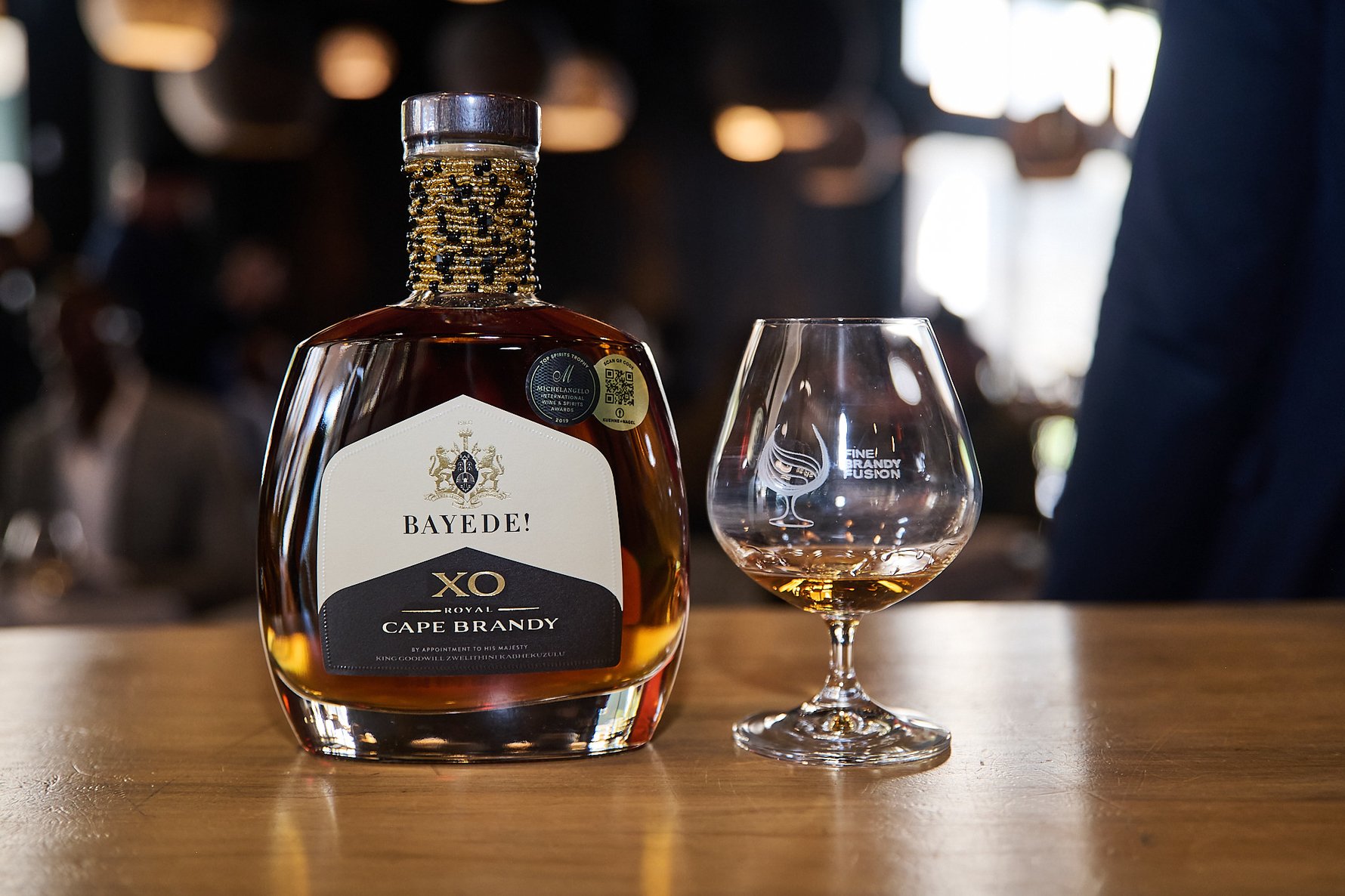 Musgrave Copper Potstill Brandy Black Honey A 20 year old brandy this is a depp caramel colour. Aromas of sweet prune, honey, light molasses, liquorice are found on the nose with savoury notes to develop and deep, boubon-esque savoury flavours on the palate.

Musgrave Copper Potstill Brandy Vanilla At three years old this relatively young brandy is light in colour with creamy vanilla and tangerines on the nose. A delicate, velvety soft palate and the promise of creamy vanilla carries through from the nose to the palate where it lingers with soft subtle hints of figs and dried fruit. 

L'Ormarins Sagnac 2009 The 2009 vintage promises notes of ripe apricot, peach, fudge and caramel aromas that mingle with hints of leather and creamy toffee. Silk smooth and gently textured, the same flavours come through on the palate: ripe peach and apricot fruit notes with cookie dough, fudge and caramel nuances. 

Upland Organic Pure Pot-Still Brandy At 10 years old this brandy is light brown in colour with wafts of dried peaches and apricots, citrus and pineapple, topped with generous vanilla. A depth and complexity of flavour that lingers on the palate, with a dry finish reminiscent of a great XO Cognac. 

Oude Molen XO This 10-year-old brandy has an abundant nose of peach, litchi and banana, hemmed by subtle traces of ginger and coconut and hints of dried apricot, tawny port and dark chocolate on the palate.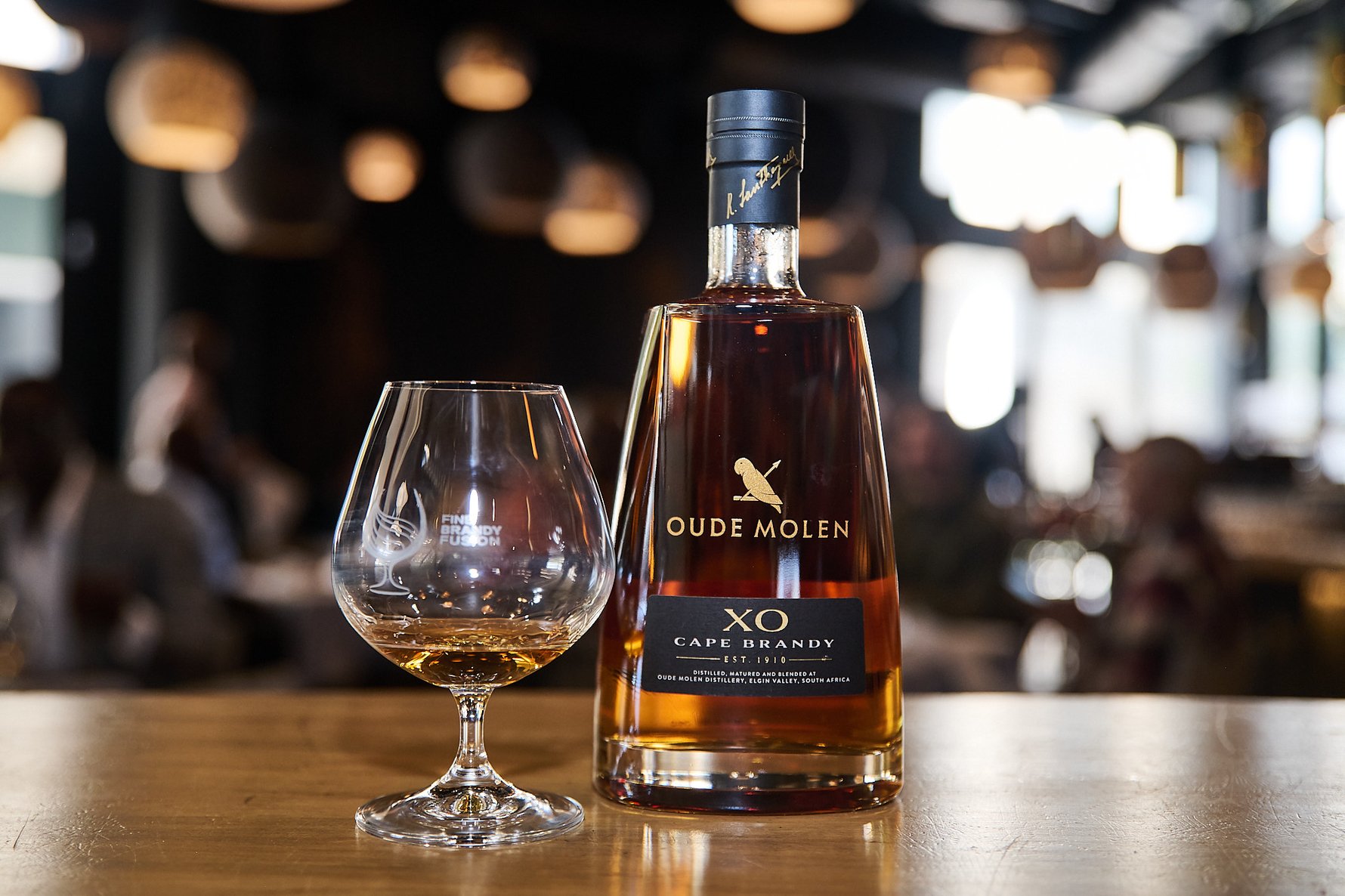 Backsberg Sydney Back Brandy Rich golden in hue this 10 year old brandy has a honeyed nose of rose, honeysuckle, dried peach, apricot and nuts. Sweet tobacco with hints of tea and cinnamon render a beautifully layered, complex palate, complemented by a smooth mouth-feel with a gradual warming sensation and long finish. 

Boschendal 10 Year Old Potstill Deep amber with complex dried peaches and spice on the nose. Full-bodied with a slightly sweet fruity aftertaste. 

Klipdrift Premium Klipdrift's full-bodied, but smooth amber gold brandy presents aromas of cedar, tobacco and warm spices with apple and walnut undertones, combined with a variety of flavours that perfectly combine to create a lingering and supple finish. 

Richelieu 10 Year Old Brandy Hints of chocolate, vanilla and green fig preserve and underlying hints of peaches and plums, combine with a complex and full-bodied flavours of hazelnut, roasted coffee and dark chocolate, complemented by a lingeringly smooth and oaky finish. 

Sugarbird 14 Year Old Brandy A unique cape Brandy filtered through honeybush and other fynbos botanicals. Local honey enhances the natural caramel flavours and allows the sweet prune, dark chocolate and creamy vanilla notes to shine. A velvety soft finish and wonderful golden colour.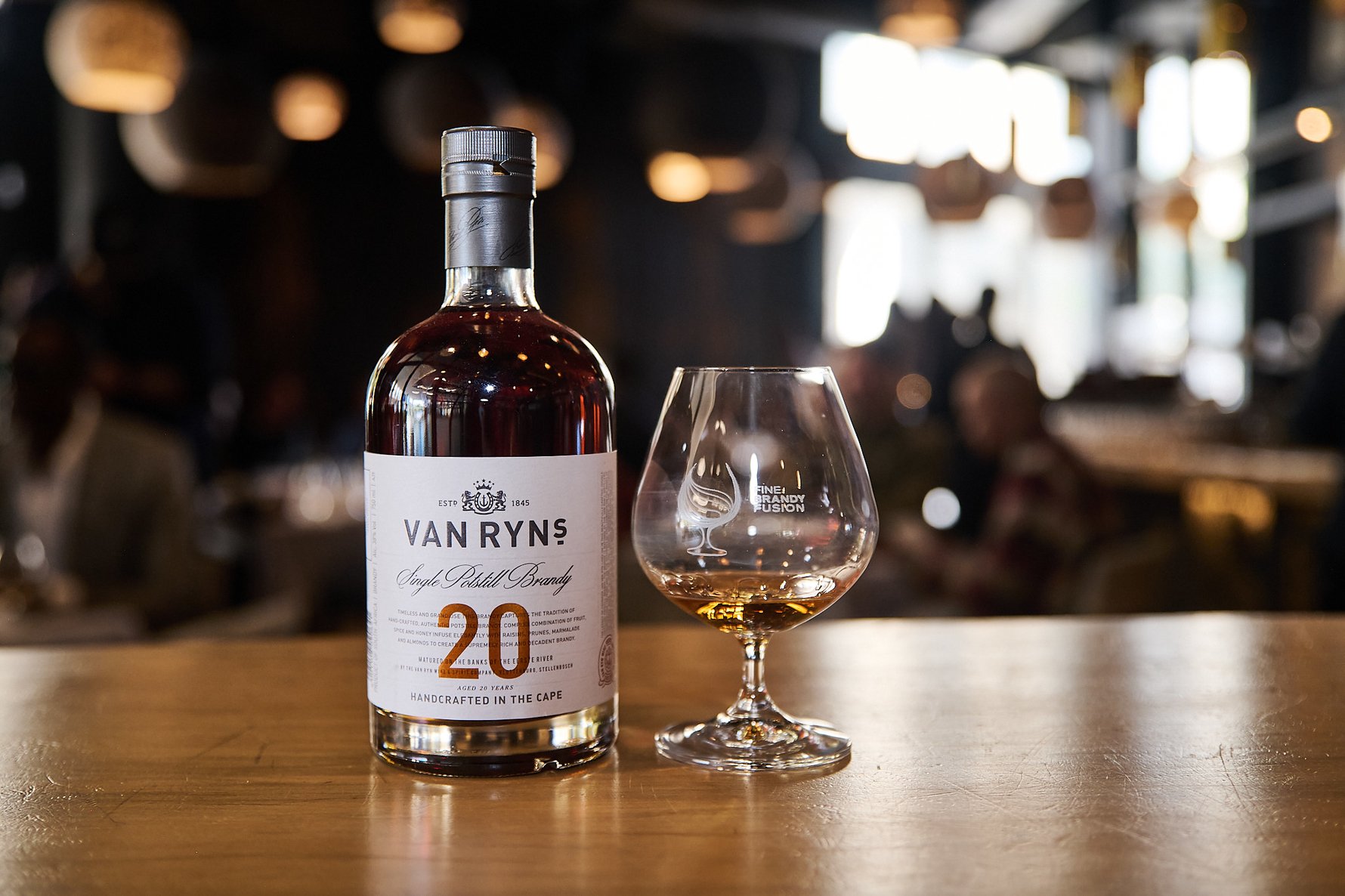 Van Ryn's 10 Year Old Potstill Golden amber with notes of vanilla, apricots, spice and chocolate. Lingering dark chocolate, nuts and sweet vanilla on the palate complement a well balanced oak contribution.

Van Ryn's 12 Year Old Potstill Lustrous, deep golden amber in colour, aromatic red cherries with undertones of almonds and spice on the nose and a complex combination of cherries, vanilla and hints of citrus with peppery undertones on the palate. 

Van Ryn's 15 Year Old Potstill This rich, burnished gold brandy hums with dark chocolate, roasted coffee and raisins (fruit cake) and nutty undertones with hints of coconut on the palate.

Van Ryn's 20 Year Old Potstill An opulent, glistening gold  brandy with rose-like aromas and red berries on the nose and a delicate palate of sweet vanilla, spice and rose water.

Viceroy 10 Year Old Brandy Golden amber in colour on the nose, this brandy is rich in dried fruit, red berries and spicy notes. The taste evokes notes of tobacco, malt, coffee and lingering chocolate-like aftertaste with a smooth finish.