From April 26 until May 3 an astonishing collection of more than 100 works by the celebrated Namibian printmaker John Muafengejo go on sale in a unique online auction hosted by Strauss & Co auction house.

The works all come from the private collection of Namibian collector Orde Levinson, who has spent a lifetime collecting the art of this trailblazing printmaker. Like many 20th Century black artists from southern Africa, Muafengejo never quite reached the widespread acclaim that his talent deserved, although now more than 35 years after his death his instantly recognisable linocuts are becoming steadily more popular among collectors.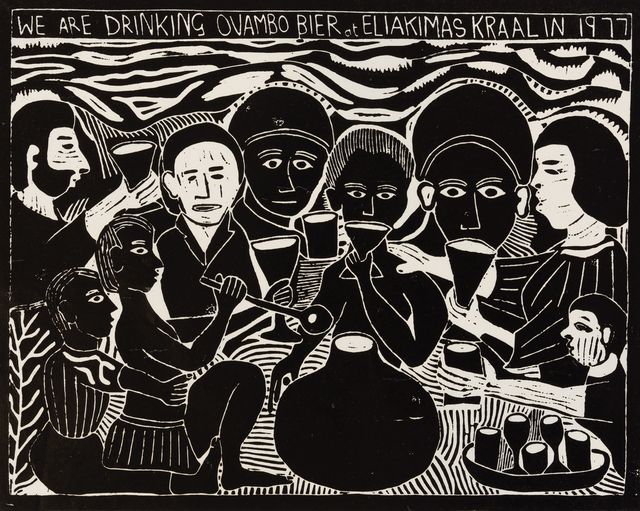 Born in southern Angola in 1943 and educated in northern Namibia, John Muafengejo (1843-1987) is known for his utterly distinctive and richly detailed autobiographical linocut prints. In his early 20s Muafengejo moved from Namibia to South Africa to study printmaking at the Evangelical Lutheran Church (ELC) Art and Craft Centre at Rorke's Drift in KwaZulu-Natal. By the mid-1960s the art school was already gaining a reputation as one of the finest on the continent that accepted black students, and Muafengejo went on to become one of its most successful artists.  
 

While still a student, in 1969 Muafanegejo travelled to London together with contemporaries Dumile Feni and Sydney Kumalo to take part in the exhibition Contemporary African Art. British critics described him as "a printmaker of world class", and in successive years Muafengejo's work was shown in other international exhibitions.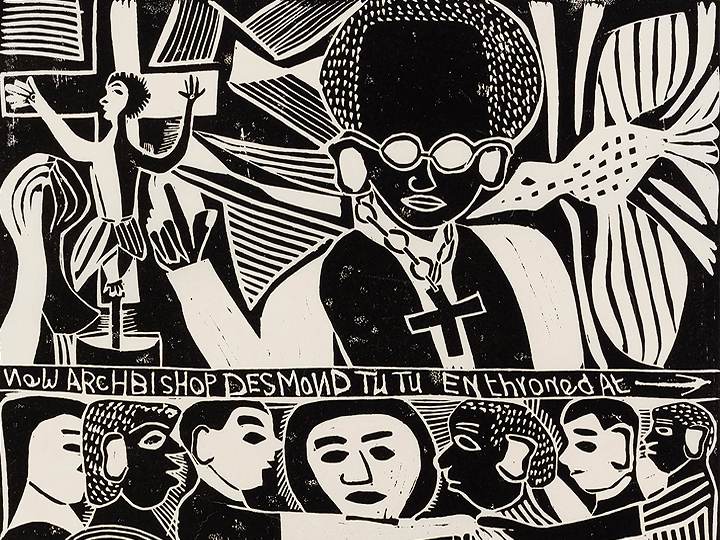 Muafengejo left South Africa in the 1970s to return to Namibia and dedicated his life to art and teaching. His striking works knit together diverse figures and text passages and brilliantly reflect everyday social and religious scenes from his Namibian life. Sadly Muafengejo never lived to see a free Namibia, although his desire for an end to white oppression, and the anticipation of liberation, shines through in his works. The artist died suddenly in 1987 from a heart attack, aged just 44.

Art historian Pat Gilmour says of his work "[it is] miraculously full of beauty, tenderness, humour and humanity, but... Muafangejo's glory resides in the record he left – not only for Namibians but for the rest of us – of a struggle for liberation from disgraceful white oppression."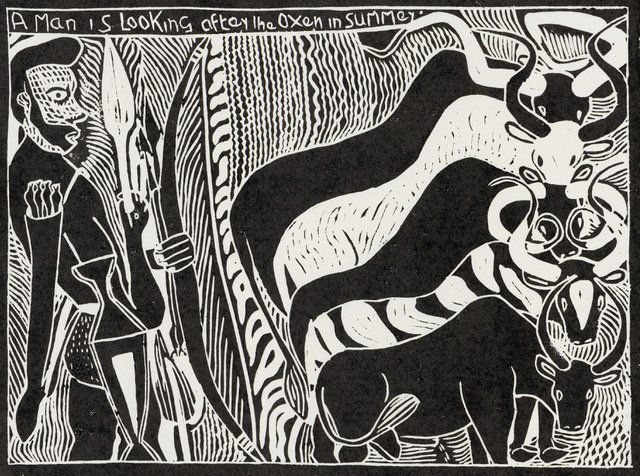 A passionate collector and documenter of John Muafengejo's art, Orde Levinson credits his passion for collecting to his mother; "While her great love was (Adolph) Jentsch and our house was filled with his work, my mother collected and hung many other artists including, of course, Muafangejo". When his mother died Levinson inherited at least another 100 works, and later when items from John Muafengejo's artist studio were put on auction, he increased his collection even further. 

Over the years Levinson has successfully staged exhibitions and published books on Muafengejo's work, including the extensive I was Lonelyness: The Complete Graphic Works of John Muafangejo, detailing all 262 of his known graphic works. However, Levinson says regretfully he never managed to establish a museum, and so has finally decided to put his remarkable collection on sale. "It is time to move on and let others enjoy the works and the blocks. I hope the pleasure and enjoyment these works bring can now be more widespread."
 
African Lion: John Muafangejo Works from The Orde Levinson Collection goes on sale online from April 26 at 08:00 until May 3 at 20:00. Browse the collection and register to bid online at straussart.co.za. You can view the collection at Strauss & Co's Houghton Gallery on weekdays from 08:30-16:00 until Monday May 3. On April 29 join the conversation with Namibian art specialists at 5pm. Book here to join the webinar. Click here to join on Zoom – Passcode: 979311.