The Forum Company is one of the city's leading gourmet events organisers, famous for their fabulous venues and award-winning food. However, with large scale events, such as the fabulous annual Turbine Art Fair, currently off the cards, The Forum Company has begun looking afresh at what it does best – food – and how it can continue to share those experiences with Joburgers under current restrictions.

Enter The Forum Kitchen, a delicious new gourmet meal service. The service currently operates in and around the northern suburbs with two new menus delivered twice a week. We enjoyed a Friday night menu from The Forum Kitchen, just in time for the next round of 2020's rolling cold fronts, and settled in for the perfect at home feast.

One of the things that has always made The Forum Company stand out is their memorable and inventive sense of style. Whether it is unusually shaped cups or fun, themed canapes, you always know when you are at a Forum Company event. They have brought this same flair to the delivery service and we loved it.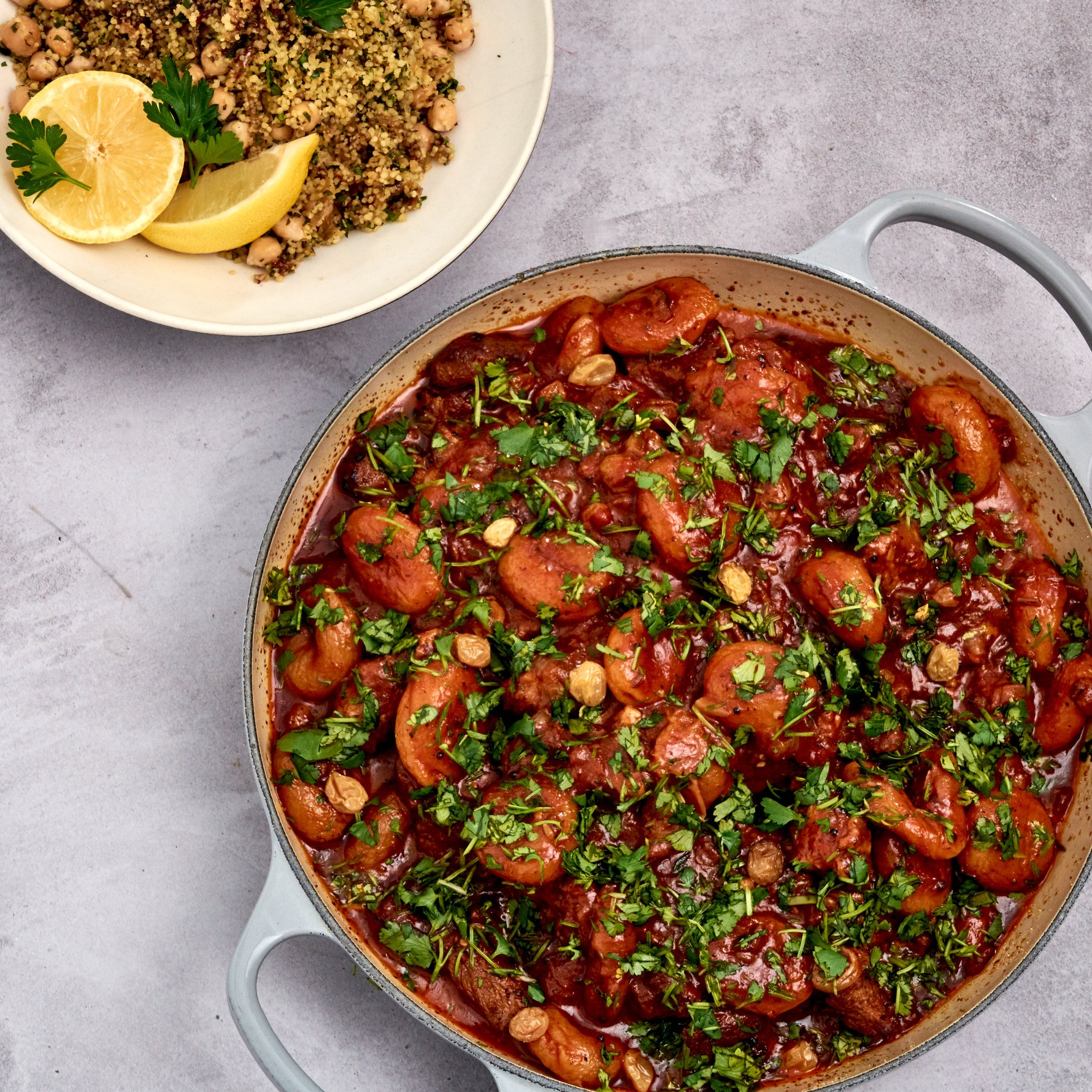 After placing our order online (you must order by Tuesday for a Friday delivery and by Sunday for Tuesday delivery), on Friday afternoon right on cue a Forum Company delivery driver arrived at our house with a huge wooden crate, filled with various boxes neatly presented inside a sawdust bed. This far beats digging boxes out of various steamed up plastic bags, and also fits in with The Forum Company's eco-conscious ethos (all packaging is also made with recyclable materials - namely foil and cardboard). Dinner has arrived!

Every dish, whether a side, main course or dessert comes with its own QR code that you can scan to find the exact advice for how to heat and serve the dish. We advise scanning all the codes before planning dinner so that your different courses will be warm in the necessary order.

With the weather being what it was we opted for the most comforting winter recipes on the menu. After mopping up the fantastic warm potato salad with charred brinjals (salads are always one of The Forum Company's most accomplished courses), for mains we enjoyed a Moroccan lamb and apricot tagine with herbed couscous and chickpeas on the side. This is an extremely rich dish, bursting with aromatic Moroccan flavours and heavy with a richly flavoured sauce and generous serving of lamb. We ordered the portion for two (all dishes are also available as family-sized for four) and still had some left over to enjoy the next day.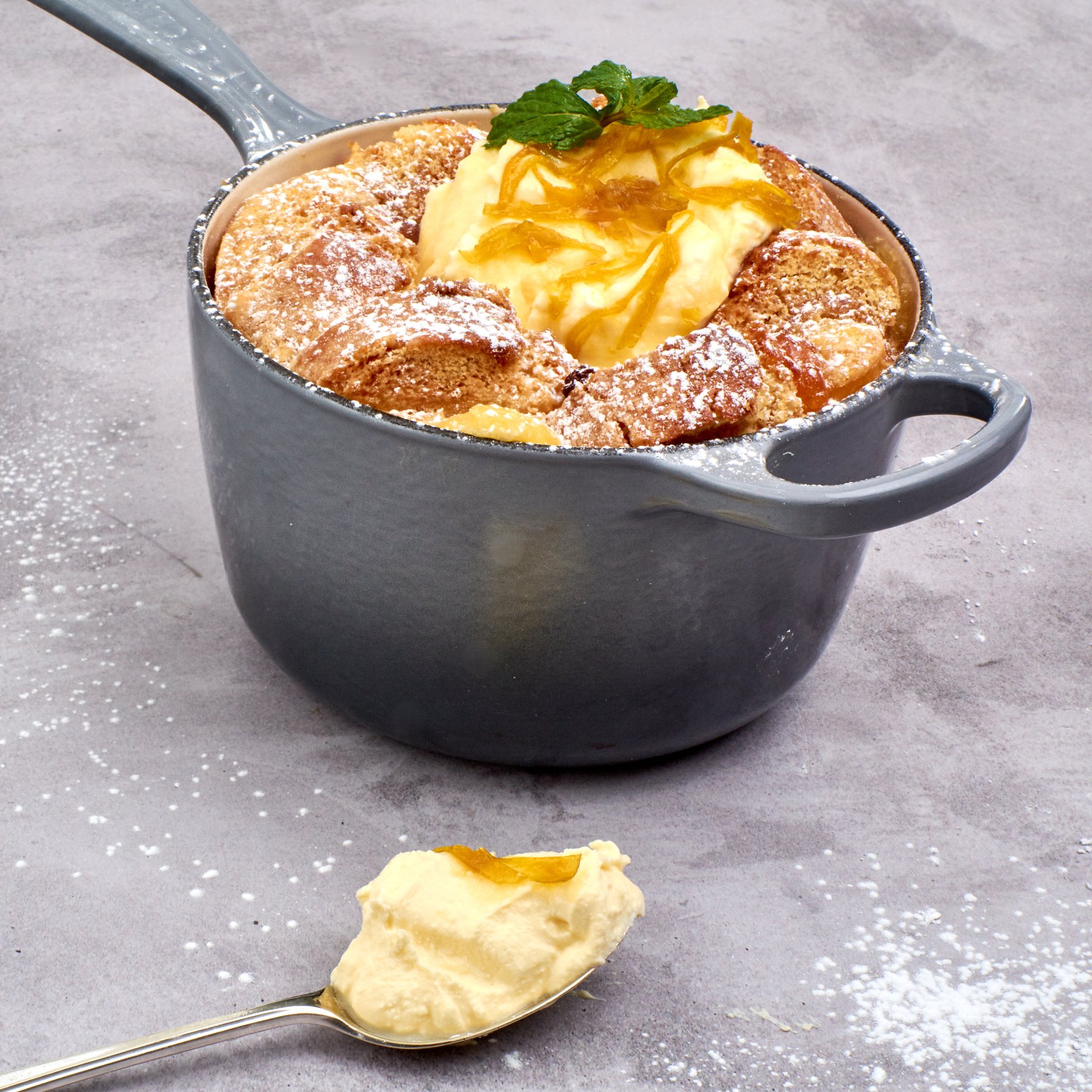 And it wouldn't be a big family dinner at home without dessert. To top it all off we ended the meal with the 'revenge' bread and butter pudding. The Forum Company of course is all about presentation and those little details, and we delighted to find our huge pudding came with a second box containing a beautiful big dollop of mascarpone sitting among delicate orange peels and zest to serve on the side, while a third container held a dainty muslin pouch of icing sugar for that final sprinkle of decoration.

Again the portion was huge and we were left with enough pudding for a second round on Saturday night, best enjoyed in the comfort of home, perhaps with your pyjamas on and the heater blasting out warm air.

We really do miss going out for dinner, but when home deliveries are getting this good, you'll be forgiven for choosing to plan another evening in with your slippers on.
HOW IT WORKS
Place your orders for The Forum Kitchen dishes online via the website www.theforumkitchen.co.za for Tuesday or Friday delivery. Menus change every week to reflect the seasons.  You can also add in items from The Forum Kitchen deli to your order such as sourdough bread or homemade granola, as well as wines to enjoy with dinner.
WIN A R1,000 VOUCHER TO SPEND AT THE FORUM KITCHEN!
Enter our prize draw here for a chance to WIN a R1000 voucher to spend on a delicious family dinner at home!