This family-run Turkish restaurant and butchery is a bright and welcoming spot in what is otherwise the gritty suburb of Mayfair. It's located at the site that formerly belonged to Burhan's Butchery which started as a grill on the street for excellent shawarma and kebab and which soon grew into a destination.

The Turkish Kebab House and Butchery is divided into two sections. You enter through the butchery and Turkish food goods store, where you are greeted by trays of Turkish delight, breads and other authentic foods. The fridges are stocked with Turkish kofte, kebabs and other take home butchery items. We can vouch for their great quality and exceptionally reasonable prices. Of course all food here is Halaal, which also means no alcohol is served. But we can recommend the soft drinks which include a tasty sour cherry juice.
 
The restaurant is spacious inside, large and well-lit. It's all immaculately clean and bright in colour – we remark only because of the contrast to the neighbourhood outside.

Order a Mix Grill platter (the platter for 2 feeds 3 comfortably) and you'll find the table heaving with a range of starters before the freshly grilled meats and chicken pieces arrive. These will include a range of fresh salads including pickled red cabbage and carrots, spicy Ezme (a finely chopped tomato and chilli blend) with delicious Cacik (creamy yoghurt with fine slivers of yoghurt, chopped garlic and mint) plus huge pillowy flatbreads to mop it all up.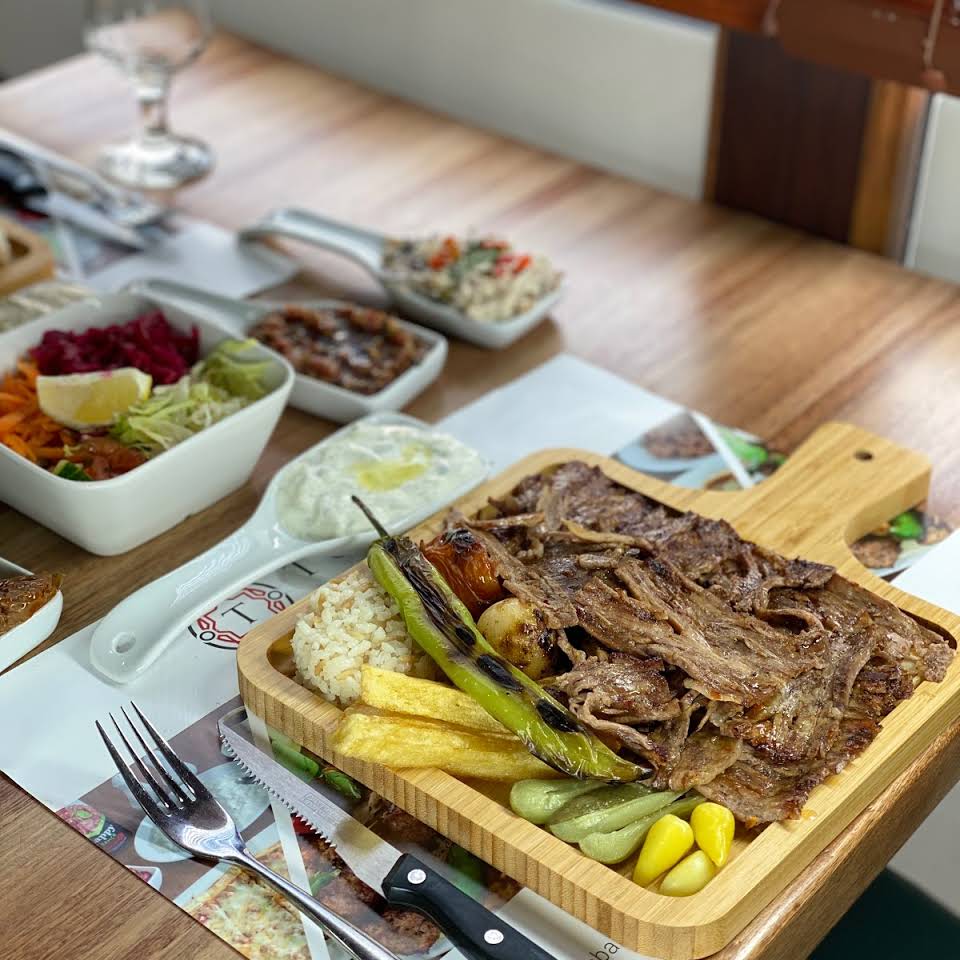 While the grilled meats (with a wide range of kebabs of course) are a house speciality there's no shortage of vegetarian options. We enjoyed the Turkish pide – an oven-baked thin pizza base with toppings – sliced for sharing, with mozzarella and ricotta cheese. And most dishes come in two sizes, standard and large.

For dessert, Turkish baklava, ice cream and Turkish delight are all on offer and you can decide by browsing the counter at the store or ordering from your waitress. Service is efficient.  

You'll notice The Turkish Kebab House is a place frequented by locals, with many tables of young men, or families out to eat. The food is superbly tasty and visually a treat. Arrive hungry and you'll leave more than satisfied. 

While in Mayfair, make sure to park on the main road, Church Street, leave valuables at home and casual dress is best. Our other recommendation for eating in this area is Baps Shayona. And if you have any car fans among you don't miss a pop in at Autostyle Motorsport on Church Road, a block up from the restaurants. If the largest selection of Mag wheels, subwoofers and amplifiers for the car boot, plus other accessories like eyelashes for your front lights or other ways to pimp your ride are your game, consider this your spiritual home. You'll also find super friendly and knowledgeable service here.