In Joburg, the car is king. In the city's insatiable desire to expand ever further north post-apartheid, people who actually walk in the city have often been ignored by property developers and planners. For many years new buildings, office parks and even entire business districts have been designed almost entirely around car park functionality, and sociable outdoor spaces have been forsaken in favour of bunker-like shopping malls. 

However, in the 2020s a desire for walkable precincts and foot-friendly access is slowly taking hold. Covid has also changed the way we live and the way we aspire to live.   

For months we've been curious about what's happening at Oxford Parks at 199 Oxford Road. What first got our attention were the beautiful mosaic steps with a Joburg cityscape. It's not often that you see such fond references to the city skyline in Joburg's suburbs. As the scaffolding has come down in recent weeks and more of the precinct has been revealed we thought it time to explore, so we asked to meet with Intaprop Director Carollyn Mitchell for a walkabout and to find out what's in store for this brand new green and walkable lifestyle precinct. An urban planner, Mitchell's views on neighbourhood, community and walkable human-scale precincts are a breath of fresh air. 

The most positive news is that it's a development that's looking to put people, and not cars, at the centre, and the emphasis is on extending Rosebank's enchanting walkability. Astoundingly, the first stage of Oxford Parks (visible in April 2021) represents just 10% of the entire development that in the next few years will connect Rosebank with nearby Illovo via a walkable and green lifestyle precinct.
Glass buildings and green streets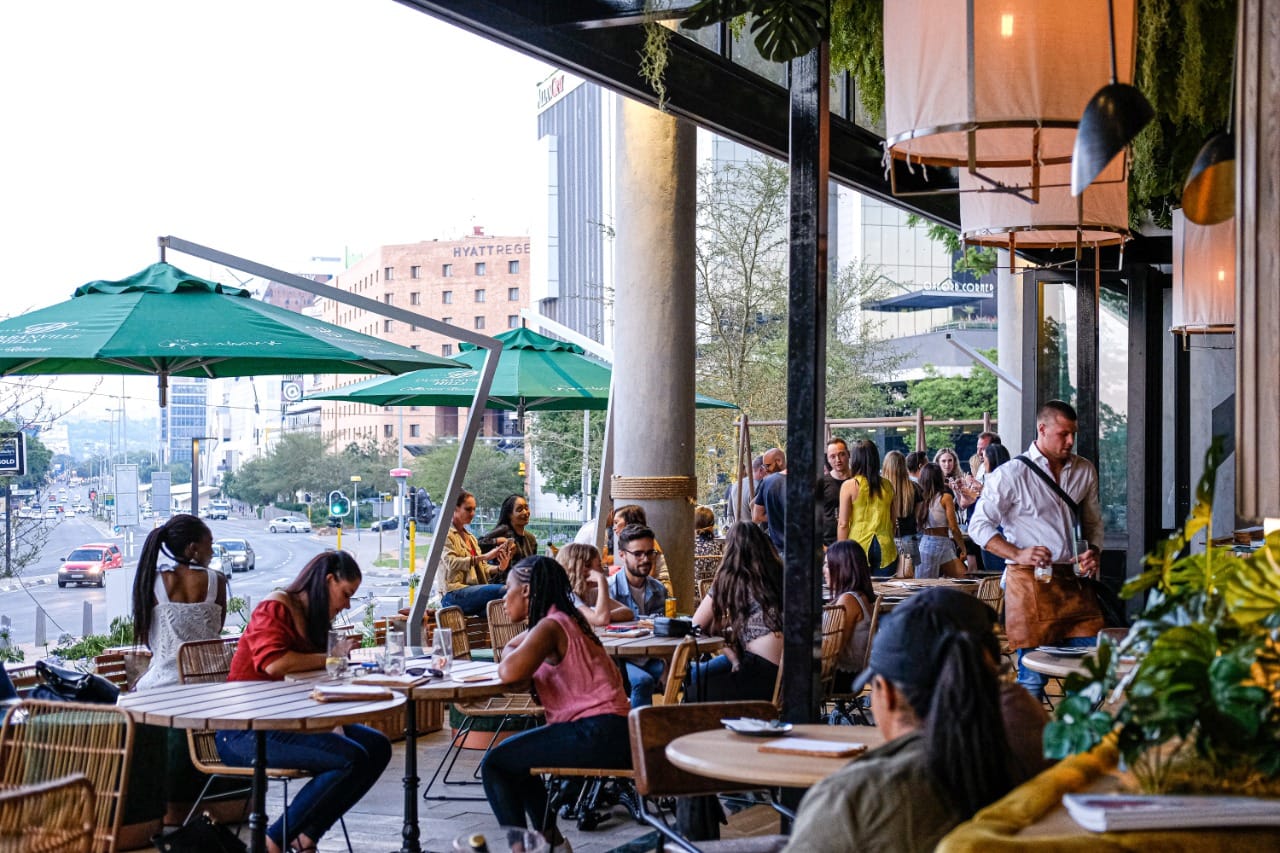 Stretching all the way along Oxford Road from Jellicoe Avenue in Rosebank to Bompas Road on the edges of Illovo, when completed Oxford Parks will encompass 100,000m2 of residential space and 200,000m2 of commercial space, including offices, apartments, restaurants, cafes and a hotel.

Anybody looking at these numbers can be forgiven for wincing at the thought of yet more colossal steel and glass towers hidden behind high fences. However, the developers of Oxford Parks are determined to ensure that the precinct develops at a more human scale. There's an emphasis on every new building being accessible through the front door and from the street, as opposed to via a boom gate and the underground car park, while heights are an average of seven floors. Office workers will not be literally fenced in with buildings but instead surrounded by landscaped public space. Curved angles on buildings also offer vistas out of the precinct and looking south across the piazza, you can get an amazing view down Oxford Road of the city's iconic buildings. We love how, overall, the precinct's layout favours pedestrians above cars.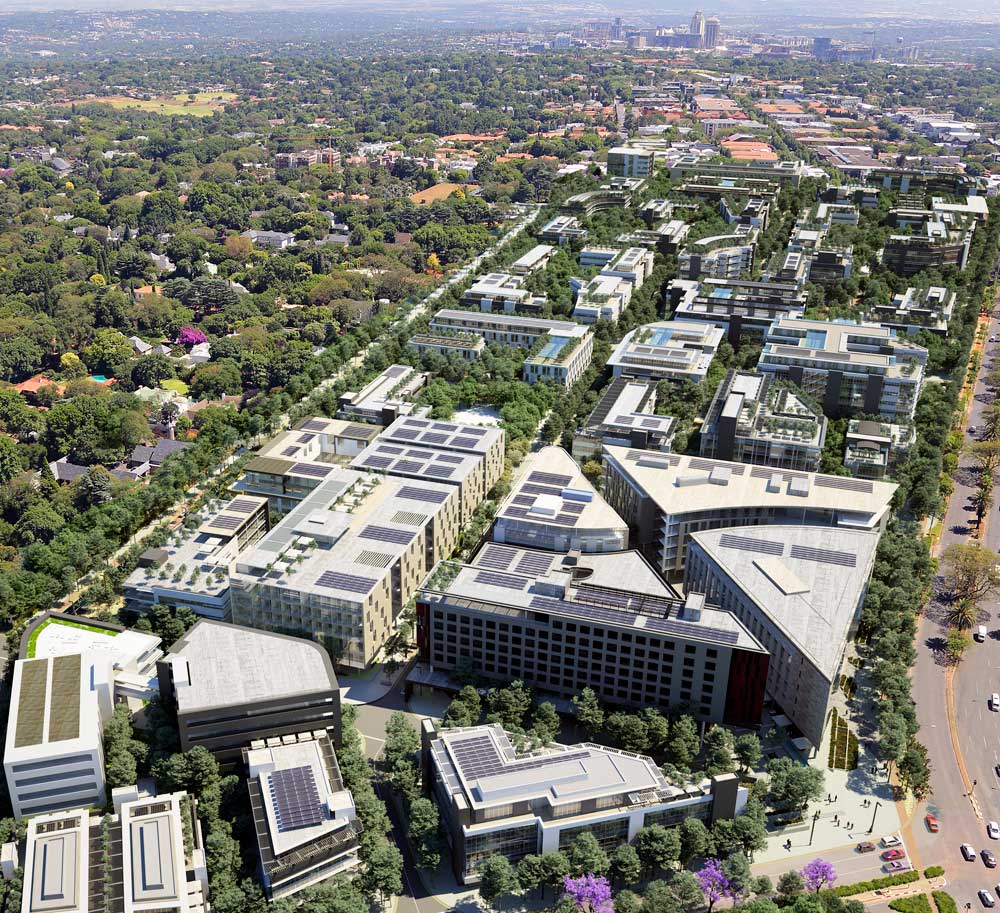 The area for the precinct has been carved out from old office blocks and houses on the eastern edge of the suburb of Dunkeld. Joburg's hundreds of thousands of trees are one of the city's most loved characteristics and the Intraprop are determined that the precinct will retain the greenery that is so distinctive of the surrounding suburbs. Trees that need to be moved are being transplanted rather than taken down wherever possible (so far in Phase 1, 17 trees have been moved) and new trees are also being planted (a count of 73 so far), alongside other greening initiatives like plant walls and water-wise gardens.
Building on a human scale – walkability and connectivity
Bordering Rosebank, the new Oxford Parks precinct is seen as an extension of the current business district. In particular, it has been designed to be easily walkable from the nearby Rosebank Gautrain station and taxi rank, while cycle paths will also be installed. 

Within the precinct, pedestrian access and the public environment have been put at the centre of plans. A series of linked tree-lined piazzas and walkways will snake through the buildings of the precinct, backing onto linear parks, all designed to be friendly to "fast walkers, people in high heels and those in wheelchairs", and with multiple access points so you don't need to walk 3kms to find your way out.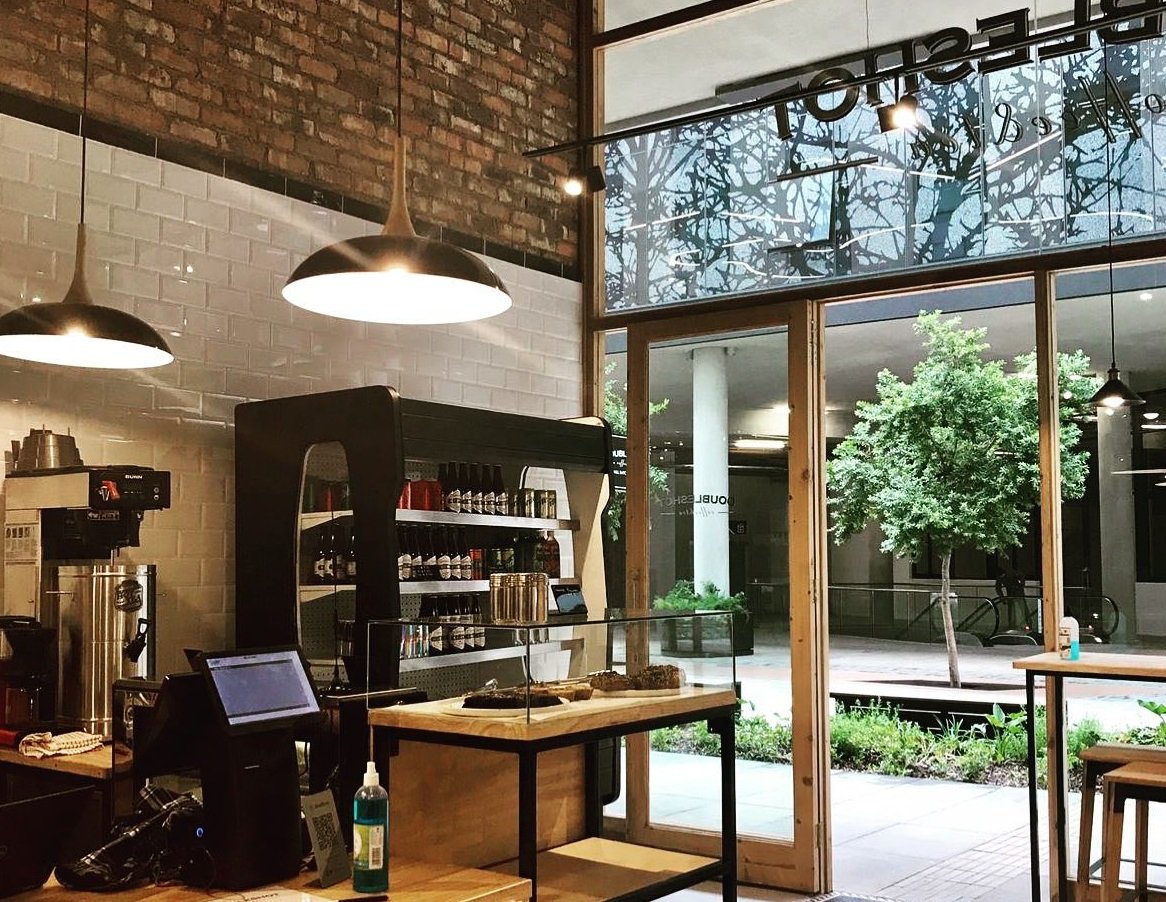 And to top it all off and make sure this really is a human-scale corporate endeavour, public art is set to be a major part of the character of the district with colourful mosaic steps and ramps, and contemporary sculptures installed in the outdoor spaces.
Cafes, restaurants and a rooftop bar like no other
Phase 1 of this huge precinct is already complete at the corner of Oxford Road and Jellicoe Avenue next to Rosebank. The first corporate tenants to move in include BP, Sony and Life Healthcare, while anchoring this corner of the precinct is South Africa's second Radisson RED Hotel.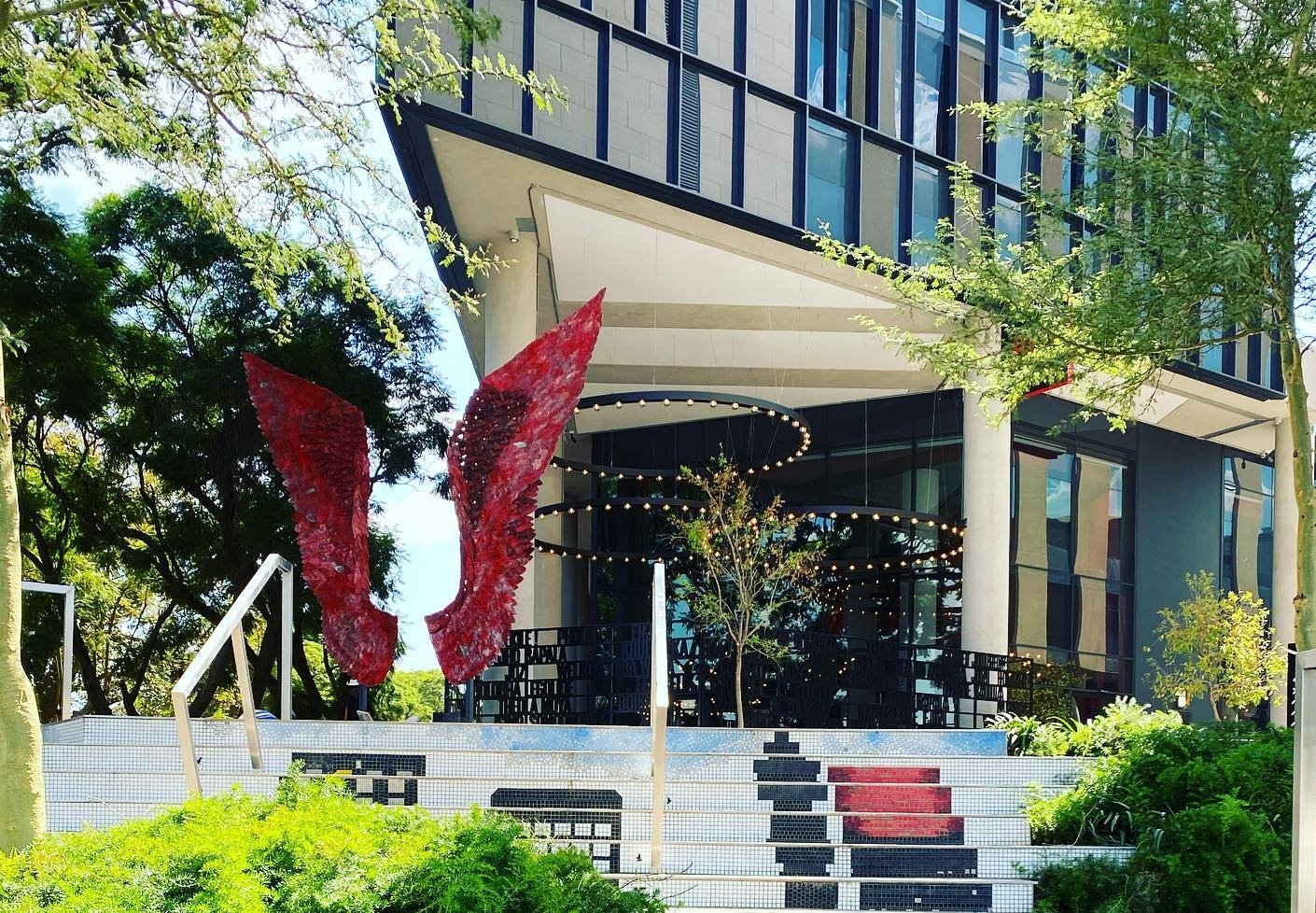 The Radisson RED Hotel brand is a cool and creative hotel brand that appeals to young, outgoing travellers. It's the kind of hotel where you will find a pinball machine in the conference room and a DJ set up on the rooftop bar. We took a tour of this 222-room hotel (opening June, 2021) and were seriously impressed with what we saw. 

Radisson RED Rosebank is a consciously art-focused hotel. Contemporary Ghanaian photographer Prince Gyasi was commissioned to create boldly coloured new works (some of them several floors high) for the hotel, while the furniture comes from the studio of South African design icon Haldane Martin. In front of the hotel a huge red angel wing sculpture made from old domestic irons by local artist Usha Seejarim has already become a major selfie spot, and the hotel plans to host regular art-focused events and activations.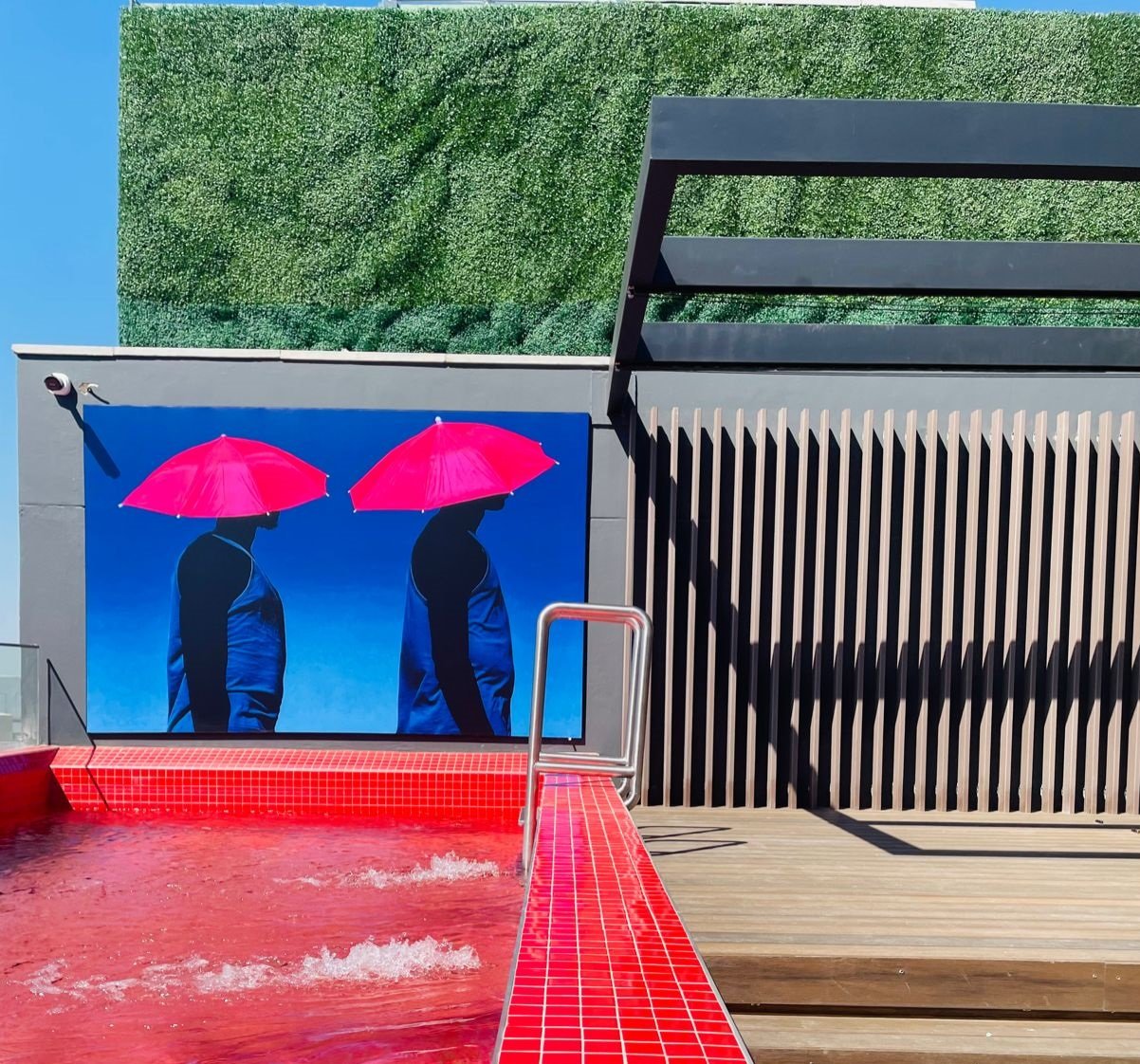 What is really going to take this hotel up into the 'must-visit' ranks for Joburgers is the signature rooftop pool bar. The epic sunset views out east all the way across the treed suburbs to Northcliff ridge and beyond to the Magaliesberg are in a class of their own. Expect to be joining a long waiting list for your next destination sundowners. 

Other lifestyle attractions in the precinct include: top chef Luke Dale Roberts The Shortmarket Club and The Test Kitchen Carbon restaurants, coffee roastery Doubleshot, vegetarian cafe Cleavy's, Asian street food bar Waku, 011 Gin Eatery, the BGR burger spot and Ethos Mediterranean restaurant.

All of the new building phases have residential rights too, so going forward expect a mix of apartments to be added to the precinct. 

As far as shiny new northern Joburg developments go – with its focus on walkability, urban greenery and accessible public spaces, we think Oxford Parks is one to watch. 

WHERE: Visit Oxford Parks at the corner of Jellicoe Ave and Oxford Rd, Rosebank / Dunkeld. The Radisson RED Hotel Rosebank launches June 2021. Find out more about Oxford Parks at oxfordparks.co.za.