The high-speed shiny gold Gautrain service is the quickest and easiest way to travel between Gauteng's two main cities Joburg and Pretoria. As well as ferrying commuters back and forth from home to office, the service is also a handy way to get around and do some sightseeing as the Gautrain stations lie within easy reach of many of the province's museums and heritage landmarks. 

In our series of guides to exploring Gauteng with the Gautrain, we present everything you need to know to plan a day trip around each of the Gautrains main stations. In this edition we present a comprehensive guide to the top attractions that lie just a short walk from the Rosebank Gautrain station.
Art, fashion and food in Rosebank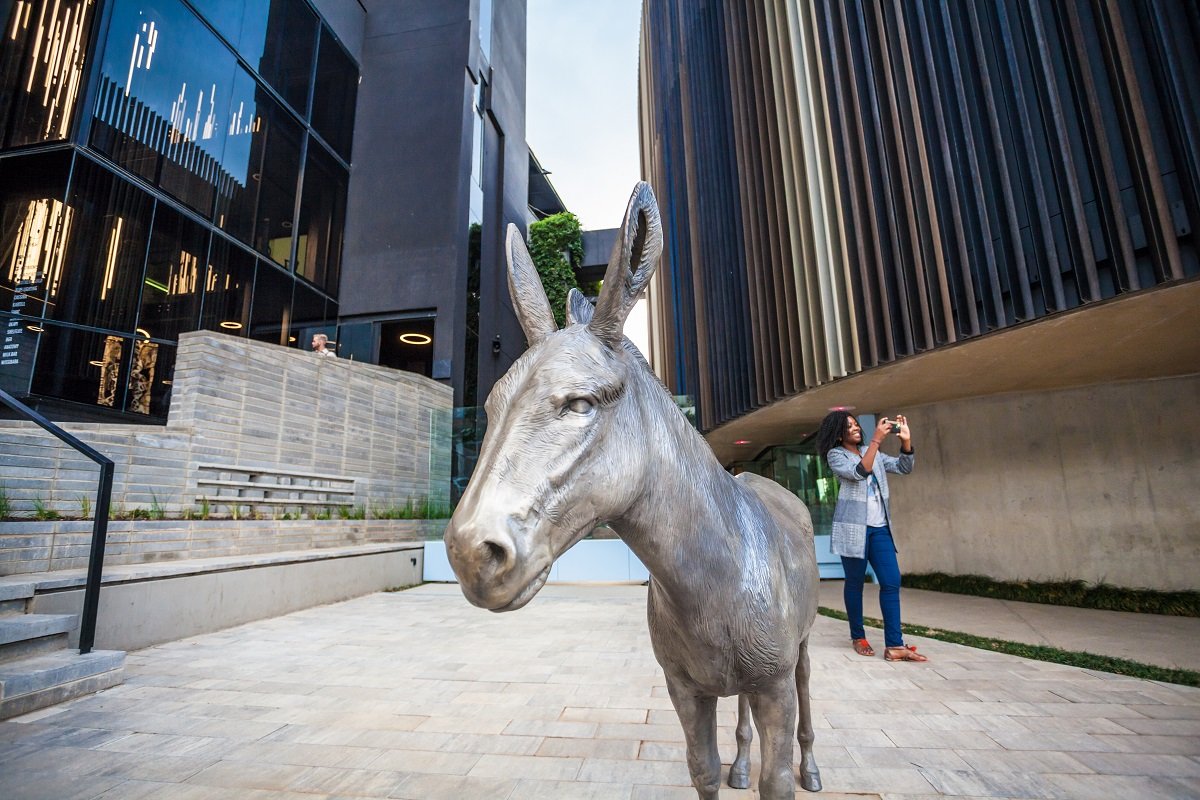 Lying directly between Joburg's historic city centre and the newer Sandton business district, Rosebank is one of the most popular places to be in Joburg whether for business or leisure. Rosebank's busy pedestrianised shopping precinct, centred around three interconnected malls The Firs, Rosebank Mall and The Zone@Rosebank, hums with a diverse crowd who come to find the latest fashions and enjoy Rosebank's many restaurants and café society.

Art is also a big attraction with many of South Africa's top contemporary art galleries based here. Reflecting its growing popularity as a city neighbourhood, the Rosebank skyline is steadily being filled with sparkling new office towers and luxurious high-rise apartments, joined by chic nightlife and dining destinations such as Keyes Art Mile and Park Corner. 
Getting around from Rosebank station
The Rosebank Gautrain station is situated directly in front of the pedestrianised section of The Zone@Rosebank shopping area, which links to Rosebank Mall and The Firs shopping centre, and from here all of Rosebank's biggest attractions, such as Keyes Art Mile, lie within an easy 10-minute walk.

Rosebank sits amid the leafy 'parks suburbs' of Joburg (such as Parkview, Parkhurst, Parktown North, Parkwood, Craighall Park etc) all of which are no more than a ten-minute drive from the centre of Rosebank. To the west is Parktown North (a 20-minute walk), to the south Parkwood (approximately 15 minutes walk), to the north along Oxford Road is Illovo and the Wanderers cricket stadium, while directly behind the station to the east is the suburb of Melrose, famous for its spring jacarandas.
Essential sightseeing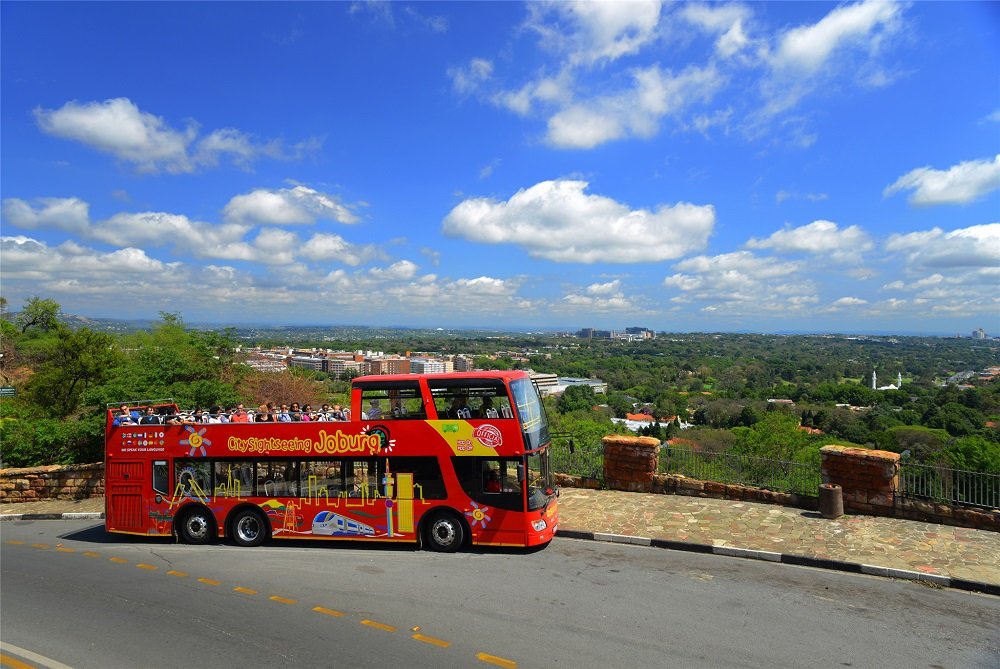 The open-top, hop-on hop-off City Sightseeing red bus is always a major attraction for both tourists and visitors. The bus has two routes. The Green Route starts from Rosebank and links up with the City Centre Red Route at Constitution Hill. Accompanied by an insightful audio guide you'll get to see the city in a new light from the open-top upper level of the bus.

You can get on and off the bus as many times using your one day ticket and there are 11 stops including the Apartheid Museum, Constitution Hill, Joburg Zoo and the Ditsong Museum of Military History to visit. The bus also connects to an whistle-stop two-hour minibus tour of Soweto from the Apartheid Museum. An easy way to see tons of top attractions in one day.

Buy your tickets online in advance and join the bus on Cradock Avenue opposite the Standard Bank building. Find out more about the bus and its operating times, ticket prices and routes here.
Rosebank's art galleries
Rosebank has one of the biggest concentrations of art galleries in Joburg and if you are interested in contemporary art there's plenty to keep you busy.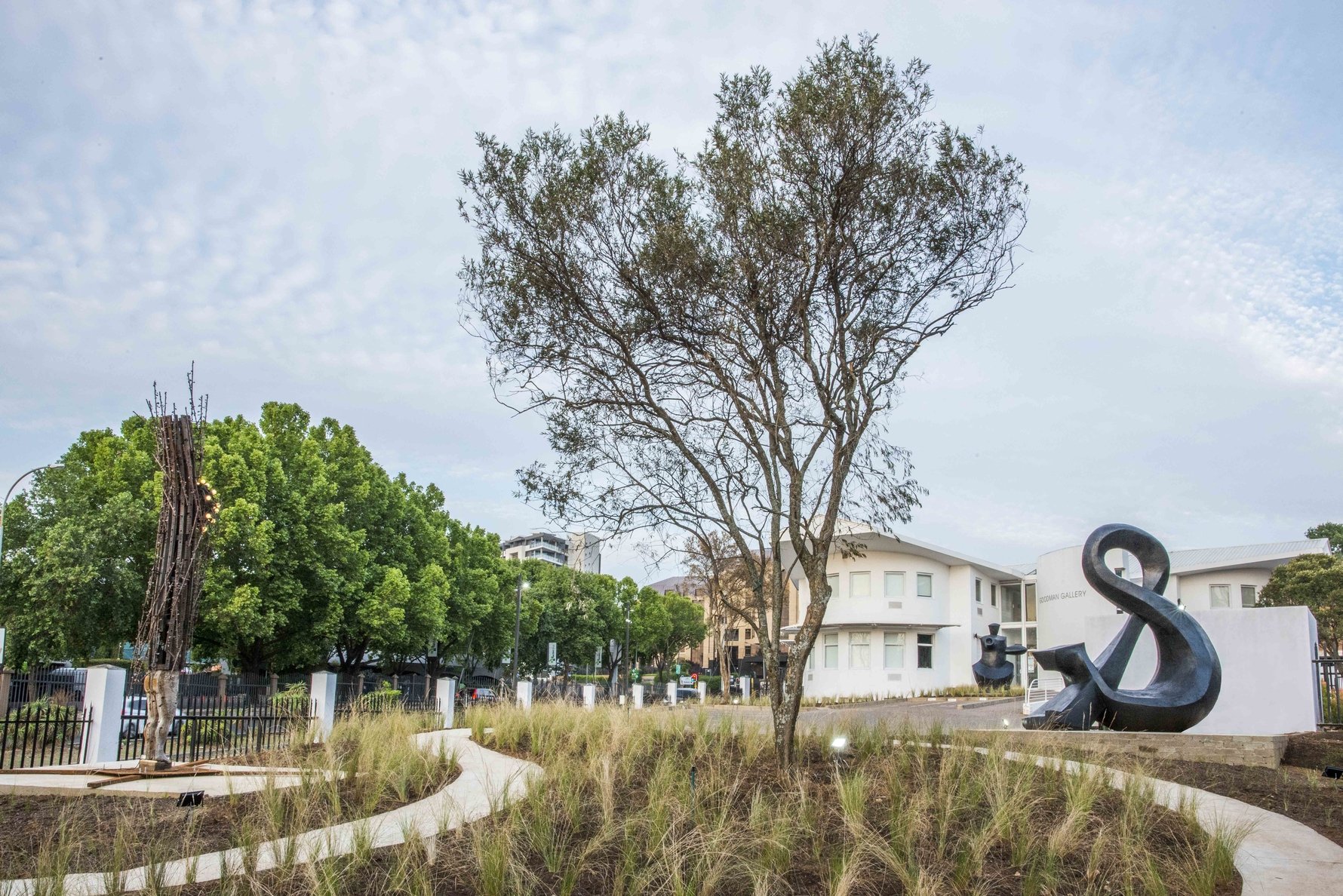 Start out at the sister galleries Everard Read and Circa in the Keyes Art Mile area on Keyes Avenue who represent some of the biggest names in South African contemporary art. Down the hill at the corner of Jan Smuts Avenue and Bolton Road is Goodman Gallery a major contemporary art gallery and a must-visit. A little further away on 7th Avenue in Parktown North (around 5-10 minutes walk from Keyes Art Mile) is Stevenson, another top spot to see the latest contemporary art.
* Note that all three galleries mentioned above close during the Christmas to New Year period and reopen in the first week of January.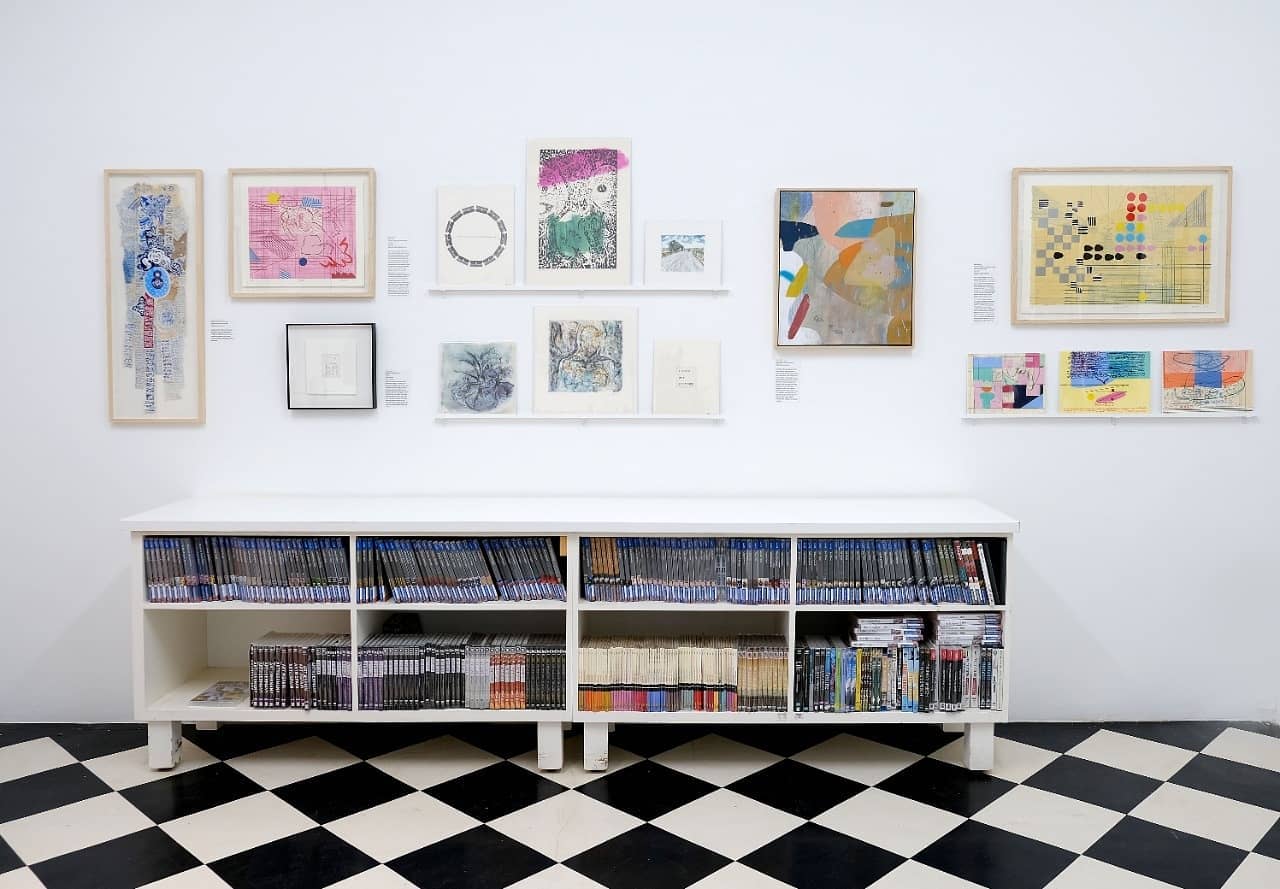 A few doors up Jan Smuts Avenue from Goodman Gallery is the Blue House home of top fine art print studio David Krut Projects, where you'll find an art gallery space and the fantastic David Krut bookstore specialising in unique local and imported art books (open throughout the festive season). At the corner of Wells and Jan Smuts Avenues is Kim Sacks Gallery, which showcases exquisite museum-quality handmade objects by African artists including ceramics and beautiful beadwork.

Finally in Rosebank Mall next to the arthouse Cinema Nouveau is the FotoZA Gallery, Joburg's only art gallery dedicated to photography, hosting regular exhibitions by local photographers that cover a wide range of styles and subject matters (open throughout the festive season). 
Market shopping in Rosebank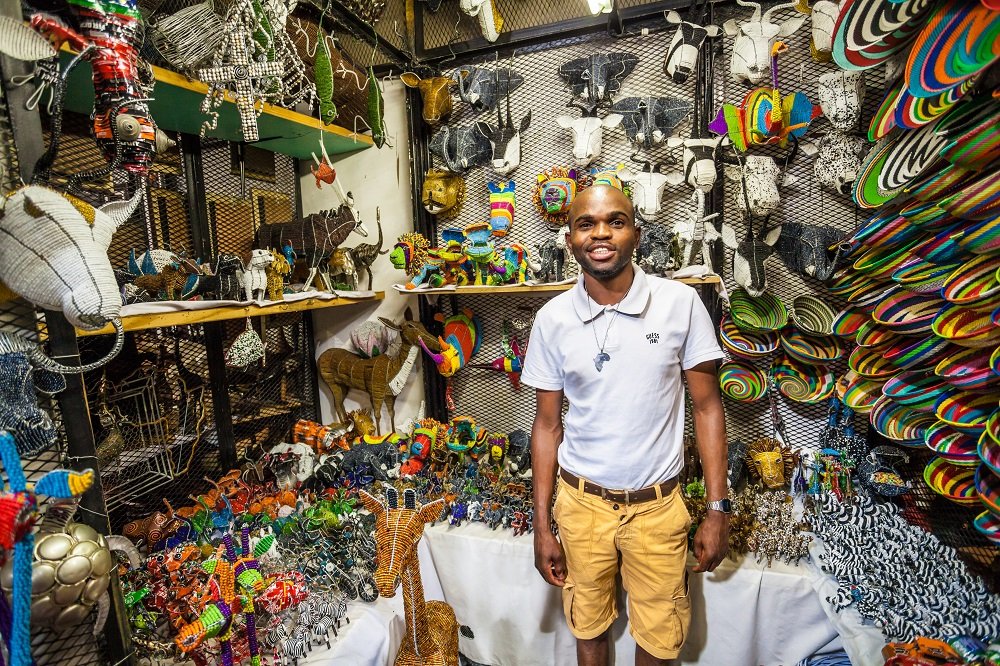 In addition to the hundreds of shops available at The Zone@Rosebank, The Firs and Rosebank Malls, Rosebank also has two excellent markets that are worth planning a visit around.

Next to the entrance to Rosebank Mall on Cradock Avenue is the huge daily Rosebank Art and Craft Market. Make sure to head downstairs to the lower level to find the market-proper (what you see at ground floor level is but a mere glimpse!). There are more than 100 different stalls selling the biggest collection of handmade items ranging from beaded sculptures and carved masks to hand-woven baskets, ceramics, leatherware, jewellery and colourful African fabrics. Most traders are also able to make custom designs and everyone is more than happy to bargain over prices. 

On Sundays the Rosebank Mall rooftop hosts the Rosebank Sunday Market, a popular destination for lunch and gift shopping with a huge variety of stalls selling everything from antiques to jewellery, vintage clothing and crafts. On the last two Sundays of the month there's also a car boot sale, which brings a fun flea-market atmosphere and lots of bargains.
Where to get lunch


Rosebank is a major Joburg dining hotspot and you are spoiled for choice when it comes for places to grab a coffee, lunch or to settle in for a sundowner or two.

In The Zone@Rosebank you'll find lots of open-air restaurants and cafes for pavement dining including tashas, vegetarian cafe Lexy's Healthy Eatery, Piza e Vino, Mythos and The Patisserie, as well as fast-food spots like Nandos and Rocomamas. There are also lots of good coffee shops too including Father Coffee, Motherland Coffee Company and Starbucks.

Around the corner on The Firs piazza enjoy al fresco dining at Nonna's Italian Kitchen or The Fishmonger or book a table at the acclaimed The Grillhouse restaurant.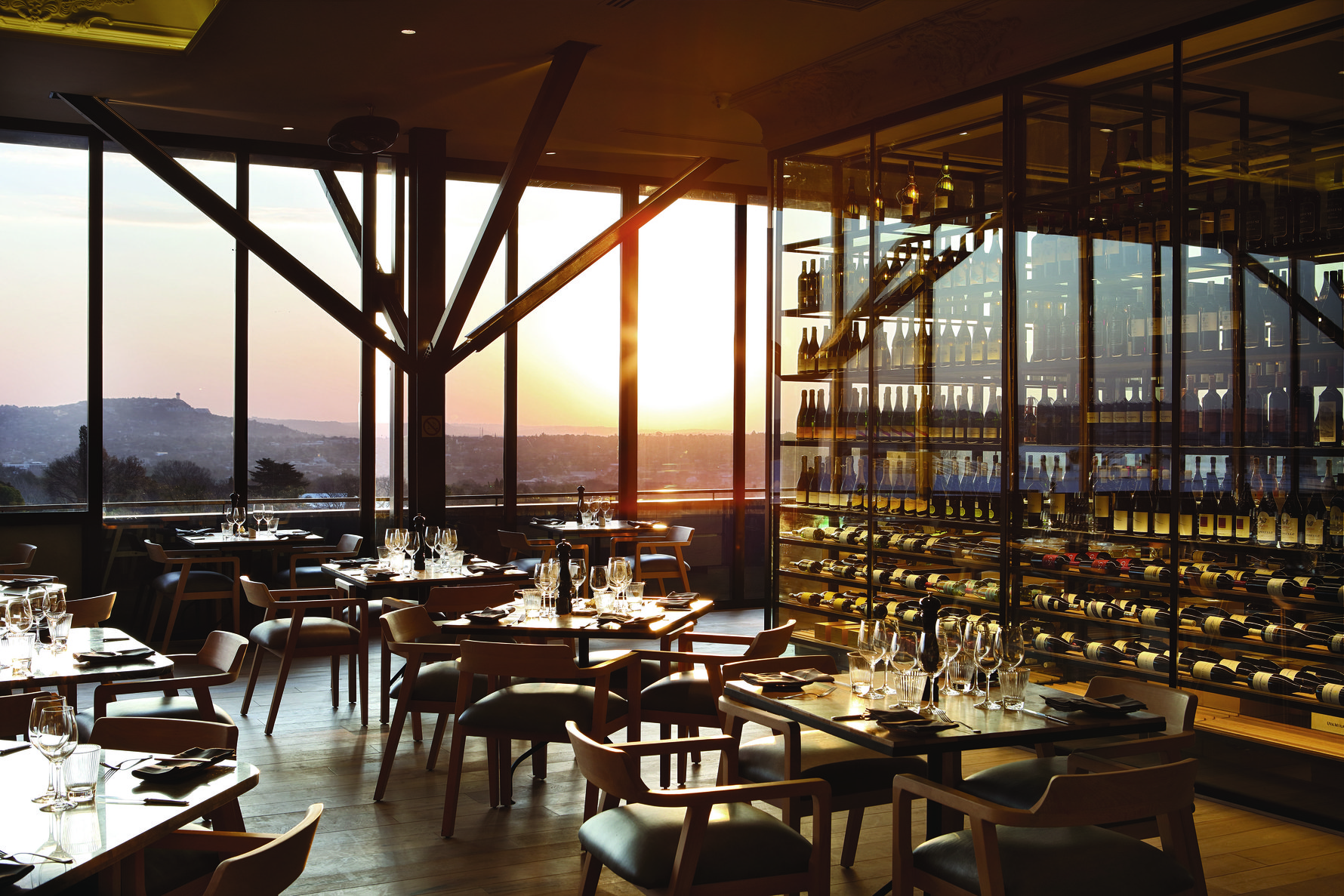 Down the hill, about 10 minutes walk from the Rosebank Gautrain station is Keyes Art Mile where you can find lots of trendy options including the chic Italian restaurant Sotto Sopra, celebrity chef David Higgs' famous rooftop restaurant and bar Marble, casual Asian street food restaurant Momo Kuro and the fashionable cocktail bar Mix at Mesh Club.

A little further away at the corner of Bolton Road and Jan Smuts Avenue (also known as Park Corner) take your pick from the excellent pizzeria Coalition, Maps Maponyane's Buns Out burger bar, Saigon Suzy for east-Asian noodle bowls and stir-fries, the highly atmospheric Che Argentine Grill or the lively Street Bar Named Desire. 
How to use the Gautrain
You can now pay for all your Gautrain trips using a contactless bank card by simply swiping in and out of the turnstiles at stations and tapping the contactless touchpoint on the bus when you enter. Alternatively, buy a Swift Card at the station and top it up to pay for your trips.

The Rosebank Gautrain Station opens at 05:20 and closes at 21:20. The first train departs the station at 05:28 and the last northbound train at 20:34, last southbound train 21:22 (21:09 on weekends). Trains leave every 12 minutes during weekday peak rush hours and every 20 minutes during off-peak hours. On weekends trains depart every 30 minutes.

Download the Gautrain app for real-time updates on when the next Gautrain and Gautrain bus is due or check online at gautrain.co.za.