In our What to Cook series we have asked chefs from our favourite Joburg restaurants to share some of their best recipes. This week chef, cookbook author and owner of The Leopard + Kitchen + Larder + Can Do at 44 Stanley and Rand Steam, Andrea Burgener, shares three easy to cook at home recipes.

The Leopard + Kitchen + Larder + Can Do is a small deli located in the courtyard of Milpark's boutique shopping centre 44 Stanley (currently closed during the lockdown). There is also a second branch at the Rand Steam centre which is open during lockdown. 

The Leopard has built a reputation for sourcing the finest locally produced ingredients and for focusing on sustainability. In the fridge you'll find a daily selection of heat-up or just go ahead and serve take-home meals, so good you'll want to tell your family you made them yourself.

As well as the Rand Steam branch remaining open, you can also order food from The Leopard online at leopardfoodcompany.com to get delivered to your home. Follow The Leopard+ on Instagram here.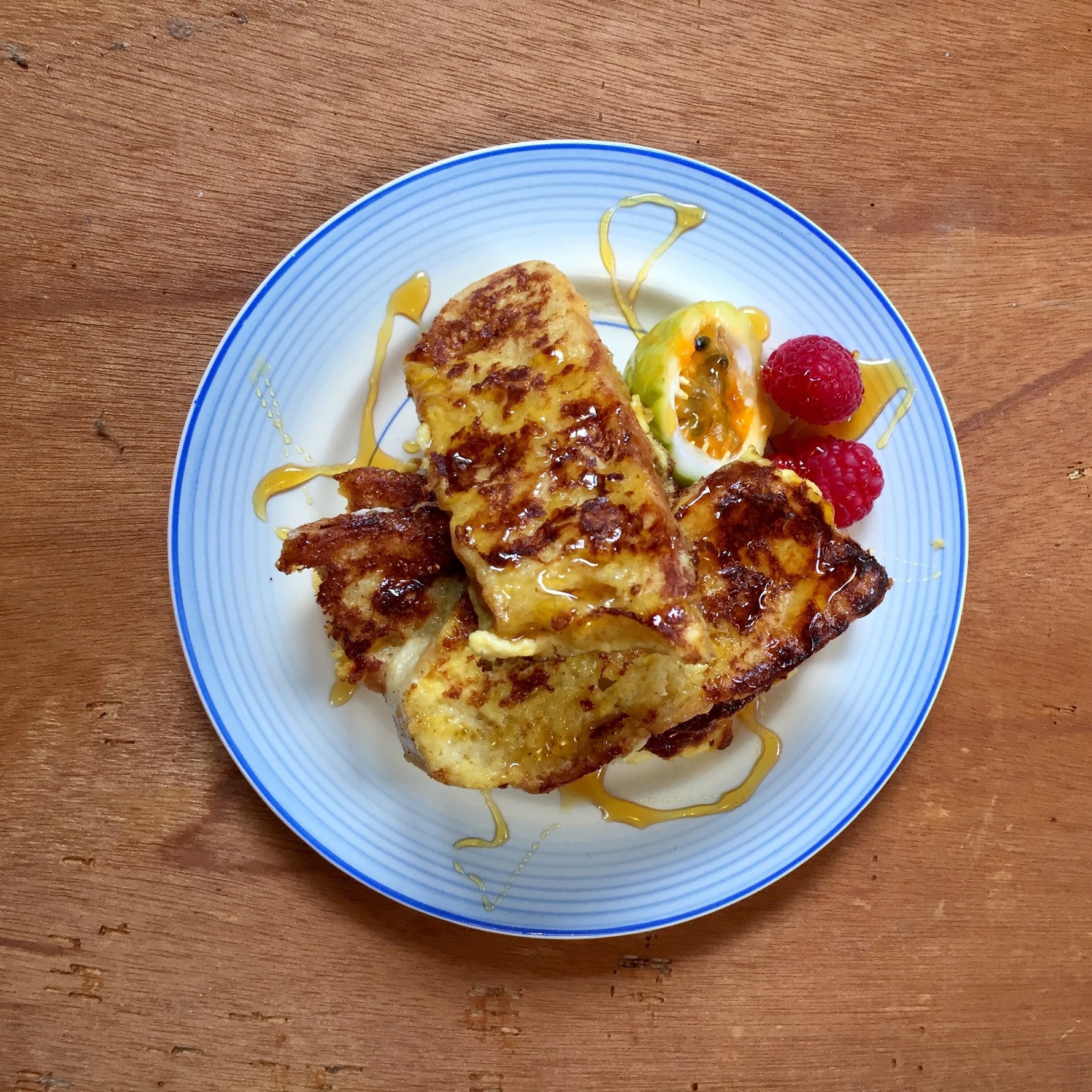 French Toast  
Yes, you bought too much bread. Anyone lucky enough to have spare cash did the same thing. Or it may be you decided that this is the time to finally make a great sourdough, and it wasn't quite the success you'd imagined. In both cases, it looks as though the making of French Toast is on the agenda.  

Does this really need a recipe? I think yes. Just like all other simple dishes, the devil really is in the detail, if you want incredible rather than just okay. Here, this is more about rules than measurements, but that's no less a recipe.

What are the biggest mistakes with French Toast making? I think it's the following: bad bread and skimping on the soaking. Many recipes actually state 'dip the bread'. No! Don't dip. Soak! That's the entire point of the dish. It's really a bread & butter pudding cooked in the pan.

Which brings us to the second mistake: crappy bread. Any loaf which has been properly proved over time, can withstand the long soak. It has structure which can hold up to the addition of moisture. The supermarket loaf on the other hand, is a simulacrum of bread – it's all air, improver and gluten - and becomes primordial gloop when soaked. Use sourdough, ciabatta, baguette; anything with some bounce and air in it. 

For each portion: 
+/- 2 thick slices good bread 
2 eggs + 3 tablespoons cream or milk 
Big pinch of salt, smaller pinch each of cinnamon and nutmeg
1 teaspoon sugar (optional; gives added crunch to the crust)
Couple of teaspoons butter 

Mix eggs, cream or milk, sugar, salt and spices. Pour into a flat-bottomed container and place bread into egg-mix. Leave bread to soak – about three minutes - carefully turn and soak other side.

Then heat the butter in a good, thick-bottomed pan. Non-stick best. Once butter is bubbling, slide in the seriously egg-logged bread, along with any excess egg-mix. Fry slowly until brown on both sides. Tear off the excess egg bits and eat with some salt.

Serve the French Toast post-haste (immediate eating is essential). Toppings are your own business, but I don't think you can't go wrong with syrup, berries and cream. If those items are not available right now, rolling the pieces in cinnamon-sugar will also do nicely. And yes, Marmite on French Toast is the bomb.  
Paneer 
Making fresh curd cheese requires very little time, zero skill and no special equipment. Despite this, most of us wouldn't entertain the making of it during a normal working day. So here's the chance. It's so easy and makes you feel so terribly accomplished, that you'll probably continue making it when something resembling normal life resumes.

All you need is generous quantities of milk. I know there are some freezers straining at the seams with panic-milk. Now is the time to defrost and turn those litres into one fine meal.

Paneer is wonderful added into a curry, tossed in butter and roasted with spiced vegetables, and in many other guises. Like haloumi, it retains its shape when heated. You can also mash it and deploy it as you would ricotta. The very best paneer comes from jersey milk, but at the very least use full cream milk. I'm not even sure that the abomination called low fat or skim milk would work here.  

For four portions paneer:
2 litres full cream milk
3 tablespoons rice vinegar or good white grape vinegar or 5 tablespoons lemon juice (some use buttermilk as a separating agent, but I've yet to try this)  
A few strands of saffron if you're feeling indulgent 

Line a colander or sieve with clean cotton kitchen cloth and place over a large bowl. 

Bring milk to the boil in a large pot (add saffron here, if using). As soon as it boils, whip off the heat and stir in the curdling agent. The milk will separate into blobby curds and almost clear whey. Pour everything slowly into the cloth, then close cloth around the curds, twist tight and leave to drain and set. Many recipes call for pressing the cloth with a weight to remove more whey, but I prefer a soft paneer. 

Once the paneer is cool, you can carefully cut it into blocks or leave it in one piece for later use (it keeps a good couple of days in the fridge and can also be frozen).  Keep the whey in the fridge. It adds flavour and nutrition to curries, gravies and soups, can be added to flapjack mixes, or used as the liquid in a bread dough.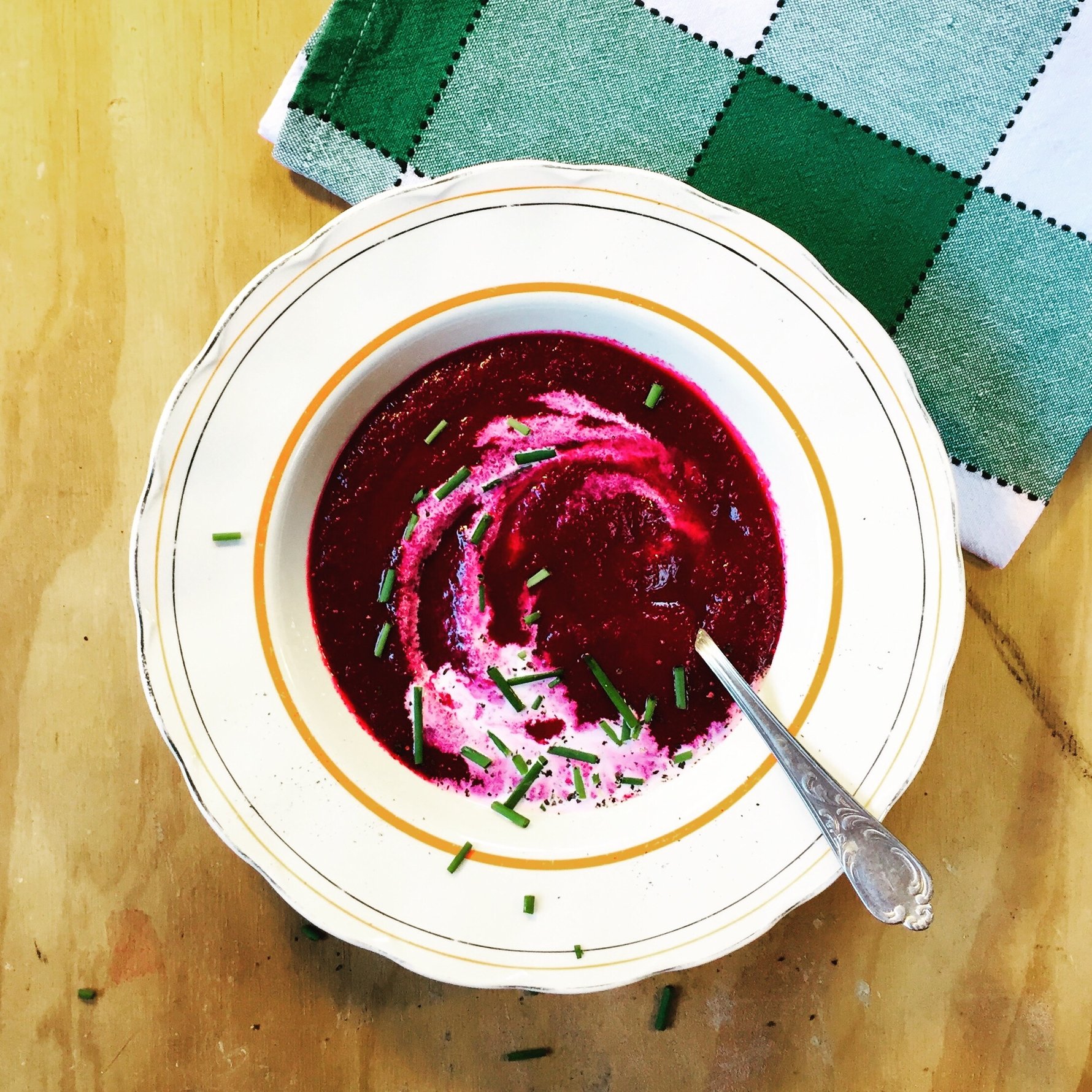 Beetroot & Orange Soup 
This is probably the most popular soup we ever made in our restaurant and our deli kitchen. Again, it's a super-simple thing, but the peeling and chopping of beetroot can feel like two steps too many during a work week.  

For four to six portions:
2 tablespoons olive oil 
200g onion, coarsely chopped 
500g freshest best beetroot, chopped (peeled if outer layer has become gnarly) 
1 litre water 
Juice and rind of 2 medium oranges
Salt to taste, and perhaps sugar too (the sugar depends on the sweetness of the beetroot and the tartness of the oranges used) 

Slow-fry onion in the oil until soft. Add chopped beetroot and let fry a few minutes. 

Add the water and simmer half-covered, until the beetroot is soft. Leave to cool a little, and then blend (easiest is an immersion/stock blender) until smooth-ish (degree of smoothness up to you). 

Add the orange juice and zest, then add salt to taste (more than you think, don't be scared). Now add a little sugar if the sweet-salt-sour balance is out.  

If serving hot, sour cream is the best addition; if serving chilled, then yoghurt is great. Either way, extra orange zest, black pepper and chives isn't going to hurt. Good bread on the side (that sourdough you made for example) is almost essential.