In our What to Cook series we asked some of our favourite Joburg cooks to share a lockdown recipe 

Food I Love You Mpho Phalane's recipe for Jollof Rice Balls 

Self-taught chef Mpho Phalane owns Food I Love You, a catering company and pop-up restaurant at Victoria Yards, east of the city centre.  As she explains, Food I Love You was born "after I finally answered the question to myself of what truly made my heart sing… hence the name Food I Love You". 

Phalane's career highlights since launching Food I Love You include catering for the PPC Imaginarium Awards 2018, where she created a quirky doughnut wall, and her work for the Arts and Culture Trust Awards where her poppadom baskets filled with coconut lamb curry stole the show. She also catered for the launch event of Soho House Cities Without Houses Membership Programme in Johannesburg. 
 
Her recipe for Jollof Rice Balls is a playful and contemporary take on the popular West African one-pot rice dish.
"This pandemic has hit us all globally and I wanted to create a dish using something that is a simple universal staple of every household, rice.  Rice is by far the most inclusive grain globally."

Follow @foodiloveyou on Instagram.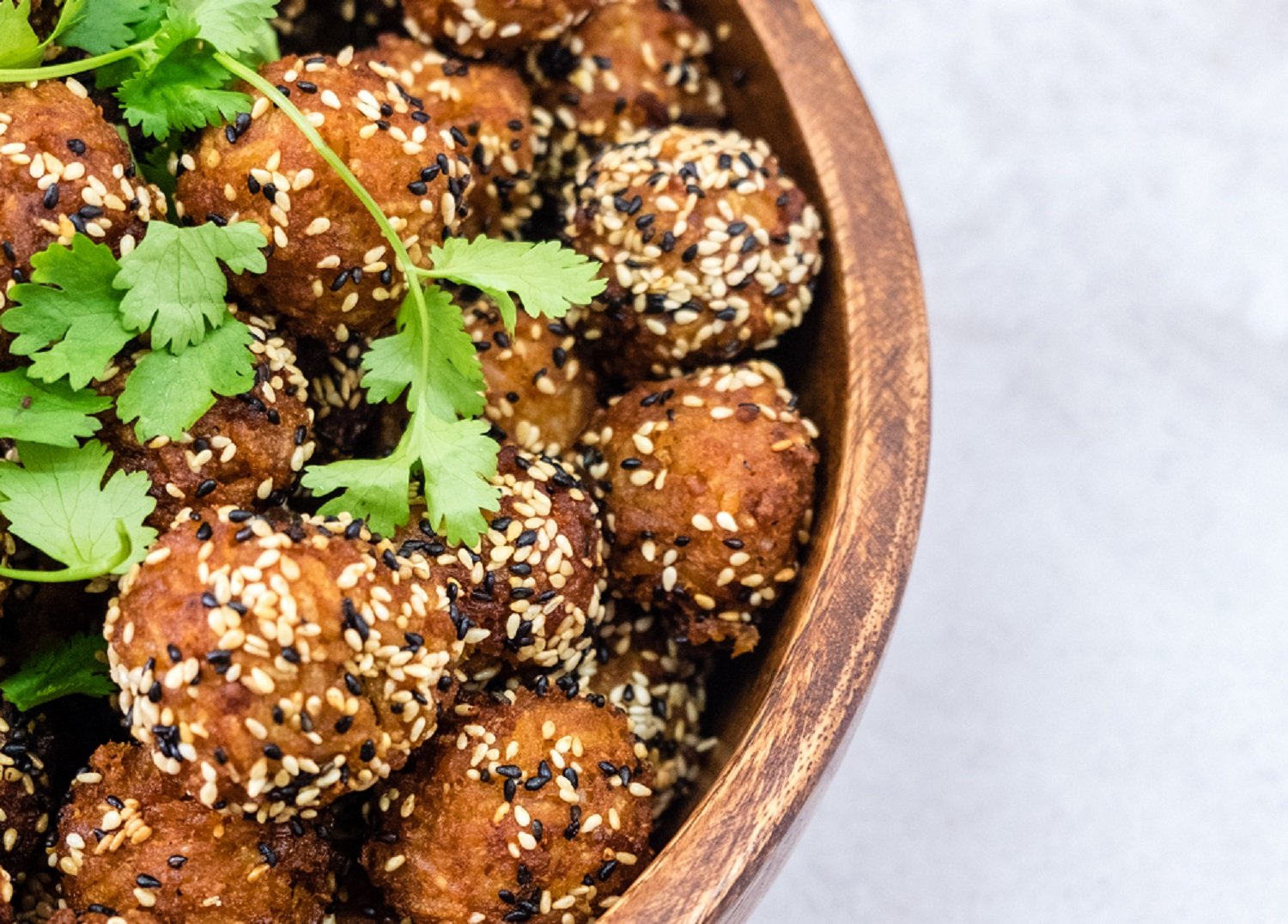 Jollof rice balls
Serves 4

Ingredients:
1 cup uncooked long-grain rice
4  cups stock (vegetable, chicken, or beef)
6 medium-sized fresh plum or Roma tomatoes, chopped, OR a 400g tin of whole peeled tomatoes
2  large red bell peppers (diced)
1 medium onion (diced)
2 garlic cloves
2-3 cm ginger knob
½ a Scotch bonnet pepper (a variety of chili pepper)
½ a cup of coconut oil
3 Tbsp tomato paste
2 tsp curry powder
1 tsp dried thyme
2 bay leaves, dried
1 tsp salt, to taste

For frying
3 eggs or 2 heaped tsp of chia seeds
1 cup of water
1 cup canola oil
½ a cup of mixed black and white sesame seeds

Preparation:
Rinse the rice to reduce starch, but don't rinse out thoroughly.  Once done, place your rice in your pot with water and parboil for 10-15 min (do not completely cook through).

In a blender, blend onions, tomatoes, ginger knob, and garlic until smooth

In a pot heat your coconut oil and fry your peppers until soft, then add in your spices & herbs and cook further for two minutes, then add in the blended mixture and let it simmer on low for about 20-30 minutes until all the water of the tomatoes is gone and you are left with a thick sauce.

Then add stock and your rinsed cup of rice and let it cook until the grain is cooked through and still saucy and sticky.

Once cooked, remove from the stove and let it cool slightly.

In a separate bowl, add in half a cup of water and add two heaped teaspoons of Chia seeds in the water and let them plump up.

Prepare another bowl with a mix of black and white sesame seeds.

Once your rice is slightly cool, use a spoon to scoop out some of the sticky rice, and roll it between your hands into a small ball. If your rice mix is not sticky, add in a bit of your Chia seed mix to help your rice bind, and some bread crumbs.

Once rolled, toss the ball into the plumped Chia mix which will serve as your 'egg wash' (or you can use eggs) then toss into your black and white sesame seeds until completely covered.  Repeat action until you have coated all rice balls.

In another pot, heat canola oil to deep fry your rice balls.  Once the oil is hot, fry balls for about one minute each or once sesame seed exterior is crispy.   Enjoy warm with some hummus, tomato relish or a curry.