History produces few men like Tadeusz Kościuszko (1746-1817). Having fought with distinction in the American War of Independence before inspiring and leading the valiant Kościuszko Insurrection against foreign rule in Poland, this relentless freedom-fighter was described by Thomas Jefferson as 'the purest son of liberty that I have ever known.' Upon his passing Polish authorities demanded his body be sent from Switzerland to be interred in the Wawel Royal Crypts. Such was the love for Kościuszko that the people proposed to honour him with a monument in the tradition of the prehistoric mounds of King Krak and Wanda – and to make it the grandest in Kraków. With the approval of the Norbertine Sisters who granted the land, city authorities began developing an artificial burial mound to be constructed atop Bronisława Hill in Zwierzyniec. When construction began there was no lack of pomp and ceremony. First mass was held, followed by speeches; documents, heirlooms and artefacts from Kościuszko's illustrious life were placed – as well as soil from his many battlefields, including those in America – before friends, statesmen and foreign dignitaries dumped the first wheelbarrows of dirt. For the next three years people of all ages from all over Poland brought soil from their villages to add to the mound. Though a committee was formed for its oversight, the work was all done voluntarily. Officially completed in November 1823, Kościuszko Mound stands 34 metres high, 326 metres above sea level, and on a clear day the Tatra Mountains can be seen from the top.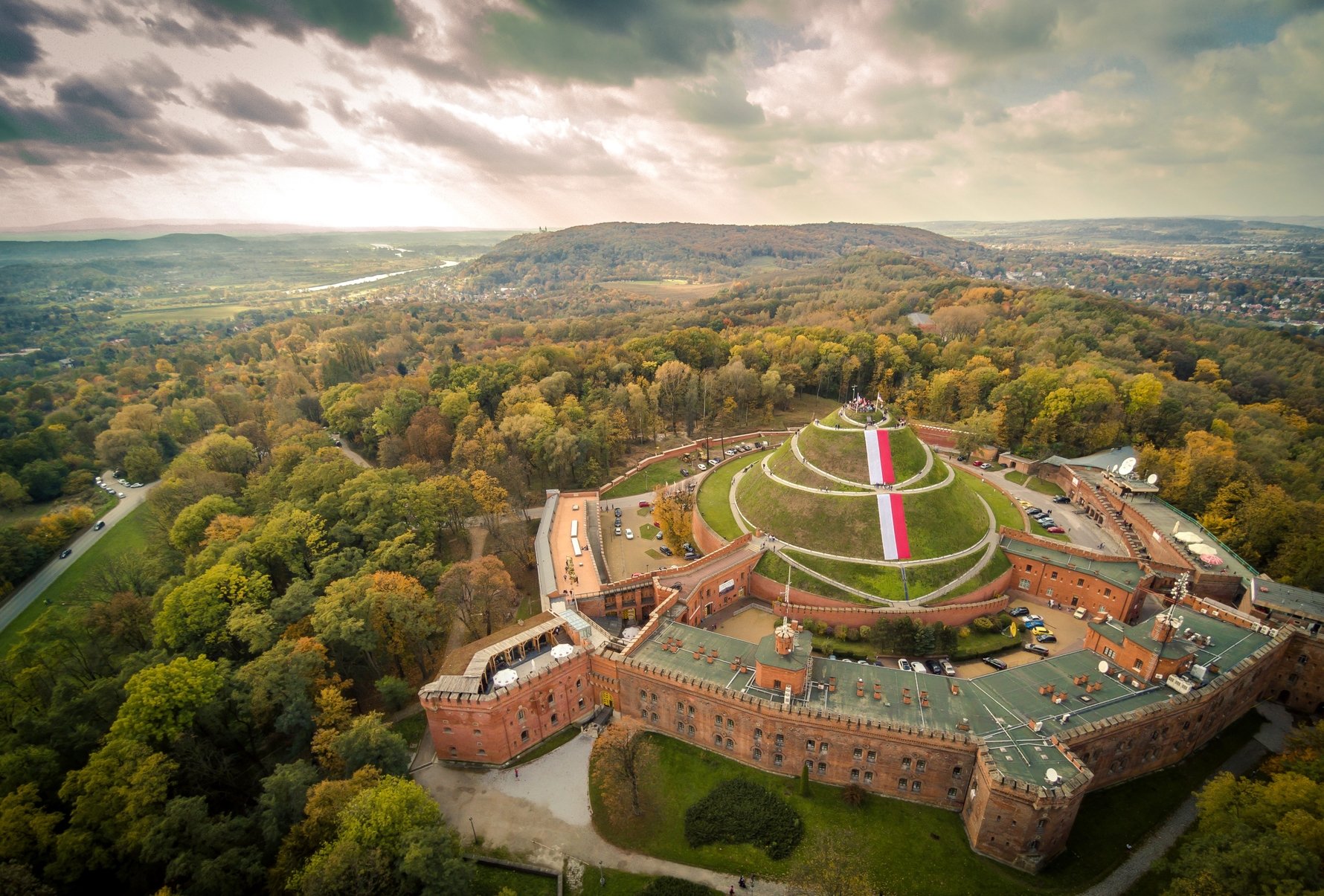 In the 1850s the occupying Austrian military authorities built a brick fortress around the Mound, which they used as a strategic lookout point. Demolishing a chapel of St. Bronisława at the site, the thoughtful Austrians actually built a new chapel, incorporating it into the stronghold. By contrast, the Germans later threatened to entirely level the Mound and surrounding fortifications during their WWII occupation as they set about destroying all Polish monuments and national symbols (along with 3 million Polish Jews). Though parts of the fortress were destroyed, the complex has been restored and significant engineering improvements have been made to the Mound to ensure its longevity.

Your visit now begins with the new Kościuszko Museum, which traces its subject's heroic arc from his early days, through his participation in America's Revolution and the War with Russia, up to the moment he initiates his insurrection against foreign rule on Kraków's market square in 1794. The interactive multimedia exhibits include original artefacts, quotes, films and games, and are a bit bombastic at times, but find a more deserving subject, we dare you.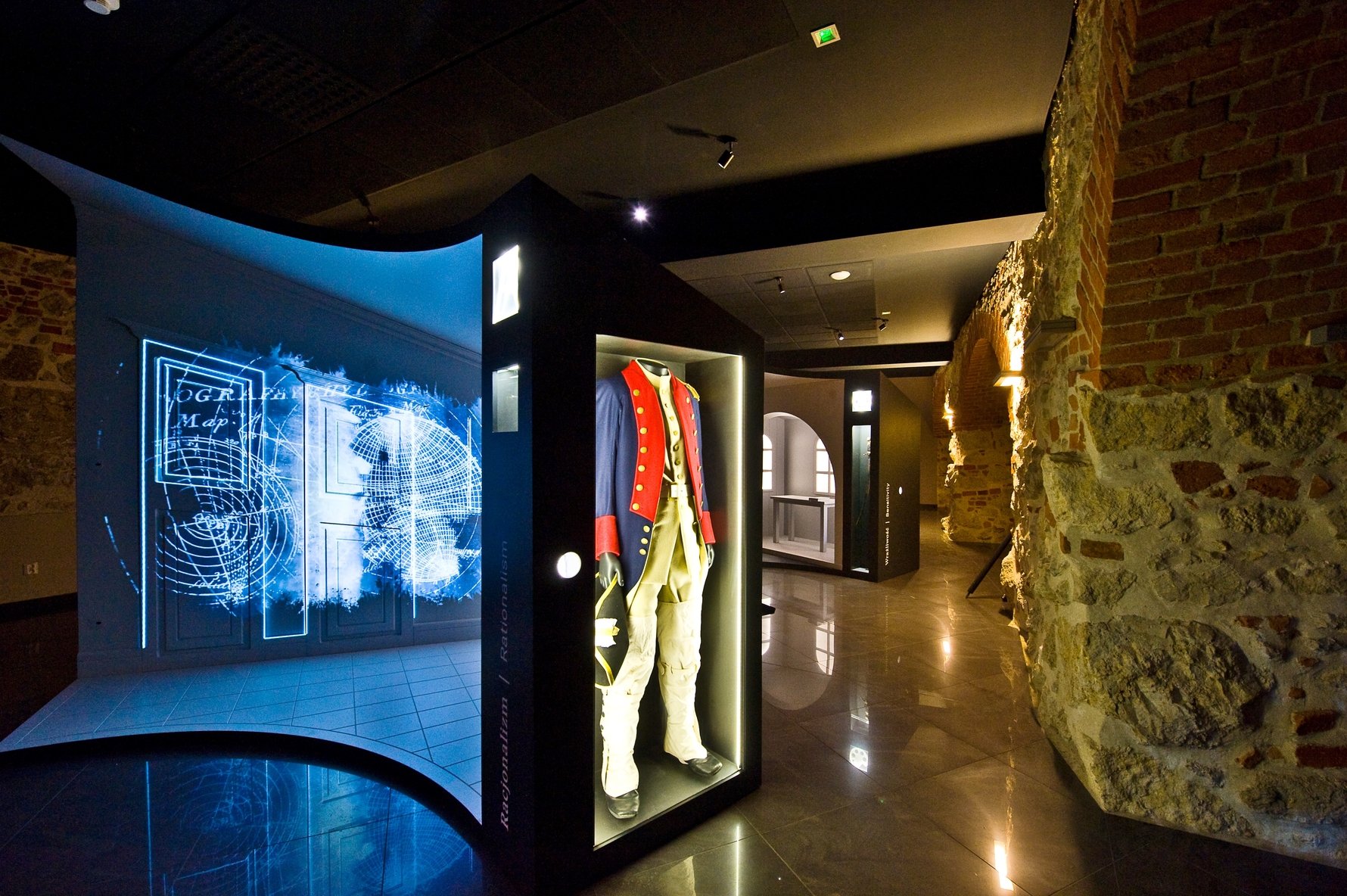 Exiting onto the roof of the fortress, you'll find the base of the mound ringed with educational plaques that give more insight into Kościuszko's life and values. The winding climb to the mound's peak is slightly tiring work, but the panoramic views of Kraków are a worthwhile reward. The Neo-Gothic Chapel of St. Bronisława (closed for renovations until 2023), which contains a medley of objects connected to Kościuszko's life, can also be visited and the surrounding fortifications house additional exhibits (included with admission to the Mound), two cafes, a radio station, and restaurant.

To learn more about quite simply the greatest Pole ever (sorry JPII), read our full-length feature on Tadeusz Kościuszko.
Getting to Kościuszko Mound
To get to the mound take trams 1 or 2 to 'Salwator,' from which it's a lovely 1.6km walk up ul. Św Bronisława. The walk is all uphill though, so if you're not as fit as you once were you might want to take bus 100 from there to the top instead; another option is bus 101 from 'Rondo Grunwaldzkie.' A cab from the Old Town to Kościuszko Mound is about 30zł.

Average visiting time: 60mins.