A Guide to Polish Cuisine

Polish food is famous for being simple, hearty and not especially colourful. You simply haven't had a thorough sampling of it until you've tried all the traditional dishes below, all of which you should be able to find in almost any Polish restaurant or milk bar in town. Smacznego!
Bigos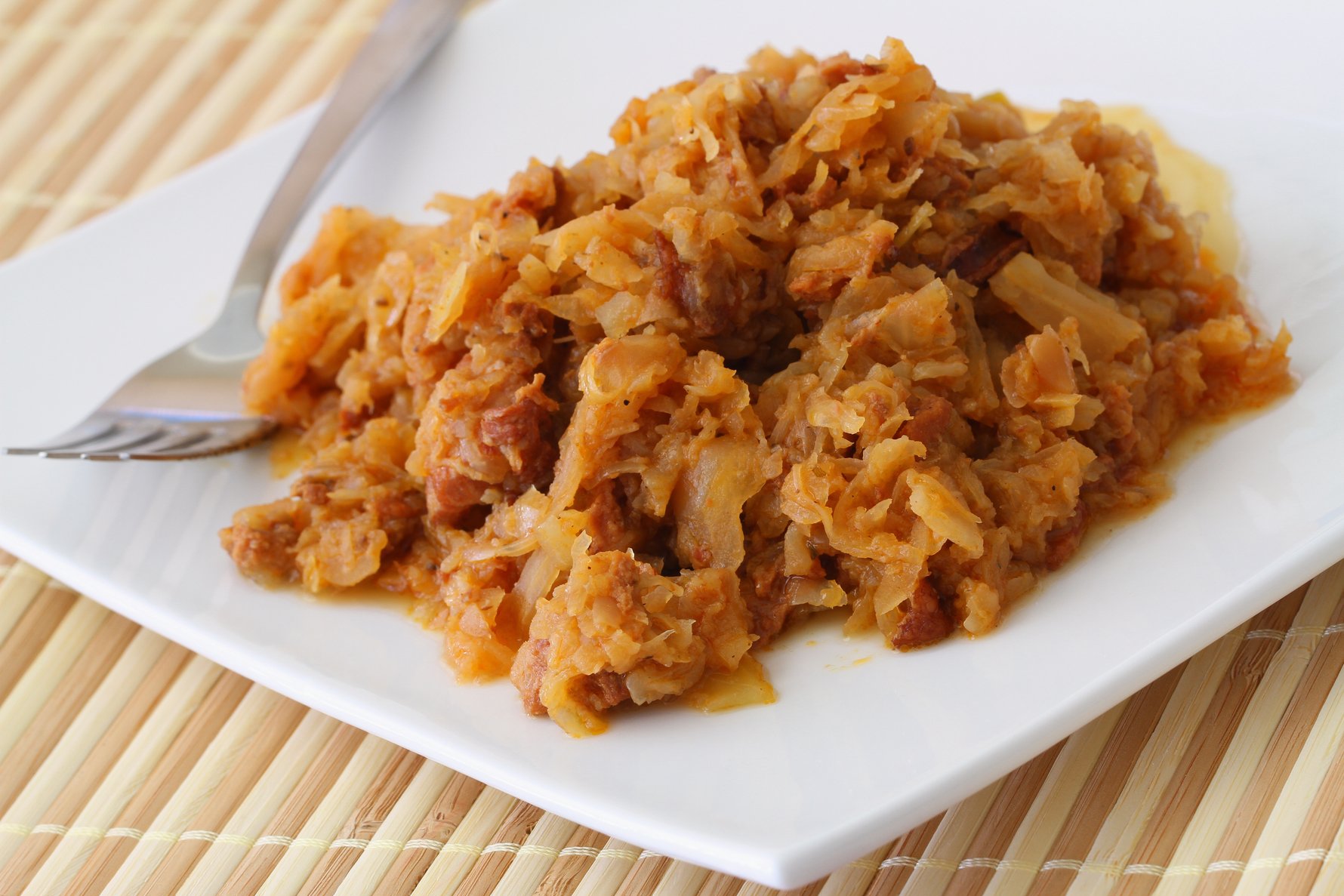 Traditionally a winter dish, Bigos is a hearty stew made in large batches. Though there is no standard recipe, ingredients usually include lots of fresh and pickled cabbage, leftover meat parts and sausage, onion, mushrooms, garlic and whatever else is on hand. In fact, metaphorically Bigos translates to 'big mess,' 'confusion' or 'trouble' in Polish. Seasoned with peppercorns, bay leaves, caraway and the kitchen sink, the stew is left to gestate, sometimes underground, for a few days for full flavour infusion. A Polish restaurant or prospective wife can be fairly measured on the strength of their Bigos.
Gołąbki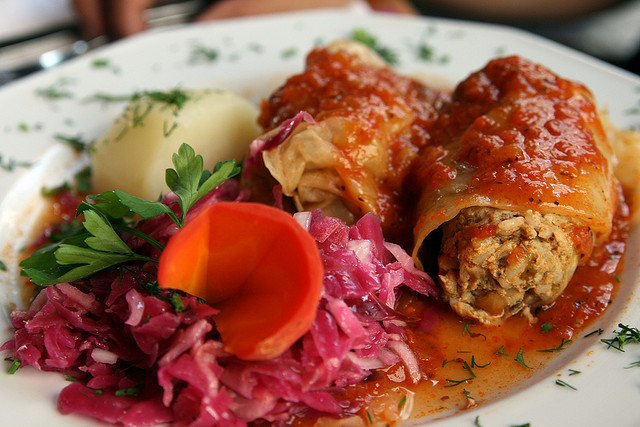 Translating to 'little pigeons,' this favourite dish consists of boiled cabbage leaves stuffed with beef, onion and rice before being baked and served in a tomato or mushroom sauce. Polish legend claims King Kazimierz fed his army gołąbki before a battle outside Malbork against the Teutonic Order, and their unlikely subsequent victory has been attributed to the hearty meal ever since.
Golonka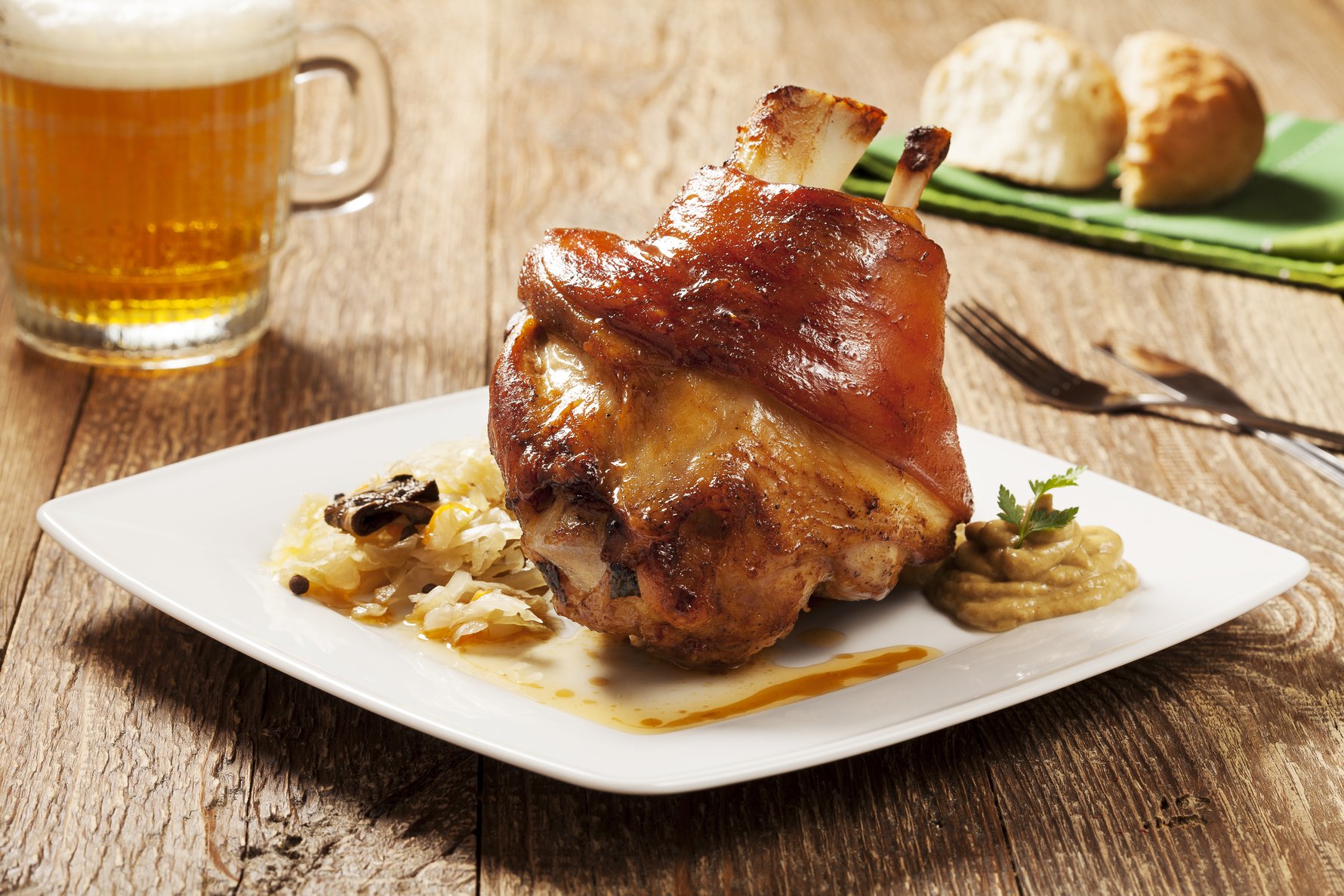 Pork knuckle or hock, as in pig's thigh - boiled, braised, or generally roasted and put before you on a plate. A true Polish delicacy, the meat should slip right off the bone, be served with horseradish, and washed down with beer. Go caveman.
Kiełbasa
Sausages, and in Polish shops you'll find an enormous variety, made from everything from turkey to bison. There are a few varieties to watch for including Krakowska, a Kraków specialty seasoned with pepper and garlic; Kabanosy, a thin, dry sausage flavoured with caraway seed; and Kaszanka, a blood sausage filled with groats and pig's blood. These you'll find in any 'delikatesy' or butcher shop, but head to Kielbaski z Niebieskiej Nyski to get a taste of Kraków's most famous sausage. Two old-timers have been grilling and serving sausage out of a van since time immemorial at this hallowed sidewalk stand.
Kotlet Schabowy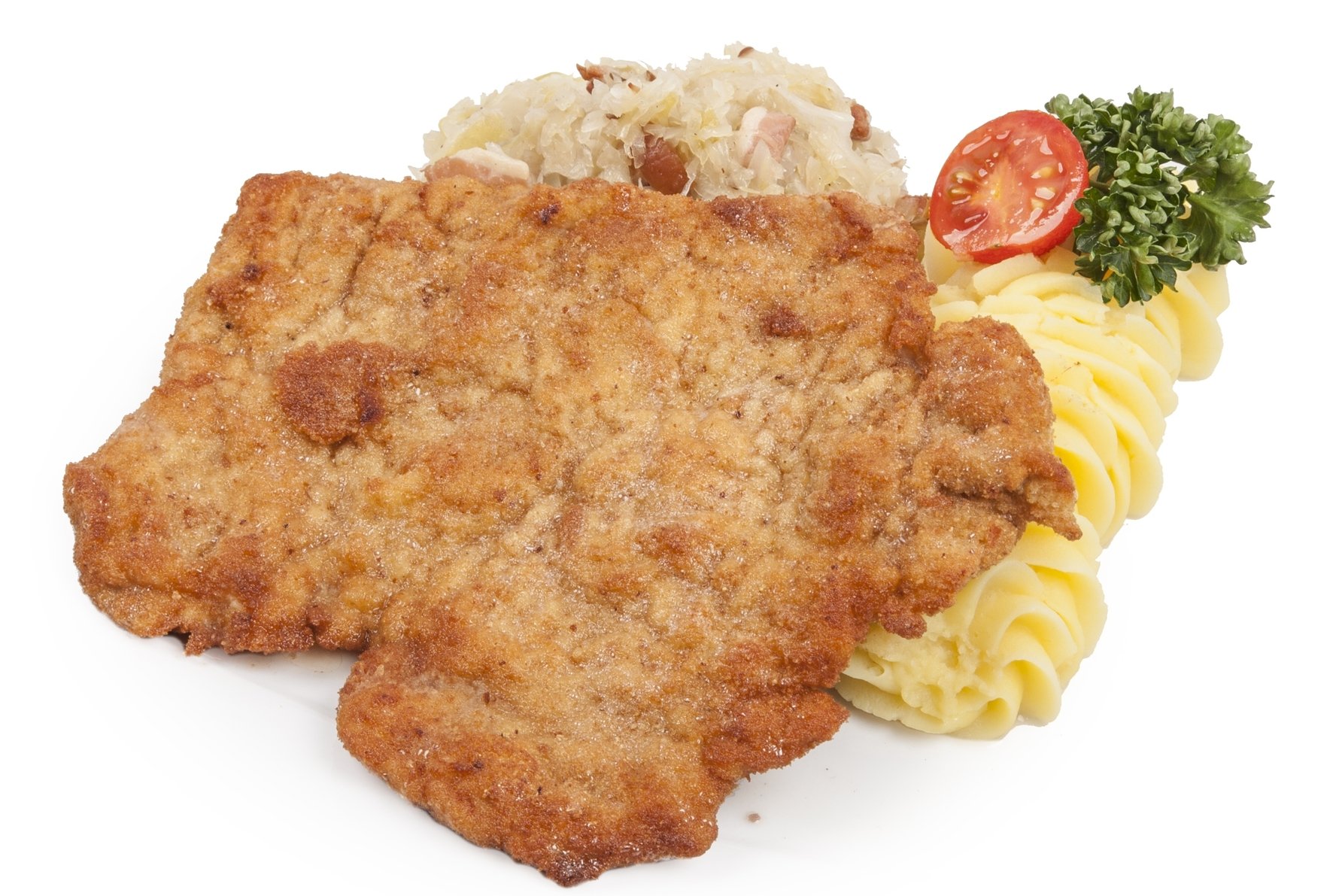 Probably the most popular lunch/supper in Poland is the almighty 'schabowy' with mashed potatoes and pickled cabbage, and you can walk into almost restaurant in the country and be assured of its presence on the menu (if the kitchen hasn't run out of it already). Essentially a breaded and fried pork chop (cutlet), 'kotlet schabowy' is quite similar to Viennese schnitzel, and a solid bet for a cheap, filling, risk-free meal. If you're awoken on a Saturday or Sunday morning by the sound of profuse banging - that's the collective sound of every housewife in Poland tenderising the meat for this meal with a spiky mallet. So best mind your manners.
Naleśniki
The Polish equivalent of French crepes, these are thin pancakes wrapped around pretty much any filling you can dream of, savoury or sweet. Generally the easy way out in any dodgy Polish dining establishment.
Pierogi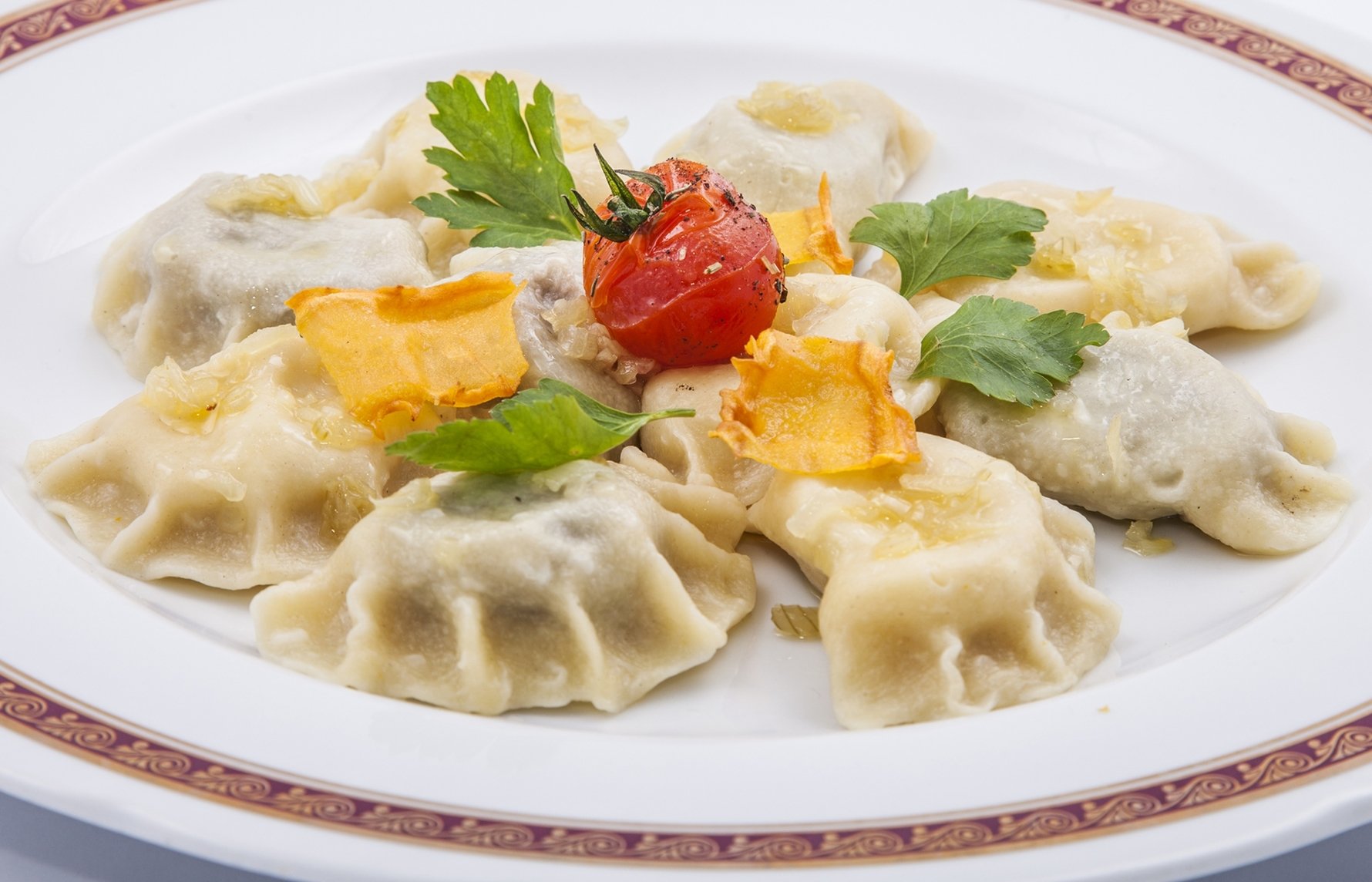 Doughy dumplings traditionally filled with potato (Ruskie), sweet cheese, meat, mushrooms and cabbage, strawberries or plums, though if you nose around you will find plenty of maverick fillings like broccoli, chocolate or liver as the possibilities are truly limitless and they are served almost everywhere in the city.
Placki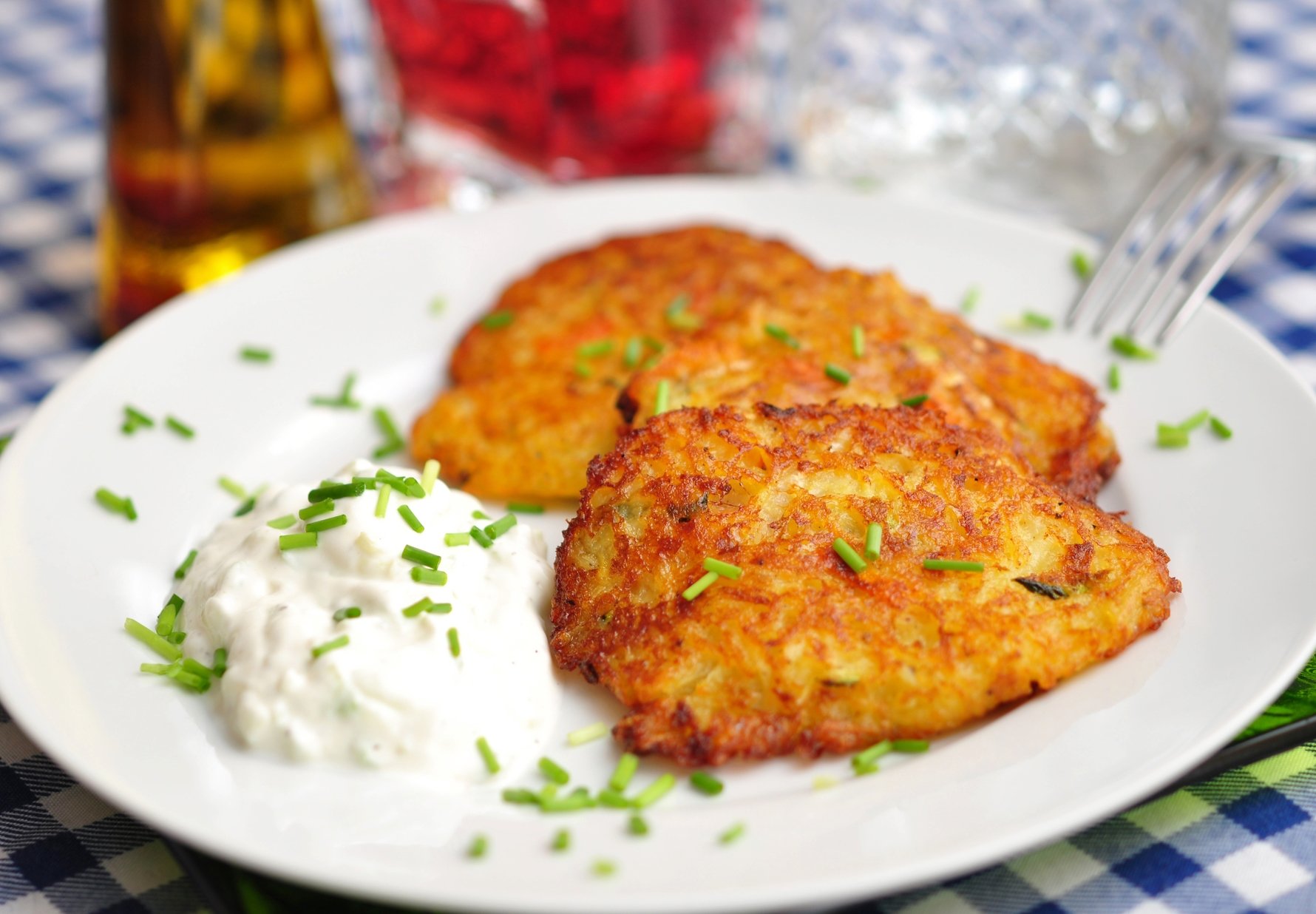 These greasy, fried potato pancakes ('placki ziemniaczane') are very similar to Jewish latkes (if that means anything to you) and best enjoyed with goulash on top (placki po Węgiersku). Highly caloric, they're also a tried and true hangover cure.
Smalec
Vegetarians who broke their vows for a bite of sausage or a taste of żurek generally draw the line here. An animal fat spread full of fried lard chunks (the more the better, we say) and served with hunks of homemade bread, Smalec is a savoury snack that goes great with a mug of beer. Any traditional Polish restaurant worth its salt should give you lashings of this prior to your meal.
Zapiekanka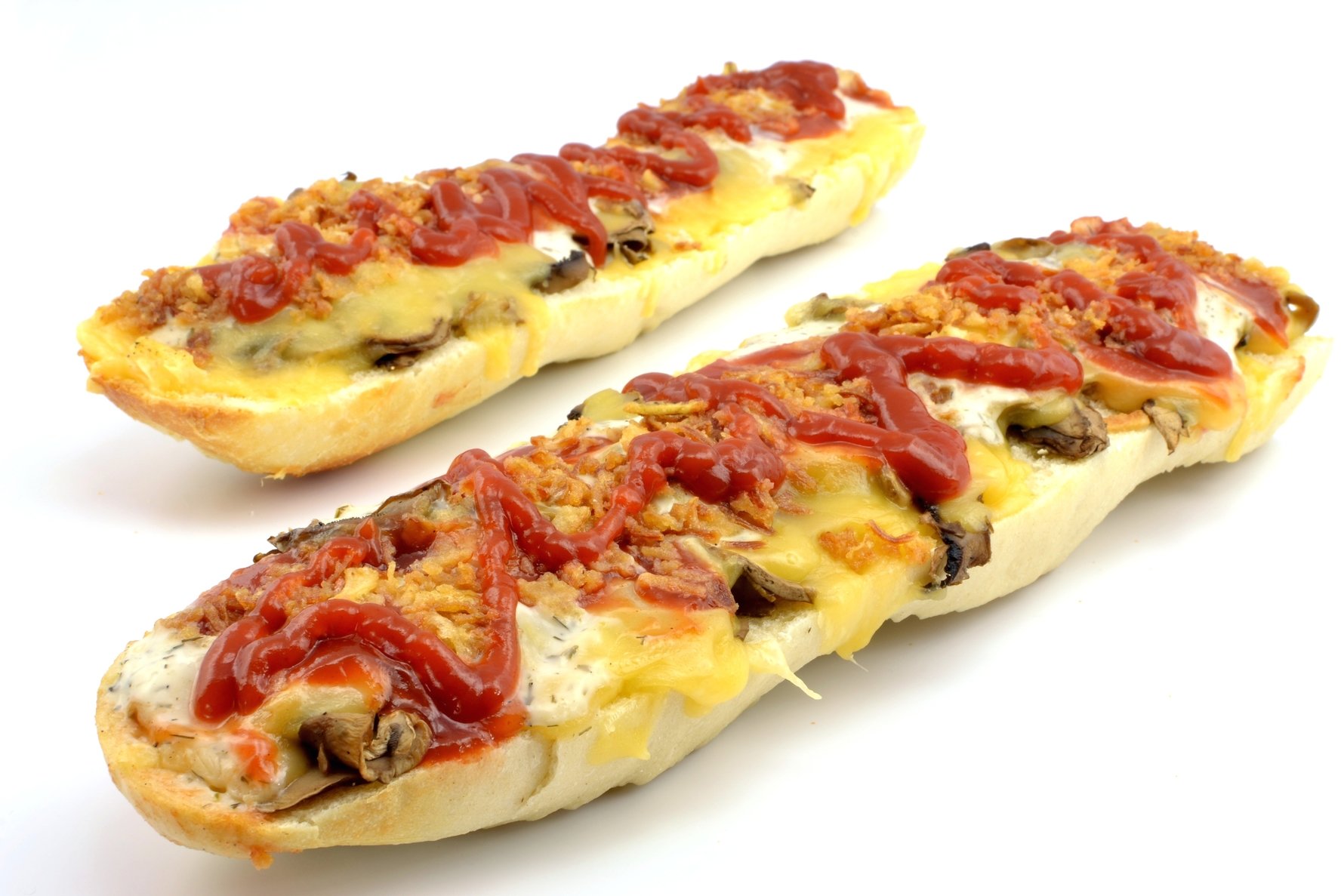 The ultimate Polish drunk food. Order one at any train station in PL and you'll get half a stale baguette covered with mushrooms and cheese, thrown in a toaster oven and squirted with ketchup. Underwhelming to say the least. However the vendors of Kazimierz's Plac Nowy have made a true art out of the 'Polish pizza.' With endless add-ons (including salami, spinach, smoked cheese, pickles, pineapple, feta – you name it), garlic sauce and chives have become standard procedure at this point. Because of their popularity you'll witness ridiculous lines at the various windows around the roundhouse, but the wait is worth it. At 8-10zł it's a great value and will sustain you through a night of heavy drinking. To leave town without having tried a Plac Nowy zapiekanka would be felonious, as would settling for one anywhere else in Kraków.
 
Zupa (Soup)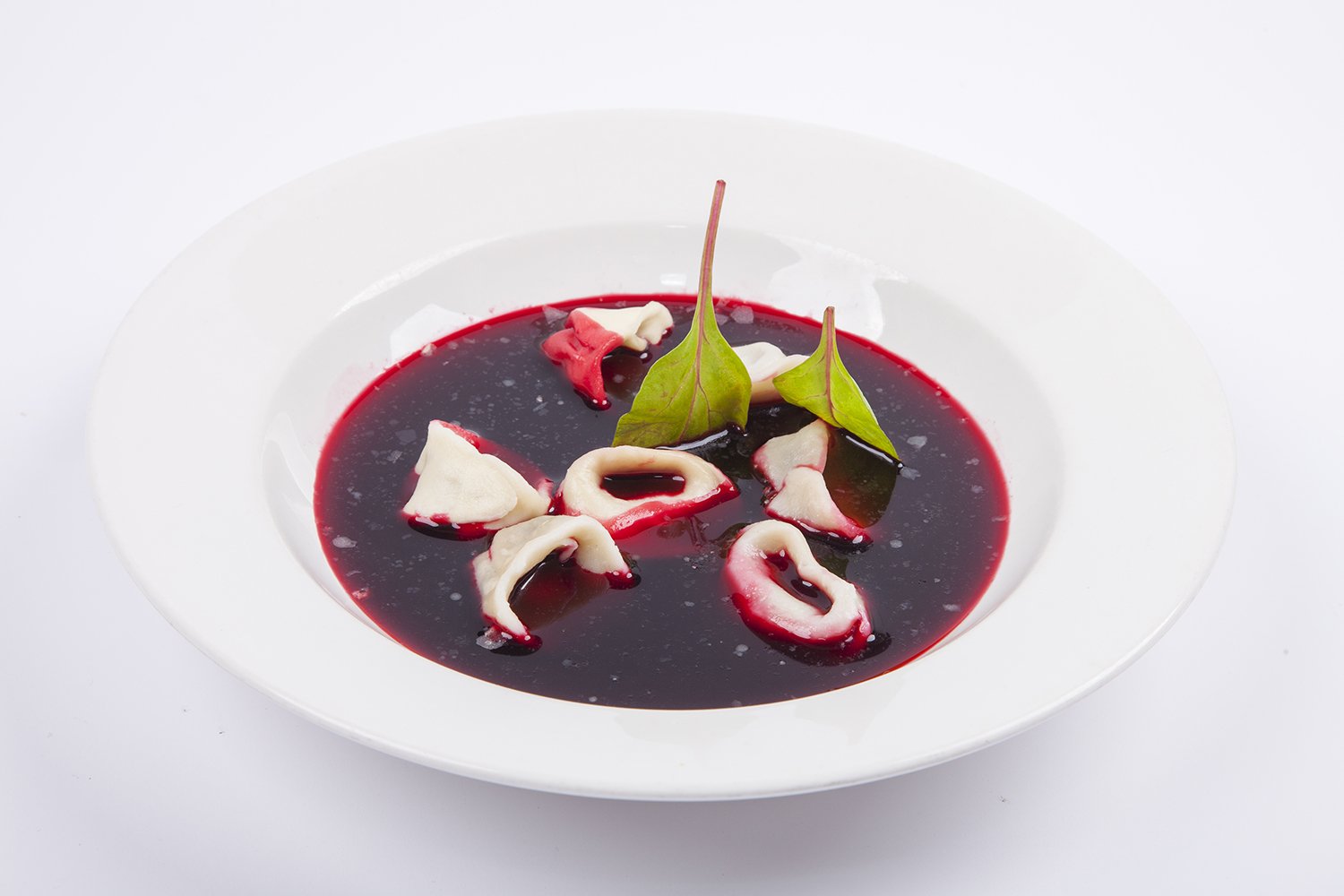 Poland has three signature soups: barszcz, żurek and flaki. A nourishing beetroot soup, barszcz may be served with potatoes and veggies tossed in, with a croquette or miniature pierogi floating in it, or simply as broth in a mug expressly for drinking ('barszcz solo'). A recommended alternative to other beverages with any winter meal, we'd be surprised if you can find a bad cup of barszcz anywhere in Kraków.

It doesn't get any more Polish than żurek – a unique sour rye soup with sausage, potatoes and occasionally egg chucked in, and often served in a bread bowl.

If you're of strong constitution and feeling truly adventurous, spring for flaki – beef tripe soup enriched with veggies, herbs and spices. A hearty standby in most kitchens, we personally save the pleasure for compromising situations involving mother-in-laws, but we still have to give credit to any local restaurant bold enough to keep this on their menu.