On Palm Sunday at the beginning of Holy Week, bunches of spring greenery are blessed. The Christian custom of plaiting bundles dates to the 9th century, and probably derives from a custom known throughout pagan medieval Europe. These bundles, of different shapes and sizes, are known by different names in different parts of Slovenia.

The most special of all bundles is the 'Ljubljana Bundle'. They are renowned abroad for being the only bundles of their kind. The easiest way to acquire them is to go to Ljubljana's flower market, near the Cathedral.

Good Friday remains a strict day of fasting. In some areas the fast continues on Saturday. Until recently a special 'fast dish' was eaten on Holy Saturday which was intended to remind people of the times of severe hunger which plagued Carniola in 1529. This dish is called Aleluja and was made from turnip peelings. On Holy Saturday in most Slovenian towns and villages people bless their Easter meals.

Blessed and coloured eggs are a long-lasting tradition of the Slovenes. The words pirh and remenica (used in the Prekmurje region) derive from words meaning "red". Slovenian coloured eggs, also called pisanice or pisanke (in the Bela Krajina region) are among the most beautiful in Europe. Pisanice and remenice are typical of the Slovenian eastern parts in their characteristic geometrical and stylised forms.

On the other hand, Easter eggs in the Primorska and Gorenjska region feature mostly nature motifs, usually flowers and plants. In the painting of pisanice special wooden instruments are used.

While Easter Sunday is a day for solemn contemplation and time for staying at home, Easter Monday is a day of relaxation. On this day it is customary to go visiting, hiking, or celebrating. Changing the old wardrobe for the new on Easter Monday was also an old custom.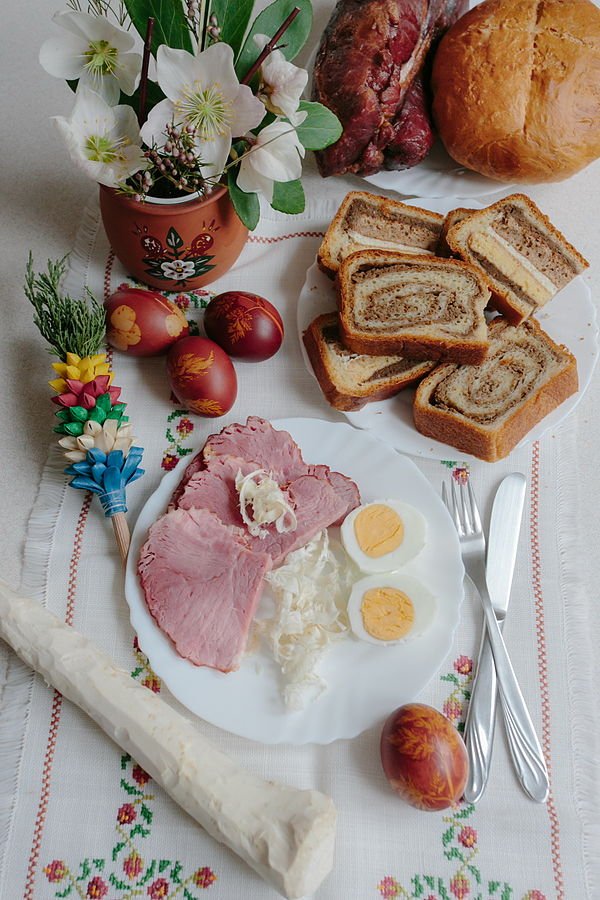 Although your average Slovene is not exactly a devout adherent to Catholicism, Easter (or Velika noč) in Slovene, is still a major holiday in the country, and Easter Monday (falling on 9 April this year) is a work-free day. So if you're visiting Ljubljana at this time you can expect it to be noticeably quieter than usual - although depending on the weather you may still have to elbow your way into a seat at one of the countless cafés along the Ljubljanica river.

If you have the honour of being invited to someone's home during Easter weekend - which is not incredibly likely given that it's traditionally a time for family gatherings - be prepared to eat more or less continually for three days straight, as the weekend is informally referred to by many as 'the Slovene eating holiday'. One Easter delicacy you have to try is potica, a rolled cake that can come with any number of fillings, most commonly a walnut or poppy seed paste. If you can't get it homemade, it's best purchased from smaller bakeries or the central market.