Due to the coronavirus pandemic in Slovenia, The Slovenia Restaurant Awards 2020 won't be happening with a closing ceremony this year, but will instead be streaming a virtual version of the awards ceremony on June 2. More information here. 
It's official! The world's most prestigious restaurant guide is finally coming to Slovenia! At the opening press conference for the annual Days of Slovenia Tourism at Hotel Union, Director of the Slovenian Tourist Board, Maja Pak, announced that a Michelin Guide for Slovenia would be launched in March 2020 (which has now been postponed indefinitely due to the Coronavirus pandemic). Michelin's Director of International Sales and Marketing Romain Perrier (no relation to the French sparkling water of the same name) was personally in attendance and gave a short speech in which he heaped loads of praise on Slovenia's culinary scene - mentioning its unique position at one of the major crossroads of Europe as well as its abundance of passionate, world-class chefs.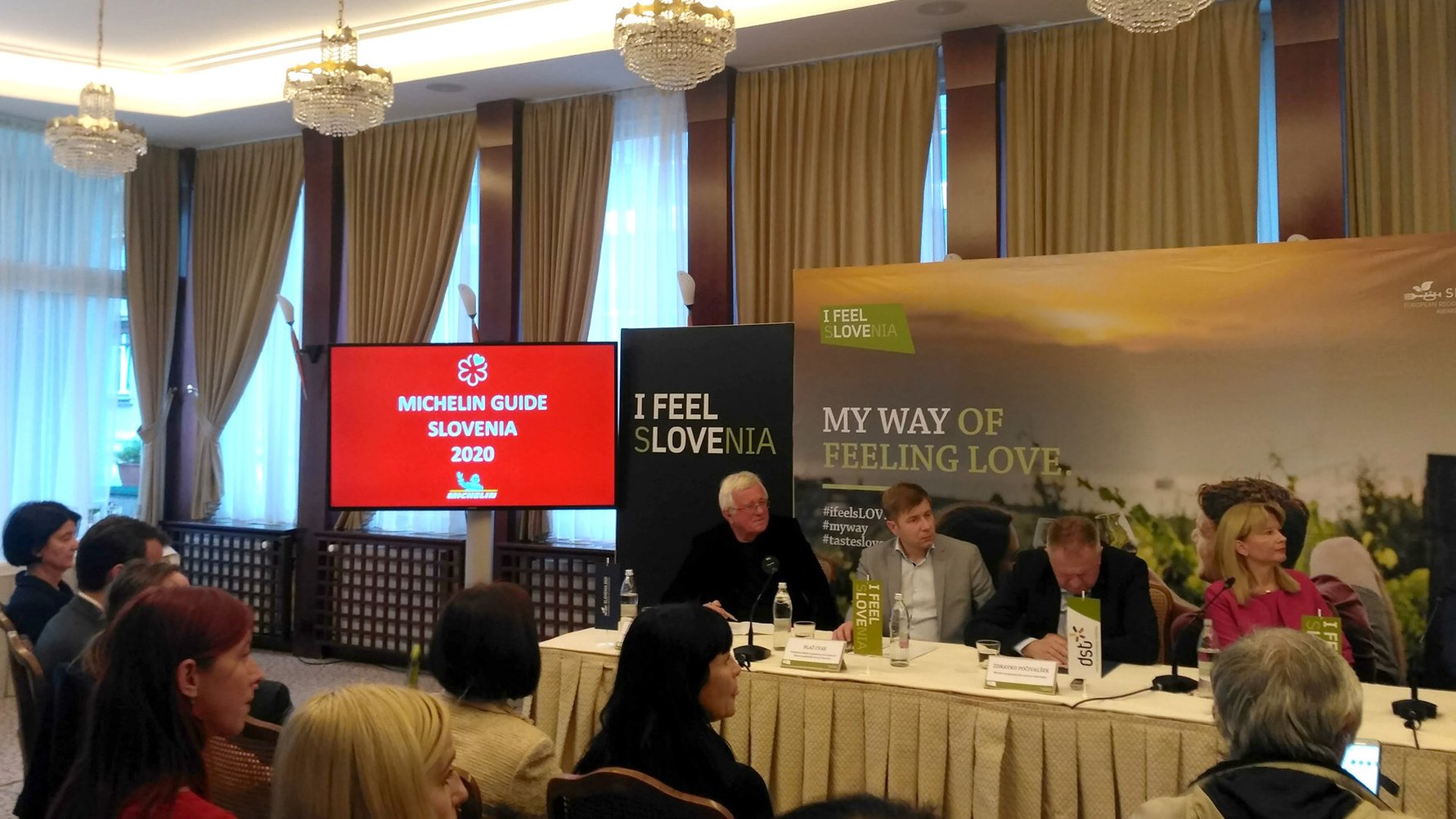 Citing a recent survey from Ernest & Young (now officially known as EY, since a series of major scandals and criminal investigations proved too much even for an industry known primarily for scandals and criminal investigations - well done chaps!), Monsieur Perrier also gave some impressive statistics regarding the impact that Michelin guides have on tourism. Namely, that all things being equal some two-thirds of travellers prefer a destination covered by Michelin; 57% of travellers are willing to extend their stay if the destination they're visiting has a Michelin starred restaurant (with 80% of business travellers willing to do so); while 71% of tourists are willing to spend more based on Michelin's recommendations.

This was followed by a short recorded video message from the International Director of Michelin Guide, Gwendal Poullennec, who welcomed Slovenia to this prestigious gastronomic club from what appeared to be a very lush botanical garden in Paris, and also briefly explained the French company's star ranking: restaurants with one star are worth making a stop to visit, restaurants with two stars are worth making a detour for, while those cream of the crop kitchens that manage to receive the highest three star ranking are worth taking a trip just to visit.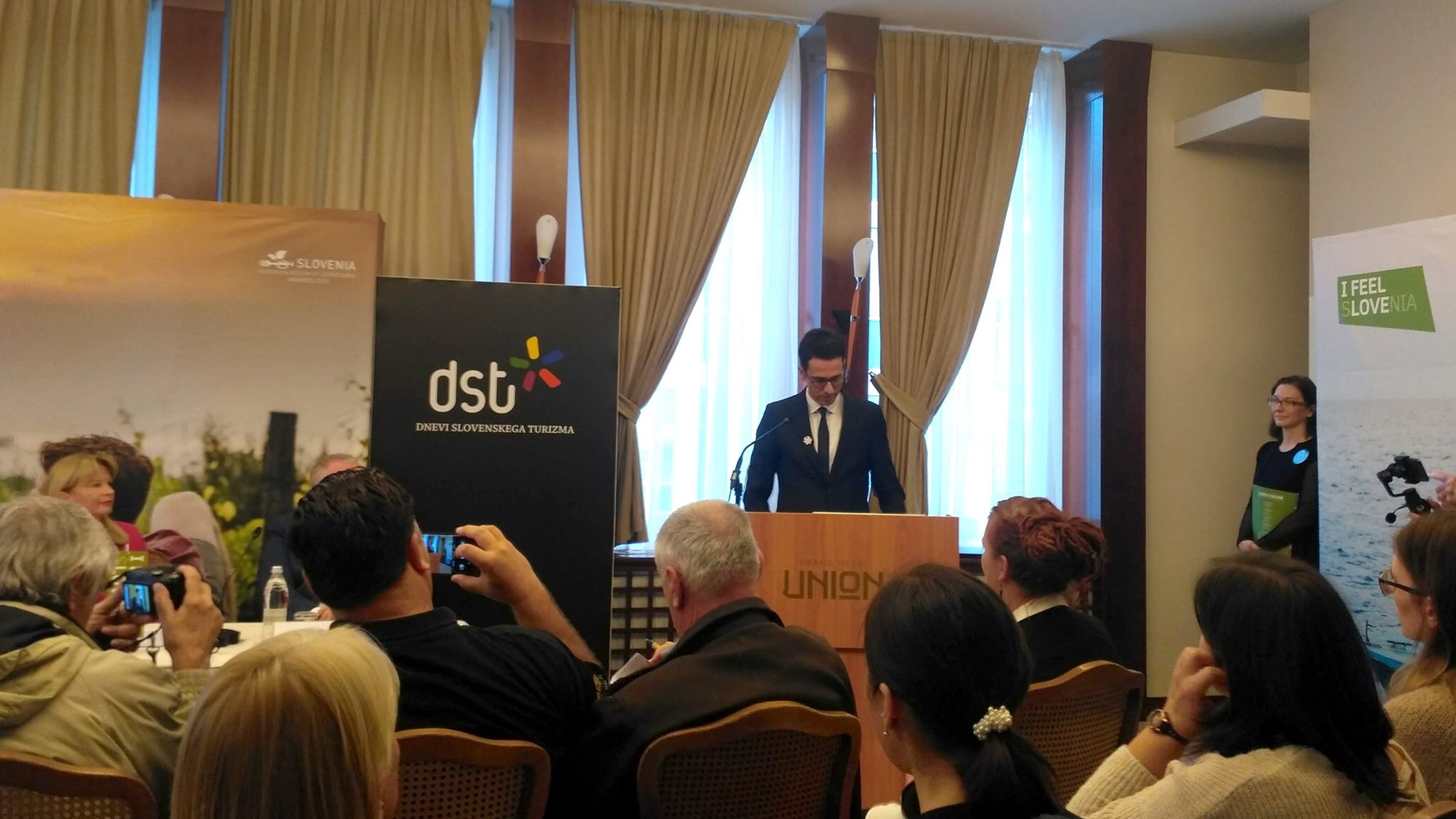 Which of Slovenia's renowned chefs will be duly rewarded when the foodie bible is released in March? Obvious top tier candidates include Ana Roš at Hiša Franko, Janez Bratovž of eponymous JB fame, Tomaž Kavčič at Gostilna pri Lojzetu in Zemono, Gregor Vračko at Hiša Denk and of course Igor Jagodic of Strelec at Ljubljana Castle, but only time will tell. In his speech, Monsieur Perrier confirmed that a team of Michelin's independent inspectors had already been dining their way across Slovenia for months, secretly judging every aspect of the country's best restaurants to see if they meet the high universal standards needed to be included in the renowned red book. We'll eagerly be awaiting the announcements come spring!

If you'd like to get a crash course in Slovenia's burgeoning culinary and gastronomic scene, we recommend checking out the brand new edition of The Slovenia Restaurants book from our friends at THE Slovenia. The country's top 201 restaurants are all presented in a beautiful, elegant book that makes the perfect gift or souvenir for any and all visiting or resident foodies!