"I love Los Angeles, and I love Hollywood. They're beautiful. Everybody's plastic, but I love plastic. I want to be plastic." - Andy Warhol 

This year we were invited to sit on plastic chairs. From flower vases decorating the dining tables to the MC's choice of shoes - pop was in the air. In a time where yoga and avocados become the new high culture, this year the opening press conference for the November Gourmet Ljubljana at the castle decided to go the other way. A visual tribute to the modern art revolution of the 50s : stuff of every-day life, (re)production to feed the masses, the blurring of gap between "high" and "low". While bright colors blinded and reminded us of the shock the movement generated when entering the legitimate stage of "art", there was certainly nothing mundane about the texture, taste and serving style of the four course dégustation that took pride in celebrating the fresh, seasonal and local.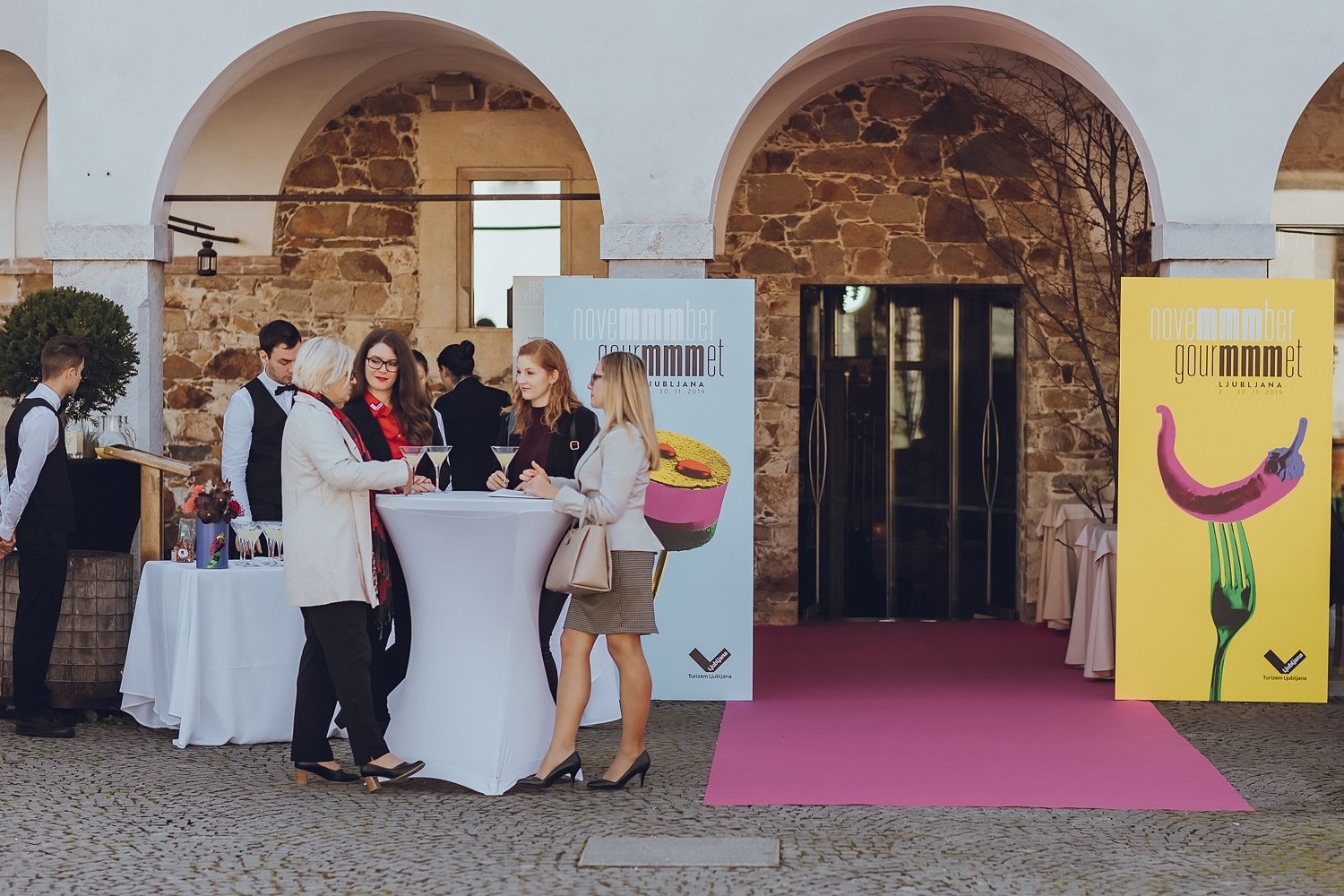 The first course brought out with the musical accompaniment of a live band was miška crafted by Jorg Zupan of the Atelje restaurant. Playfully served stuck on a fork, filled with lengua cream, anchovies and plum marmalade, topped by a cheeky piece of pickle. Very pop. 

Next was a most colorful green-pink piece of art signed by Mojmir Šiftar of Evergreen in Smlednik. A single, generous ravioli stuffed with pheasant and roasted chestnut accompanied by a ragù of wild mushrooms. If we told you we went into the forest alone and returned with a flirt, a sweet tooth, a sheathed woodtuft and a bear's paw you might think we ran into some playful wood fairies. And that's just the way we should recognise these sexy mushroom names. As if excitement was not enough, the pink of the plate made up by beetroot foam, sea moss gel, scalded leek powder and chive oil was sprinkled by a couple of dried purpley - blue leaves of the bachelor's button, just a finishing romantic touch.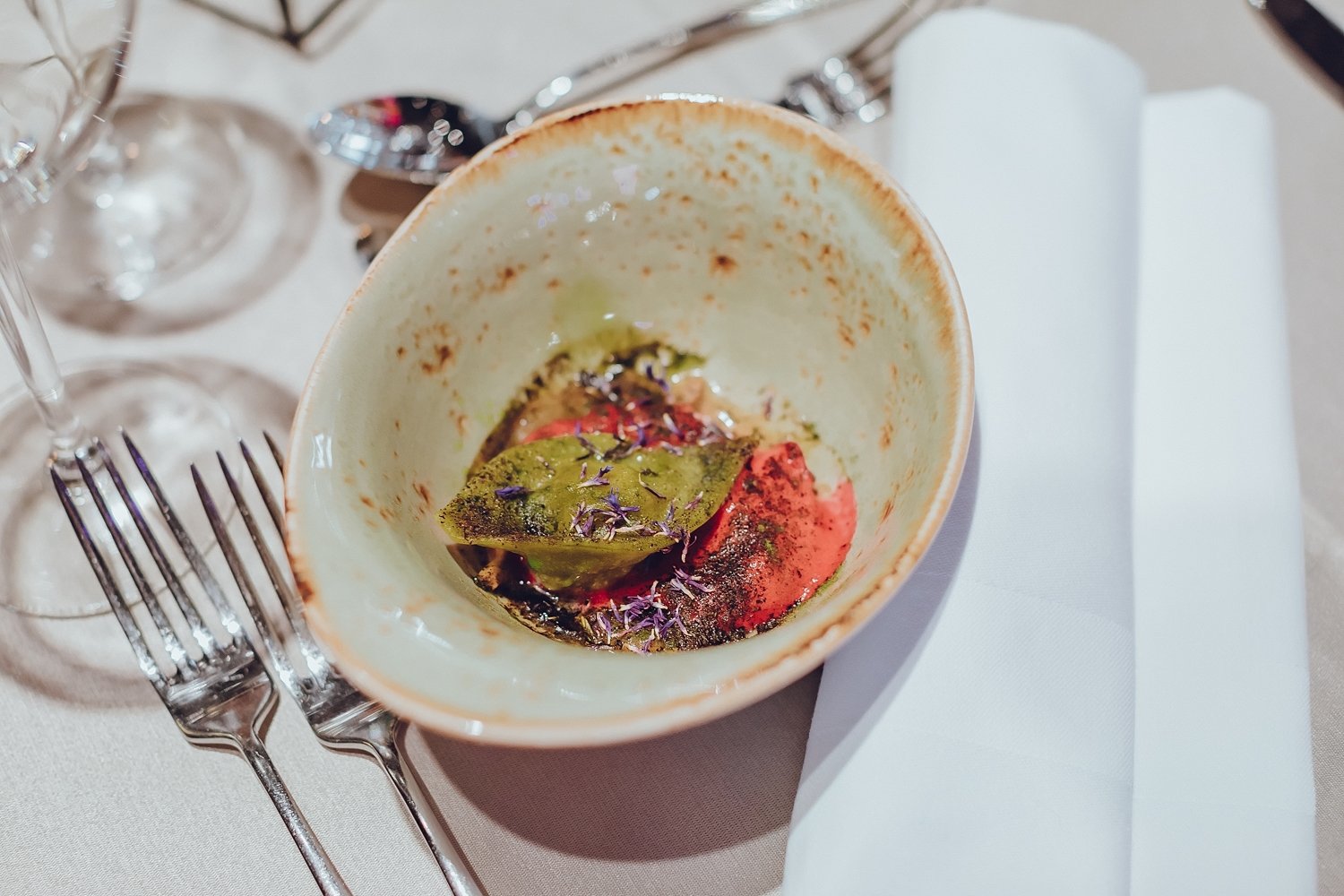 After teasing us with cold and hot, chef Igor Jagodic from Restavracija Strelec introduced the main: a tender piece of meat cooked in beef stock reduction with butter and apple vinegar, served with smoked celery root puree, celery roasted in brown butter, stuffed celery, beef tongue with mustard seeds and lovage. Yes, this spice plant allowed itself to develop its name from a noun made of love and stolen from the French.

And finally, the last and the sweet, a dessert collected in the Taste Ljubljana project: : sizeable piece of sponge cake decorated with cinnamon whipped cream, Lower Carniola fruit brandy and seasonal apples picked from the city's own orchards. For some vegan reason or another, our neighbour handed us his piece. The heart of some people!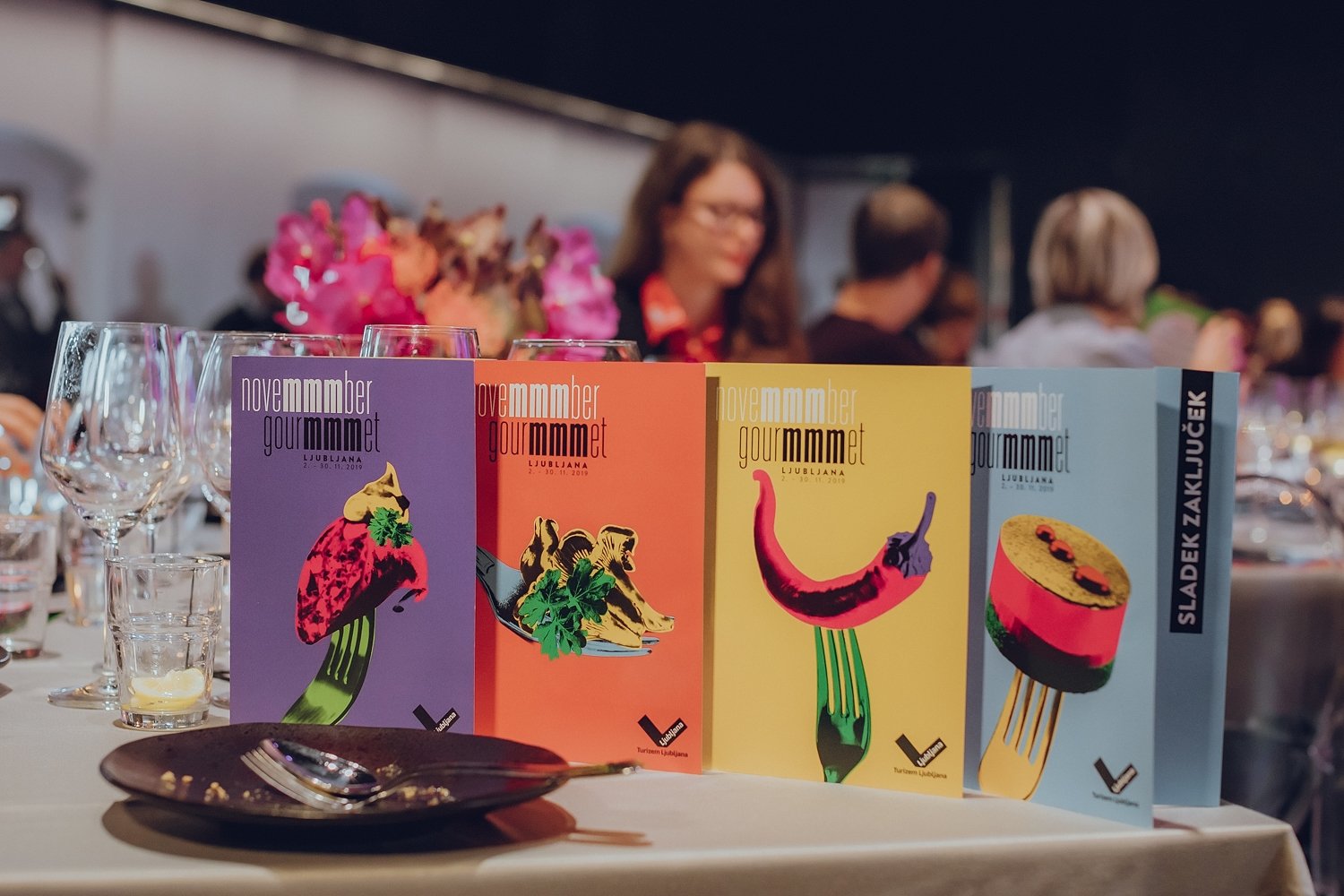 After that gin aperitif that introduced the slight feeling of Broken Bones in our body, and those glasses of Blažič and Traminec escorting the dishes,  the lines between low and high were definitely starting to blur. November Gourmet is under our skin, and we simply can't wait for the rest of it. What else is in store for us during the month? Are we going to be reading menus designed as comic books, immersing into stories and meanings of Slovenian gastronomy delights? Are we going to be served traditional beef soup in 32 cans? It might not be Los Angeles or Hollywood, but hey, as Andy Warhol also famously said, "everyone needs a fantasy".