One way to wander up and down Wenceslas Square, practically without stepping outside, is via Prague's very cool (and warm in the winter) passageways. Called pasáž they are a fun way to skip the crowded sidewalks of the square and typically find some interesting architectural features.

With the first built at the start of the 20th century, the passageways are mainly found in the Nové Město neighbourhood of Prague 1. There was at that time a fashion for Pasáž around Europe and U Novaku, for one, was definitely modelled after a Parisian department store.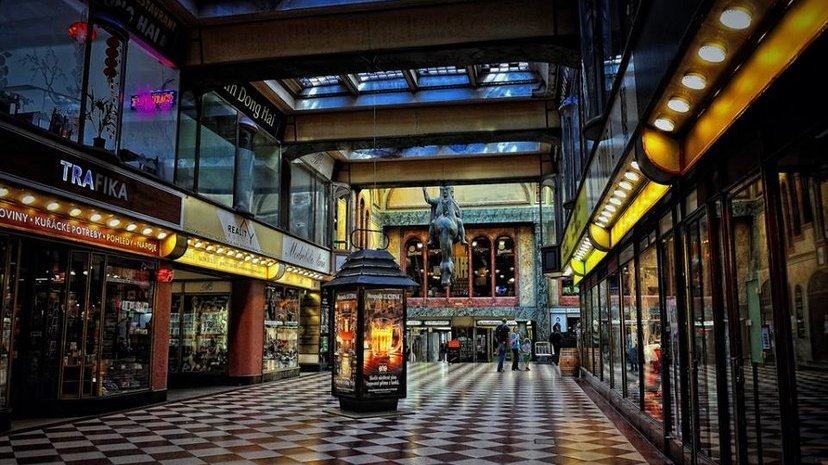 The most interesting by far is the Lucerna pasáž. Enter via Vodičkova Street, near the Václavské náměstí tram stop to find a handful of venues of interest including Hospoda v Lucerně, Kino Lucerna, Lucerna Hall and the Lucerna Music Bar. The main attraction though here is artist David Černý's upside take on the St. Wenceslas statue on the square. While many passages sport an art deco or functionalism décor, Lucerna interestingly has an Arabic bazaar style look. Fans of art deco can find more of this look by heading up the stairs next to Černý's horse and having a coffee at the Lucerna Café. Other shops of interest here include Japa full of Japanese snacks and Cellarius, a great wine shop.

The Lucerna passage is quite large allowing you to wander up to V jámě Street as well as through to Štěpánská Street. Don't exit quite yet though, turn right instead for a peek at the large Fransýr cheese shop with French cheese and wine as well as Řehoř samsa, a tiny book shop cum café. The books crammed into every available space are nearly all in Czech but are an eclectic collection. The café oozes out into the arcade and interestingly, you can smoke there, but not in the cafe.

Now however you have unknowingly left the Lucerna pasáž and passed through into another passage - U Nováků. The entrance to this passageway is on Vodičkova as well. If cakes and sweets are your thing, Patisserie St. Tropez will get your taste buds going with their beautiful cases full of cakes and sweets. You can even watch the bakers and decorators hard at work in their big open kitchen. Throughout this passage is a variety of fashion, jewellery, floral and home accessory shops. There is also a very cool camera shop with tons of old cameras on display. This is one of the only passageways whose front façade is quite beautiful, with its impressive design by symbolist painter Jan Preisler.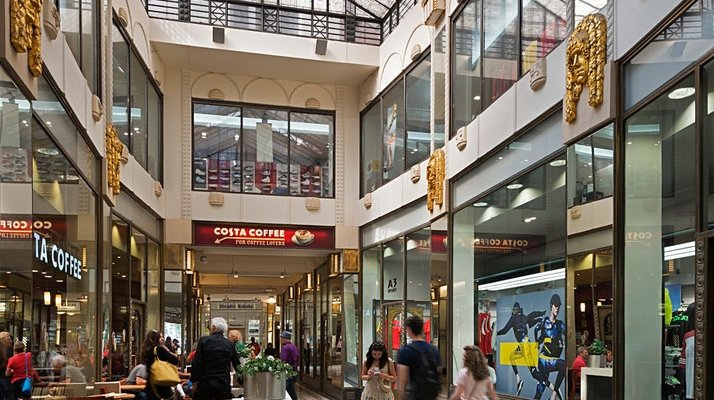 Continuing through towards V jámě Street, just before you exit is a chocolate shop and furniture store. If you want to continue your passage explorations, head back into the Lucerna pasáž and turn right at the end to exit onto Štěpánská Street. Turn left, then left again when you hit Wenceslas Square. A couple buildings down will be the entrance to the Rokoko pasáž (Václavské náměstí 38). This is a beauty with its glittering windows framed with a rose motif. It was designed by one of the leading art nouveau and cubist designers of the time, Emil Králíčka. If you continue straight through you'll actually end up back in the Lucerna passage via a 'secret' entryway behind the staircase that leads to Kino Lucerna.

Exit Lucerna back onto Vodičkova and walk straight across the tram tracks and into the Pasáž Světozor. This short arcade has two places of interest; the insanely popular Ovocný Světozor ice cream parlour and Kino Světozor which shows a mix of art house and newly released films. At the end you can turn right into the fairly dull U Stýblů pasáž built in 1929 in a constructionist style. It will take you back to Wenceslas Square or turn left for the entrance to the beautiful Františkánské zahrady garden.

At Václavské náměstí 56 you can see the work of Josef Gočár, one of the country's most famous Cubist architects and designers. The Fénix passage though is an early example of functionalism and as such could be considered a bit plain compared to some of the more decorative ones.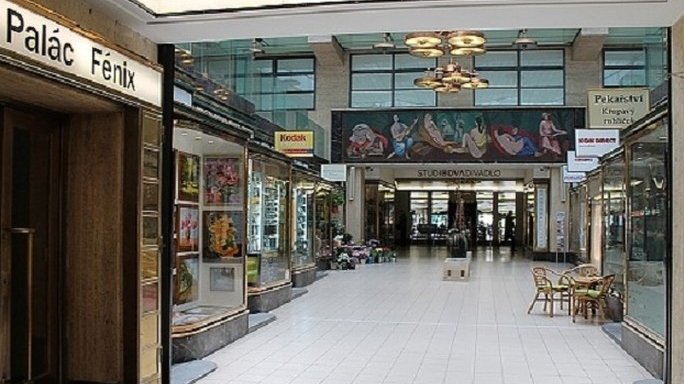 Where Václavské náměstí meets Na Příkopě you'll find the art nouveau treasure of the Korunna pasáž. The massive dome is stunning, and created from thousands of special glass blocks with an art nouveau design. There are entrances from both Václavské náměstí and Na Příkopě and the arcade contains an Indian restaurant, hostel and Bontonland, a large music store on the underground floor.

Let's head away from Wenceslas Square for the final stop on our mini pasáž tour. From the Korunna passageway head down 28. Října to the Palác Adria. This hulk of rondo cubism was originally built in the 1920s for an Italian insurance company and the columns on the façade are meant to mimic Italian renaissance palaces. Enter from Národní Street and head straight back to the end. Here you'll find a fascinating sculptural decoration featuring the 12 signs of the zodiac. There's also a good café on the first floor. If you exit from the other entrance you'll be on Jungmannova Street.