A feature of the Prague skyline is the Žižkov TV tower found a few metro stops outside of the centre. Once voted one of the ugliest buildings in the world, Tower Park Prague (as the TV tower is named these days) is located in the Žižkov neighbourhood. These days it is actually an entertaining complex for those who like a view, with a load of antennae on top. There's a café, restaurant and viewing platform in the tower as well as a garden restaurant with lots of green space underneath and a mini-golf course. Close to the centre yet in a peaceful neighbourhood, it's an interesting option on how to spend a couple of hours.

At 216 metres, the tower is the tallest building in Prague and boats the highest viewing platform in the country. While more centrally located towers like those on Old Town Square or Charles Bridge give you an Old Town view, out here you have a more encompassing view towards the downtown area as well as out into the suburbs.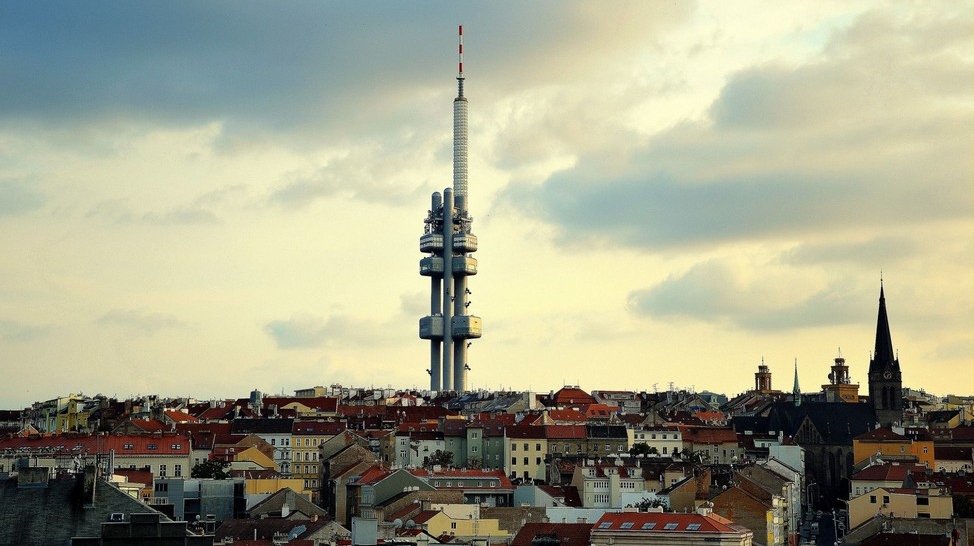 The TV tower was built between 1985 and 1992 and was much maligned at the time. Nearby residents bemoaned the fact their historical neighbourhood was being invaded by a piece of brutal, high-tech architecture. Even today, many locals aren't thrilled with it, but have come to accept, if not embrace, its charm. One of its most defining features came a few years after completion; ten babies crawling up the sides. Designed by Czech artist David Černý (known for his often provocative work) you can get a close-up inspection of the babies thanks to a few bronze samples crawling around Kampa Park.

A complete renovation of the tower in 2012 added almost all the components you see today. The observatory is open from from early morning until late at night and offers a 360 degree view of the city from 93 metres up. Besides the views, three cabins offer multimedia installations on different Czech themes, including UNESCO heritage sites and Prague historical monuments. The café makes a great spot for those who aren't looking for a meal, but would still like to sit down and enjoy the view. Or pop up for a drink in the bar once the sun begins to set. Oblaca Bar specialises in a range of bespoke cocktails. For a memorably expensive night's sleep, check into the One Room hotel located 70 metres up. With only one room, you will be the only guest which means some pretty personal service.

If you'd prefer to just keep your feet on the ground, Miminoo is a beautiful garden restaurant with lots of outdoor seating. Cuisine is a mix of Czech and Italian. If you find yourself exploring the streets around Jiří z Poděbrad, definitely make time to wander over. Even if it's just to check out those giant babies.