One of the biggest companies for electric scooter rentals, Lime, is now operating in Sofia. In recent  years e-scooters have become really popular among all ages all over the world, mainly because they are an eco-friendly and sustainable way to move around a city. Following the recent launch of Lime in other countries  in Eastern Europe, the American company decided that it is time to test their product in Sofia.
On 22nd August the company launched 100+ scooters in the center of Sofia.
So how can you rent a scooter, you might ask? It is actually pretty easy.
To rent a scooter all you need to do is to download the app (Lime), which is available both for Android and IOS. In the mobile application you can look at your current location and scan your region to see where the nearest scooters are located and how much battery life they have left. After you find an available scooter, you can start your ride. You unlock it by scanning its QR code through the application.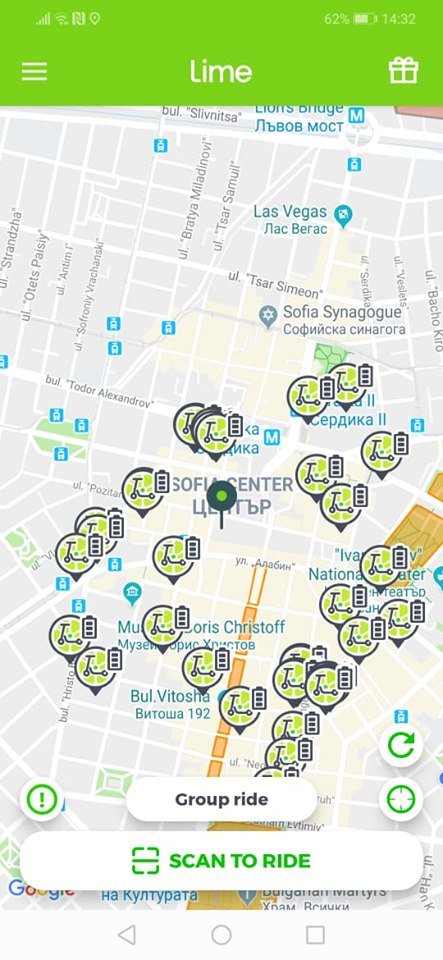 How much does it cost? The charge to unlock the scooter is 1.50lev (0.77€) and after that it costs 0.30leva(0.15€) per minute. When you want to stop your ride just follow the instruction on the mobile app and park safely. You can pay for your ride with a debit or credit card by adding its information in the mobile app "wallet" section.
Here is a short instruction video with all the important steps to enjoy your scooter rental.
Update
Hot on the heels of Lime, a second US company Bird has launched its electric scooter rentals in Sofia partnering with local company BRUM. Prices and procedure are pretty much the same as Lime except that currently you can get 15 minutes for free with a promo code plus 50 stotinki cash back for parking correctly.
Worth noting: You need to be over 18 to register for the service. Helmet or Driving License not required but
please be safe and pay full attention when riding your scooter! Not all paths in Sofia are even and riding on the streets is technically not permitted. Better to stick to cycle paths and remember local drivers can be quite aggressive.