The journey is via Bansko, Dobrinishte, and Ognianovo before one starts on a treacherous road uphill, signposted to Leshten and Kovachevitsa. Past a gypsy settlement one starts the climb, the scenery alternating between breathtakingly beautiful, to scary and depressing (the rubbish what else?). One cannot help but wonder what on earth makes people choose to settle and live in such a remote place?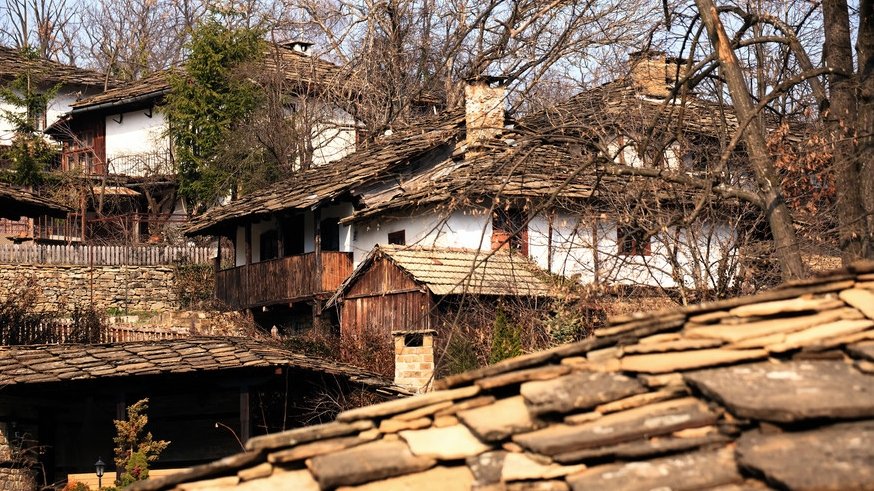 The answer is these were people trying to escape from the Ottoman regime and the subsequent enforced conversion to Islam.
Situated at 1020 metres above sea level, the spacious pastures, mild climate and abundance of drinking water made the basin area of the Kanina River a wise choice for the refugees. Separate hamlets formed around the spring, known nowadays a tsiganchitsa. Refugees came from as far as Tarnovo (the Bolyars) and what is nowadays Albania (the Arnauts) and with them they brought a wealth of skills and knowledge that led to the prosperity of the region. In the 1950s there was a mass migration from Kovachevitsa to Batak, Pazardjiik and Velingrad. The village became neglected and dilapidated till it got a new lease of life thanks to Bulgarian film makers, who have shot over twenty movies in this village.
Steep cobbled roads lead away from the village centre between the distinct tall, slender stone and timber buildings, impossible for cars to drive up. Kovachevitsa's only real restaurant, that of the brothers Chuglevi, known locally as Pri Bratjata, is always busy. Lunch is traditional Bulgarian home cooking, bean soup, kachamak, stuffed peppers and a rather tasty homemade sudjuk (sausage).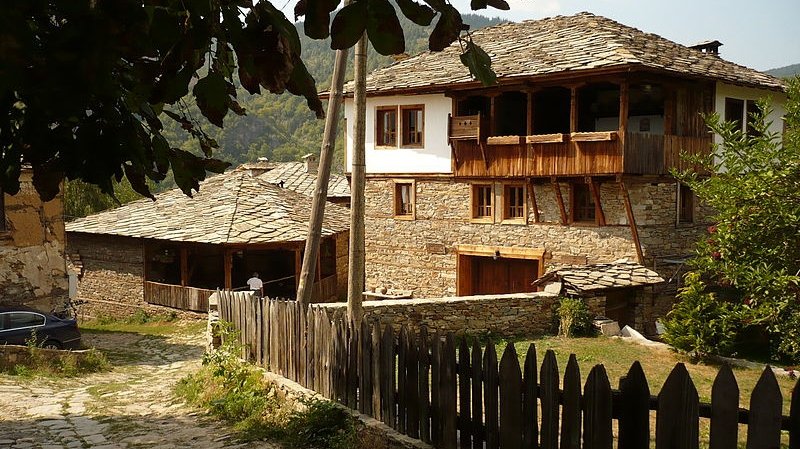 Kovachevitsa is about getting away from it all, escaping, getting closer to nature, going back in time. There isn't much to do there apart from going for hikes, relaxing in the pleasant guest house courtyards and enjoying some good home cooking. There are few amenities, a small grocery shop, an antique shop (nothing to get excited about) and a small café bar. The number of permanent residents is small, around 50 – but on weekends and holidays this number swells as many of the old houses have been bought and beautifully restored by Sofianites. There are various options for accommodation - from renting a room in a house to the many bed and breakfasts that have been made from restored old houses.

Try Lavanda (www.lavanda.bg), Krumovata Kashta (www.krumovata.com), Byalata Kashta (http://www.bialatakushta.com), Bazoteva Kashta (http://bazoteva.wix.com/kovachevitsa).
And so on to what to see and do…The church St. Nikolai was built in 1847 and is one of very few churches in the area. Unusual is the depiction of scenes from the Old Testament on the bottom row of the iconostasis. The four storey bell tower adjacent to the church was built in 1900. For security reasons the church is kept locked ever since two valuable old icons were stolen, but you should be able to find someone that will be able to get the church opened for you.
 
Among the walks you can do is a pleasant 2km hike up the mountain to the recently built (1995) chapel of St. George with beautiful views along the way, or the longer walk to the natural rock formations Sinia Vir (blue damn) and Kozia Kamak (goat rock). Part of the reason for our visit was the inauguration of the visitor's information centre and gallery which was opened in the old refurbished "Yordje Dimitrov" school and will eventually also offer accommodation with en suite facilities. (Yordje Dimitrov was a teacher who gave the money for the building of the school in 1888 after his own three children died in a fire after their home was torched by Turks.) Here visitors will be able to find out what accommodation is available as well as admiring the work of local artists and craftsmen.
The people of Kovachevitsa love their village. They know it has great potential for eco tourism but they also know that it is a sensitive balance between building on what they have without destroying it. Go discover the magic for yourself.