The Poles have a rather corny turn of phrase that always comes to mind this time of year: Wiosna, ach to ty! (Spring, ahh, it's you!).

Immortalised in song by popular tunesmith Marek Grechuta, despite being an absolutely ridiculous exclamation, this saying aptly captures the collective ecstasy all Poles feel when the long, gloomy winter gives way to spring's natural rebirth and cultural awakening. After a sort of societal hibernation, suddenly (ach!) flowers and beer garden umbrellas are in bloom, temps and hemlines are on the rise, merchants, musicians and melodies fill the public squares, couples are caterwauling along the boulevards, events are back on, the capital is bursting with energy and simultaneously basking in its release. It's certainly a great time to travel, but why visit an urban centre full of glass and concrete when you could choose one of the greenest cities on the European continent instead? Warsaw, ach to ty!
 
Urban Parks & Greenery
The 2018 Travelbird Green Cities Index ranked Warsaw as the 12th greenest city in the world, while the Husqvarna Urban Green Space Index ranks Warsaw 18th out of 171 European cities; the only cities of over 1 million inhabitants that did better were Prague, Hamburg and Munich. With 51% of the city covered in greenery for an average of 134.4m2 of green space per resident, Warsaw well exceeds the likes of New York City (19m2) or Paris (a pathetic 9.8m2), despite the two metropolises having iconic urban parks. Though they may not be as famous, Warsaw is home to its share of iconic parks as well, so let's take a look at the best places in the capital to celebrate spring, and do some sightseeing while we're at it.
  Where else would we start? Łazienki is not only Warsaw's most famous park, but also its largest at 76ha, and right in the city centre. This glorious green space is not only home to peacocks and adorable red squirrels, but is also packed with 18th century palaces, monuments and royal art collections. In fact, the lush, hilly premises are a bit of an architectural scavenger hunt where you can find Warsaw's oldest theatre, a Greek temple, Egyptian temple, Chinese Garden, and much more. Beginning in mid-May, locals flock to Łazienki with blankets and picnic baskets to hear free open-air piano concerts under the park's famous Chopin monument every Sunday at 12:00. Read our full feature dedicated to Łazienki for all details on what to see and do at this beautiful park and palace complex. Located just off the Royal Route, this historic 15.5ha park is the oldest in the city, and became one of the first public parks in the world when it opened to everyone in 1727. At that time it was a Baroque Park in the French-style with the grandiose Saxon Palace playing a role very similar to the Palace of Versailles in Paris' famous park. Like Łazienki, the park also included several other palaces and pavilions, all of which were sadly obliterated by the Nazis during WWII and never rebuilt. Despite this absence, Saxon Garden today is one of Warsaw's best urban retreats, offering an antidote to the capital's urban din, plenty of shade, lots of benches and more than a few points of interest.

Foremost among the latter is the Tomb of the Unknown Soldier - the only surviving remnant of Saxon Palace and once part of its lower colonnade. Here the ashes of unidentified soldiers who died for the Polish cause are interred and an eternal flame is kept lit and guarded by stone-faced soldiers. If you enjoy a bit of military theatre, you can watch the official changing of the guard every hour, on the hour, 365 days a year.
More impressive (in our opinion) is the large fountain located just behind the Tomb of the Unknown Soldier. Created in 1855 by renowned Warsaw architect Henryk Marconi, this fountain is and was the centrepiece of the gardens, the alleys of which are lined with blooming flowers, ancient trees (many of which survived the war) and neoclassical sculptures.

Lastly, in the northwestern part of the park, on a little hill, you'll find the park's Water Tower, also designed in 1825 by Marconi. If the structure reminds you of an ancient Roman building you're quite right – it's modelled on the famous Temple of Vesta in Tivoli.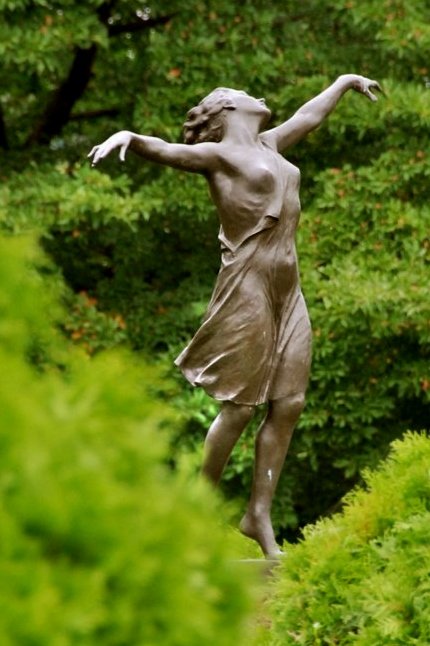 Time for a ride across the river, to a place few tourists tend to tread. Shame that, as Skaryszewski Park was ranked by self-proclaimed park experts Briggs & Stratton as Poland's most beautiful urban park in 2009; in fact, it placed third on the entire continent. We'll defer to their expertise, as it is a fine park indeed, full of wide tree-lined alleys, man-made hills, handsome statuary, landscaped flowerbeds, charming bridges, waterfalls and picturesque lakes where you can rent kayaks and pedalboats. The right bank's largest green space at 58ha, there may not be any palaces, but it does boast its own amphitheatre and is absolutely loaded with monuments, most notably a bust of famous pianist, patriot and politician Ignacy Jan Paderewski at the park's entrance. Other monuments include a memorial to the Polish victims of the September 11 attacks, and another commemorating British pilots whose B-24 Liberator was shot down here in August 1944 while delivering supplies to the Polish resistance during the Warsaw Uprising.

Located next to the popular district of Saska Kępa, the southwest corner of the park leads right to the neighbourhood's trendy high street, ul. Francuska, where you'll find plenty of hip cafes and restaurants, as well as some of the best ice cream in the city. Fans of modernist architecture and charming villas are encouraged to explore this affluent but artsy area.
Outdoor Food Fairs
The arrival of warmer weather is also the signal for Warsaw's outstanding open-air food markets to resume operations. An increasingly popular urban trend, these hip gastro markets are as much about socialising as they are about shopping for local food products or filling your belly, and definitely worth checking out if you're brave enough to go beyond the centre of town. If you're here ahead of the season or the weather's rubbish, you can (and should) always check out one of the city's plentiful indoor food halls as well. They say it's the most important meal of the day, but in Warsaw it's also a cultural experience. We're talking about the Breakfast Market (Targ Śniadaniowy), which offers foodies a range of delicious day starters from dozens of local food producers, farms, restaurants and catering companies. Taking place in neighbourhood parks, mingle with locals, explore new parts of town and get your grub on by creating a picnic spread from the fresh foods on sale here, or choose from an array of ready-to-eat meals from local producers as well. A highly social event, the Breakfast market caters to families by organising events for kids and other attractions. Best of all, you don't have to get there early. Occurring on weekends beginning from April 2nd, on Saturdays 09:00-16:00 you'll find the Breakfast Market near Plac Inwalidów (corner of Al. Wojska Polskiego and ul. Śmiała) in the leafy Żoliborz area; on Sundays from 10:00-17:00, the Market moves to the park area of Skwer AK Granat in Mokotów.
www.targsniadaniowy.pl
  If family-friendly isn't your vibe, Warsaw's legendary Nocny Market (Night Market) may be more to your taste. Occupying an abandoned railway platform, Nocny Market aims for the atmosphere of a Beijing street market and the vibe of a Berlin club to create a cult Warsaw institution. The largest street food market in PL, this is a full-on feast for the senses where you're guided by colourful neon lights, tantalising smells assault your nose as you wander from stall to stall, live bands and DJs set the mood, and intoxicating drinks pour forth from the fully stocked bars. If you really want an experience you can't forget you can even get a tattoo here. With a huge diversity of culinary offerings from around the world, this is definitely one of Warsaw's coolest places to eat, drink and chill when the weather's warm. starting in mid-May, to get there take a tram to 'Pl. Zawiszy' and walk towards 'Warszawa Główna' train station. Alternatively, take the Metro to 'Rondo Daszyńskiego' and walk the short distance. Use warsaw.jakdojade.pl for live transit connections.
ul. Towarowa 3 | fb.com/nocnymarket.
Open Thu 17:00-24:00; Fri, Sat 17:00-01:00; Sun 16:00-23:00. Lastly, May brings the return of Slow Market to the left-bank Vistula Boulevards. This huge multicultural culinary market offers a bounty of tastes, with a bent towards seasonal, ecological and organic products from Warsaw's best local eateries, food concepts and caterers. A street food fair on the river, there is always something for everyone (including plenty of vegan fare) as long as you have good taste. Open late on weekends, this place tends to turn into a bit of a party after hours, making it a great nightlife option on warm evenings.

In 2021, Slow Market was located in Solec near the Słonka ferry station, but it's a bit early at the time of publishing this to confirm if they'll stay rooted there for 2022, so best check online for updates and events. Organised by Jestem Slow (jestemslow.pl), they also do monthly vintage markets at Elektrownia Powiśle, so check them out to see if you're lucky.
www.slowmarket.pl.
Open Fri 18:00-02:00, Sat 12:00-02:00, Sun 12:00-22:00.