The fledgling Second Polish Republic (1918-1939) had only been on world maps for a mere 21 years (following a 123 year hiatus) before it again faced an existential crisis at the hands of old foes. In the Second Republic's short existence, having regained its independence following the end of the 'war to end all wars' in 1918, Poland had to fight to maintain this freedom in the Polish-Bolshevik War of 1919-21, and then, in 1939, when the looming prospect of another war became more apparent, it was again tested in the most brutal of ways.

A date which has gone down in infamy, 01 September 1939, would signal the beginning of the end of the Second Polish Republic. But Poles would not go down without a fight; indeed, they put up quite a resistance, despite the onslaught of the Nazi war machine. But the invasion was also heavily focused on the Nazi propaganda machine spewing out a narrative of superior mechanised German Armed Forces mowing down an inferior, mainly cavalry-led Army (one of many myths that persist even today). With few international journalists in Poland at the time, it would seem the narrative of the September Campaign of 1939 (Kampania Wrześniowa) would be told by the invaders. This narrative would undoubtedly be questioned by the outside world, but without further unbiased reporting, it would be difficult to counter. Fortunately, a fateful decision was made by one American that would provide a true depiction to at least some of the horrors of war experienced by the Polish populace.
 

American filmmaker and photographer Julien Bryan, having recently documented peasant life in the Netherlands, was travelling to Warsaw by train, when on 03 September 1939 he learned of the German invasion of Poland while on the Polish-Romanian border. Should he continue his journey, or turn back to relative safety? Bryan had seen combat before, having served as an ambulance driver in France during World War I as a mere 17-year-old, but only an irrational man wouldn't at least weigh up the prospect of returning to safety...

"Why, at this moment, I did not turn around...I do not know", he would later recall. He arrived in Warsaw on 07 September.

Bryan (1899-1974), from Titusville, Pennsylvania, was no stranger to Poland, having travelled around China, the Soviet Union, Germany and Poland to make a series of human interest films showing the daily lives of citizens, including chronicles of the rise of Nazism in Germany, and even visiting Warsaw in 1936 to document life in the city. Just a few years later, that same Warsaw would look like a shadow of its former self.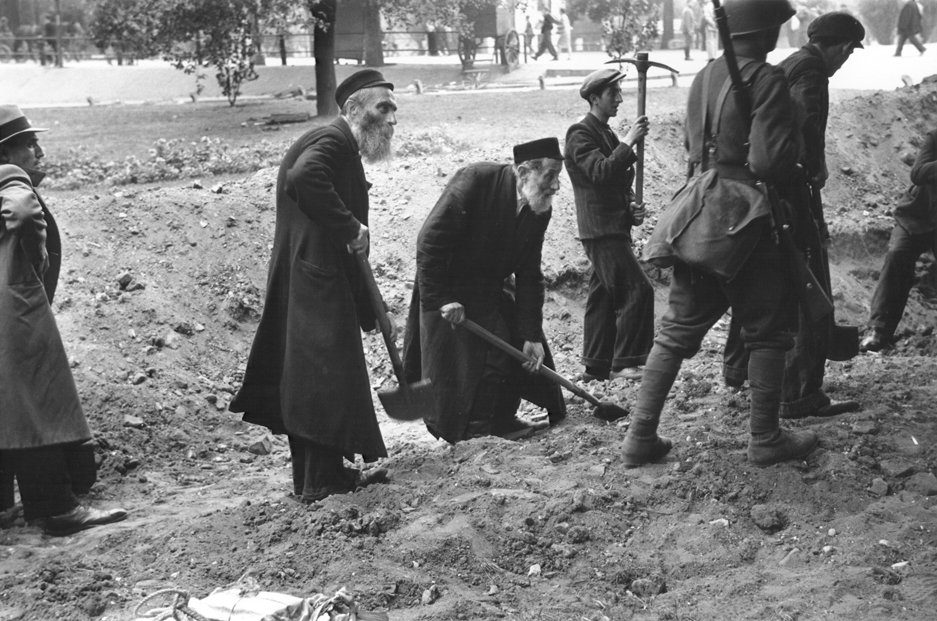 The destruction suffered by Warsaw during the Warsaw Ghetto Uprising of 1943 and the Warsaw Uprising of 1944 culminated with near total obliteration, and the main media attention afforded to Warsaw's WWII experience usually focuses on these two events. However, it is less often recalled that the Siege of Warsaw 1939, although noted as lasting 08-28 September had already begun on 01 September as it was bombarded by the Luftwaffe, followed by near constant artillery attacks to terrorise the city's 1.3 million inhabitants as the German Army approached. By the end of the September 1939, Warsaw was already in a terrible state. And it was this aggression on a civilian city with little military objectives which Bryan documented for the world to see. But this was the capital of Poland, and with its capture, no matter the cost, Hitler's war machine could claim a huge morale boost for his troops while crushing that of the opposition.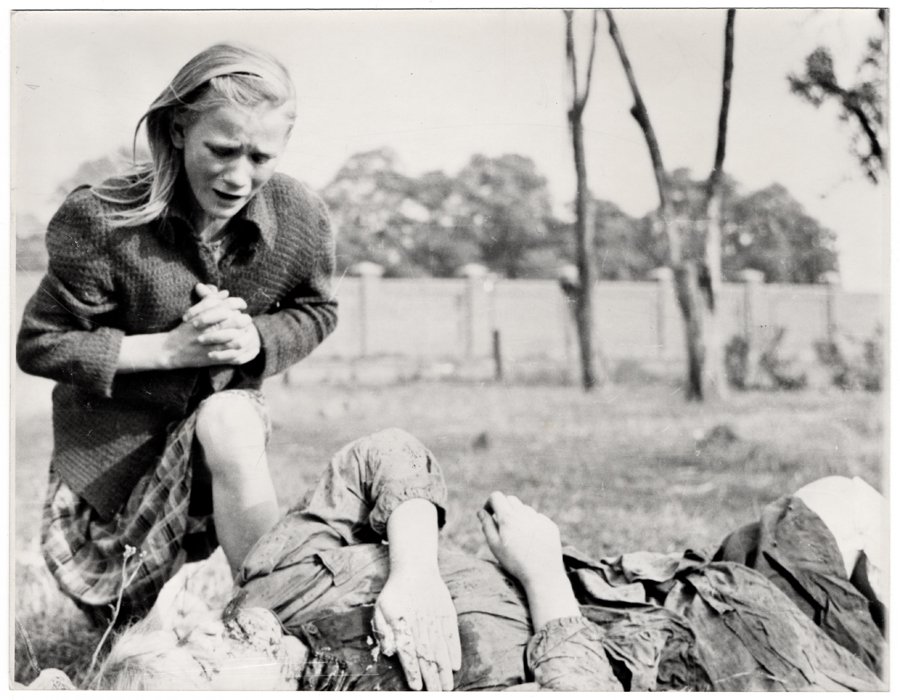 Armed with his trusty Leica still camera and a Bell & Howell movie camera, Bryan and his Polish interpreter Stefan Radliński documented the assault on the city as best they could, showing civilian and military efforts to defend the capital, such as building barricades, and initial anti-aircraft battery successes. But the more poignant photos show the death and destruction heaped upon civilians and the city itself. Some of the most striking images taken by Bryan are of a small boy, Ryszard Pajewski, looking desolate, sitting in the rubble of a bombed-out apartment block; and that of a little girl, Kazimiera Mika, crying over the body of her sister, killed by a Junkers Ju 87 [Stuka] dive bomber during a strafing run, as they collected food in a field in Warsaw's Wola district.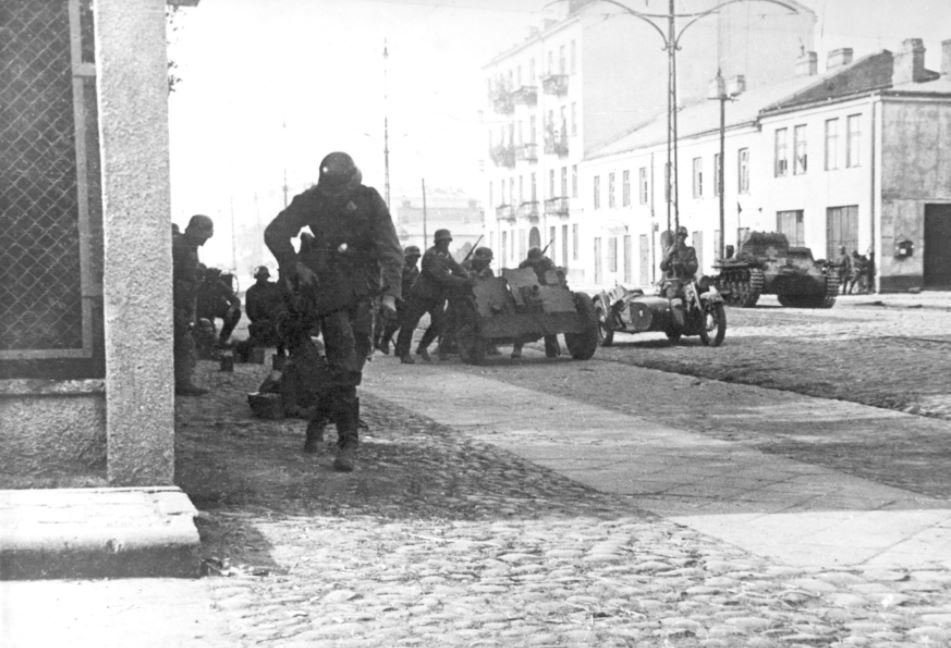 The experience of Warsaw was to be repeated later in the war across the world, but to understand the indiscriminate nature of this war, Bryan's footage and photos needed to be seen by the outside world. Bryan knew what he had to do, but how to get his material out of Warsaw when the city was surrounded? On his 14th day in the city, the Germans allowed all foreigners in Warsaw to depart by train, but to avoid his materials being confiscated, it was shared out with his companions to hide amongst their equipment, and Bryan also resolved to wrapping film around his torso! The plan worked.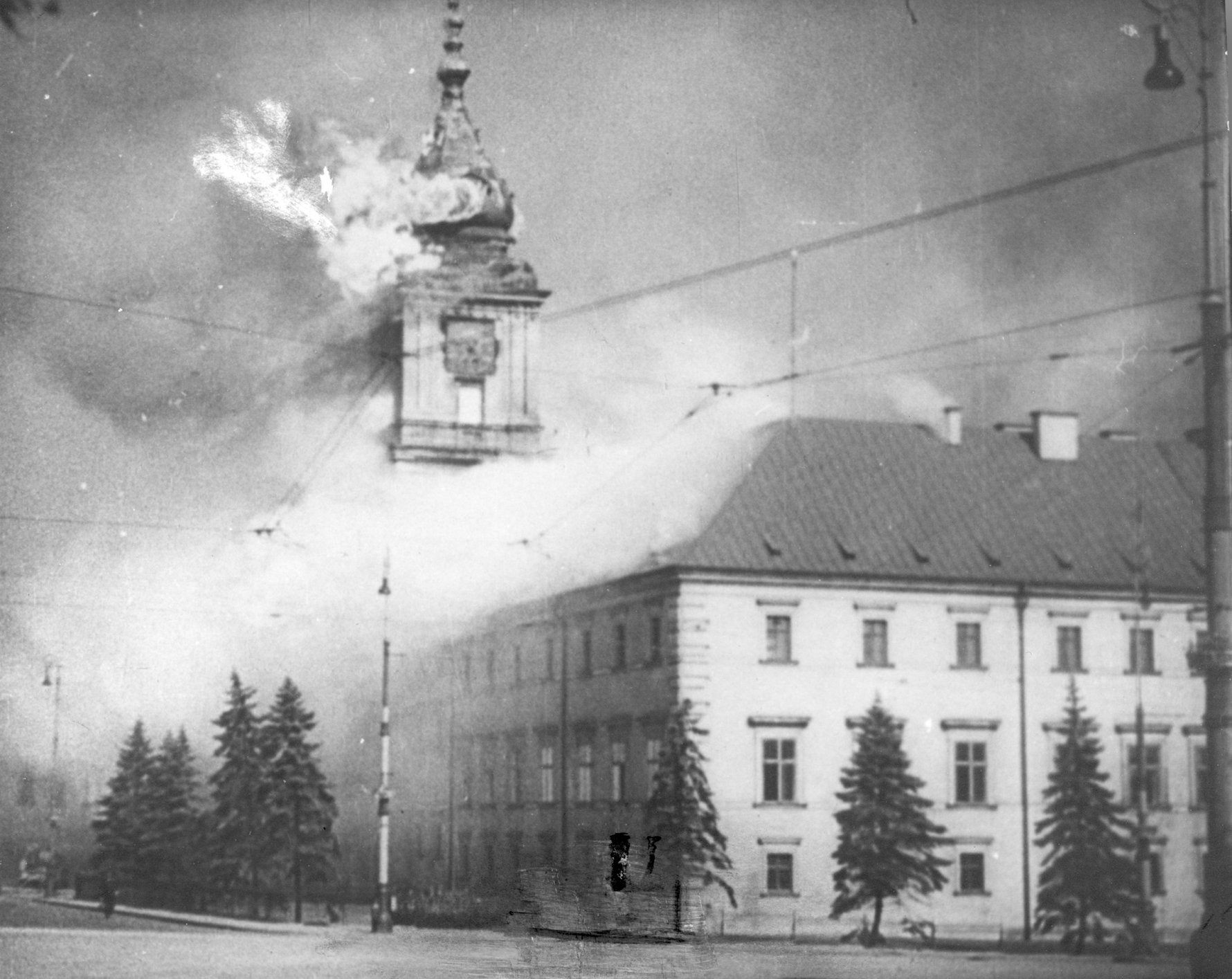 Warsaw would continue to defend itself until it became clear that the expected help from the Allies would not come, and the double-whammy of the Soviet invasion of Poland on 17 September resulted in Polish morale taking a complete dive and the reason for continuing the fight seemed all the more pointless. On 26 September, Warsaw Army General Juliusz Rómmel began capitulation talks with the German command. On 27 September at 12:00 a ceasefire agreement was signed and all fighting halted, and soon after, Warsaw capitulated. Over the course of one month, 140,000 Polish soldiers had been killed, wounded or captured, and 18,000 civilians perished. 10% of the city's buildings were completey destroyed, a further 40% badly damaged. The occupation of the city had begun, and would last until January 1945.

Back in the United States, Bryan had a huge collection of photos and footage to sift through and he soon set about showing the world what had happened in September of '39 in Warsaw. Newspapers and magazines used his images extensively, but it was Bryan's 1940 book, Siege, about his Warsaw experiences that really hit home – the documentary of the same name was shown in theatres across the land (also available to watch online, below) and nominated for an Oscar that same year.
 

Amazingly, Bryan would return to Poland again in 1946 to document the post-war reality, his footage from Gdańsk being the first chronicle of the city's destruction. He also visited Warsaw during this time, but it was actually his visit to the city 20 years later that sticks out, this time publishing his wartime photos in Warsaw newspapers, hoping to find the subjects in his original siege photos. He succeeded, meeting a number of the people he had encountered during the September Campaign, learning of their later wartime experiences and life thereafter.

Bryan died in 1974, just two months after receiving a medal from the Polish government (held at the U.S. Holocaust Memorial Museum in Washington, D.C) for his images of Poland, which remain as striking and shocking as the very days they depict, and are now more accessible than ever before.