For those of us itchin' from a pandemic of another kind - the travel bug - there's nothing worse than not having a cure readily available. At the moment, international travel is no simple matter, and quarantine requirements in your desired destination may be three times longer than any amount of annual work leave you can afford to cash in with your boss. And then there's the quarantine fee that some countries expect you to pay upon entry (We hear that Australia, for example, demands around 9000zł just to sit in a hotel room for 2 weeks.) So, domestic travel is a no brainer, and, back on the subject of the highly-contageous 'travel bug', our beloved Polska is well-and-truly an open drug store dealing in remedies for this strain of wanderlust. Top of the shelf, as always, is the colourful riparian cosmopolis of Wrocław - the best city break option in Poland!
"Why Wrocław?" you ask... Well, for starters, the city is steeped in over a millennia of history and culture and has absorbed influences from Poland as well as its neighbours Germany and Czech, meaning there's plenty of sightseeing options, museums and galleries to check out. Wroclaw has plenty of outdoors options in and around the city, and, in these unpredictable times with a government that frequently changes Pandemic restrictions like pairs of socks, you won't be disappointed if something is suddenly closed. It's also a city that has something for every kind of traveller - young, old, families, lovers, and folks who are generally in a rush. You could stay in Wrocław for a couple of days and you could very easily fall in love with the whole affair and stay for months or even years! It's also very conveniently located Wrocław is located close to Kraków and Warsaw, as well as international cities like Prague and Berlin (of course, we recommend checking travel restrictions before making plans) and very well-connected with trains.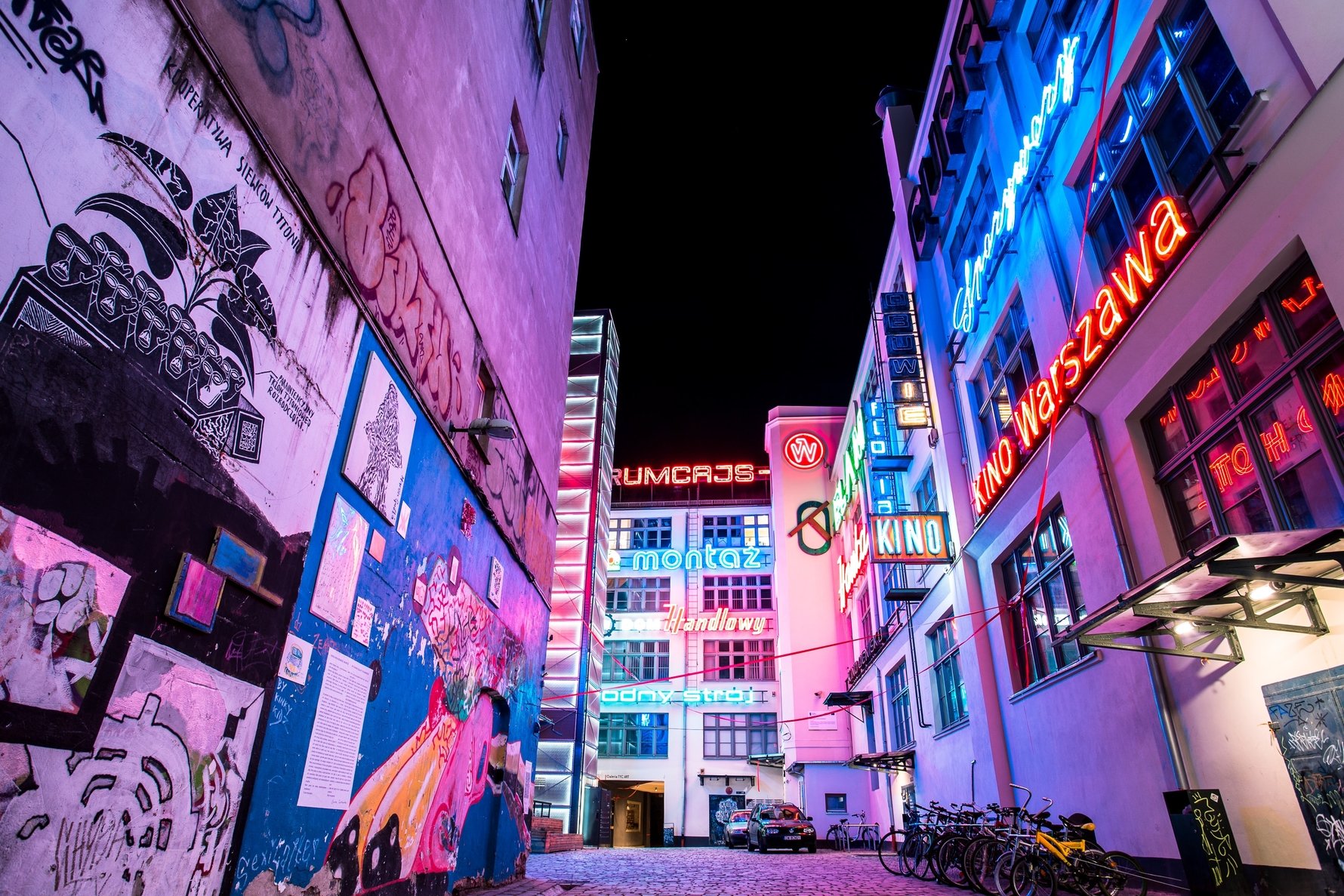 One of Wrocław's most popular, memorable and iconic attractions is not a cathedral, not a castle or monument, but a legion of little people. The Gnomes of Wrocław evolved from an anti-communist mascot in the 1970s to the first Papa Krasnal (ENG: Pappa Gnome) monument in Wrocław Old Town to now hundreds upon hundreds of individual statues all over the city centre. You can find them dotting doorways, alleyways and street corners; constantly underfoot but only seen by the observant. Striking a variety of poses in their different personas, from guarding public spaces to being passed-out drunk, these loveable ambassadors are a hit with visitors, especially the kids, and you could easily spend a few days gnome-spotting.
For more, read our article on The Gnomes of Wrocław.

Soak up the magical atmosphere in Ostrów Tumski
Playing soul to the Rynek's heart, Ostrów Tumski is the gem at the centre of Wrocław's crown. But enough with the literary cliches - Ostrów Tumski is gorgeous and must be visited! This is where the city began, making it one of the most historically significant parts of town, in addition to its most archaically picturesque. The district's history has always been closely tied to Catholicism and today you'll find an incredible concentration of religious buildings across the river, making it an incredibly peaceful place to explore and relax. Previously an island until the 19th century, after persistent flooding led town planners to fill in one of the Odra's tributaries, crossing Most Piaskowy (ENG: Sand Bridge) into the serene cobblestone haven gives Ostrów Tumski an other-worldly feel to visitors who've been amongst the noisy bustle of the Rynek. is a particularly gorgeous street, still lit today by original gas lamps and providing the perfect frame for a picturesque, romantic evening stroll. Keep your eyes peeled at dusk for the district's famous lamplighter as he goes about his daily duty of lighting Ostów Tumski's gas lamps by hand.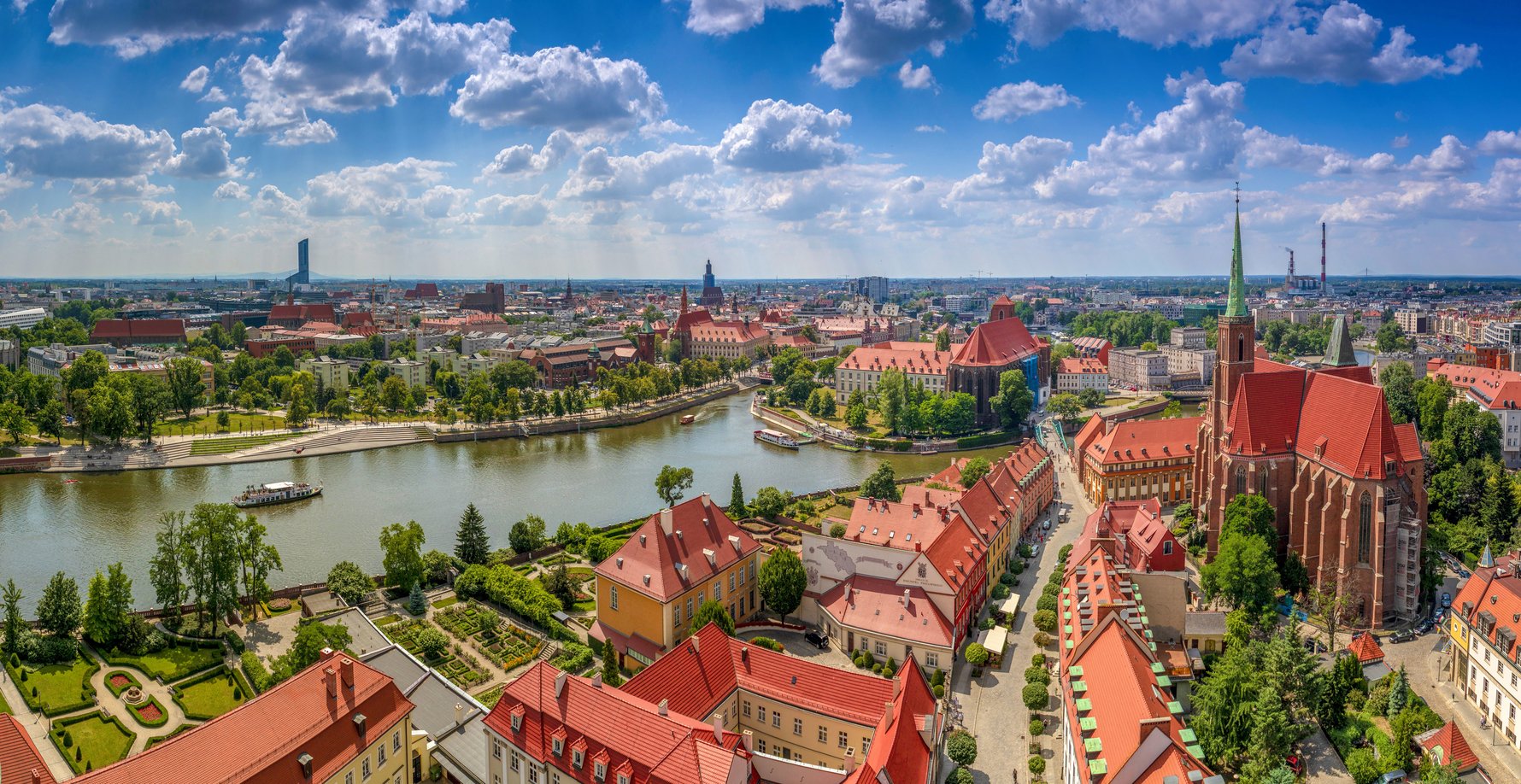 Following ul. Katedralna from there you'll first come across the Church of Saints Peter & Paul before reaching the impressive monument of John of Nepomuk standing beneath the Church of the Holy Cross, a rare two-level church with two separate parishes. Continuing down picturesque ul. Katedralna you'll pass two of the neighbourhood's only places to rest and refuel - Cafeterie Chic at Katedralna 6 and Lwia Brama at Katedralna 9 - before standing beneath the beautiful Cathedral of St. John the Baptist, famous for its stunning stained glass windows and 16th-century altarpiece. To the right of the Cathedral's main portal is the Archbishop's Palace, now the Archdiocese Museum (the Archbishop lives elsewhere these days). For those looking for a sanctuary that's not full of cadavers on crosses, head north to the city's Botanical Gardens – one of the finest, most picturesque, and sadly overlooked, places for spending time in Wrocław. In the evening, you can witness the district's famous lamplighter who, in a public service roll that has existed for centuries, continues to light all of the gas streetlights by hand!
For more, read our article on Wrocław's Ostrów Tumski.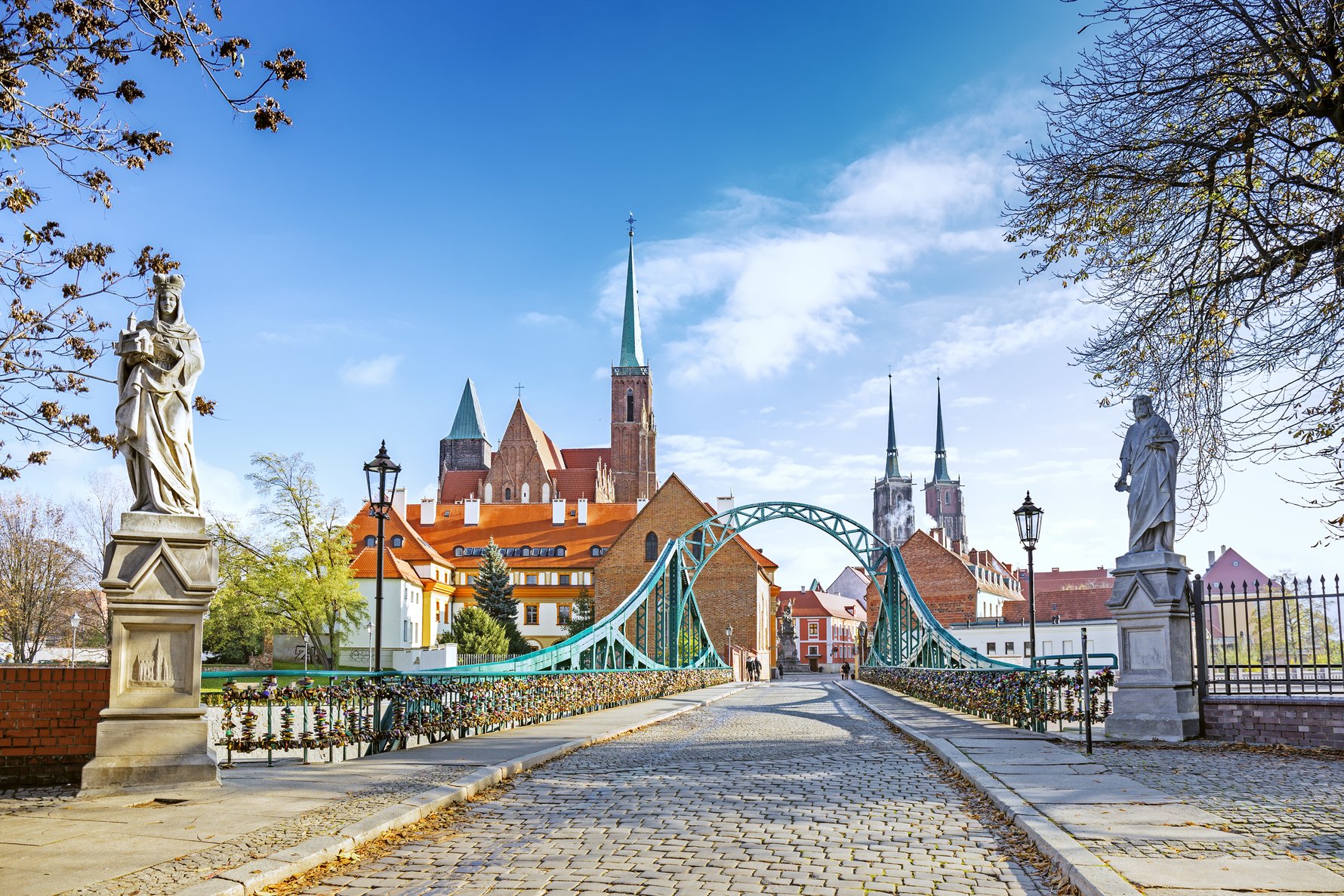 Go Down by the Oder River: Wrocław by Boat!
In case you haven't been able to tell by some of the photos, Wrocław is very much a riverside city. Here, the Oder is a fracture of islands that offer small lilypads to find a space of your own. There are six small islands nestled between the city centre, Ostrów Tumski, Kępa Mieszczańska, and the Nadodrze district: they are Wyspa Słodowa, Wyspa Bielarska, Wyspa Młyńska, Wyspa Piasek, Wyspa Daliowa, and Tamka. Acting as an extension of the Old Town, here you can enjoy a picnic, BBQ, and stretch out in the sun. As expected, the city's waterways are also prime real estate for cafes, bars and restaurants. East of the Hala Targowa sits Bulwar Dunikowskiego (Dunikowski Embankment), beautifully revitalized with the addition of seating and softly swaying grasses. A wonderful place to sit and watch the river flow by (and get pics of Ostrów Tumski), it also functions as the harbour of restaurant boat Wratislavia, which does regular cruises along the Oder. Summertime beer gardens in Wrocław are numerous, allowing you to get some fresh air (or tobacco) while you drink in company, and not be stuck in a non-airconditioned dive bar. Furthermore, thanks to its riverside geography, beach bars in Wrocław are equally plentiful and often allow for more space for you and your friends to stretch out and bake in the sun or moonlight.

Check out our article: Wrocław's Islands & Waterways.
Check out what we have listed in our article: Wrocław's Best Beer Gardens & Beach Bars.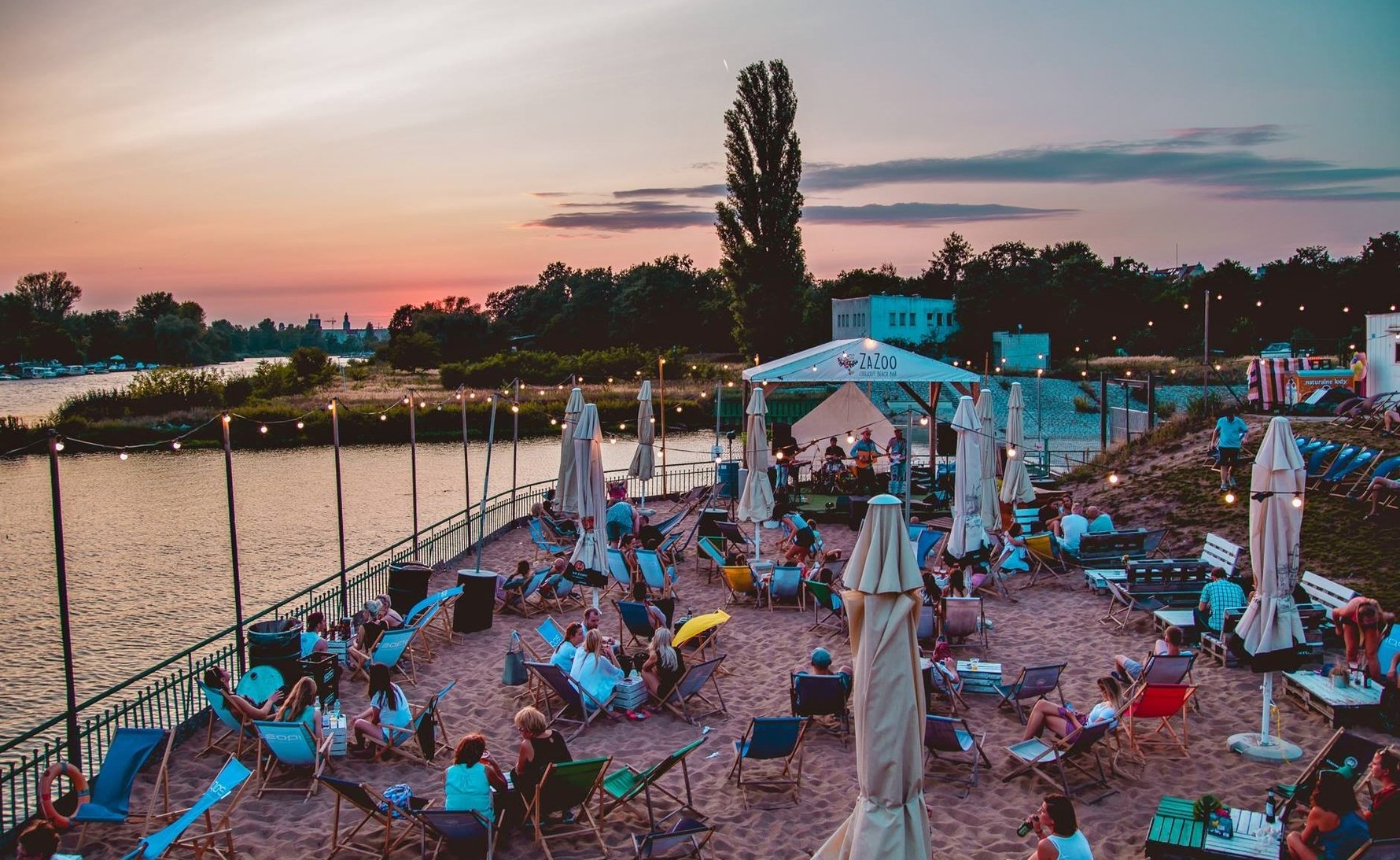 Getting around Wrocław can also be turned into a pleasurably-active experience. This is one of Poland's most bike-friendly cities, with more than 200 kilometres of cycling paths at your disposal. If you want to get out on the water, boat rental and river cruises are widely-available along the Oder. However, if a quick dip will suffice, check out our Swimming Options in Wrocław.  Adrenaline Sports in Wrocław are equally-plentiful - paintball, go-karts, ropes parks and quad-biking are just a few of the many choices you have available.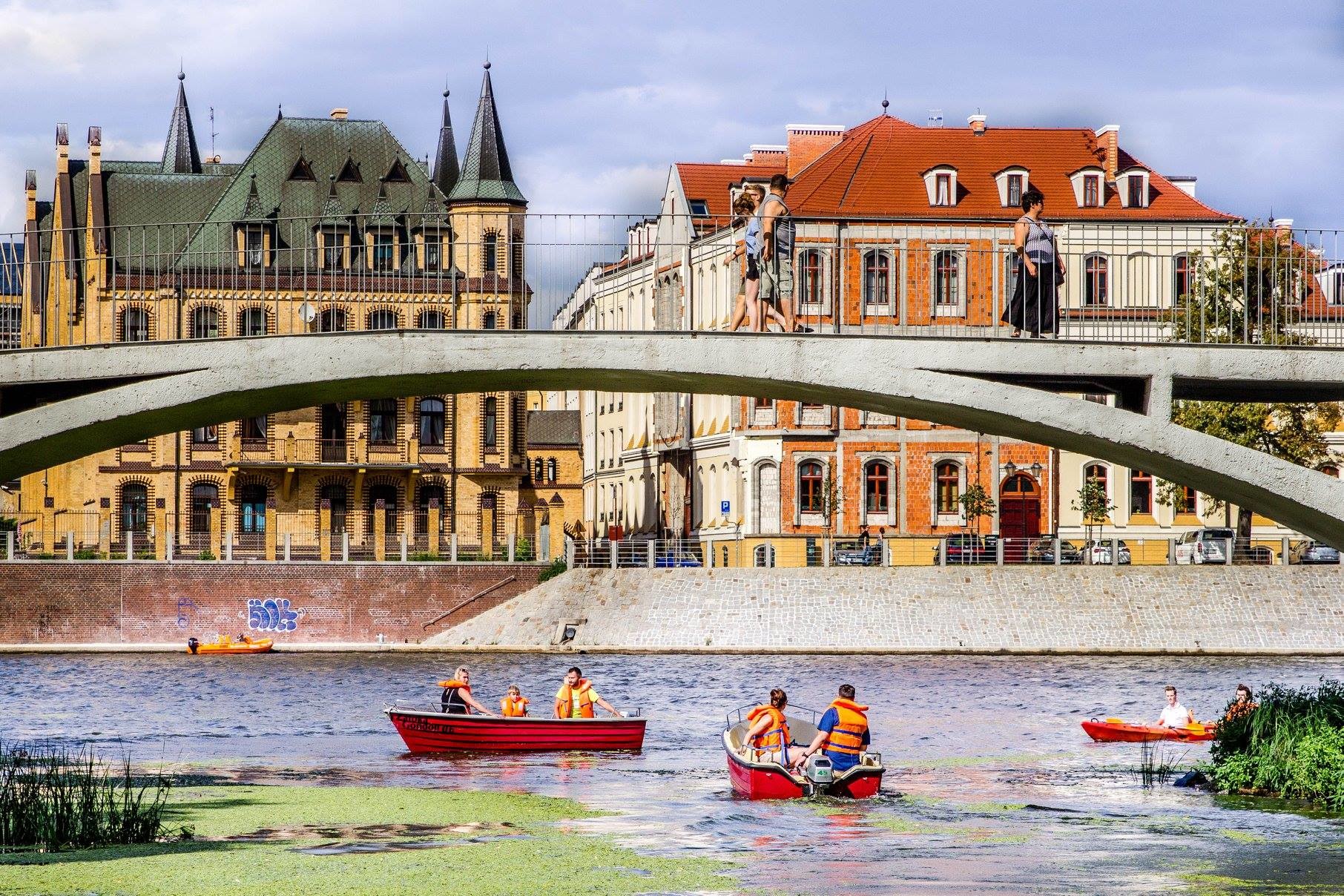 Wrocław for Art Lovers & History Buffs - Best Museums in Wrocław!
Oh no! It's raining in Wrocław! Is my city break ruined? Not at all - There's plenty to do indoors as well, especially if you're something of a culture vulture. We heartily recommend the new Hydropolis, a fantastic multimedia museum dedicated to water, housed in a 19th-century neo-Gothic water storage tank. Other institutions worth taking note of are the Contemporary Museum - which features exhibitions of varying quality by mostly local artists and is mostly worth visiting for its location in a cylindrical WWII bunker and the huge Train to Heaven sculpture outside, and the National Museum - where you can peruse a large collection of Polish art from various periods. However, the largest historical significance no doubt goes to the Racławice Panorama, a monumental cycloramic painting completed in 1894 by Jan Styka and Wojciech Kossak, which depicts the first battle of the Kościuszko Uprising and is now something of a pilgrimage site for patriotic types and schoolchildren. Architecture buffs might enjoy visiting the Architecture Museum and taking in more modernism than is probably healthy, such as the WuWA Werkbund estate or Erich Mendelsohn's Petersdorff department store.
​​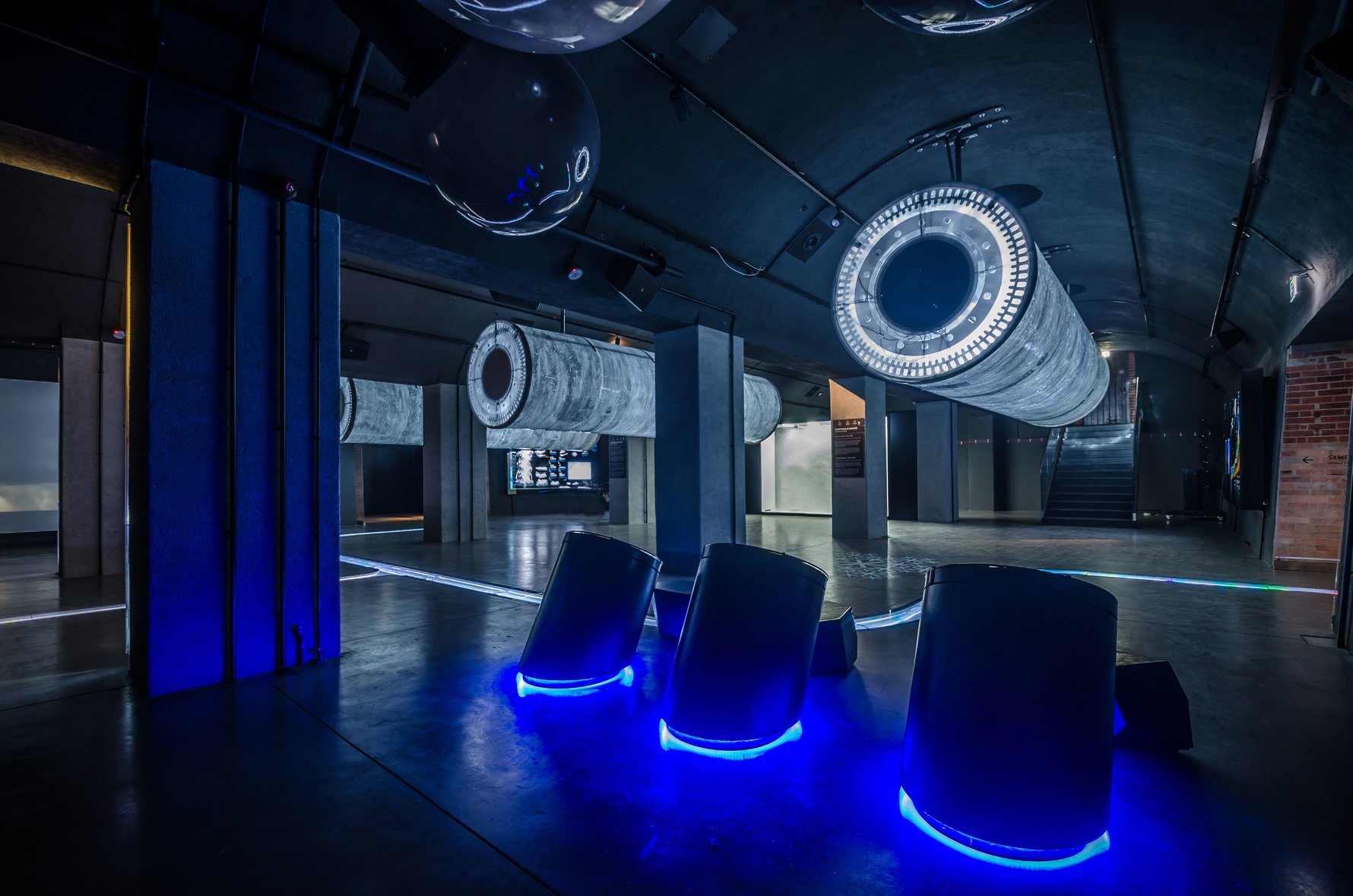 Around Poland, Wrocław is known for its markets. You will find a a whole bunch of flea markets going down in various points of the city and the old town market place is, of course, a festive jarmark throughout the year. However, there is one landmark you can always rely on for some produce. A whiff of early 20th-century architectural goodness, Wrocław's Market Hall (PL: Hala Targowa) is a handsome, traditional-looking facade with a mesmerising interior of elliptical arches. This concrete cathedral is where you'll find earnest locals hawking top quality fruit and vegetables on the ground floor, as well as a wide selection of local cheese, salami and hams. Upstairs is a bewildering array of bric-a-brac, nylon underwear and plastic kitchen utensils, and a set of surprisingly clean and modern public toilets. Gradually expanding its offer to be more a food hall than straight PRL-era market, inside you'll also find a couple coffee roasters, a few bars and restaurants, most notably Targowa Craft Beer & Food in the cellar. 
​​​​​For more, read our article on Wrocław Markets.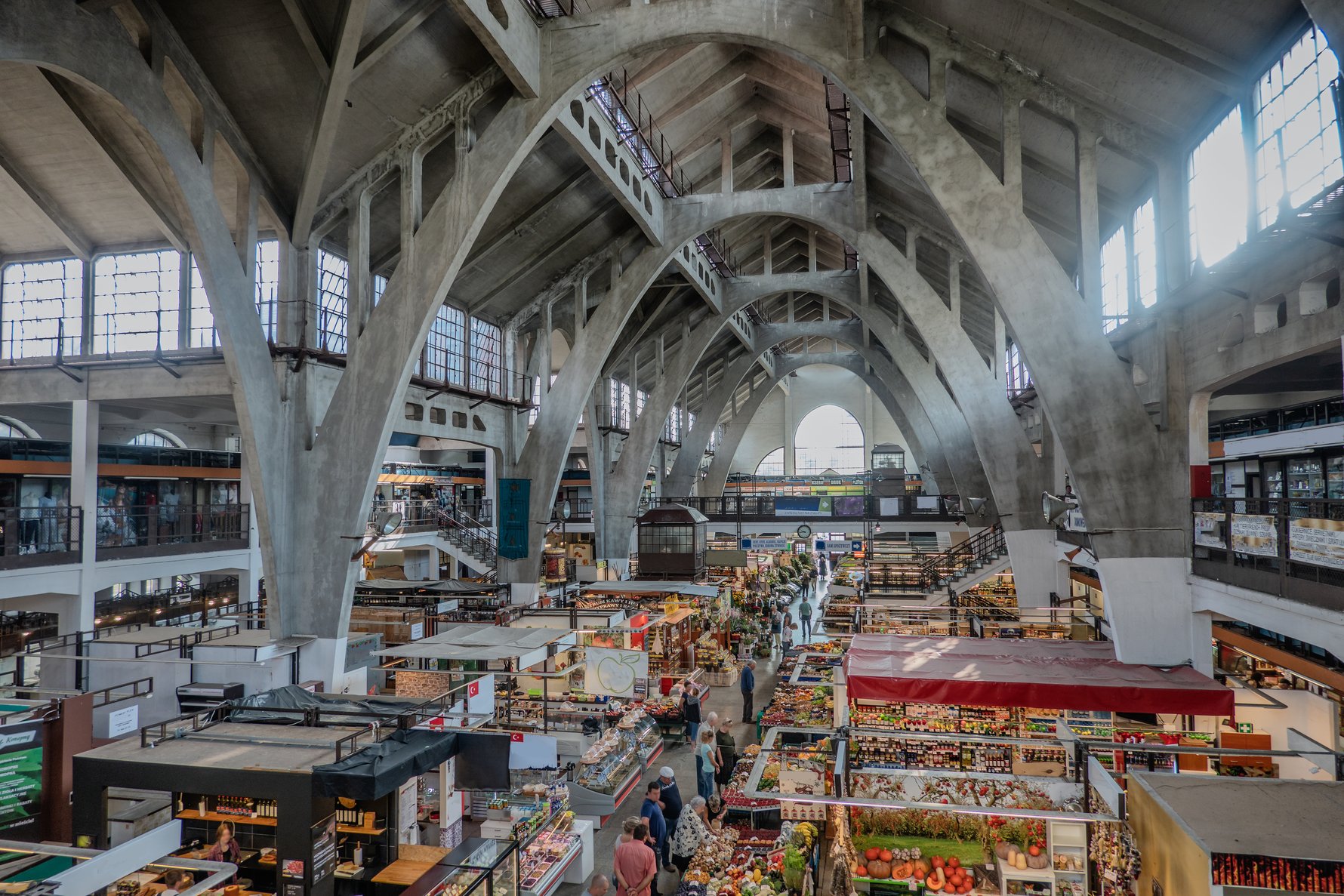 Wrocław Views: Best viewpoints in Wrocław!
We know you need to consider your screen time whilst on your city break, and Instagram certainly cannot be idle for more than 5 minutes, so we should talk a little bit about the best lookouts in Wrocław! Like much of the rest of Poland, the city is rather flat and it's not that built up either. There are, however, a few exceptions that will get you what you need. First up is Sky Tower Viewpoint, which is the third tallest building in Poland, rising some 212m into the atmosphere. The year-round indoor viewing point on the 49th floor is also the highest panoramic view point in Poland! In second place is the tower of the Cathedral of St. John the Baptist, the centrepiece of our well-mentioned Ostrów Tumski. At 97m, it may sound less impressive than Sky Tower, but it's certainly closer to the heart of Wrocław Old Town! The same can be said for St. Elizabeth's Church on the west side, which offers the best views of the market place, and the footbridge that joins the two towers of Mary Magdalene's Church on the east. On a completely different side of the old centre is the 'Mathematical Tower' of Wroclaw University, where you can take in some blissful panoramas of the Oder river in the company of statues representing the allegories of science!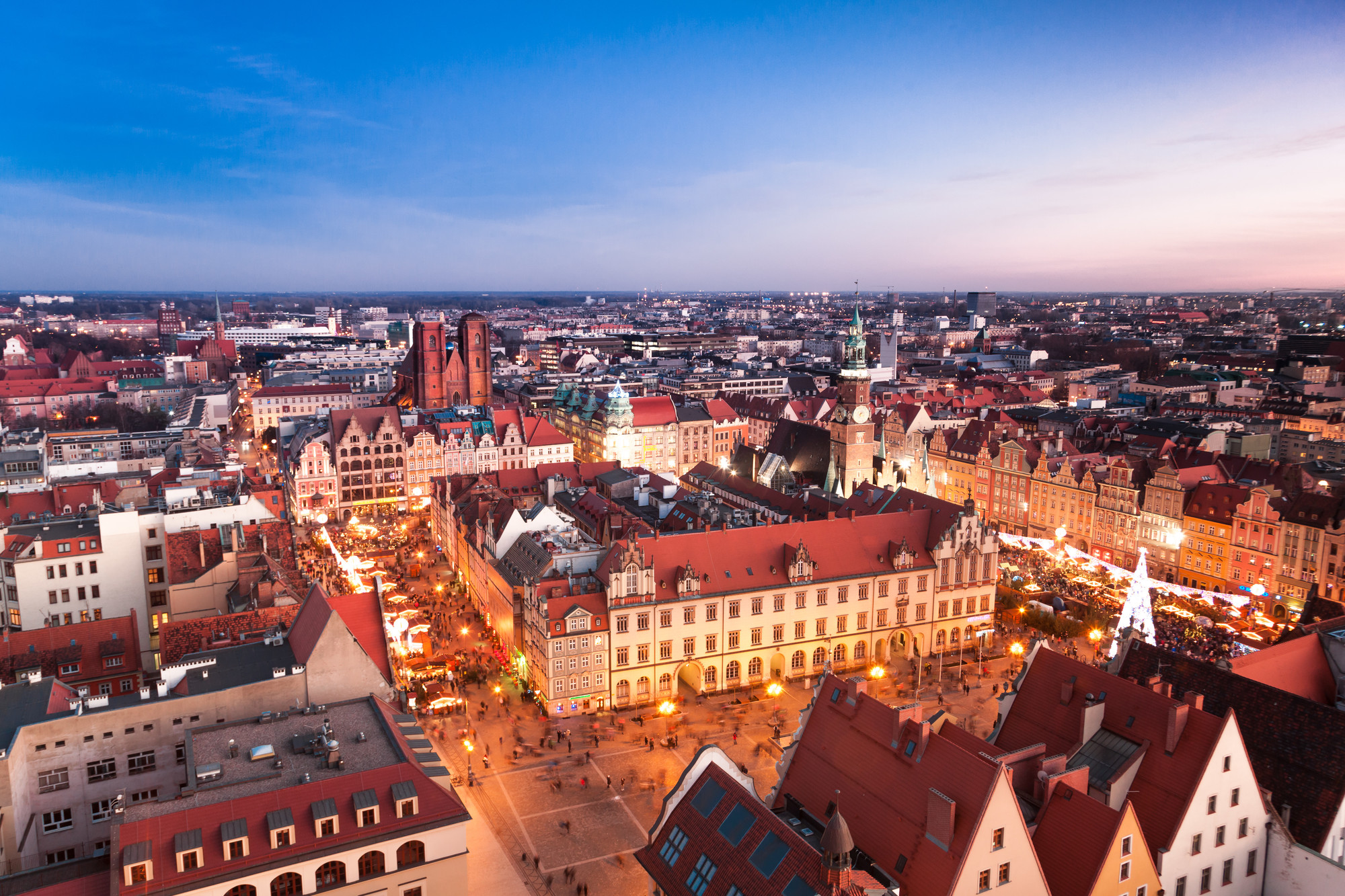 Evening walks: What to Do in Wrocław in the Evening
You've either had a late start or your wanna take your love-bug for a romantic stroll. Let us assure you: Wrocław is the ideal place to be outside at night! The Oder riverside and all the island hopping after dark has some kind of undeniable charm to it that we just can't explain. It's the magic of Wrocław, guys - Don't question it! However, one particular sight cannot go unmissed during your city break, and that is a visit to the Wrocław Fountain. Just left of Centennial Hall's main entrance, located in the middle of the winding, ivy-covered colonnade known as the 'Pergola', this multimedia extravaganza comes to life with music and lights after dark! If that's not enough, then you can continue to stun your retinas with all the neon signage that's around the place.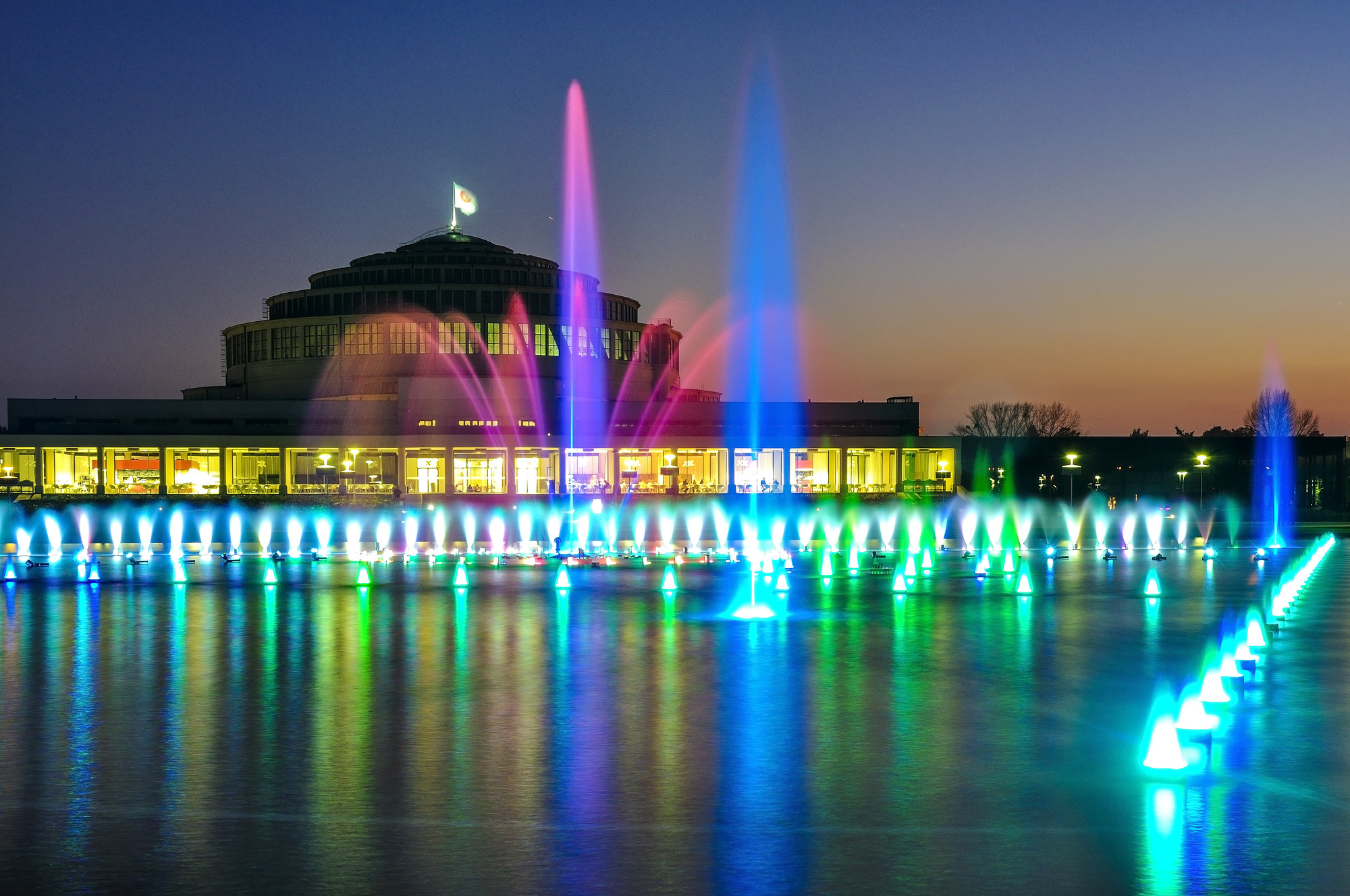 If you didn't get enough sun at one of the beach bars during the day, you can always look towards the nightlife in Wrocław. The youngin' population of the city assures us that clubbing is an option. However, in order to get a true taste of the city's nightlife scene, you need to get away from the market square, where your curiosity in random alleyways and dodgy cellar stairways is often rewarded. The city has several 'alternative' nightlife areas worth investigating (if you can find them); for clubbing check out the courtyards and alleys of ul. Św. Mikołajska and Pasaż Niepolda. For hipster hangouts, you can head north of the Old Town to Nadodrze - a once-dodgy neighbourhood currently in the throes of a renaissance, or simply wander around the District of Four Denominations, particularly the alleyways on and off ul. Św. Antoniego, making sure to drop into Pasaż Pokoyhof (ul. Św. Antoniego 2/4) and the alleyway of Neon Side Gallery. For student dive bars and cheap beer, check out the area known as Nasyp (ENG: The Embankment) - several blocks of hole-in-the-wall bars literally under the train tracks.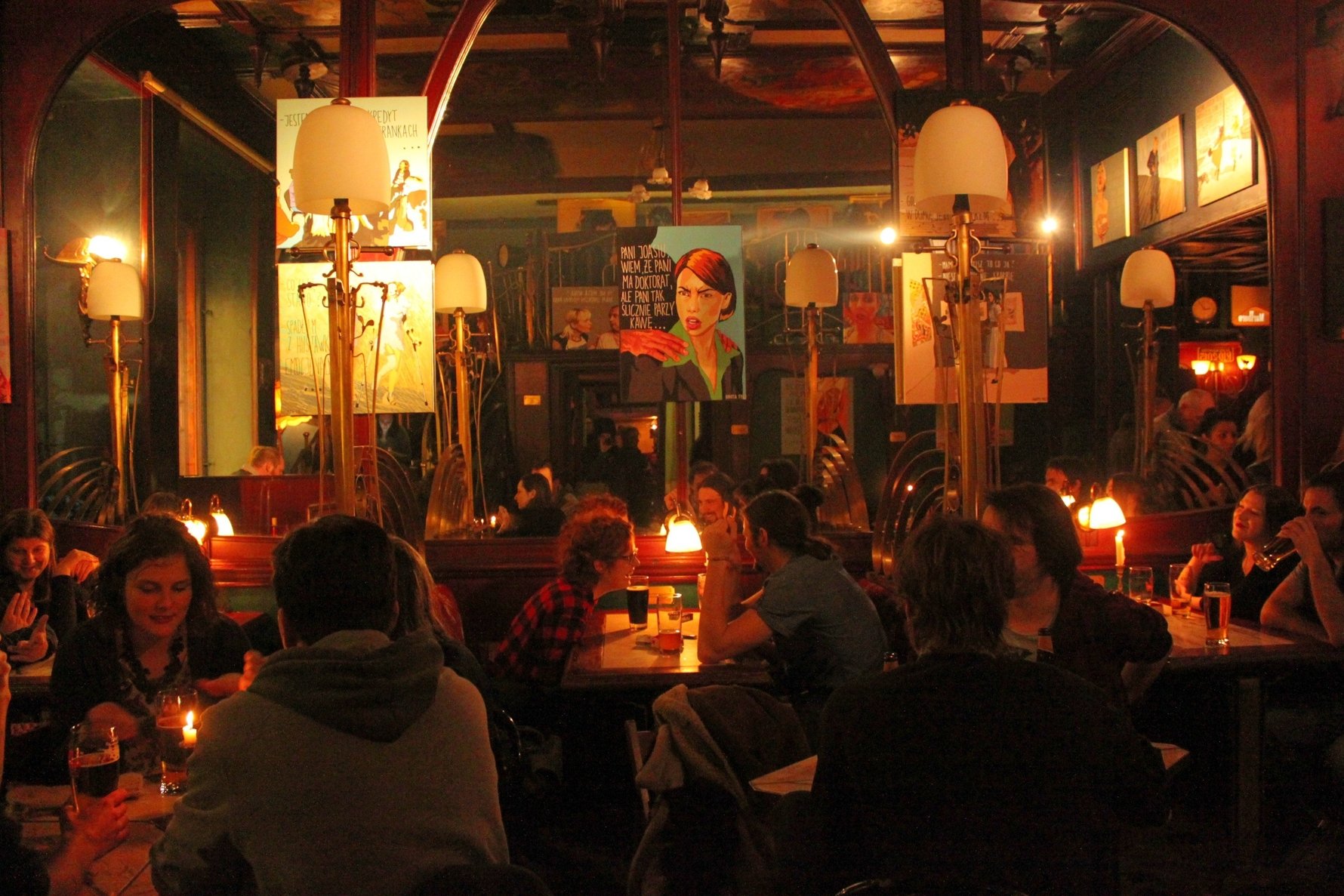 While Communist Poland typically calls to mind a cold, colourless landscape of uniform concrete drabness, the technological advent of neon signage was ironically-prolific during the times of the PRL. While these times can often be a sore topic of conversation with older Poles, Poland's 'neon age' is now being recognised as an important part of the country's historical and artistic heritage. The initiative to preserve Wrocław's neon signage kicked off around 2005, culminating in the creation of the Neon Side Gallery at Ruska 46C.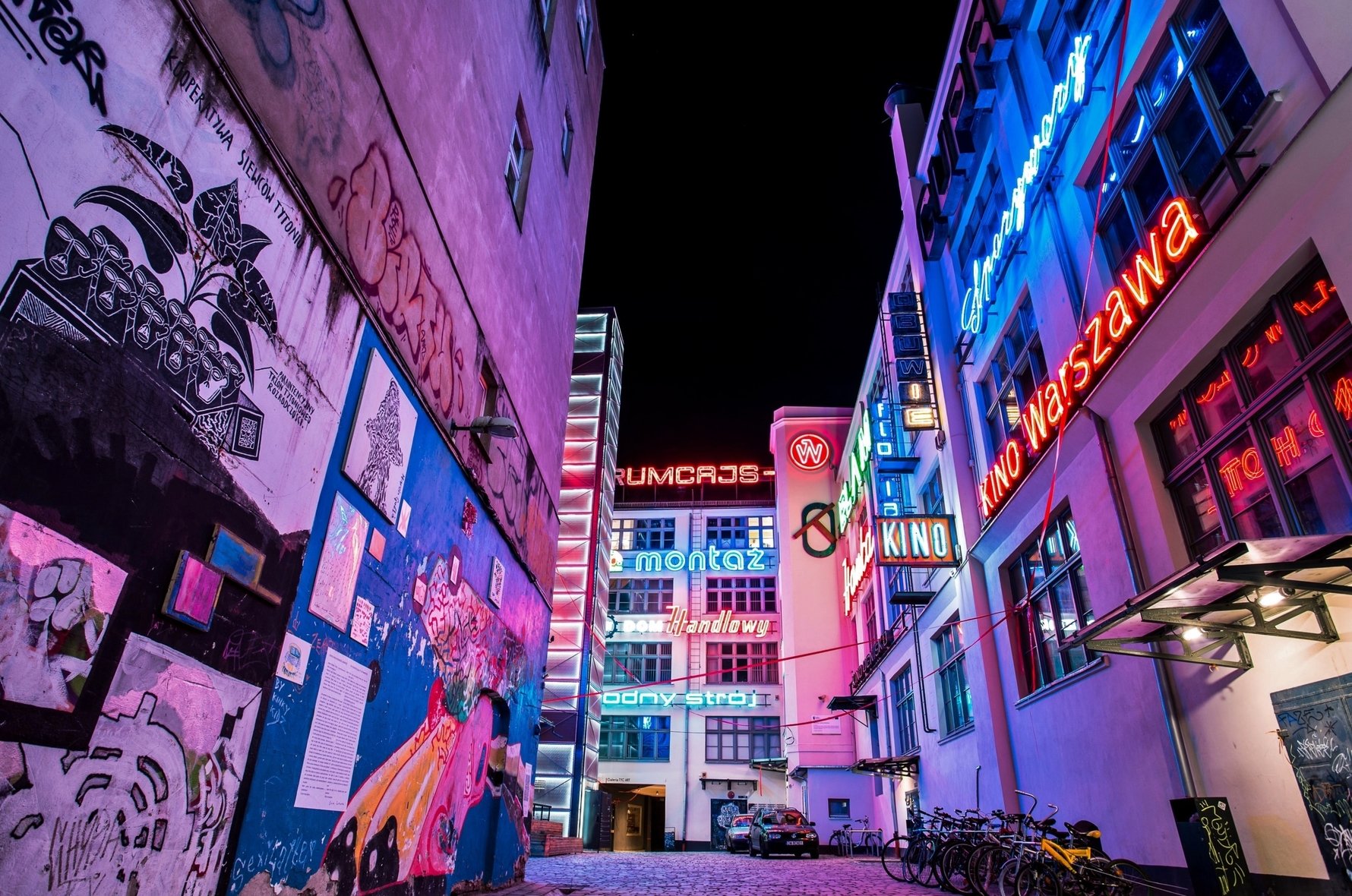 This Blade Runner-esque side street is not the only place you will spy such noble gas lighting! Neon greets visitors immediately upon arrival throughout the Wrocław train station, and the famous Dobry Wieczór we Wrocławiu (ENG: Good Evening in Wrocław) sign across the street is there to welcome you as soon as you step foot outside. Other famous Soviet-era neons include the entrance gate of the Wrocław Zoo and the animated antics of the burglar atop the PZU building on Plac Kościuszki, while the modern, hand-scripted sign of the Academy of Fine Arts encapsulates the comeback this art form has made in recent years. The opening of Neon Side now gives visitors the opportunity to admire dozens of salvaged neon signs all in one place, while connecting neon to local hipster culture at Surowiec club. Use the listings below - each replete with GPS coordinates - to go out around Wrocław and get your ne-on.
For more, read our article: Neon Wrocław - Retro Signs Provide Light & Landmarks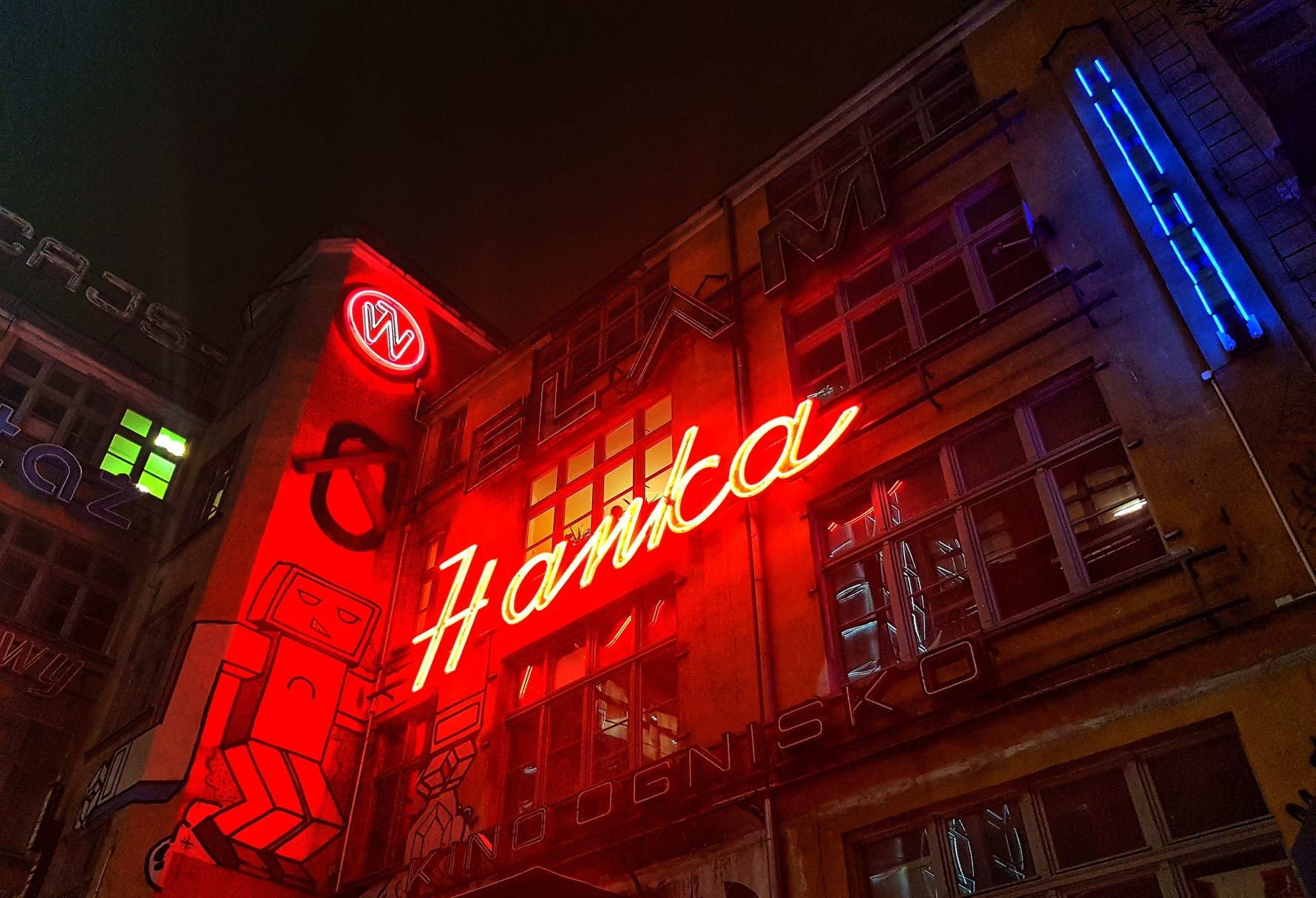 So when will your Wrocław city break begin? Which of these amazing sights and activities catch your eye? And what do you plan on doing first when you get to our lovely city? Remember, if you have limited time, you can read our article: Wrocław in 24 Hours. Perhaps you're entering university or considering your options for Erasmus? We can assure you that Wrocław is a great place to be a student and a campus change here is more than a good idea! For more, read our article: Why You Should Visit Wrocław on Your Next Trip to Poland. Lastly, we know many of you have little ones in tow and need to consider your options. Young parents are no doubt asking "Is Wrocław good for Kids?"  We say again, YES! Young families in Wrocław will find no shortage of things to do. For more, read our article: Wrocław with the Kids.