Local Galleries: Zagreb's Most Vibrant Art Scene

Zagreb is full of young artists and talented curators. But where exactly is the cutting edge of the city's contemporary art scene to be found? In sharp contrast to London or Berlin, Zagreb doesn't really have a functioning art market; there is only a handful of private collectors, and as a consequence there are no gallery-dealerships in the city that promote new work. What keeps contemporary art going in Zagreb is the network of galleries run by public-funded institutions, non-profit associations, or by groups of enthusiastic cultural activists who have banded together to create their own scene. What follows is an entirely subjective list that have a reputation for presenting art that is current, compelling, or head-scratchingly strange. Some of them may well be located in weird corners of the city; tracking the down will at least expand your urban horizons.
Kontejner Gallery
Biggest news of the autumn comes from curatorial collective Kontejner. Having spent years as the city's most sophisticated cultural pop-up, Kontejner have finally taken the step of opening a permanent gallery. So-named because their first show was held in a freight container, Kontejner is a typical example of the idea that if institutions aren't capable of creating a vibrant local arts scene, you should go out and do it yourself. The collective has spent the last two decades organizing arts festivals in alternative spaces, bringing together domestic and foreign artists and establishing a formidable international reputation for taking risks and nurturing cutting-edge ideas. The new gallery looks a bit like a bunker when you first arrive, but is bright and spacious enough to showcase the kind of headline-making international artists in which Kontejner specialize. Often highly conceptual, their exhibitions are always visually compelling, and will leave you with something to talk about afterwards. Kontejner, Odranska 1/1 www.kontejner.org, Open Mon-Fri 16:00 - 20:00. Sat 11:00-15:00. Closed Sun.
 

HDLU (Croatian Association of Fine Artists)
Often overlooked for the very simple reason that it is not adequately promoted, the magnificent modernist rotunda housing the HDLU is probably the best place to start your contemporary arts safari. First of all, it usually has 2-3 exhibitions running at the same time; secondly, the building itself – with its domed central space and endlessly curving walls - makes an ideal backdrop to whatever is on show. HDLU stands for the Croatian Society of Fine Artists – so in a way it's their job to mount as wide a range as possible of exhibitions by artists working in all kinds of different areas.
HDLU, Trg žrtava fašizma 16, Open Tue - Sun 11:00 - 19:00.
Note: 7th Biennial of Painting - Get excited, art lovers, because the Biennial of Painting is here again. The 7th iteration of this famous extravaganza is particularly special, as it will feature work by artists from Lithuania, with the fascinating 'Floating Identity: Between a Recognisable Image and Abstraction' at the heart of it all. That exhibition is curated by highly respected media artist and professor Remigijus Venckus, so circle that on your calendar already. Elsewhere, the Biennial will touch on its delightfully familiar notes, painting a broad picture of fine art in Croatia, from past icons to future stars, documenting the two-year production cycle.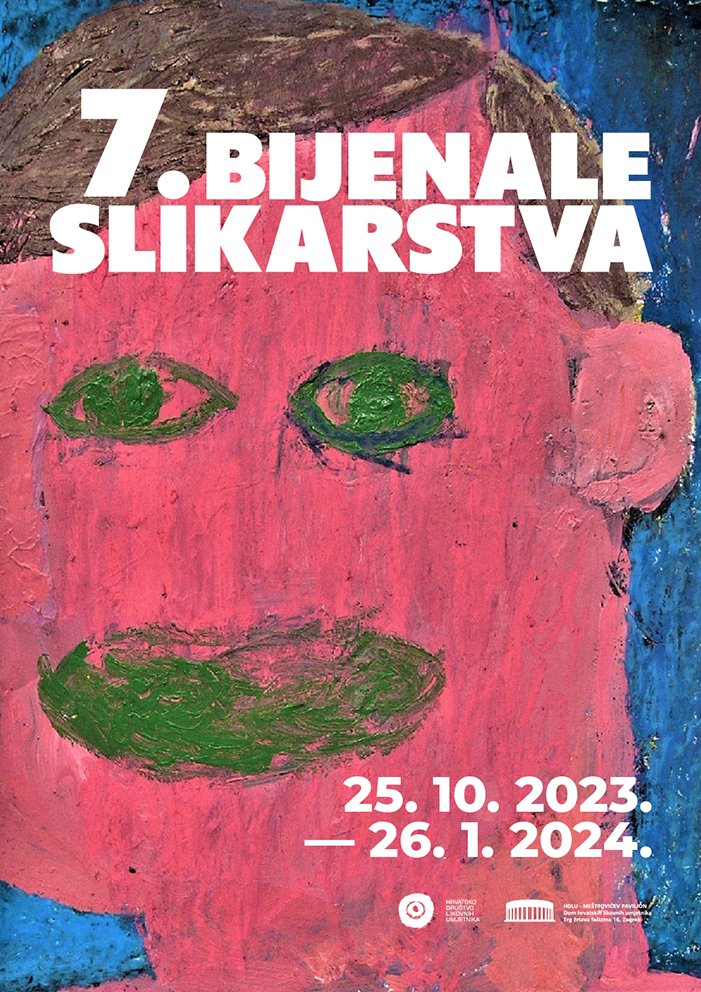 Trotoar
Occupying a prominent place on cobbled Mesnička, a street which used to have an arty reputation and deserves to have one again, Trotoar was opened by a group of friends with long-standing curatorial backgrounds in May 2023. As well as being well connected with the city's art community, the gallery aims to draw in the passing public and remind Zagreb folk that contemporary art is an organic part of the urban scene. Putting the city's current generation of artists in the spotlight is one of Trotoar's guiding aims, and it's a good place to get an idea of where Zagreb's creative energies currently lie.
Trotoar, Mesnička 7 www.trotoar-galerija.hr, Open Wed - Fri 11:00 - 19:00, Sat 10:00 - 14:00. Closed Mon, Tues.
Note: Nikola Vrljić's wryly macabre collection of sculptures and illustrations Take Everything That Life Offers You 2 is on show until November 11.
 
Gallery Modro
Occupying a beautiful barrel-vaulted space down a street-side passage on a much-touristed thoroughfare, Modro showcases some of the most exiting new names in the Zagreb art scene, with photography and graphic work featuring prominently in a varied slew of exhibitions. Check the website for news of what's on, the gallery might not keep to its designated opening hours inbetween shows.
Modro Gallery, Radićeva 34, Open: Tues - Fri 16:00 - 21:00, Sat 10:00 - 14:00. Closed Sun, Mon.
 
Kolekcionart
The commercial market for contemporary art is seriously under-developed in Croatia, a problem that the online sales gallery Kolekcionart aims to solve. Their stable of artists is a well-curated snapshot of the current state of Zagreb's creative scene. Featured artists are predominantly young, predominantly visual rather than conceptual, and their work is for the most part extremely decorative - the kind of things private collectors can display in their home or store up as an investment. Browse the site for an idea of what's currently coming out of Zagreb's ateliers and studios. Kolekcionart, Ul. kralja Zvonimira 7
10:00 - 18:00, Sat 10:00 - 13:00. Closed Sun. Kolekcionart www.kolekcionart.com

Gallery HDD (Croatian Design Association)
One place that occupies a special place in the hearts of the Zagreb creative community is the gallery of the Croatian Design Association (Hrvatsko dizajnersko društvo), which offers a regular diet of exhibitions covering local designers both past and present. The gallery has relatively little space at its disposal and maybe it is for this reason that the exhibitions here are far more focused than those mounted by the big institutions, and can be easily digested in the space of one visit. And they are usually quite stunning to look at too – anyone in need of visual inspiration would be well advised to fit this one in to their schedule. HDD, Boškovićeva 18, Open  Mon - Fri 12:00 - 19:00
 
Gallery AŽ
If you're determined to become a real insider in the Zagreb art world then sooner or later you'll need to beat a path to Galerija AŽ (short for Atelijeri Žitnjak, or "Žitnjak Studios"), a collection of artists' studios in an old school in Žitnjak, a suburb on the southeastern periphery of town. As a gallery run for artists by artists it offers direct insights into what Zagreb's creative crews are up to, and also exhibits the work of foreign artists brought here on the wings of international exchange.  Involving a ride on tram #13 to the end of the line, a visit to the gallery will also provide you with an Odysseus-like perspective on Zagreb's residential and industrial sprawl. Žitnjak 53, Open Mon–Thu 10:00–14:00, 17:00–20:00, Fri 10:00–14:00, 17:00–22:00. Sat 10:00–14:00
 
Miroslav Kraljević Gallery
Fifteen minutes' walk from the centre in the basement of the INA oil company building, Miroslav Kraljević is definitely one for the art theorists, would-be curators and state-of-culture trend spotters among us. Staging solo and group shows featuring a large than usual number of established international names, it's probably the one gallery in town that will give you some idea of where contemporary art is actually at.  The only drawback is that there are so few exhibitions per year, frequently with large gaps in between each one – so check the programme carefully before heading out.
Šubićeva 29,Open Mon - Fri 14:00 - 20:00, Sat 10:00 - 15:00.
90-60-90
90-60-90 is the organizational umbrella for exhibitions held in Pogon Jedinstvo, a former factory hall (part of which is also occupied by the Močvara club) currently used by various counter-cultural organizations grouped under the Pogon (www.upogoni.org) banner. The factory setting is used to good effect in 90-60-90's visually stunning exhibitions and installations, frequently involving sound, visuals and other media. Recent years have seen some a lot of major artists from Croatia and the neighbouring region setting out their wares on Pogon's factory floor. Exhibitions here tend to last 2-3 days only, which only adds to their sense of being an event.  Trnjanska struga 34, Open during exhibitions 16:00 - 20:00.
 
Gallery SC
Hidden in an unassuming hut just behind the sublime French Pavilion in Zagreb's Student Centre, Galerija SC is one of the cult locations on the Zagreb art scene. It was here that Croatia's first wave of conceptualist, far-out, preconception-shaking exhibitions and happenings happened in the 60s and 70s. One of the exhibition openings in 1978 was the occasion of Zagreb's first ever punk rock concert. Not quite as epoch-defining as it used to be, Galerija SC remains one of the most reliable names on the list, with a regular programme of events featuring relevant, frequently younger-generation names.Savska cesta 25,Open Mon - Fri 12:00 - 20:00, Sat 10:00 - 13:00.

Forum
Located in the heat of the city, Nikola Tesla Street to be exact, this famous gallery was opened in 1968 by renowned Croatian contemporary artists such as Edo Murtić, Frano Imunović, Zlatko Prica, Kosta Angeli Radovani and others. These days, exhibitions from artists that come all over fill the calendar at Forum as well as round tables and discussions which stem interest. Nikole Tesle 16, Open Mon - Fri 12:00 - 20:00, Sat 10:00 - 14:00.

Kranjčar
The gallery is dedicated to exhibiting art works by Croatian contemporary artists. The beautiful and unique contemporary space only adds to the wonderful ambience and setting of the gallery. Supporting the grass roots and home grown talent!
Kaptol 26, Open  Mon - Fri 11:00 - 19:00, Sat 11:00 - 14:00.
 
ADU Gallery f8 
ADU Gallery f8 is a place for presentation and interaction between the audience and the artist, with the aim of exhibiting primarily through the medium of photography, but also other segments of audio-visual and performing arts taught at the Academy of Dramatic Arts. Trg Republike Hrvatske 8, Open Mon - Fri 12:00 - 19:00, Sat 10:00 - 15:00.
 
Gallery Spot
Photography is the key word at Spot with adventurous exhibitons taking place at a national and international level. See the works of up and coming to well-known artists as well as collabortions with other galleries. It is a place to deliberate, reflect, intepret and promote the power of photography in this day and age. Čanićeva ul. 6, Open Mon - Fri 16:00 - 20:00.

Ulupuh
A gallery which brings together members from all over Croatia and from all fields of visual arts that have a specific application: theatre and film (set design, costume design, light design), photography, caricature, illustration, comic, animated film, industrial design and dress design, textile creation, graphic design and visual communications. Ilica 13, Open Mon - Fri 10:00 - 17:00, Sat 10:00 - 13:00.