One of the aspects of travel in Croatia and other post-Yugoslav republics is the scattering of Second World War memorials that commemorate significant spots in the wartime partisan struggle. Despite being covered inadequately by traditional guidebooks, these memorials have exploded into international public attention thanks to social media and the internet. Visiting photographers, both professional and amateur, have become fascinated by these objects, not just because of their stark monumentality and mesmerising forms, but also because of their poignancy. Erected by a socialist country that no longer exists, they have largely lost their ceremonial importance and appear to visitors as melancholy reminders of a past that cannot be rebuilt. The word spomenik (which in Croatian, Serbian and Bosnian simply means "monument"), has entered English usage to describe these memorials, and thus named, they have become talismanic entities among travellers and photographers in search of the offbeat, the little-travelled, the unusual.  

This touristic interest in memorials has also awakened a renewed appreciation of their artistic value. Most of them were conceived as massive sculptures, and were commissioned from artists who meant something in their day. Toward a Concrete Utopia, the exhibition devoted to Yugoslav architecture held in New York's MOMA in 2018, placed special emphasis on war memorials and put them in the cultural context of their time.

One thing that characterized these monuments – or at least those built from 1960s onwards - was their tendency towards abstract forms. Whether angular and geometric or flowing and organic, they were intended to be bold structures that would dominate the landscapes in which they were situated. Many of these monuments were situated in rural regions where partisan battles took place, or in open fields (such as the memorial in the former murder-camp at Jasenovac), rather than in urban environments, hence their frequently overpowering sense of presence. The aim of these monuments was not just to commemorate the anti-fascist past but also to point the way towards the future, which was why brutally avant-garde styles were preferred over more traditional, decorative forms of sculpture.  Yugoslav president Josip Broz Tito didn't much like abstract art but nevertheless understood that abstract monuments sent out a powerful message: the future was taking shape and it was his Yugoslavia that was delivering it.

It is important to remember that these memorials, although many are nowadays officially ignored and visited only by the curious, were the products of a living socialist society that held regular commemorations at these sites. Anniversaries were observed, school trips were organized, tourists came to take pictures. The fact that these monuments no longer form part of popular ritual makes them look forlorn and forgotten – and one suspects that this bleakness has become part of their aesthetic appeal. In many cases monuments have become dilapidated through deliberate damage or neglect. The nationalist culture that grew up in the 1990s was blind to the value of these memorials, and saw no point in their upkeep.Indeed Vojin Bakić's Monument to the Victory of the People of Slavonia, located in Kamenica and thought to have been the largest abstract sculpture in the world, was blown up in 1992 by hooligan elements belonging, allegedly, to the Croatian armed forces.

Those memorials still standing remain bewitchingly attractive, and are also compellingly moving when one considers the human need for commemoration that led to their construction. They certainly represent an exciting challenge to any photographer.  What follows is a list of some of the major memorials which can be visited in Croatia. There are of course many more in other ex-Yugoslav republics.
Batina
One of the first monuments to be built after World War II, the Batina Memorial Complex was erected in 1947 to commemorate the 1944 Battle of Batina, when units of the Soviet Red Army forced their way across the River Danube faced by fierce German resistance. Occupying heights with fantastic views towards the river, the monument very much follows the heroic-realist style of Soviet war memorials, with a soaring 26-metre obelisk topped by a female statue symbolizing victory, and an ensemble of advancing-soldier statues at its base.  Antun Augustinčić, the Zagorje-born sculptor who also excelled in his portraits of President Tito, was in charge of the statues.
 
Monument to the Revolution of the People of Moslavina
Designed by sculptor Dušan Džamonija and unveiled in 1967, this is one of the most striking examples of the abstract-heroic style adopted in the Sixties. The memorial stands on a green hill near the village of Podgarić, which served as a key centre of the partisan uprising in north-central Croatia, and was the site of a partisan hospital. Standing at the end of a processional alley,Džamonija's monument consists of a sun-like circle of shiny aluminium plates flanked by huge concrete wings, which boast a total span of twenty metres. Džamonija was a prolific sculptor whose work can be seen at the outdoor Džamonija Sculpture Park in Vrsar and also in many public spaces: he designed the fountain outside the Croatian National Theatre in Rijeka, and was also responsible for sketching out designs for Rijeka's fabulous mosque. 

The Stone Flower, Jasenovac
One of the monuments most frequently reproduced in photographs is the so-called Stone Flower or Kameni cvijet at Jasenovac, site of a concentration and extermination camp where over 80,000 Serbs, Jews, Roma and antifascist Croats were murdered by forces of the quisling pseudo-state known as the NDH or Independent State of Croatia.  Completed in 1968, the Flower was designed by the prolific Serbian architect Bogdan Bogdanović (1922-2010), who subsequently served as mayor of Belgrade before going into exile in protest at the nationalist policies of Slobodan Milošević. 
The thrusting concrete petals of the Flower are meant to symbolize life and rebirth, and provide some hope for future generations.
Dotrščina
One of the few memorial sites within reach of central Zagreb is Dotrščina, a forest park northeast of the centre where political opponents were murdered by forces of the NDH. The sculptor Vojin Bakić  was comissoned to create a series of monuments, each of which resembles a large angular crystal made from shiny reflective steel.  The largest of these stands at the entrance to the site; further, smaller ones are located in a wooded vale where individual executions were carried out. Wit the leaves and branches of the forest reflected on the surfaces of the sculptures, it's a beautiful, visually inspiring spot.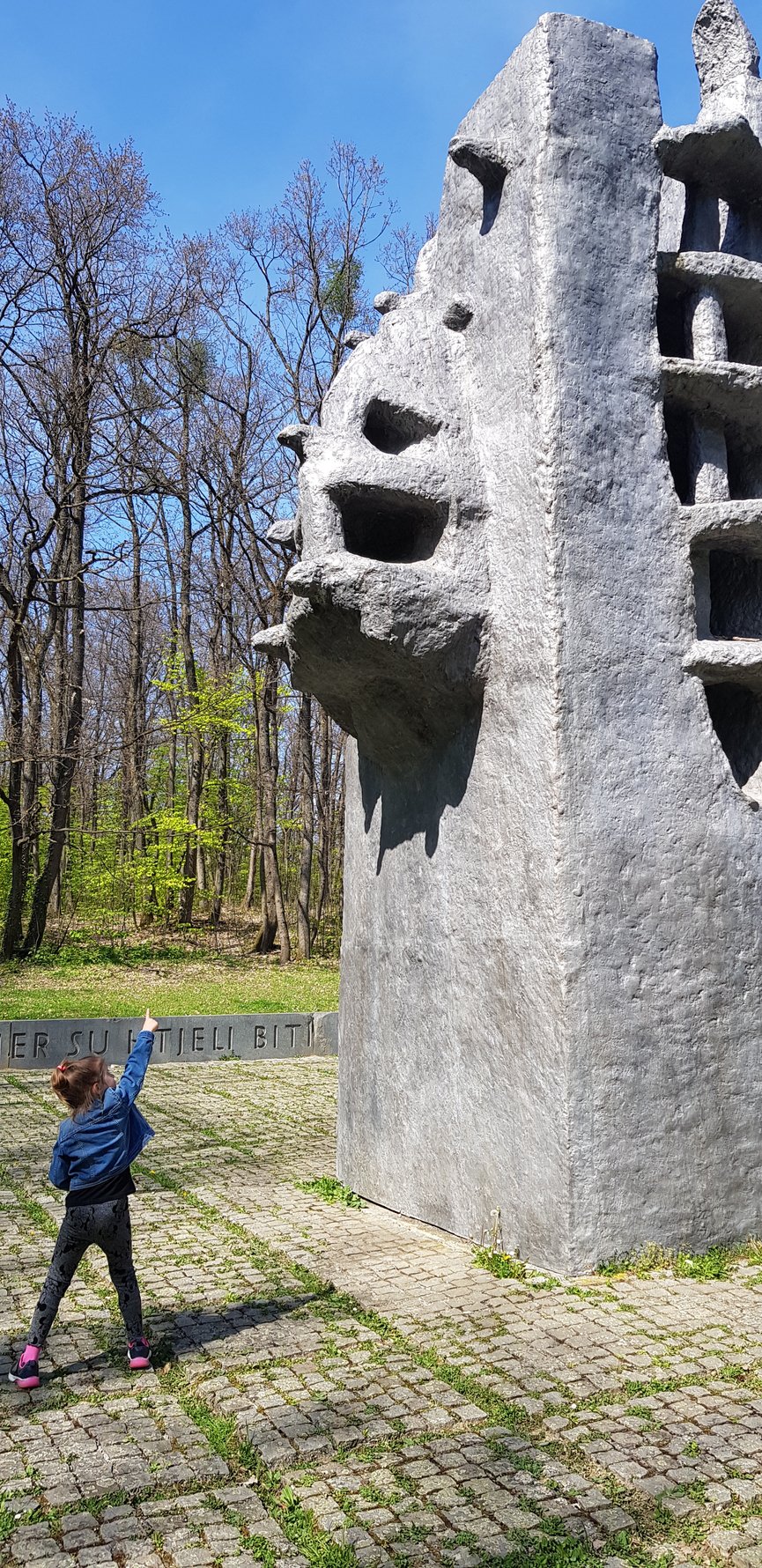 Photo by Višnja Arambašić
Podhum
Standing beside the main Zagreb-Rijeka road at Grobnik, just before the highway's descent into the Kvarner-Gulf city, is this monument to the 108 men and boys shot by Italian occupiers on July 14 1942, in retaliation for a partisan attack. Taking the form of a club-shaped monolith, the monument was designed by sculptor Šime Vulas in 1970 and has recently been renovated.
Podgora
Hovering dramatically above the resort of Podgora on the Makarska Riviera is one of the Adriatic coast's earliest abstract monuments, commissioned in 1962 to commemorate the formation of the first-ever Partisan boat squadron in 1943. Designed by sculptor Rajko Radović, it takes the form of two smoothly-surfaced protuberances that recall the wings of a seagull: an upright wing to symbolize victory, a bent-over wing to commemorate those who died fighting for it.
 
Tabor, Pelješac
World War II saw heavy fighting around Korčula and Pelješac, with partisans liberating the area after the fall of Italy, and the Germans subsequently arriving to push the partisans back. Designed by Ivan Mitrović and Zlatko Jerić, the monument at Tabor above the village of Trstenik takes the form of a beautifully sleek and slender 15.5-metre-high obelisk. At its foot there is a bronze relief showing Partisans fighting Germans, and on the reverse side, the names of 395 Pelješac locals who either fell as combatants or who were killed as civilians. The ensemble is set on a ridge-top plateau with amazing views towards Trstenik, with the Adriatic sea and distant islands in the background.
Petrova Gora
Visible for miles as you approach it from the north, the huge monument dominating the ridge of Petrova Gora is one of the most outlandish of all of the World War II memorials. It was built to commemorate partisan activity in a wooded, impenetrable region on the borders of Croatia and Bosnia-Herzegovina, and was entrusted to Vojin Bakić, the abstract sculptor who had already designed monuments at Kamenica and Dotrščina. Bakić's monument was intended to function as both a monument and a museum combined, with visitors entering the body of the monument and scaling spiral steps to access various display areas. Abandoned in the 1990s, and severely damaged by pillagers removing the metal plates of its exterior, it is now a semi-ruin that would be enormously expensive to restore. As a monument to modern architecture and design, however, it is unique – and continues to draw a steady stream of determined pilgrims. The surrounding area is stunningly beautiful, rewarding the efforts of anyone who succeeds in making it this far.