Food by Flavours is the catering business of food supremo Delores Fouche, who is a household name to many who have been rescued by her incredible prepared meals and special occasion catering. Fouche is also the purveyor of Joburg's garden focaccia. For the uninitiated the garden focaccia started as a Pinterest craze (in the US) that took the baking world by storm earlier this year (2020). After tasting the Food by Flavours version, we can see why. 

To explain, the gardenscape focaccia is a version of the Italian flatbread topped with olive oil and spices (a prototype for the pizza) made into an art bread, using vegetables and herbs to create a garden atop the bread. 
The Food by Flavous version can feed a small army and looks as pretty as a picture. We were sent one to try accompanied by a range of dips which included baba ganoush and guacamole. It's a great way to feed a family – and one day when guests are finally allowed we would highly recommend it as an accompinment to drinks (as we write its Aug 2020 and those are long banned). 

Depending on size the focaccia range in price from R70 to R100. Orders need to be made 24 hours in advance and delivery is a R75 flat fee unless more than 15km away from Norwood.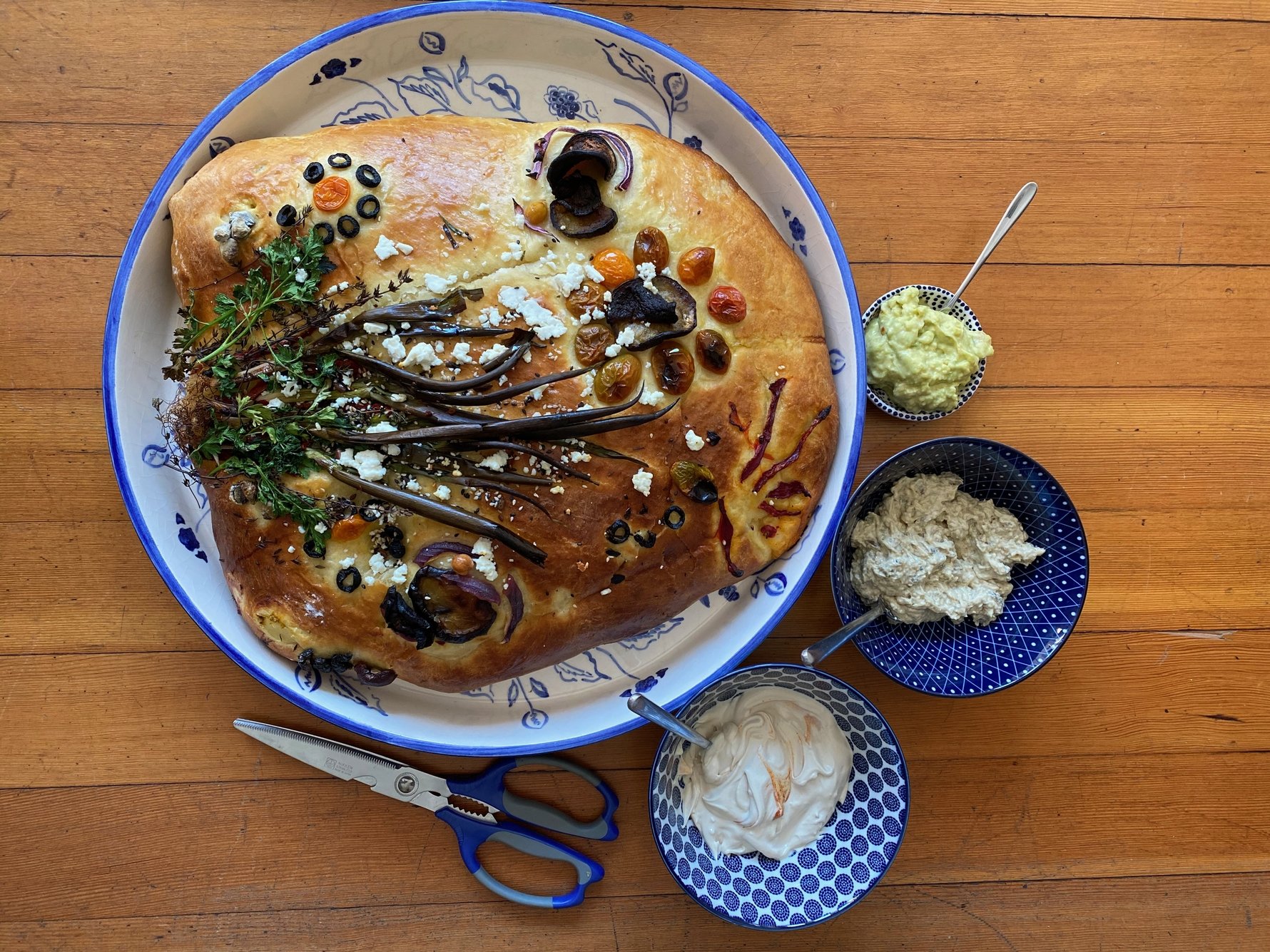 But apart from foccacia Food by Flavours offers up a daily feast of Kosher-style dishes (simply put – no pork, or mixing of milk and meat ingredients). The menu ranges from snacks to fantastic healthy salads, breads and bagels, to meat dishes, curries, bakes,  stirfries, and vegetarian fare. Ultra tasty and nutritious food, all prepared and ready with some notice (preferable 24 hours in advance)for collection or delivery.

Food By Flavours has also introduced a new range of boxes which include savoury and sweet treats, and can be made up to your specifications. They make great "care packages" for family and friends, and are also a favourite order by corporates looking to show staff they care. This is all super easy and convenient, delicious and healthy food. Can you tell we are fans?