Situated in New Doornfontein and surrounded by the frenetic energy of downtown Joburg, Hallmark House was originally a diamond polishing factory (hence the name Hallmark) constructed in the 1970s. Transformed with the guiding hand of Ghanaian-British architect David Adjaye it now houses residential apartments and the urban-chic boutique Hallmark House Hotel that opened in 2017.

After closing for a number of months as Covid levels and restrictions escalated, Hallmark House Hotel reopened in Spring 2021 with a colourful makeover that has brought in new neon-bright colour, standout decor pieces and bold murals created by leading designers and artists including Mash T, Houtlander, Nelson Makamo and Maxhosa by Laduma. Hallmark's biggest drawcards; the atmospheric basement jazz club Marabi and the spectacular rooftop bar 999, have also been reignited and are a reason to stay over in and of themselves.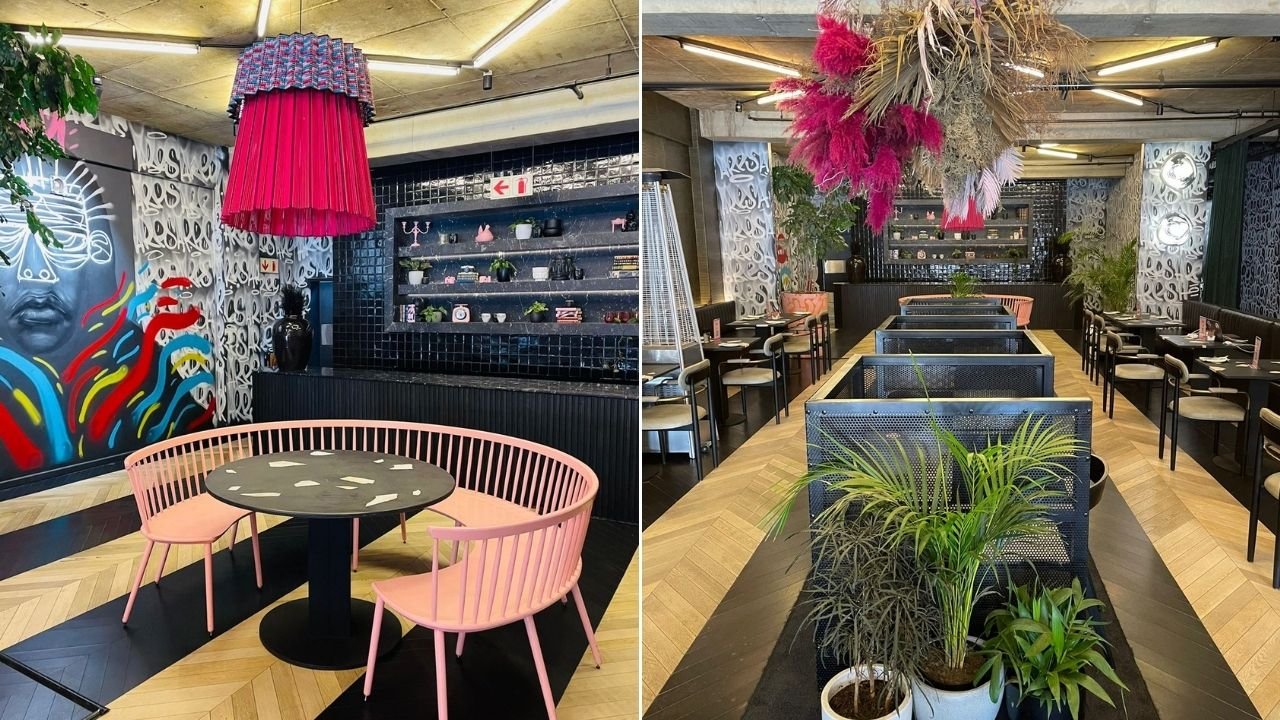 On the ground floor the small hotel lobby opens onto the all-day eatery Thorn, dominated by pretty-in-pink pops of colour and statement light fittings by top South African design brand MashT. Take a seat at one of the distinctive round benches by award-winning furniture designers Houtlander or take your place at a discrete co-working cubicle, each with its own plug point, ideal for solo business travellers or anyone looking to get through some study time in peace.

As de rigueur in this age the menu is swiftly accessed through a QR code and offers easy classics like steaks, messy burgers and our favourite – the spicy braised beef pizza (not for the delicate eater). Surrounding the space is an immense custom mural by street artist African Ginger that's just calling out for a selfie. To the right of the lobby is the retro-styled Cutters Barbershop and Curious, a cool concept store selling local clothing and accessories designs with a distinctly Joburg flavour.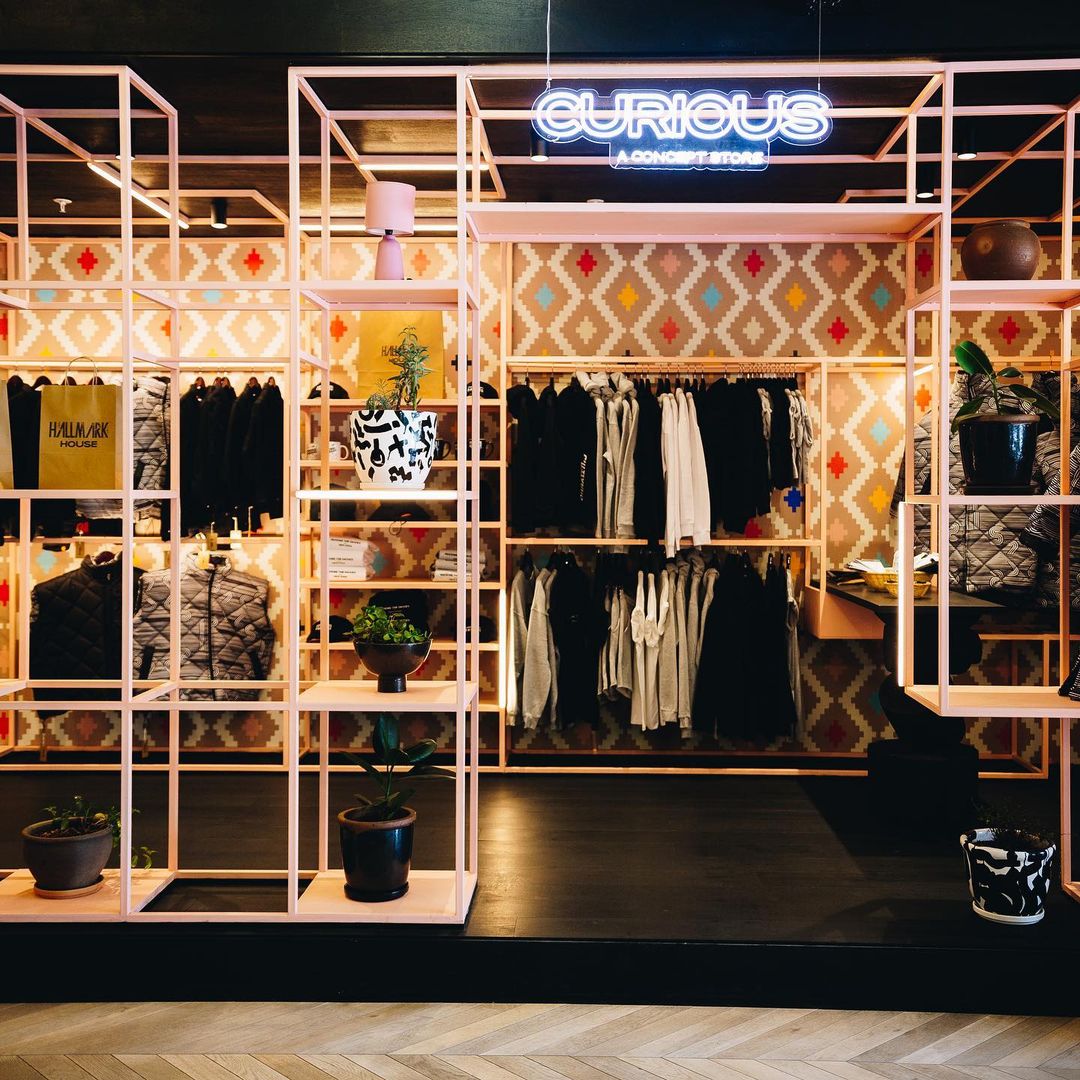 Most of the 15-storey building is dedicated to residential apartments, many owned by famous local cultural icons such as fashion designer Laduma Ngxokolo whose distinctive geometric patterns can also be found on the walls in the hotel rooms. Hotel rooms are situated on the 4th and 5th floors, where designer jungle-themed carpets lead you through the hallways.

Every room comes with a balcony and the best ones have views for days with skyscraper city laid out before you. There are six standard rooms, 14 deluxe rooms (all with choice views), 17 slightly larger premium rooms and 10 executive rooms with their own private wrap-around balcony and deluxe bathtubs. For the visiting celebs and international pop stars (the building is owned by music promoters Steyn Entertainment), there's also an incredible marble-clad penthouse suite occupying two of the top floors.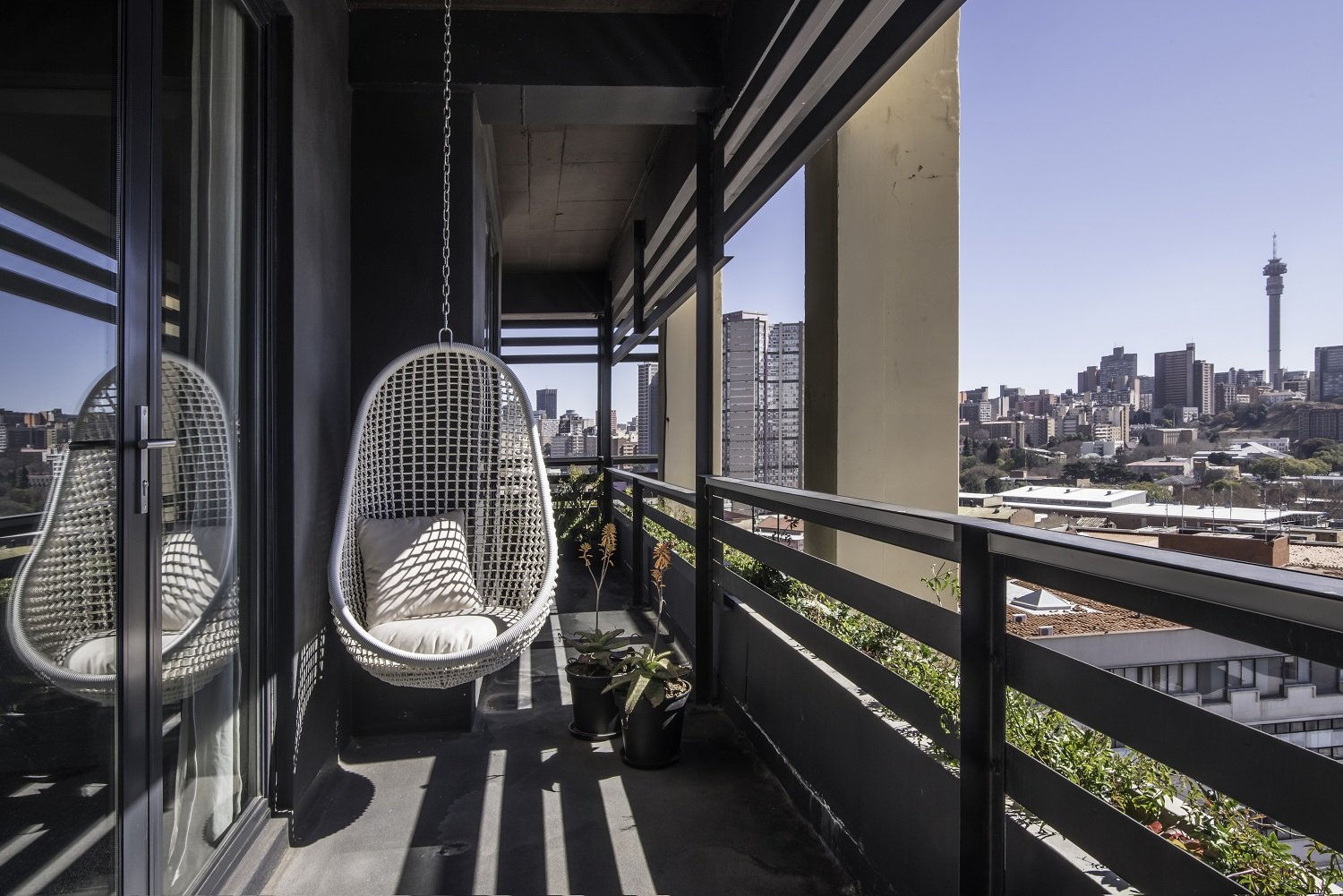 Hidden in the basement is one of Hallmark's shiniest gems, The Marabi Club, a dining and live music venue named for Joburg's swinging 1920s Marabi jazz movement. The club's interiors conjure the aesthetics of the time, all under a warm and intimate glow, evoked by a combination of facebrick walls, art-deco furniture, reclaimed wooden window frames, historic images and custom contemporary artworks. There's also a long bar counter at which cocktails are served, a cigar lounge that looks onto the main dining area and a private dining area for up to 20 people.

And of course, most importantly there's the live jazz music. A low stage means the performances are very much a part of your meal with tables placed right up to its edge. Dedicated to keeping the local live music scene going there's live music every Friday and Saturday, often featuring major local jazz stars. Reservations are essential (book online here).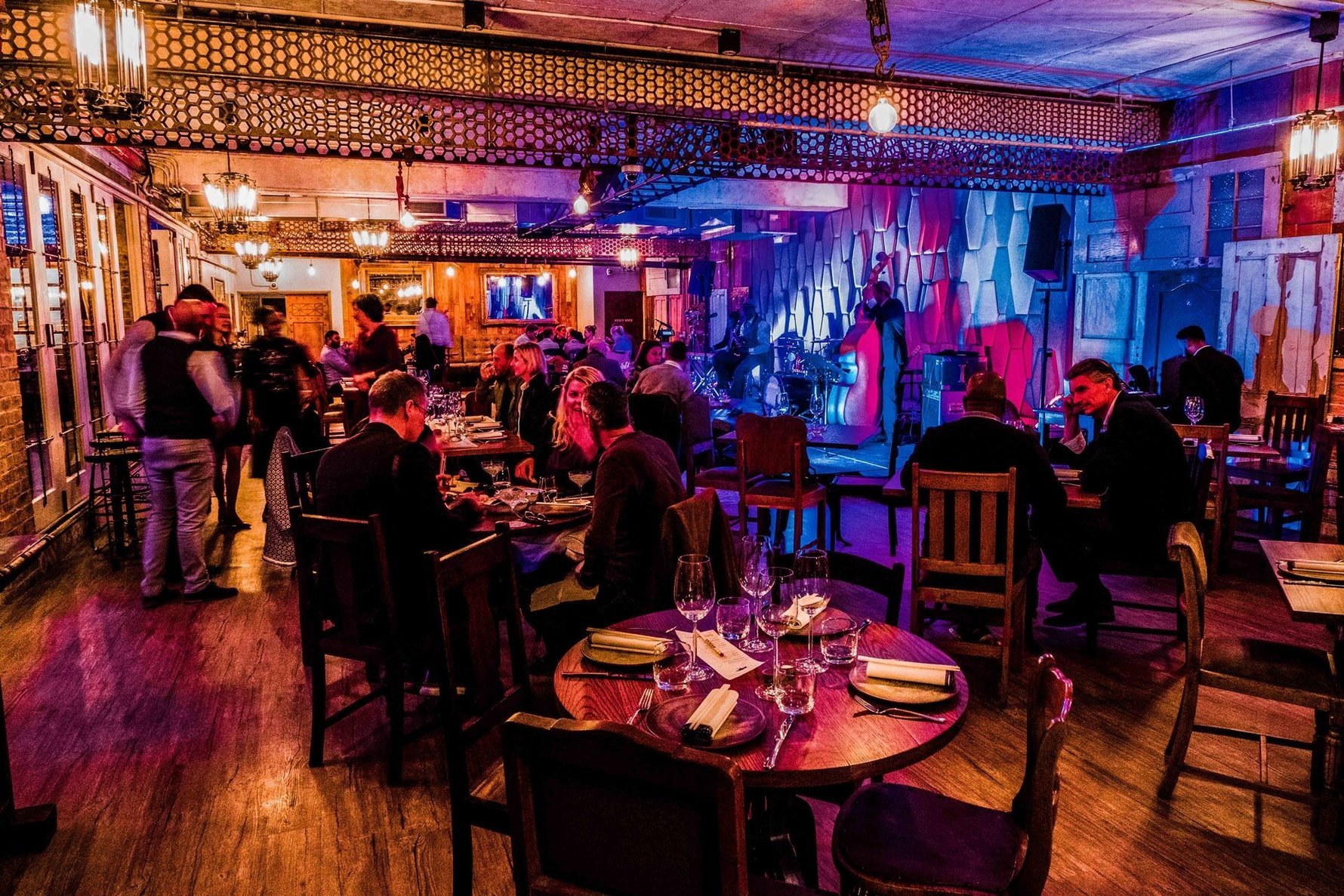 At the very top of the building sits Hallmark's crown jewel, the spectacular rooftop bar Triple Nine (also simply known as Rooftop at Hallmark House). This is one of the most impressive rooftop bars anywhere in Joburg with incredible 360-degree views of the distinctive downtown skyline to soak in from its wraparound balcony terrace.

Live music and DJ sets often accompany the weekend sundowner hour (again, reservations are essential) and as the thousands of lights flicker on across the city you'll get a completely fresh perspective that you quite simply can't find anywhere else. Make a booking for the rooftop online here.