One of Joburg's great regeneration stories, Maboneng (a Sotho word meaning 'place of light') was originally a gritty industrial warehouse and factory district called City and Suburban. The neighbourhood's revival began in 2008 by a single property company with the launch of Sunday Market On Main at the pioneering development Arts On Main (straddling Fox and Main streets), which is home to William Kentridge's Centre for the Less Good Idea and David Krut Bookshop and Print Workshop.

Today what is now known as the Maboneng Precinct has spread out across a dozen adjacent blocks and includes the impressive urban residential and retail development known as Jewel City. Jewel City extends along Fox Street with its pedestrianised plaza and is characterised by large-scale murals by several leading South African graffiti artists, including Nardstar*, Dbongz and Falko One.

Jewel City brought with it everyday essentials for city living that for so long Maboneng lacked – including a grocery store, bank and pharmacy. Maboneng also extends to the landmark Hallmark House, home of the famous jazz bar and restaurant Marabi Club, and one of Joburg's most spectacular rooftop bars. A block from Hallmark House is one Joburg's largest artist studios, August House. 

From 2019 to 2022 Maboneng's fortunes underwent a dip, hit with a change in property ownership after the liquidation of Propertuity property company in 2019, and the double whammy of Covid-19 lockdowns that had a dire impact on business and tourism in the area. What was once touted by local and global press as "one of Africa's coolest neighbourhoods" was plunged into some uncertainty. People often lament change, but this is an ever-forward city and change is written into Joburg's DNA.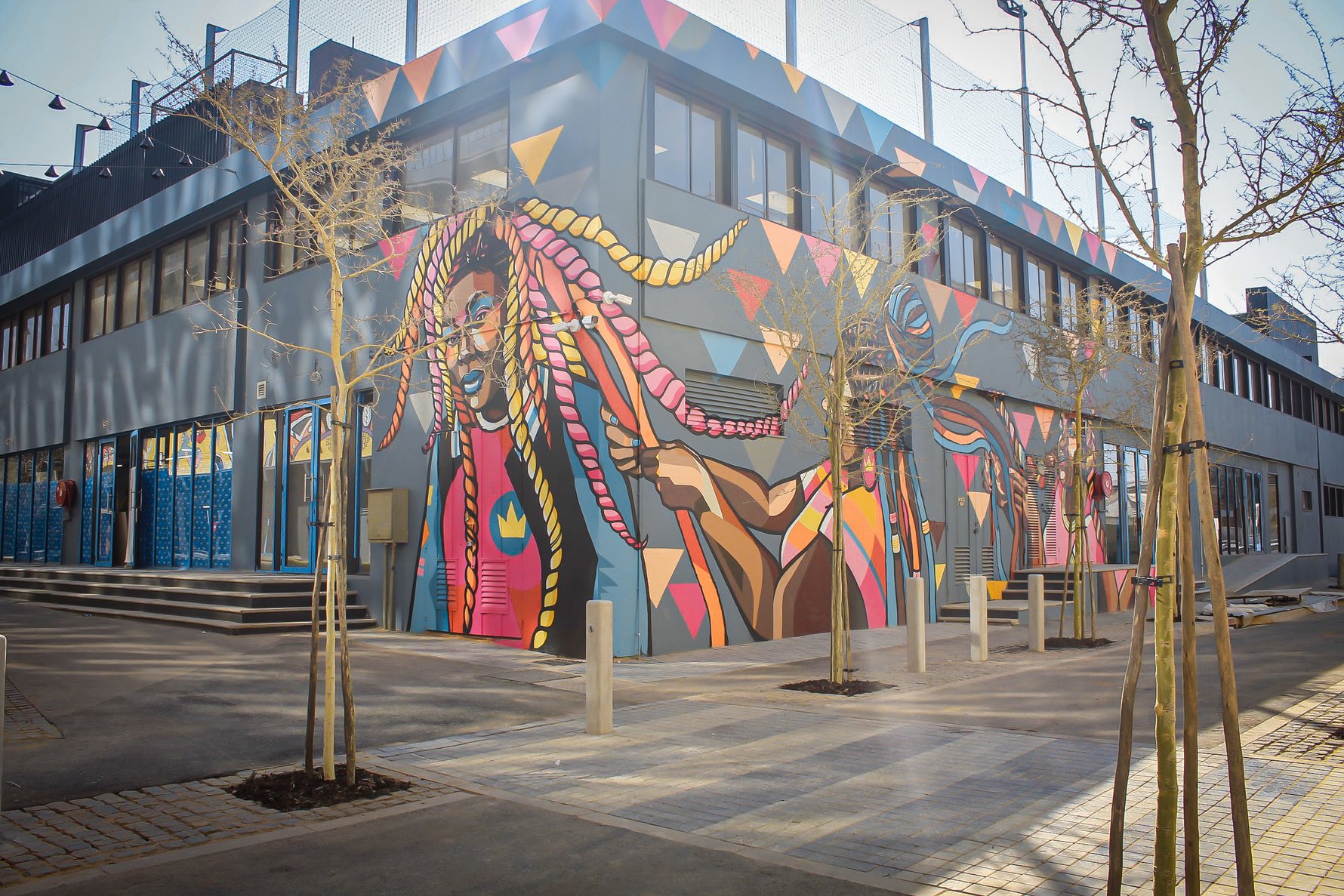 With less than 140 years of history, caught up in the world's most politically, socially and economically tumultuous times in history – and more recently, the vicissitudes of local city politics resulting in four different mayors in two years – it's no surprise that Joburg does not stay still, and is always moving on to what it will become next.  

In September 2023, Maboneng is still a force in Joburg, albeit with a different energy. The Yvonne Chaka Chaka mural by Portuguese street artist Vhils no longer looks out across Kruger Street (a toothpaste brand thought it would be a good idea to cover one of the most distinctive neighbourhood images). Maboneng is less refined and genteel, and a little more gritty.

On weekends Maboneng is a throbbing entertainment district for city denizens (the market has long moved on), but it's also utterly authentic in its city mix, jammed with cool bars and hangouts like Bertrand Café with its fantastic jazz lounge upstairs, Belgian beer, cosy courtyard and comfy couches on Fox Street, and the jazz Thank You Bar in the former Museum of African Design (MOAD) building. Operated by artist Thokozani Madonsela and his team, they offer a weekly line-up of events that include a Big Screen Wednesdays movie night, Intentional Thursdays live music, Creative Nights, Open Mic events and other compelling reasons to visit. 

​The Hideout Bar at Curiocity and the green refuge that is the Living Room still remain fun hotspots tucked away along Fox Street. Hidden behind the MOAD building is the poolside Black Palm, an urban haven complete with pool loungers, a lifeguard seat, a cocktail menu and of course, a sparkling swimming pool.
 
Maboneng is still frequented by artists and is home to the studio of Stephen Hobbs, as well as Arts on Main and the incredible creative forces of the Centre For the Less Good Idea and David Krut Workshop.

Walk into the inviting, light-filled Home of the Bean at Arts on Main, and you'll find it's both a coffee shop and a community of cool. See more on Home of the Bean in our list of where to eat early breakfast in Joburg. A door or two down is one of the sharpest men's fashion stores in the city, Project Inflamed.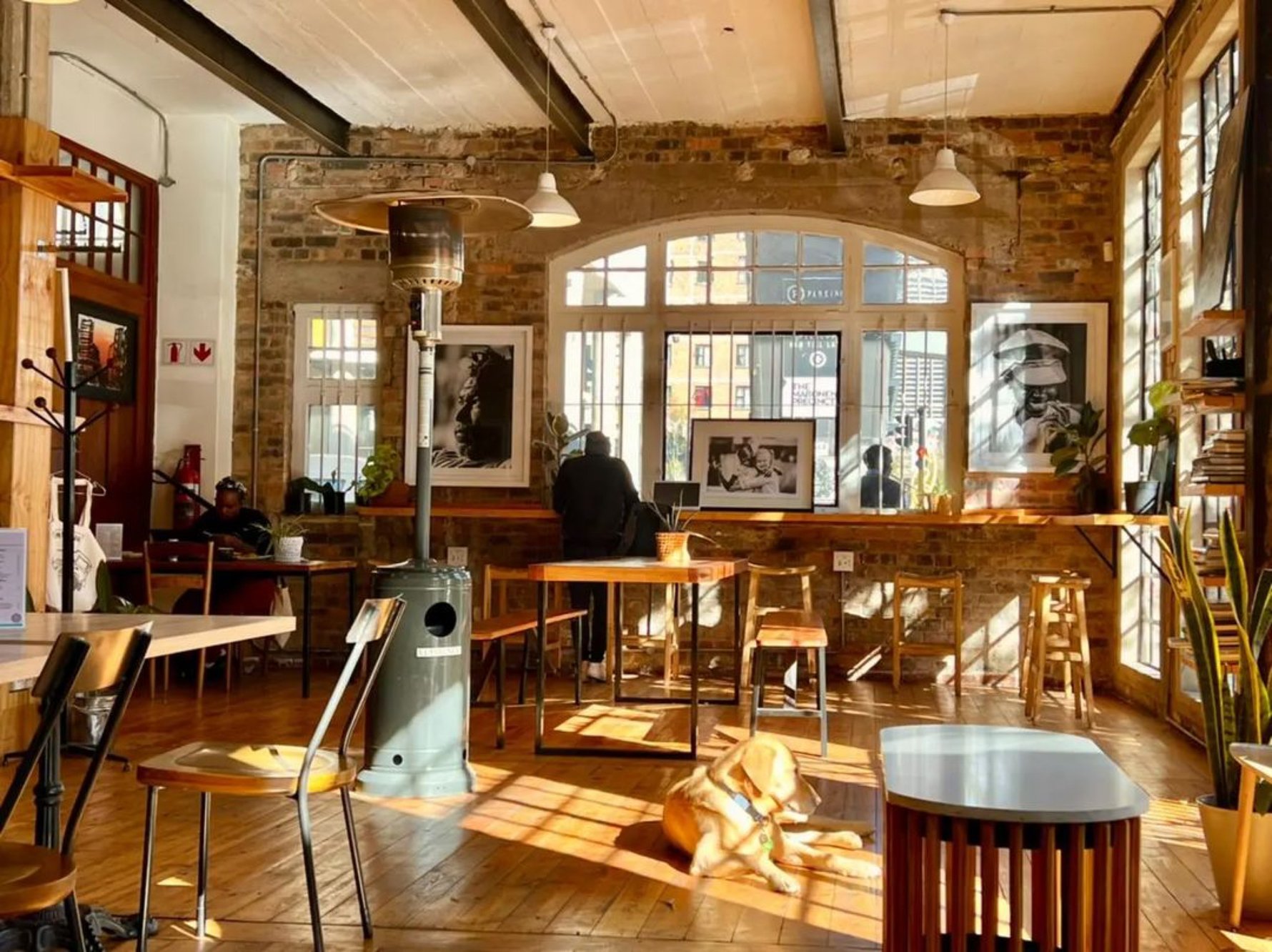 Fox Street serves as Maboneng's main high street, with a plethora of pavement cafés, bars and restaurants that open out onto the street, some of them cheap drinking holes, and among them real treasures. You can still pop by Uncle Merv's for a takeaway coffee, and there's a shiny art gallery, Angoni Art Gallery, that looks onto the intersection of Fox and Kruger streets, and just a little further down, a handmade jewellery and fashion accessories store.

This meeting of streets at Fox and Kruger is one of the city's most popular and sometimes frenetic 'photography studios', with an authentic city backdrop still provided by the Maboneng sign that is suspended above Kruger Street. You'll notice a throng of people wielding cameras vying for business in the street, often seemingly oblivious that it's not a pedestrian walkway (although it probably should be, if there was some focused and loving attention given to city planning).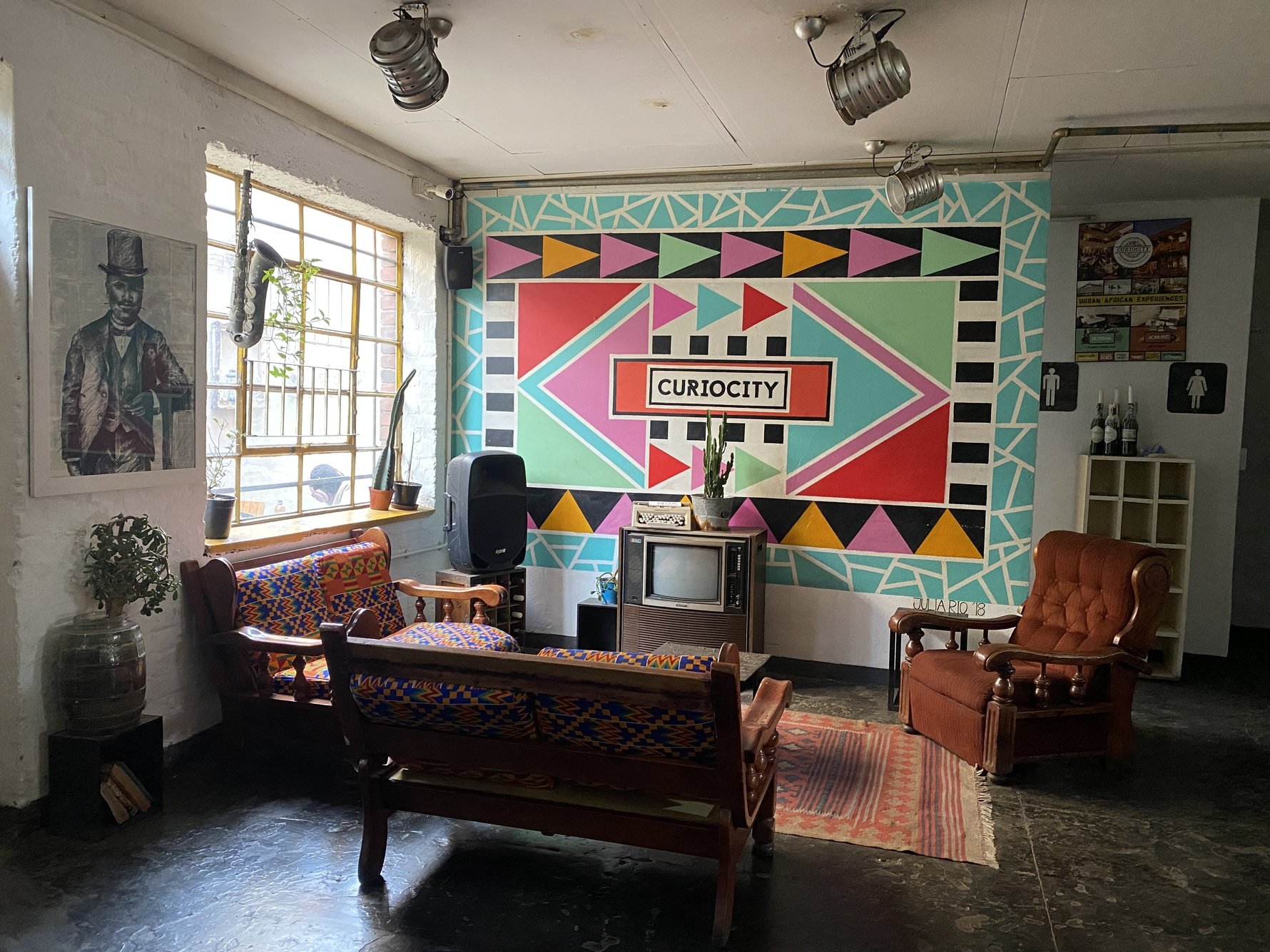 Of course, Maboneng is also home to some of the most exciting street art in the city. The energetic visitor should not miss out on a walking, skateboarding or cycling tour of Maboneng and the surrounding areas. The fantastic City Skate Tours, based at Maboneng's popular backpackers Curiocity, offer walking and skateboarding experiences that take in Maboneng's colourful street art and the area's many historic buildings, while MicroAdventure Tours is famous for coffee and cycling tours that also explore this area or contact Joburg360 for an excellent walking tour. Also, worth visiting, with the team from Curiocity, is the traditional Kwa Mai Mai market.

Curiocity backpackers is one of those places that has remained unchanged. Its Hideout Bar is still a buzzing evening attraction, and the posh hostel draws international visitors. It has also expanded with other properties along the street, including the Fox Street Studios that boast an urban penthouse suite where you can spend the night in Afro-chic style. 

It's well worth setting out a day or afternoon to explore the many attractions Maboneng has to offer. Those looking for evening plans can linger and take advantage of Maboneng's energetic nightlife. For a first-timer we recommend you visit with a local (chat to the guides mentioned above), which is always more rewarding as many of the places mentioned are not the most obvious to find on the street. 

To arrive in Maboneng we recommend using Uber to Jewel City and walking east along Fox Street as parking is tricky and not so plentiful in the area. And as with any city, be aware of your surroundings and go light on the valuables. PS. You can't really claim to know Joburg, without having spent time in Maboneng, a thriving and authentic part of Joburg that has so much to offer.