If you judge a hotel by the volume of its lobby then you'll feel comforted by the scale of Johannesburg Marriott Hotel Melrose Arch. The hotel's stylish and comfortable 'Great Room' as they are known at Marriott is a lavish space, perfect for casual meetings, an afternoon drink or kicking back and charging devices on one of the huge couches. Behind hangs a stupendous chandelier suspended above the conference rooms one floor below the mezzanine level, another grand statement for this new hotel (opened 2020) and behind the check-in counter reminders of leisure times ahead are on display in an impressive-looking sommelier station and wine library.

Marriott Melrose Arch is a flagship hotel for the Marriott brand, and the first purpose-built hotel in the chain's South African portfolio. It's a polished property, bold in size and stature, and taking up a large block of the popular Melrose Arch lifestyle precinct, with its high street filled with restaurants and stores, open piazzas and walkways, perfectly located for appreciating what's beyond the door.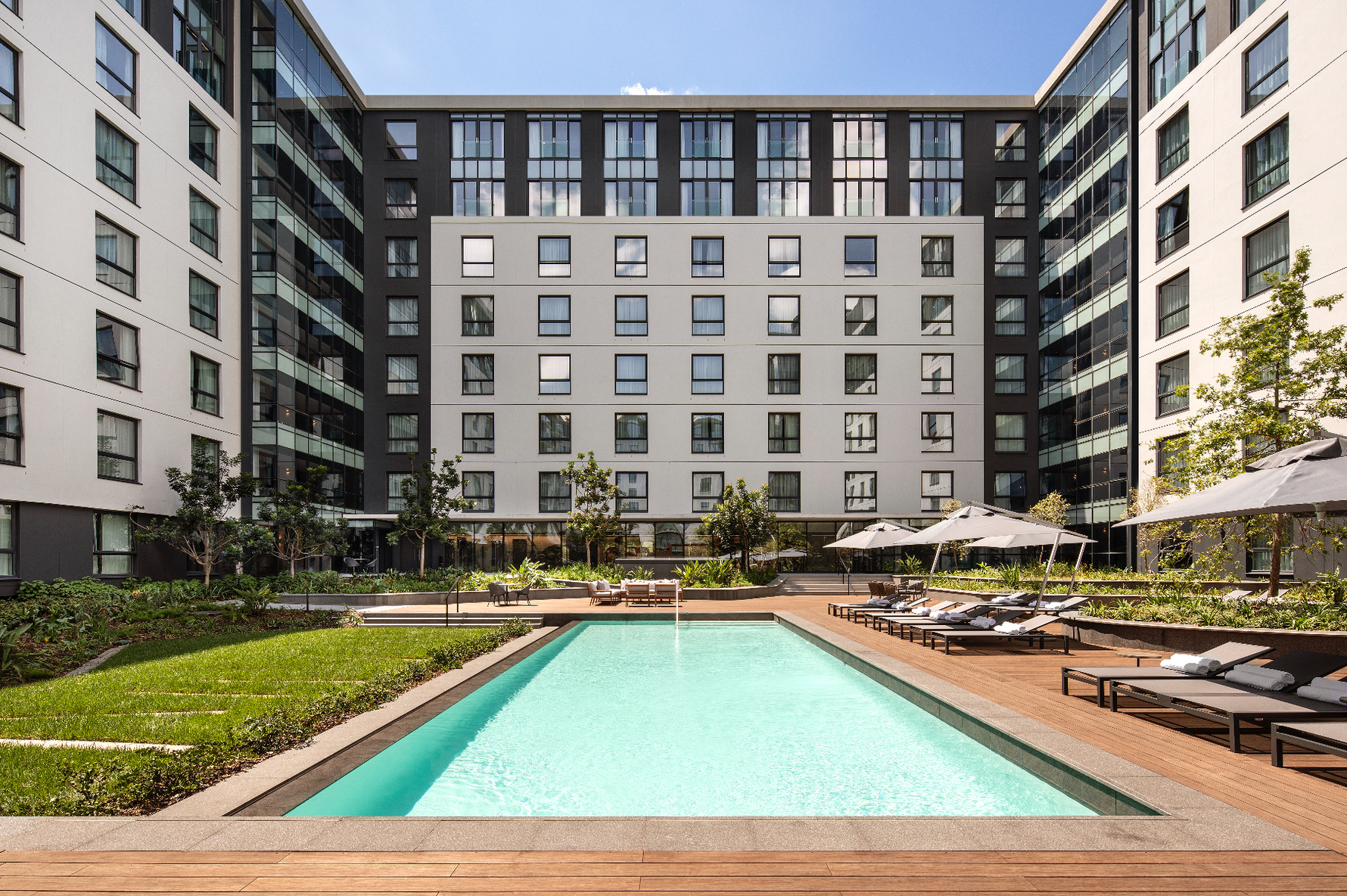 The 306-room hotel is built around a lush secluded garden and outdoor swimming pool (accessible by guests only) with its own pool bar and lots of sun loungers. This is the ideal spot to wind down after recovering from a long flight, or perhaps after a night out at one of Melrose Arch's many bars and restaurants. There is also an impressive Marriott Fitness Club that looks onto the gardens and pool, an infinitely more spacious gym than one can usually find at the average business hotel. 

The suites here are stylish and airy, with all the Marriott standards that you need to make yourself at home such as Nespresso machine and rain showers in the bathrooms. The hotel has been planned out with both convenience and comfort in mind, with good lighting, abundant plug points and high speed internet. All things we think should come standard in hotels but often don't.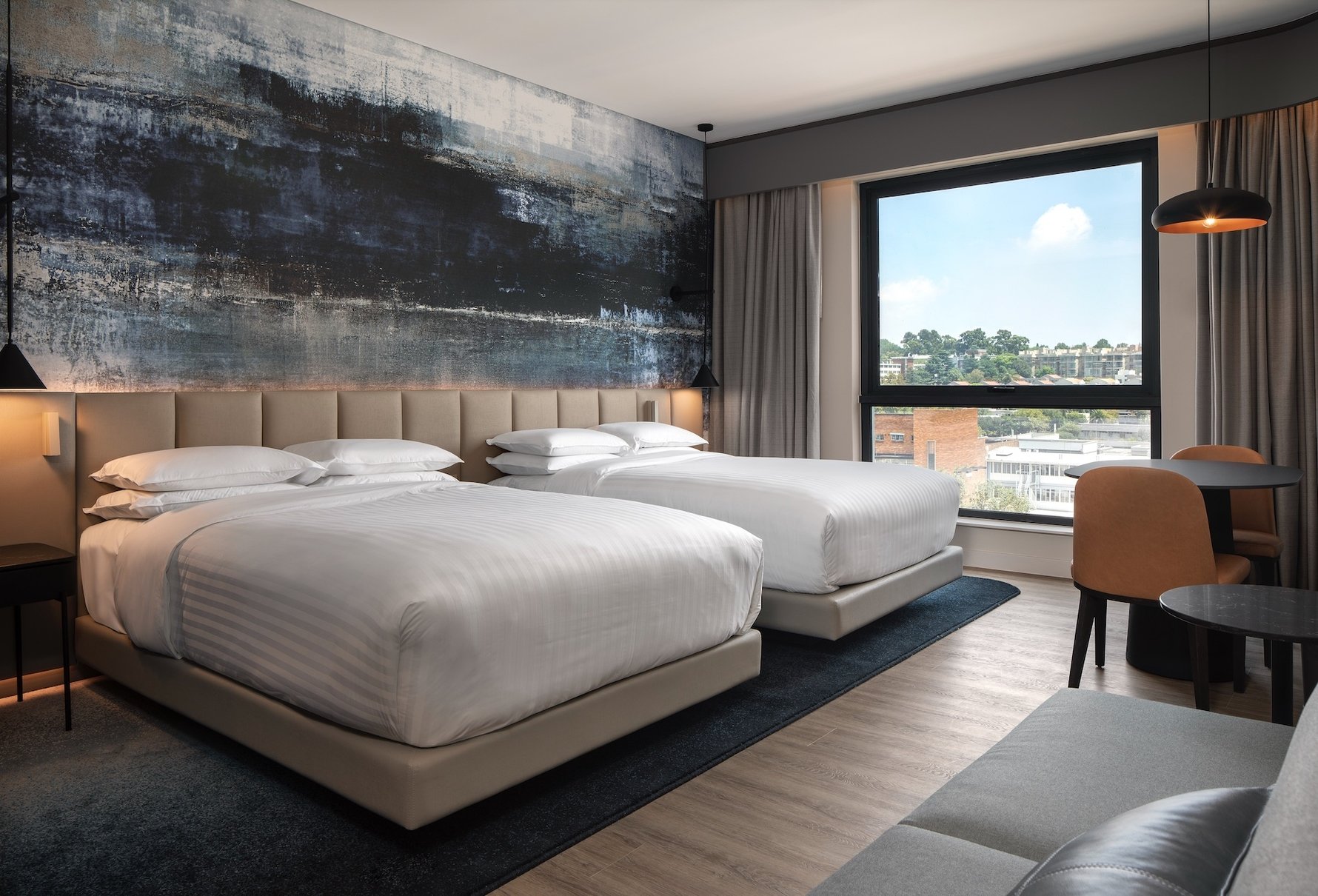 North facing rooms look out towards the Sandton skyline with its many landmarks easy to identify and the top floors of the hotel are all executive apartments designed for longer stays. The apartments have one, two or three bedrooms complete with a lounge and fully equipped kitted kitchens, King-sized beds and huge bathrooms.

For everyday dining there's the hotel's Keystone Bistro, an understated space that serves a great butter chicken with all the trimmings as well as other easy-going classics such as Caesar salad. Although our favourite is Archer Bar & Eatery which looks out onto the streets of the precinct. Archer is not Marriott branded, but rather has its own identity and entrance, appealing to locals and guests. There's a great cocktail list, a wraparound terrace for the sunset hour, and our favourite on Thursdays and Fridays a chilled live acoustic set starting from 18:00.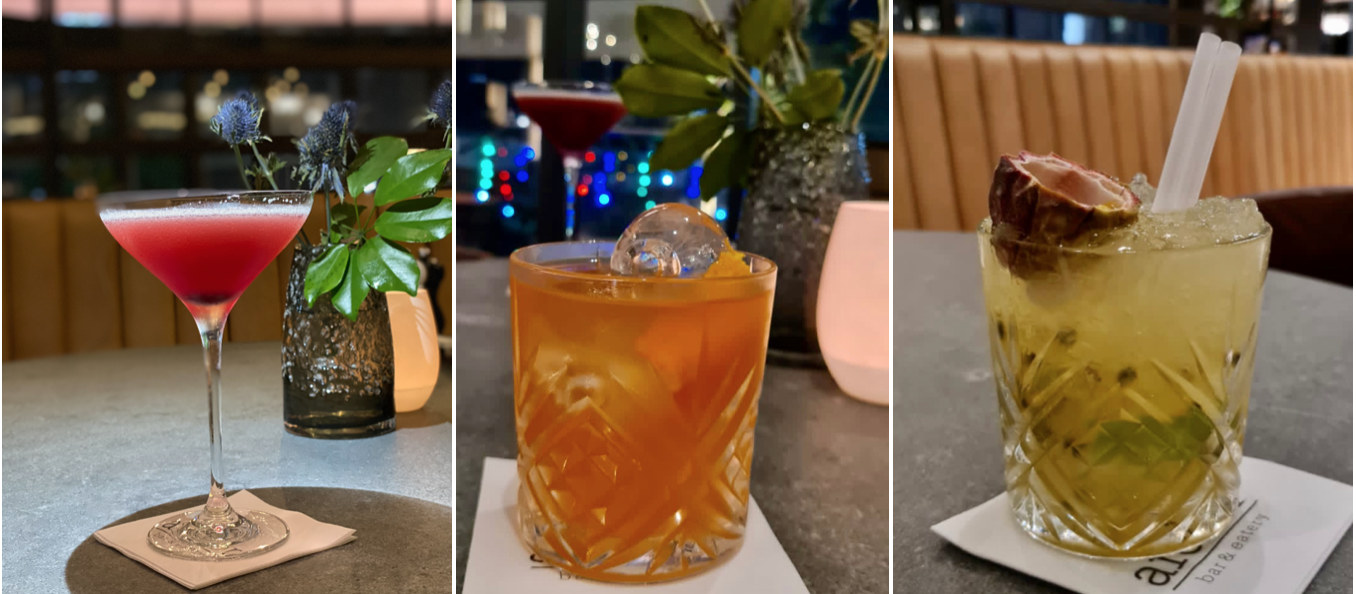 For business travellers another ace card is the kickass conferencing centre, a soaring space that we sure as many of Joburg's older conferencing hotels feeling a little jealous. Set in the lower level of the property the triple volume break-out areas are lit by a skylight from above and space is abundant. There are seven flexible meeting rooms and a gigantic 482 square metre ballroom that makes the hotel a popular destination for large conferences and special occasions such as gala dinners (seats up to 350 for a gala dinner or 500 cocktail style). We love the adjoining designated Green Room, set up for hosting VIPs and dignitaries that has its own entrance should anybody need to make a quick exit and on our visit we got to eye up the very impressive conference catering setup that again punches far beyond the usual expected fare. 

Without doubt the location of Melrose Arch adds a bonus – of being able to walk out the door and explore the designer shops, art galleries and pavement cafes along the precinct's piazzas and pedestrianised streets where there almost always seems to be a Ferrari parked around the corner.  And with Sandton and the city a 10-minute drive along the highway in either direction you are in the centre of all you need in Joburg.