Even Plexiglass doesn't stop a warm welcome at check-in at Johannesburg Marriott Hotel Melrose Arch, one of Joburg's newest hotels (opened in 2020) that elegantly blends work and play.

As the new 'adult' on the block in Melrose Arch the Marriott brings with it a refined combination of business and leisure and to mark their opening are running a #WeekendSpecial until January 31, 2021, where you can get 25% off your booking simply by signing up for Marriott Bonvoy (find out more about the Bonvoy benefits and see all the specific details below).

Book your #WeekendSpeciall stay – the 25% off offer is valid until January 31, 20.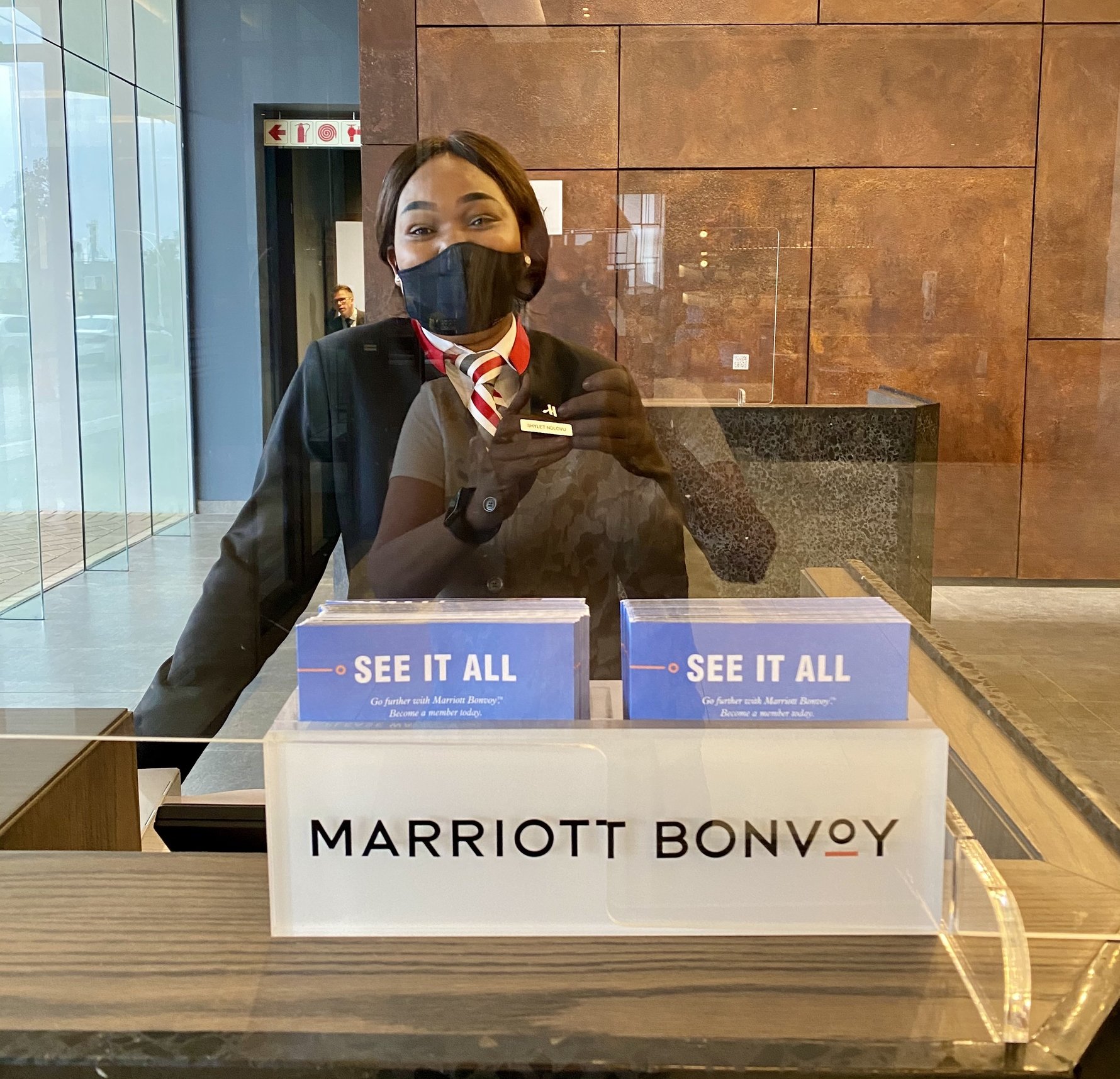 If you judge a hotel by the volume of its lobby then you'll feel comforted by the scale of Johannesburg Marriott Hotel Melrose Arch with its lavish space that includes a stylish and comfortable Great Room lounge perfect for casual meetings, a stupendous chandelier suspended above the conference rooms one floor below the mezzanine level – a gigantic wind chime when the breeze from the front entrance makes its way through the hotel – and an impressive-looking sommelier station and wine library.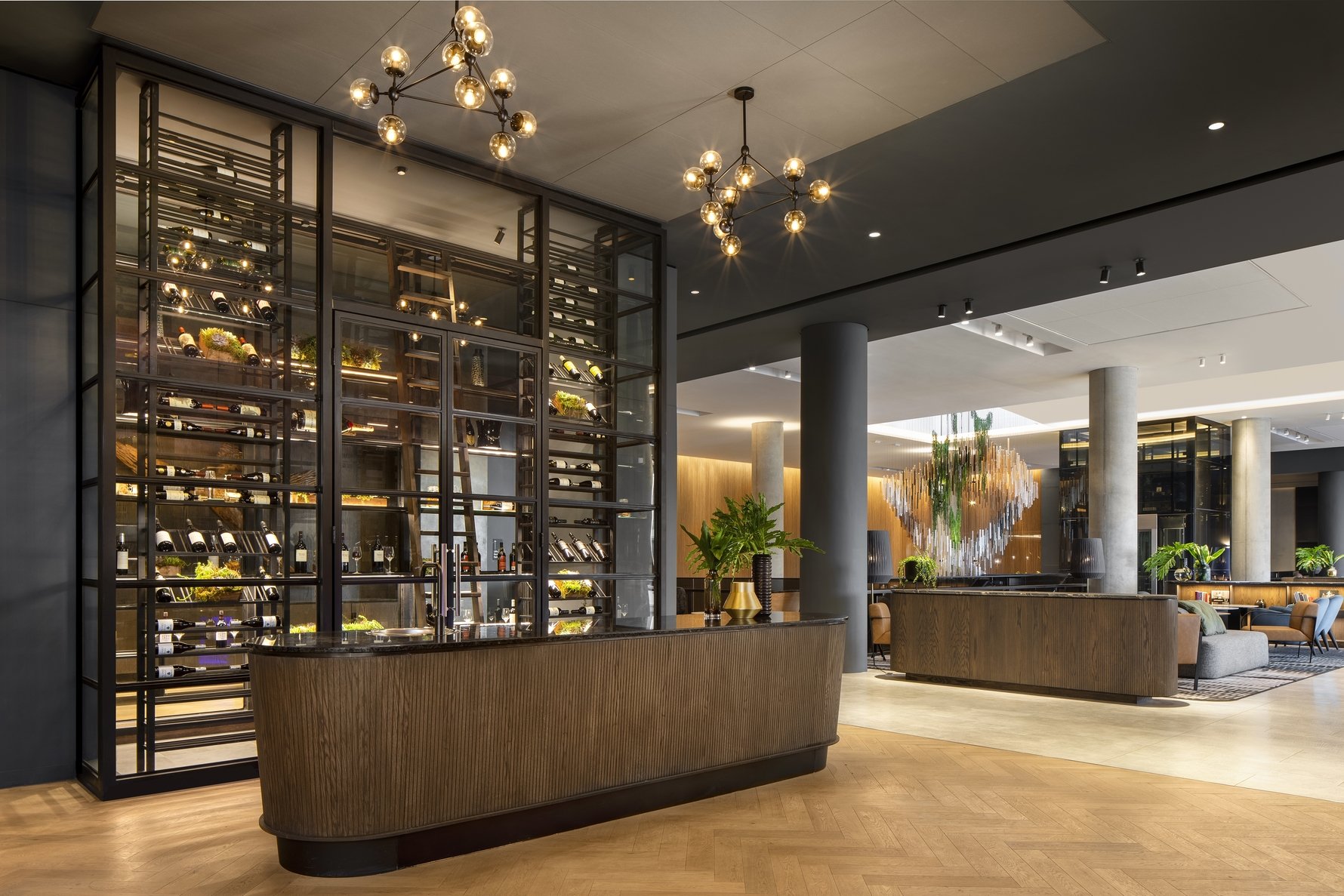 Marriott Melrose Arch is a flagship hotel for the Marriott brand, and the first purpose-built hotel in the chain's South African portfolio. It's a polished property, bold in size and stature, and taking up a large block of the popular Melrose Arch lifestyle precinct, with its high street filled with restaurants and stores, open piazzas and walkways, which means it's also perfectly located for appreciating what's beyond the door.  And if you prefer to simply just watch it all pass you by there's Archer Bar & Eatery on the ground floor, with its wraparound terrace perfect for sipping cocktails as the day winds down.

The 306-room hotel includes 10 junior suites and as well as 84 fully serviced Marriott Executive Apartments perfect for extended stays and is built around a lush secluded garden and outdoor heated swimming pool with a pool bar. There is also an impressive fitness centre.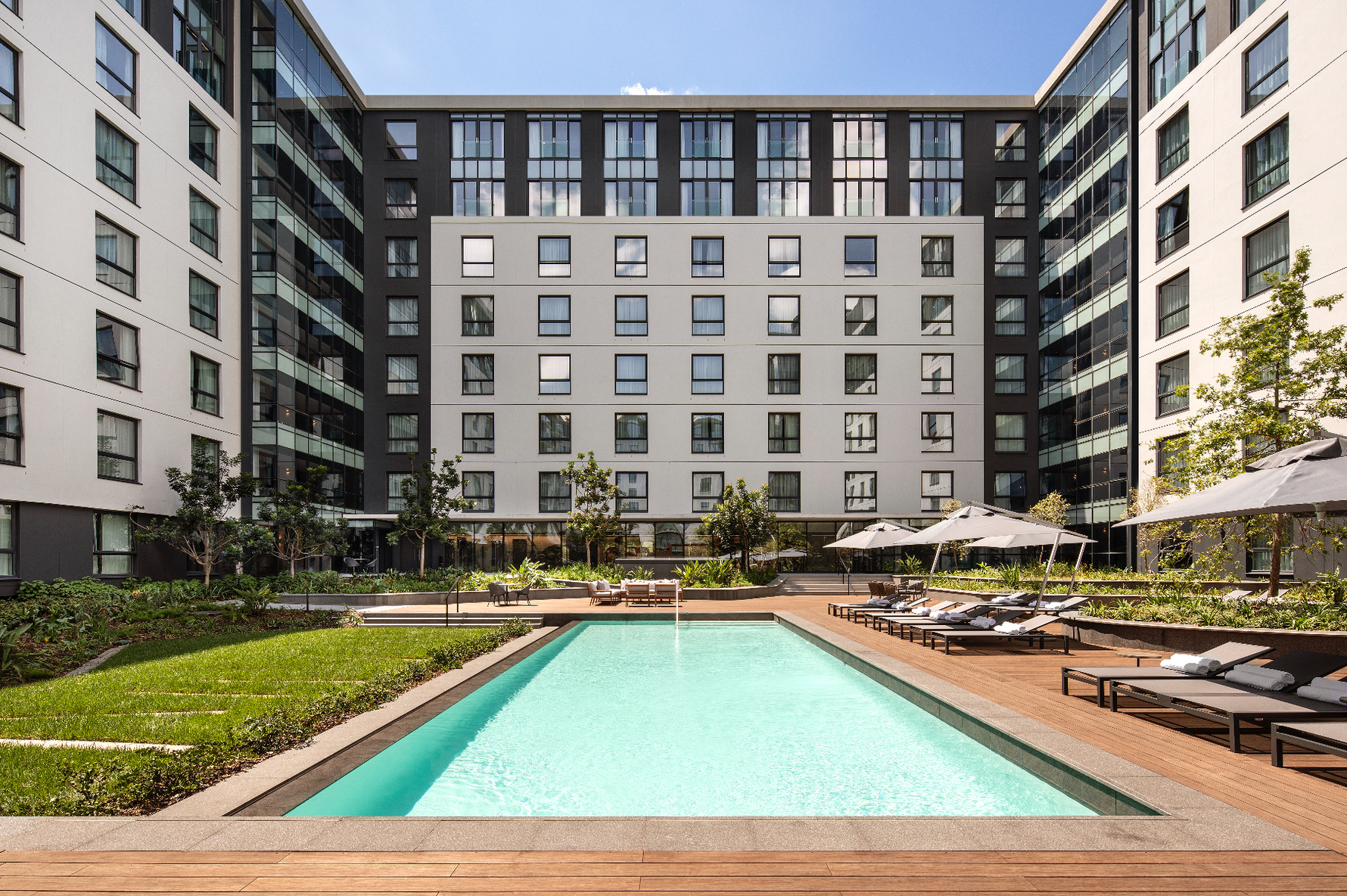 We stayed overnight in a corner suite and experienced firsthand how, in this new Covid travel age, Johannesburg Marriott Hotel Melrose Arch has turned a contactless stay into a fine art, with just about every menu and piece of information available with a quick scan of a QR code on your smartphone – from ordering breakfast to watching Netflix. There's also something to be said for enjoying a hotel breakfast in bed. Of course you are also welcome to eat downstairs at the Keystone Bistro.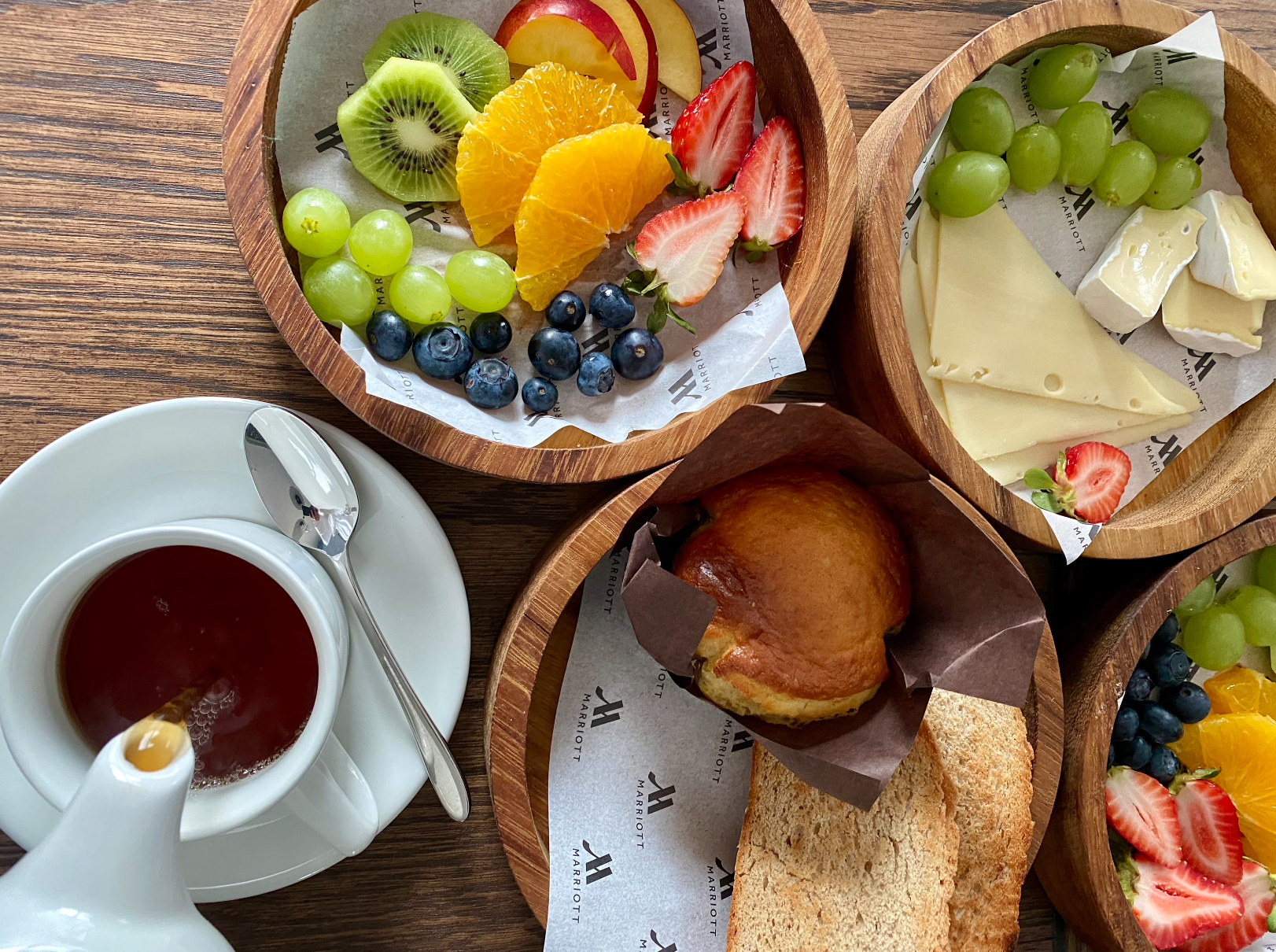 The rooms here are stylish and airy, with all you need to make yourself at home. And from its height the views from the front-facing rooms look towards the Sandton skyline with it's landmarks easy to identify. The hotel has been planned out with convenience and comfort in mind, and in your room you'll find plenty of plug points for a multitude of digital devices, good lighting, and a tea and coffee station, all things we think should come standard in hotels but often don't. Of course there's also high-speed Internet. In this day and age one should (but can't always) expect nothing less. 

There's also a kickass conferencing space with flexible meeting rooms, and a ballroom, making this a great destination for both big meetings and special occasions. We loved the designated Green Room, set up for hosting VIPs and dignitaries. In its tech-savviness the Marriott brand also offers the use of a meeting management app so you can personalise and organise your own event. 

Without doubt the location of Melrose Arch adds a bonus – of being able to walk out the door and explore the attractions along the piazzas and walkways. They include a multitude of shops, speciality stores and galleries like the car-lovers dream showroom Daytona and the always worth visiting Melrose Gallery for contemporary African art along with sidewalk cafes, restaurants and bars. In nearby Melrose you can also take a walk in the James & Ethel Gray Park, stopping for a coffee at the neighbourhood grocer nearby. And with Sandton and the city a 10-minute drive along the highway in either direction you are in the centre of all you need in Joburg. Good reason to spend more than one night when you book your stay.      Enjoy 25% off a #WeekendSpecial at Marriott Melrose Arch by signing up for Marriott Bonvoy. The 25% off weekend special is valid on bookings for a 'romantic staycation getaway' or a 'night out and stayover' in Melrose Arch in a Marriott Deluxe King Room (couples) or Marriott Deluxe Twin Room (for friends sharing), plus breakfast is included. 

Marriott Bonvoy is one of the world's largest hotel loyalty programmes. Elite and Club paying members get special benefits like access to the M Club Lounge, a business lounge that also offers printing and other essential "I'm working here" services plus

complimentary breakfast, evening drinks, hors d'oeuvres and premium beverages. 

It's a perk worth working towards.