Nothing starts the day quite like a good barista-made cup of coffee and in Joburg you are spoiled for choice. To keep you up to speed on where to get the finest brews, every month our coffee columnist Rachel Leigh Dzenga (aka @jozicoffeespots on Instagram), shares her latest pick of spots you should know. 

Keeping things Covid-safe, this month our coffee columnist shares her favourite coffee trucks, tuk-tuks and stalls where you can get a fantastic cup of coffee to go.
Get Bird Coffee, Birdhaven  
Get Bird Coffee Company is a wonderful grab-and-go spot in the heart of Birdhaven, serving specialty coffee from Seam Coffee Roastery, along with freshly made almond croissants, pastéis de nata, pain au chocolat, and other goodies from La Maison Bakery. Bird Coffee is right by James and Ethel Gray park, and the perfect spot for a takeaway coffee after a walk or yoga session in the fresh air. Get Bird Coffee Co also offers a delivery option with hot coffee and goodies available for drop-off right to your front door (order online at getbird.co.za). We recommend ordering a flat white and an almond croissant for a decadent breakfast on the go.
Where: 74 St Andrew St, Birdhaven
When: 06:00-17:00, Sat 06:30-16:00, Sun 07:00-16:00 
The Green Bean Coffee Roastery, Bryanston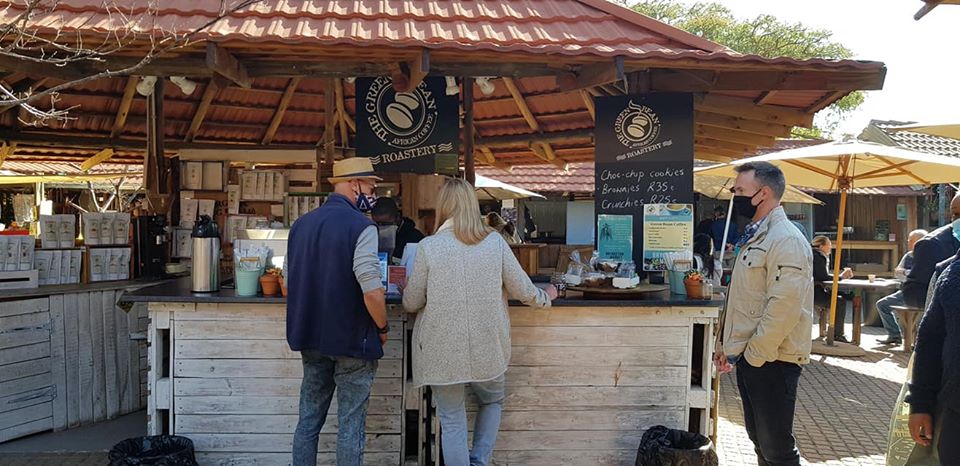 The Green Bean Coffee Roastery has a rustic coffee shop and roastery in the Muldersdrift countryside, and a grab-and-go stall at the Bryanston Market on Thursdays and Saturdays. Grab a takeaway coffee and browse through the dozens of market stalls specialising in local handmade goods, organic produce and artisanal products in a breezy and entirely outdoors space. We recommend pairing your cappuccino with a slice of the decadent homemade carrot cake.

Where: Bryanston Market, 40 Culross Rd (off Main rd), Bryanston
When: Open Mon-Sat 09:00-16:00, Sun 08:00-16:00
Human Bean Coffee, Roodepoort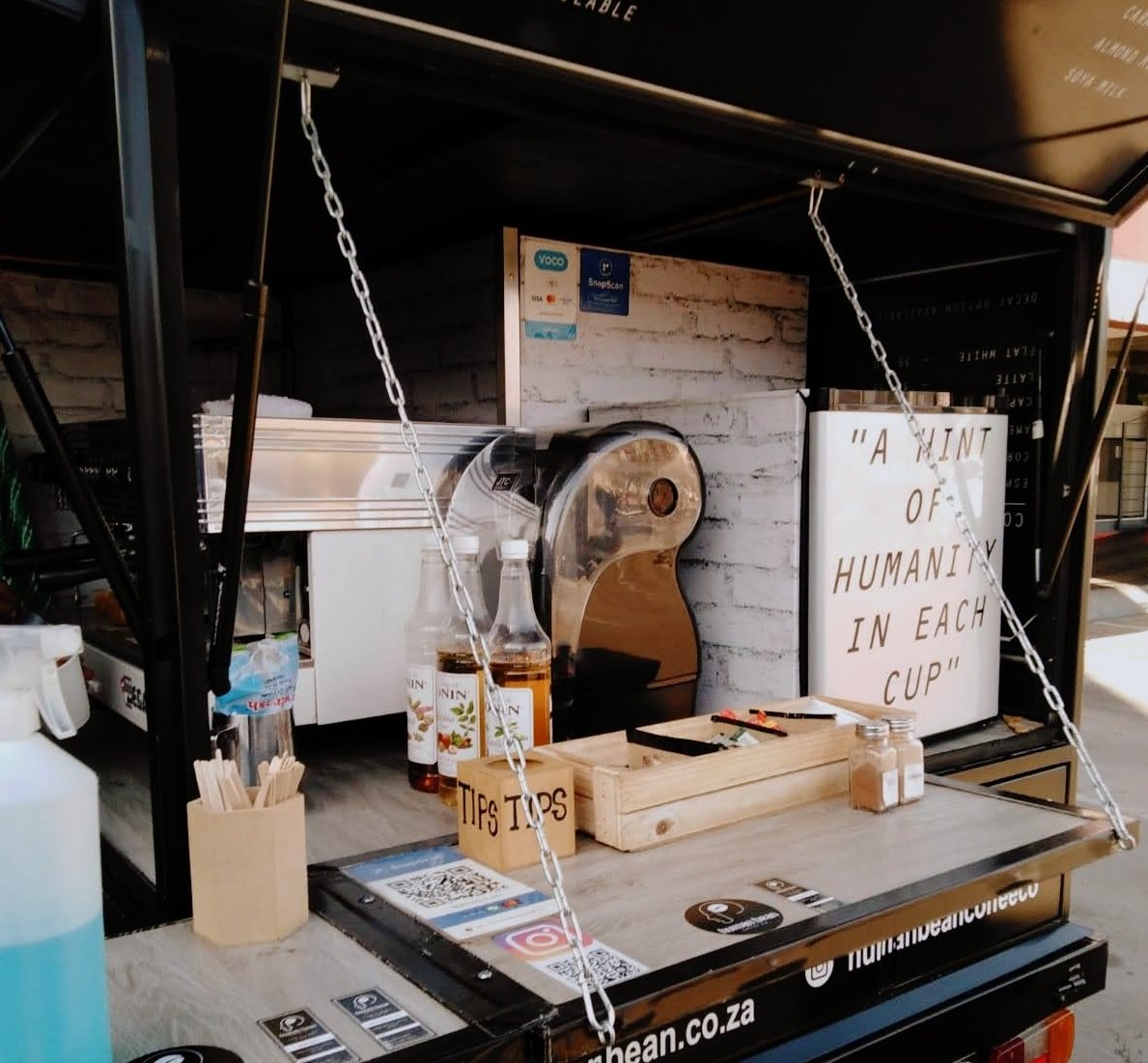 Human Bean Coffee Company has a charming black tuk-tuk serving great coffee on weekday mornings situated outside of the Clearwater Office Park in Roodepoort, near Clearwater Mall. You can grab a takeaway coffee or one of their specialty teas, along with a bag of their own Human Bean Blend. Service is friendly and with it opening from 07:30 it's a handy place to start your morning off with a little more skip in your step. 
Where: Clearwater Office Park (opposite Clearwater Mall), Strubensvalley, Roodepoort
When: Mon-Fri 07:30-16:00
Naked Coffee, Kramerville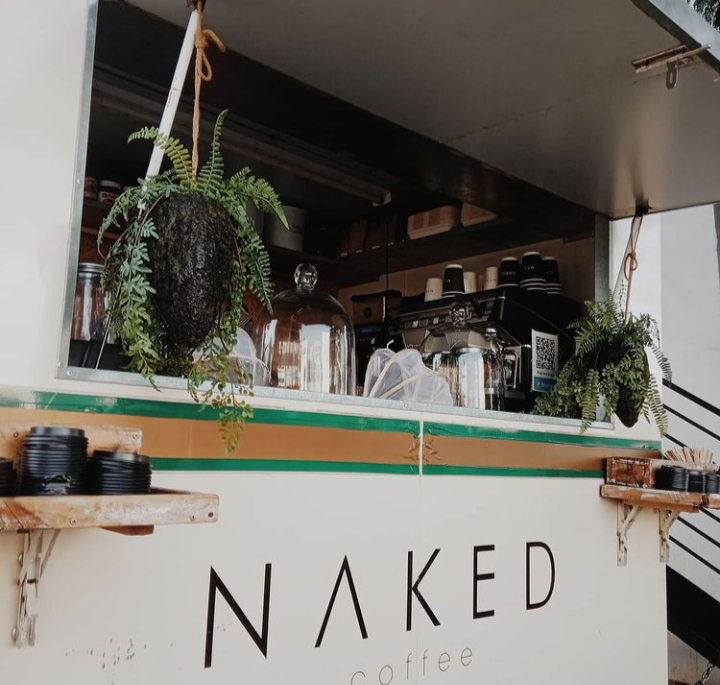 Naked Coffee (one of our favourite Morningside coffee shops) also has a stylish and sleek coffee truck set up on the corner of Appel Road in the heart of the Kramerville design district. They have friendly baristas, excellent service, and a few of their tasty homemade goodies on offer to enjoy with your coffee. For morning coffees we recommend ordering the cortado and a sweet Greek biscuit to dunk in it, also available on uber eats.  
Where: 26 Appel Rd, Kramerville, Sandton
When: Mon-Fri 07:30-16:00, Sat 07:30-14:00. Closed Sun. 
Vintage Coffee Drive-Thru, Midrand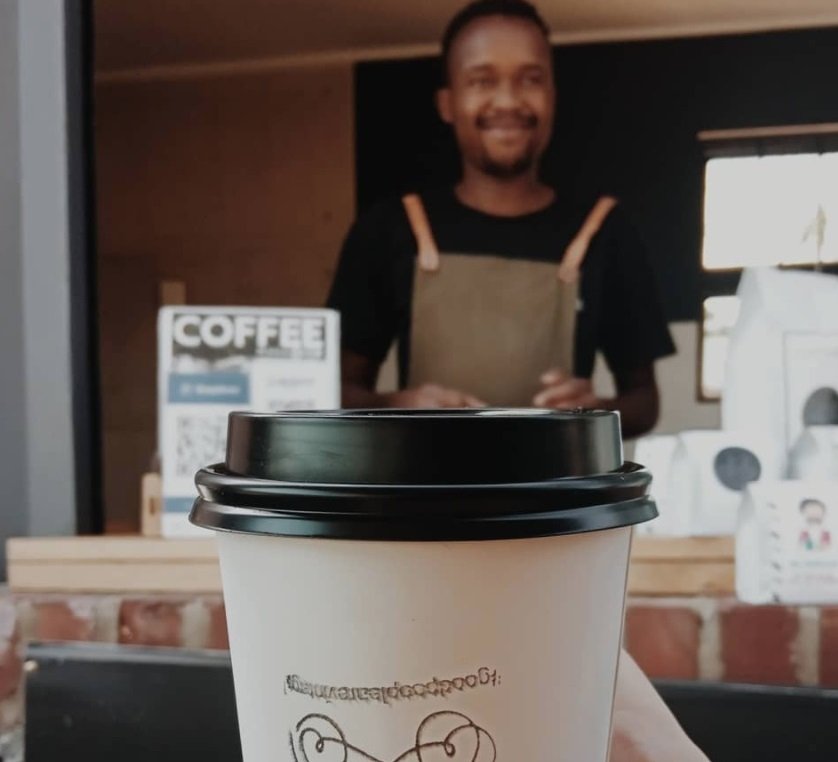 Coffee roaster Vintage Coffee has a unique drive-thru coffee window on Main Road in Midrand, just before the entrance of Urban Life Church. They offer specialty coffees and some sweet treats, all served with a smile through the opening of their trendy container coffee hatch. The perfect grab-and-go experience in Midrand if you need a good cup of coffee and a friendly smile that can be enjoyed straight from the comfort of your own car. 
Where: 64 Main Rd, Crowthorne AH, Midrand
When: Mon-Fri 08:00-16:00
Abantu Coffee, Centurion
 At the corner of the High Park Centre in Centurion you will find this micro coffee spot that serves excellent coffee and a variety of freshly-made bakes. Abantu Coffee is a stylish grab-and-go coffee bar that is also pup-friendly, so make sure to swing by for a takeaway coffee and a 'puppaccino'! For a lazy breakfast on-the-go order one of their muffins with your cappuccino. 
Where: High Park Centre, cnr Logan Ave and Charles De Gaulle Cres, Highveld, Centurion
When: 06:30-16:30, Sat 07:30-16:30, Sun 08:00-13:00