"Liminal Identities in the Global South" at the Joburg Contemporary Art Foundation brings together a fascinating group of works by women artists, and explores themes of hybridity and resistance in their practice. Interweaving practices of art, music and architecture, this is a highly thought-provoking display of ideas across continents, and across a wide swathe of time – with works from the 1960s to today on display.

The exhibition foregrounds the artistic works of seven artists and two architects and is full of unexpected connections and cleverly designed to unfold as if it was a piece of operatic music. The tempo of each part creates its own unique impact on the viewer, and in all it is a highly immersive experience. 

The artists are drawn from the Global South (a definition of parts of the globe defined by economic development and stability said to distinguish between the world's Global North and South) – from the African Diaspora, South Africa and Latin America. The exhibition also brings to Joburg works by incredible artists that have previously never been exhibited in the country. 

Launched in 2020, the Joburg Contemporary Art Foundation (JCAF) is a groundbreaking not-for-profit contemporary art space. While the Foundation mounts exhibitions, it is not a museum or a  commercial gallery and there is no permanent art collection. You can also only visit by appointment and the experience is guided, making this a special art experience. 

The Foundation is an academic research institute and a platform for mounting incredible museum-quality exhibitions that showcase the work of contemporary artists from the Global South.

We were blown away by the phenomenal debut exhibition in 2020 titled Contemporary Female Identities in the Global South and dare we say it, this second exhibition, Liminal Identities in the Global South (on show through 2021) may well be even better yet. Complementing and continuing the themes explored in the first (it's beautifully designed so that you don't need to have seen the first exhibition to enjoy it), we believe JCAF has cemented its place as one of South Africa's most important contemporary art institutions.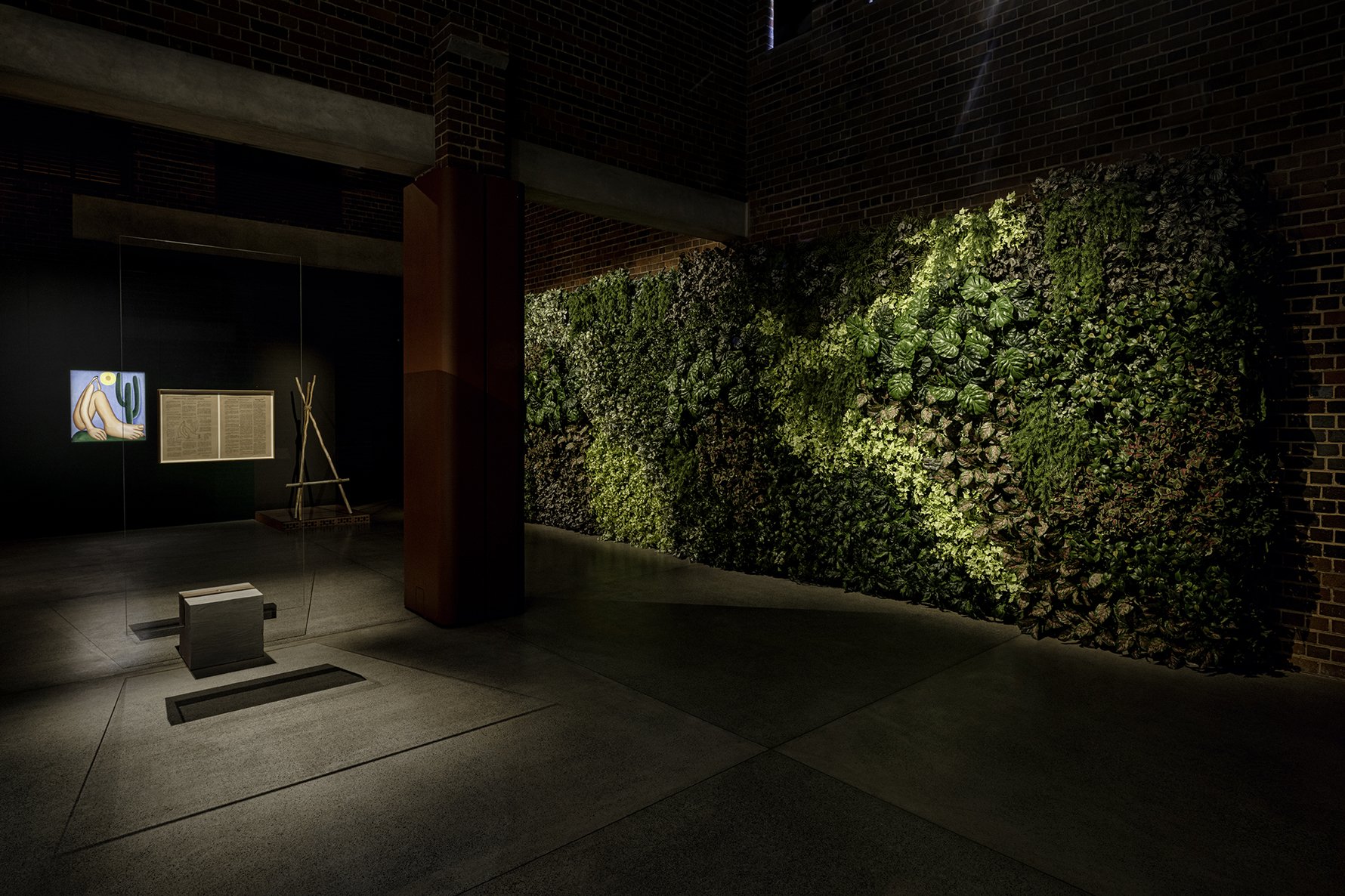 The exhibition opens with landmark works from the 1960s by Brazilian architect Lina Bo Bardi and excerpts from Brazilian poet De Andrade's influential 1928 Manifesto Antropófago. Bardi dedicated her career to developing an architectural language inspired by indigenous aesthetics and traditions, a practice that was wholly radical at a time when colonialism was firmly in living memory. Her work built upon the earlier anthropophagia (cultural 'cannibalism' or assimilation) movement that sought to meld the foreign cultural values brought to Brazil with a reaffirmation of indigenous cultural expressions that had actively been suppressed.

It's an opening space that sits as a reminder that decolonisation and the evolution of a post-colonial culture is an ongoing process rather than a task with finite goals and limitations. Much like living in an uncertain world that is still waiting to become truly 'post-pandemic'.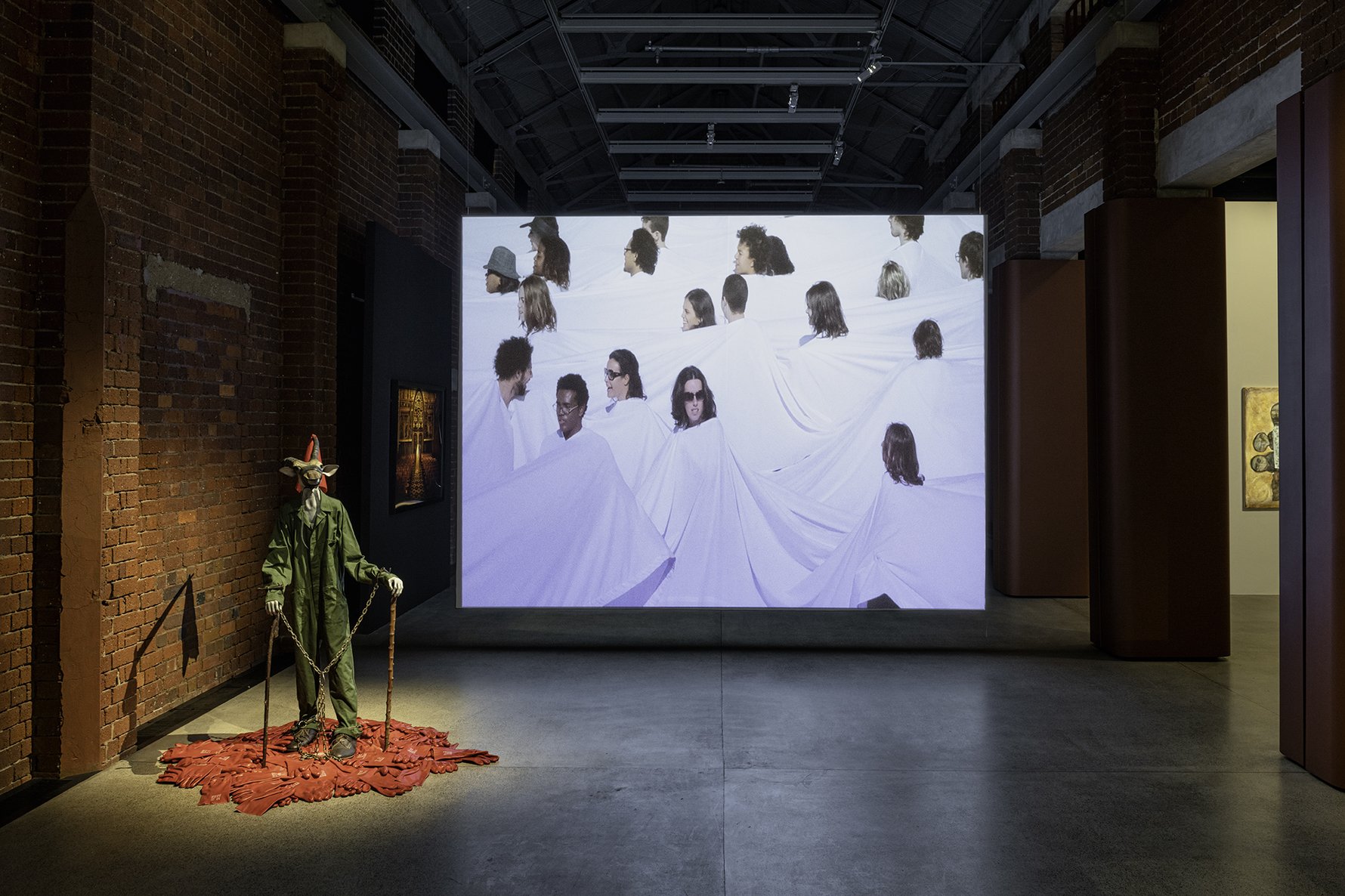 From here the exhibition segues into an expression of the cyclical nature of pandemics and society's response to them, diving deeper into the nature of life in limbo and our acceptance of the constant nature of change. The time of masks in which we live is by no means new, and neither is humanity's constant need for human interaction.

Paintings and engravings that refer the deathly spectres that loomed across previous pandemics such as the Spanish Flu and the Plague, start a thread that flows into the installation of Brazilian artist Lygia Clark's Máscaras Sensoriais (sensorial masks) from 1967 and a powerful work by Jane Alexander Harbinger in correctional uniform (2006). Lygia Pape's 2010 performance of Divisor (Divider) (1968), a flowing mass of white fabric with a sea of faces poking through, is a moving summation of these themes, a mesmerising vision of people connected and moving as one, but without the ability to touch one another. 

There are many other works that tug and pull at the emotions that have swirled through all of us during this most devastating period of the pandemic. The nature of memory and commemoration, the reminder that life is precarious and the process of change and the rituals we carry out to mark them are all richly referred in remarkable works by artists from Sudan, Mexico and the African diaspora, including Kapwani Kiwanga's installation from the award-winning Flowers for Africa series.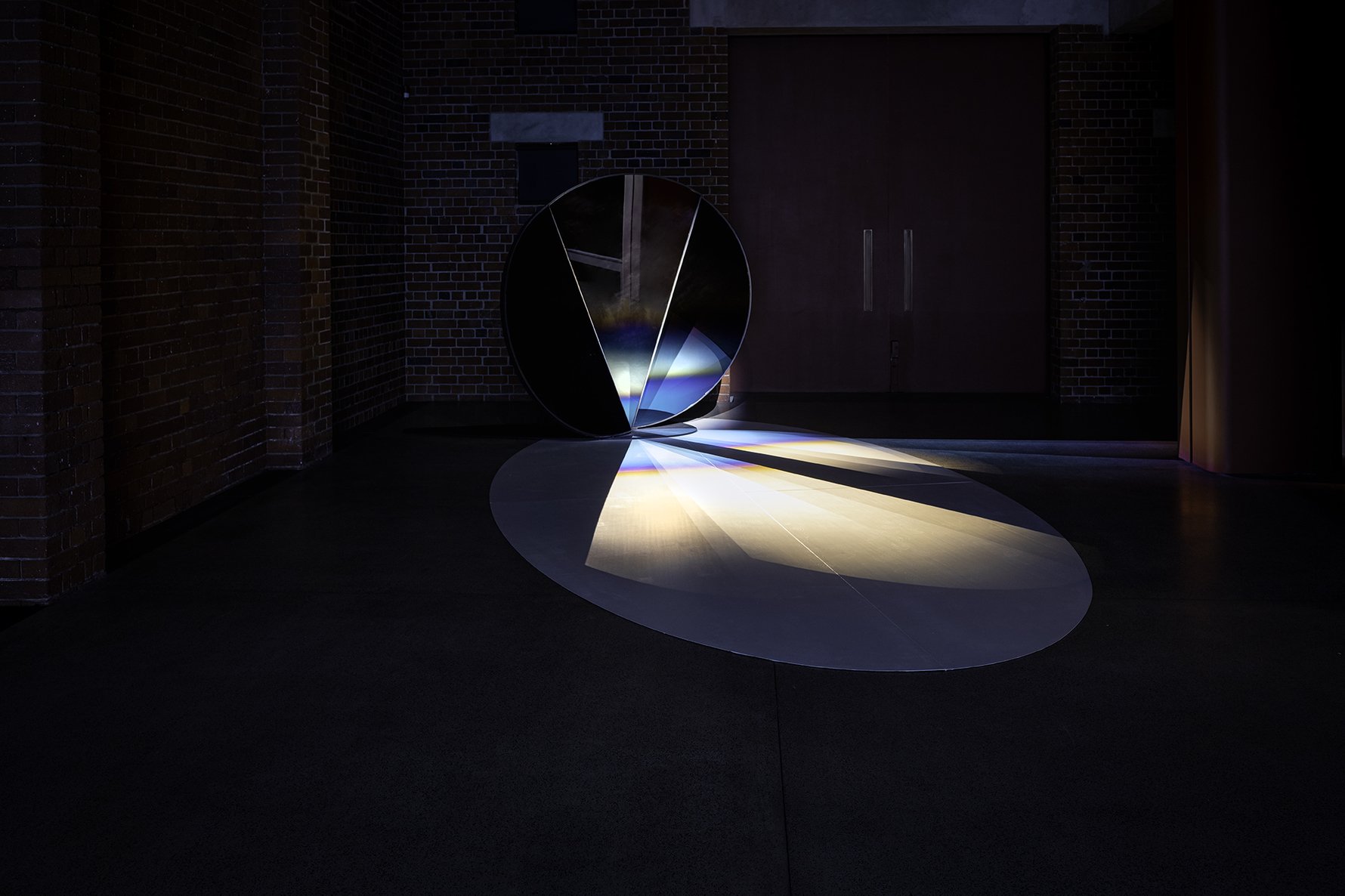 The exhibition reaches its crescendo with a series of performative images, installations and films bathed in gold by South African artist Berni Searle whose work powerfully highlights the ingrained narratives of history, identity, memory, and place in South Africa's post-colonial context. This final section of this glorious exhibition positively glows.

Searle's work Shimmer comes together with a dazzling mirrored installation by architect Sumayya Vally/Counterspace (whose work is currently on show in London, where she was commissioned by the Serpentine Gallery for its annual architectural pavilion). Shimmer presents a memento mori to the actions of the past. Elephant bones are fringed with gold leaf, a whirling wave of glittering gold constantly in motion drips across the walls, the national anthem of the Congo marches on, while alongside this light shines off Sumayya Vally's mirrored installation like the traces of toxic chemicals in the water leaking off a Joburg mine dump.

More than a collection of artworks, this magnificently curated exhibition is a richly stimulating journey that you will want to give yourself plenty of time to absorb.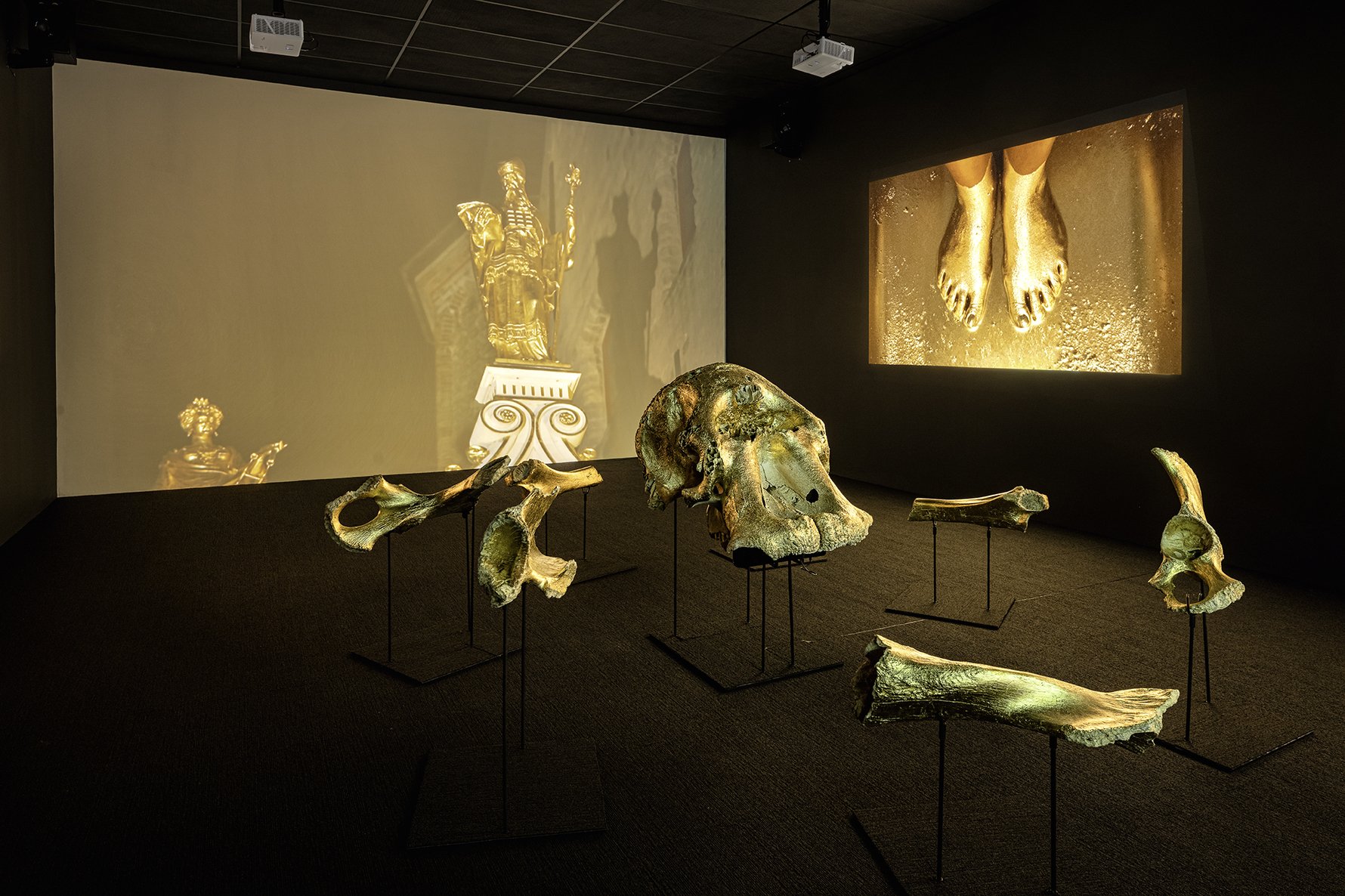 How to visit
The Joburg Contemporary Art Foundation is free to visit, but you must book your visit online in advance. JCAF places a firm emphasis on technology that supports visitors' experience of art – visitors can take advantage of the JCAF app to guide themselves around the space and explore the stories behind artists showcased in more detail. Even better yet JCAF offers a guided tour of the exhibition, which we highly recommend.

Book your visit to the JCAF online at jcaf.org.za. The foundation is open 11:00-17:00, closed Sun, Mon.