This lively open studio weekend is back on Saturday May 28 and Sunday May 29, and is the biggest edition yet with seven artist studio collectives across Johannesburg taking part, and including more than 100 artists.

Open Studios Joburg offers an opportunity to meet the artists, explore their studios and buy works directly and is a lively social occasion with a variety of different activations, exhibitions and other art happenings taking place at the participating studios. It's also the chance to explore some inspiring artistic spaces that are not always open to the public.

There are seven main venues taking part, with additional partner venues, and the open days spread over the weekend meaning that on both Saturday and Sunday you can explore a different art corner of the city.
Saturday May 28    
Saturday's programme sees Open Studio days at Bag Factory Artists' Studio in Fordsburg, Transwerke at Constitution Hill, LAPA Residency and Shade in Brixton. It also includes Charlie & Gerald's Town Treasure, a fantastic Edwardian heritage property on Fox Street that will open as a pop-up space for refreshments, with works by local artists for sale.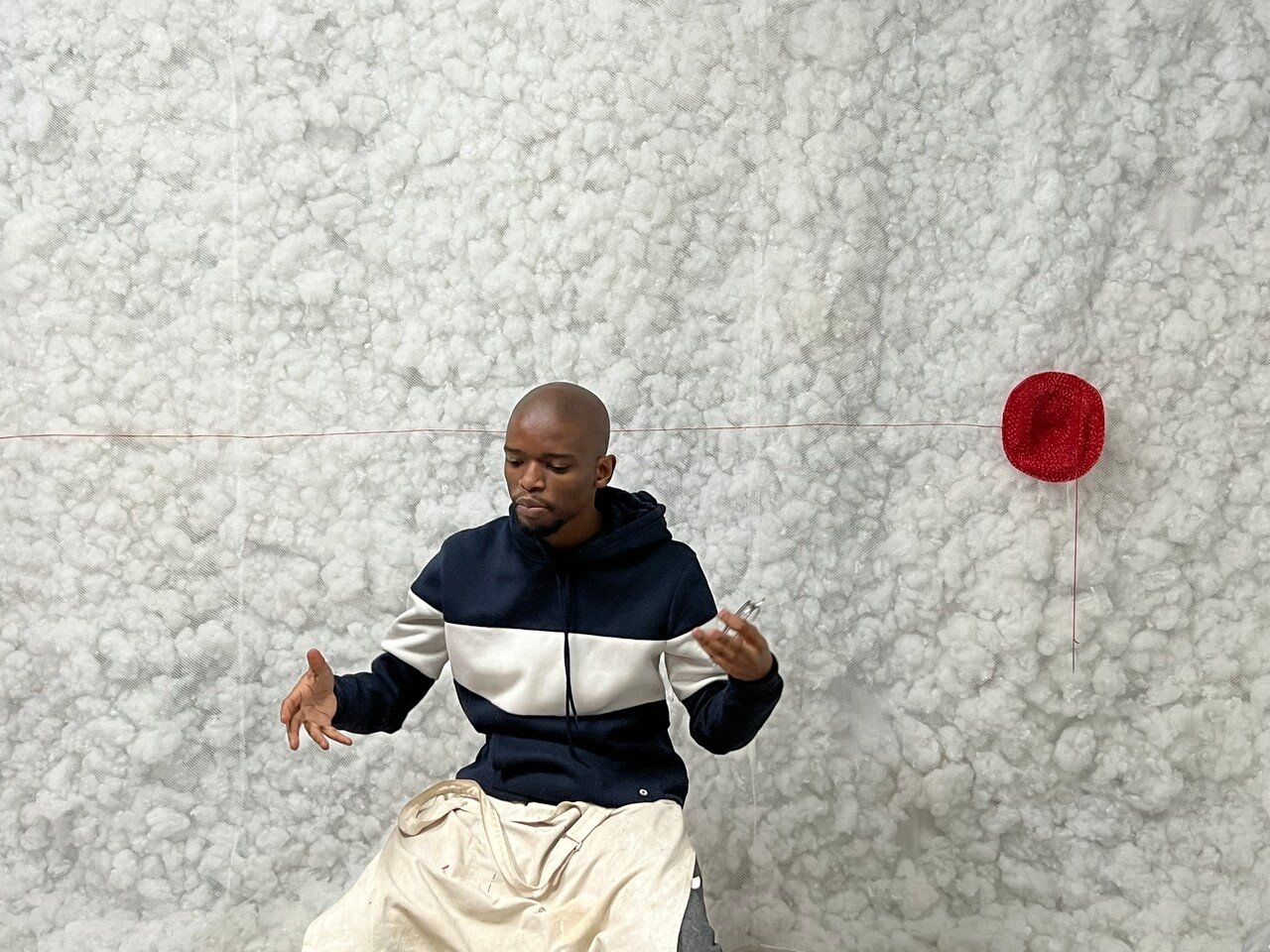 BAG FACTORY is one of Joburg's longest-running studios with 18 studio spaces occupied by a variety of emerging and established artists as well as visiting artists taking part in residency programmes. Events happening at the studios on the Saturday Open Studios day include:
The Salon Popup, an art sale featuring work by artists who have been part of the Bag Factory community through the years.
Gallery Exhibition In the Bag Factory exhibition space a solo show by artist Kenneth Shandu, curated by Rohini Amratlal is on show. 
Film screening Look out for art film screenings taking place at 11:00 and 13:00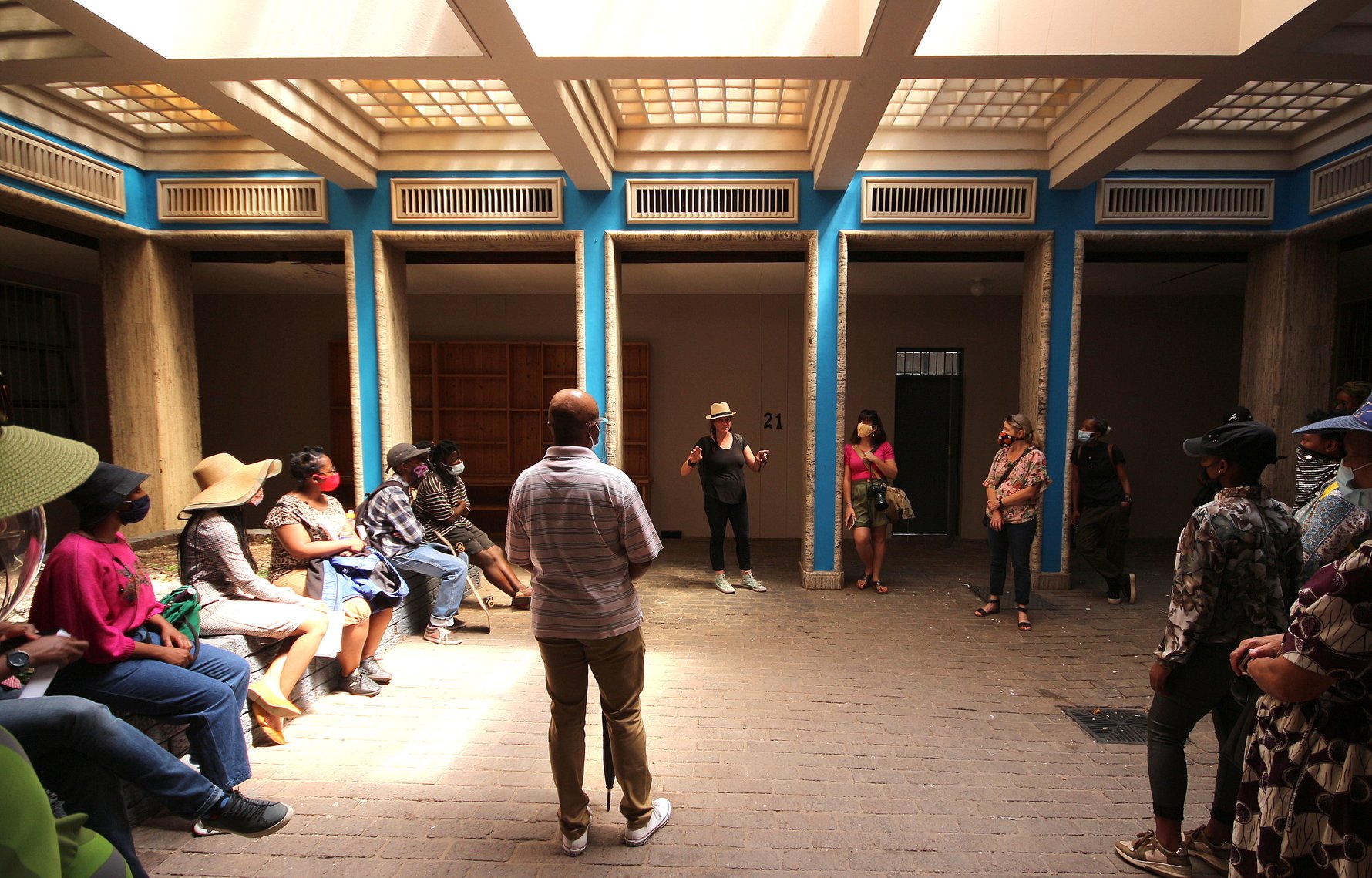 TRANSWERKE is a once-grand Art Deco building that used to be a maternity hospital and later nurses' accommodation. The building was long derelict but recently has been revived as part of the Creative Uprising movement at Constitution Hill and now the former apartments are being rented out as artist studios and workshop spaces.

Events happening at Transwerke as part of Open Studios Joburg include World of Words,  a poetry performance at Transwerke from 11:00. Hailed as "the Freshest Poetry Session in South Africa", World of Words actively seeks to host poetry performances in unconventional spaces. Poets taking part include Ashley Moyo, Lethu Nkwanyana, Thando Mkhungo, Accolade Motha and Nomfundo Khambule.

SHADE.BRIXTON is partner venue. This experimental exhibition space and art community (or "project space for psychological groceries" as they refer to themselves) occupies what was once an old-fashioned corner shop. On Saturday Shade opens Playce (15:00-19:00), a new group exhibition featuring works by Malawian-born and now Brixton local, the magical map-maker, Benjamin Mndau; works by the Shade Youth Art Programme; the Brixton Photo Collective; and, and a prototype VR experience collaboration created as part of #DesignFutureLab.​​​​​
Sunday May 29
On Sunday all attention turns east to August House in New Doornfontein, Ellis House and Living Artists Emporium in the Ellis Park Precinct, and to Victoria Yards.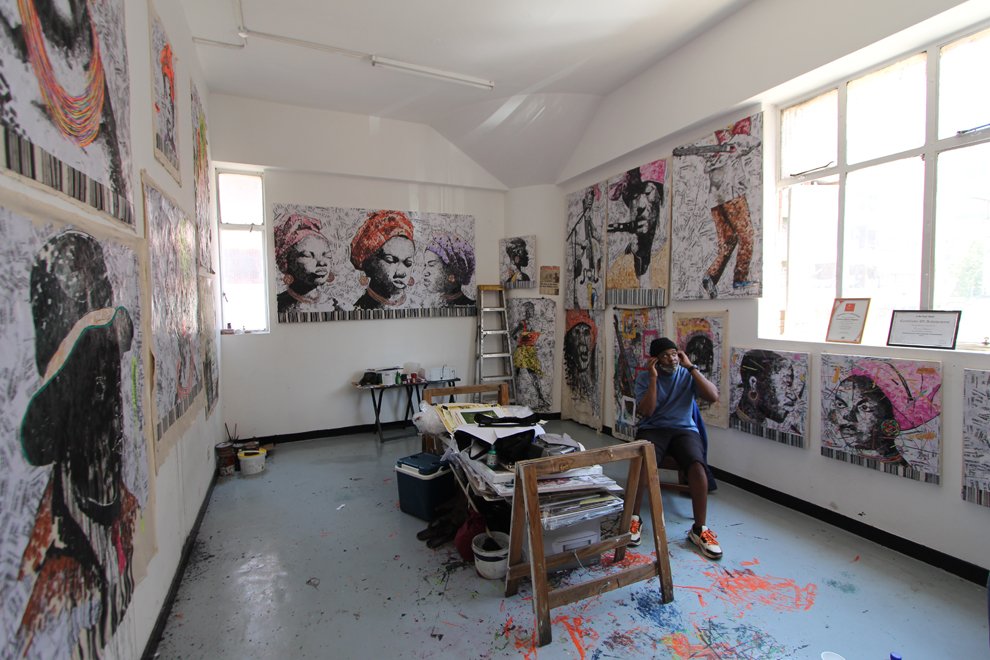 AUGUST HOUSE is home to more than 50 artists and is one of the biggest artist studio collectives in the city. Make sure to head to the rooftop during your visit to enjoy great views of the city. Highlights of the eclectic Open Studios programme at August House include:
Broken Telephone walkabout, where renowned art critic Ashraf Jamal leads a walkabout at 12:00 of this group exhibition curated by Olwethu de Vos.
Too many dinner parties – a relational conversation. At 14:00 Ashraf Jamal leads a walkabout of this group exhibition curated by Meta Foundation Director Sara Hallatt.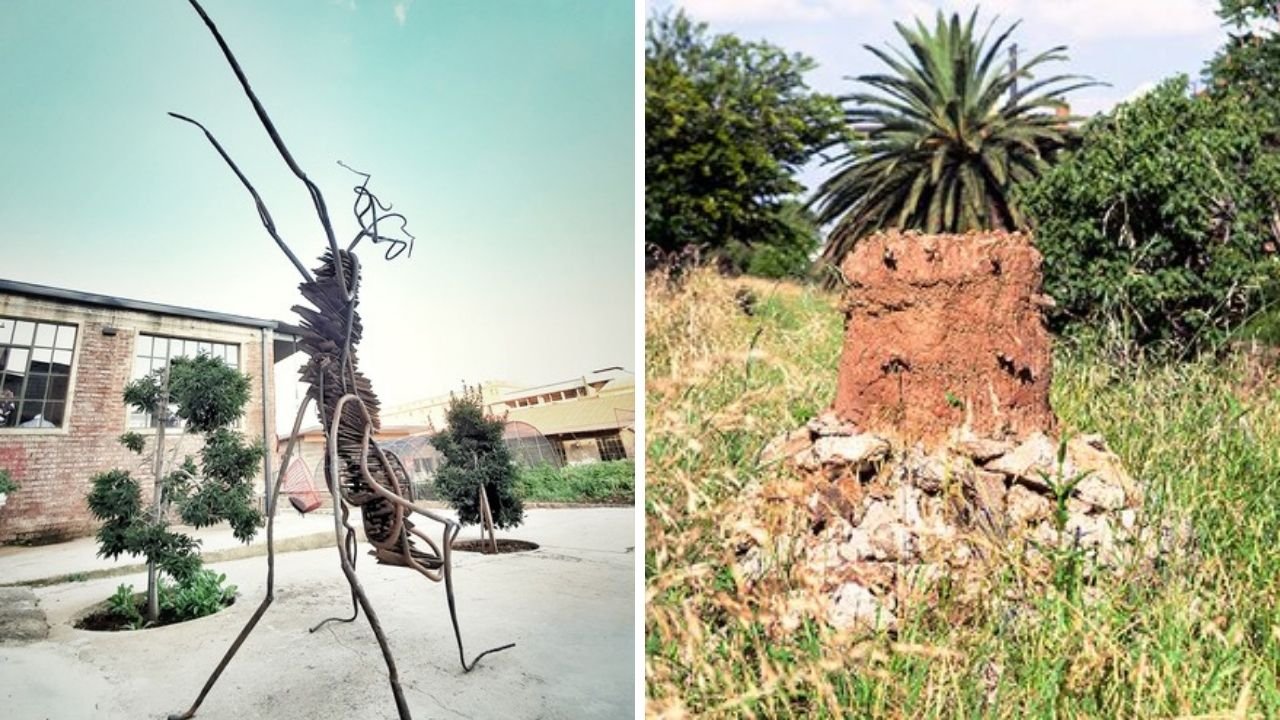 VICTORIA YARDS in Lorentzville is home to the studios of a number of well-known artists including Blessing Ngobeni, Hannelie Coetzee and James Delaney, as well as art galleries and workshops, a bar, coffee shop, and a great fish and chip takeaway. On Sunday there are two walkabouts to join.
Walkabout with Hannelie Coetzee. From 11:00 artist Hannelie Coetzee leads a walkabout of her new sculpture installed at Victoria Yards, the three-meter-high "The Praying mantis". Made from mild steel and wood the eco-artwork is also a research piece intended to study the process of urban insect fragmentation. In her talk the artist will elaborate on what regenerational artworks are and how they are contributing to sustainable futures.
Walkabout with Io Makandal From 15:00 artist Io Makandal leads a walkabout of the living sculpture titled "Extant Rewilding" (2021-ongoing), installed along the river that runs past the Victoria Yards complex. Made from concrete debris, sand, clay, soil and seeds, the work symbolizes the relationship between living and dying.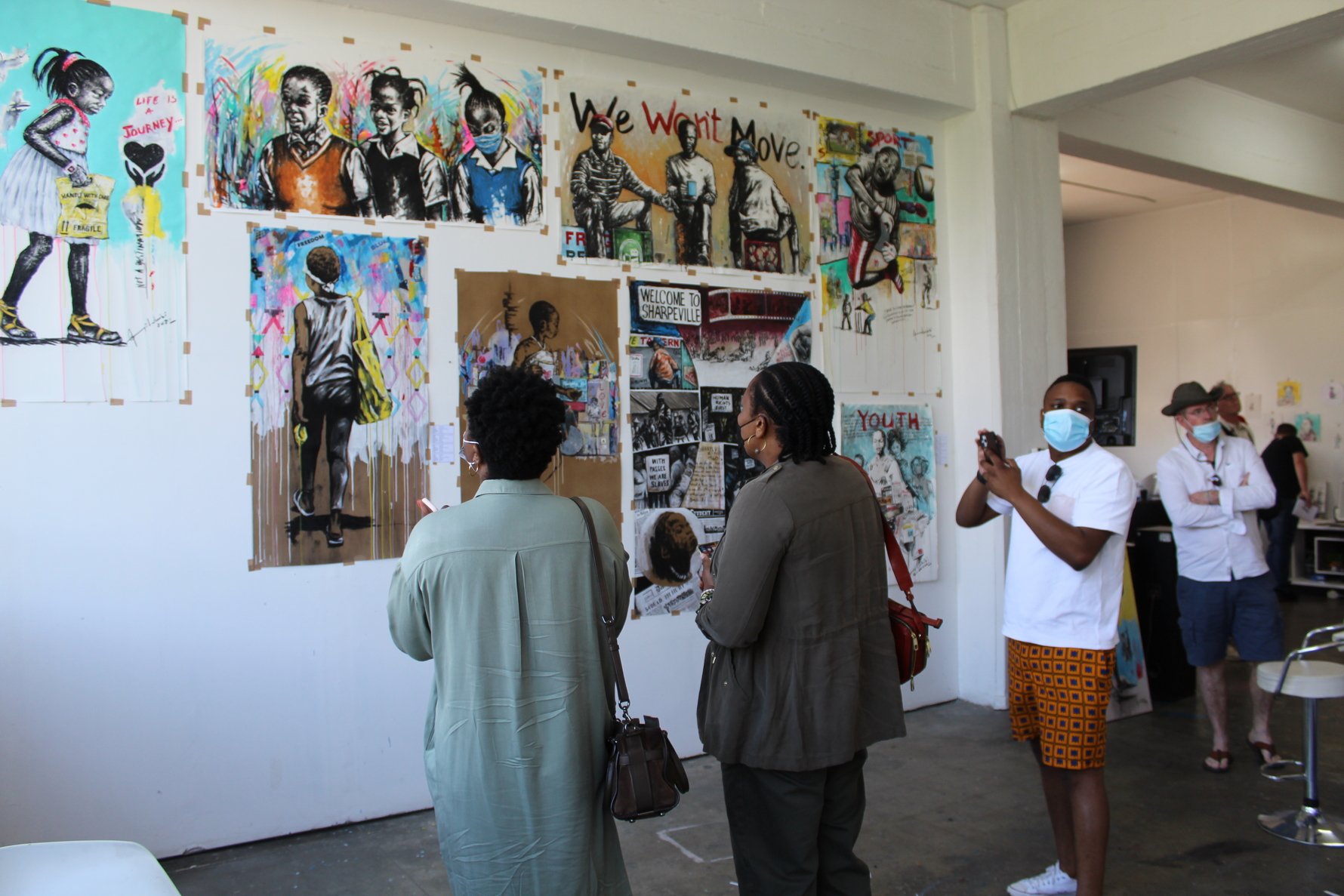 ELLIS HOUSE in the Ellis Park Precinct is the studio home of more than 20 small and large artist studios spread over several floors. 

LIVING ARTISTS EMPORIUM is based inside the old Ellis Park tennis club and showcases an eclectic selection of works by local artists.
OPEN STUDIOS JOBURG OFFICIAL AFTER PARTY!
On Sun May 29 keep the art party going by booking a ticket for the official Open Studios Joburg after party. Taking place from 15:00 to 21:00 on a hidden rooftop in the middle of Judith's Paarl (east of Victoria Yards) that is not ordinarily open to the public, the party features DJs Castro and MamaZap, street food stalls and drinks and cool city views. Tickets for the after party cost R100 and are available online here.
GETTING THERE AND AROUND
Entrance to all Open Studios is free, but you must register on Quicket to attend.

To get around easily from one venue to another there is a free shuttle bus running between the different venues on Saturday and Sunday. Find out more and register here. Please note that that the number of people who have registered to attend this event is big, and that you might experiences some delays with the free shuttle system. For parking information see OpenStudio.joburg.