Qbar by Quoin Rock is the latest gilded addition to a series of upmarket restaurants and bars at Oxford Parks. In this highly walkable precinct in Rosebank, you'll find a plush wine bar bringing the Cape wineland experience to Joburg. 

The bar, menu, and decor are all designed to showcase the wines, with a selection of small plates to accompany but not overshadow the wine. Three Quoin Rock sommeliers relocated from Stellenbosch to provide a detailed curated experience for Joburg wine enthusiasts.

At our visit we were greeted by sommelier Amos Sobashe – previously head somm at Gåte Restaurant, on the Quoin Rock farm in Stellenbosch. With almost a decade's experience, Amos passionately explained each wine with rich sensory details. 

Quoin Rock is unlike most wine estates. They do not sell wine in retail stores. In fact, their modest production results in just under 100 000 bottles a year which is why the Qbar experience is so special – it's an exclusive tasting of limited releases you can't find anywhere else. The short wine list includes a white blend, chardonnay, red blend, shiraz, and MCC, as well as a few bottles from their neighbouring estate Knorhoek – 500m down the road from Quoin Rock.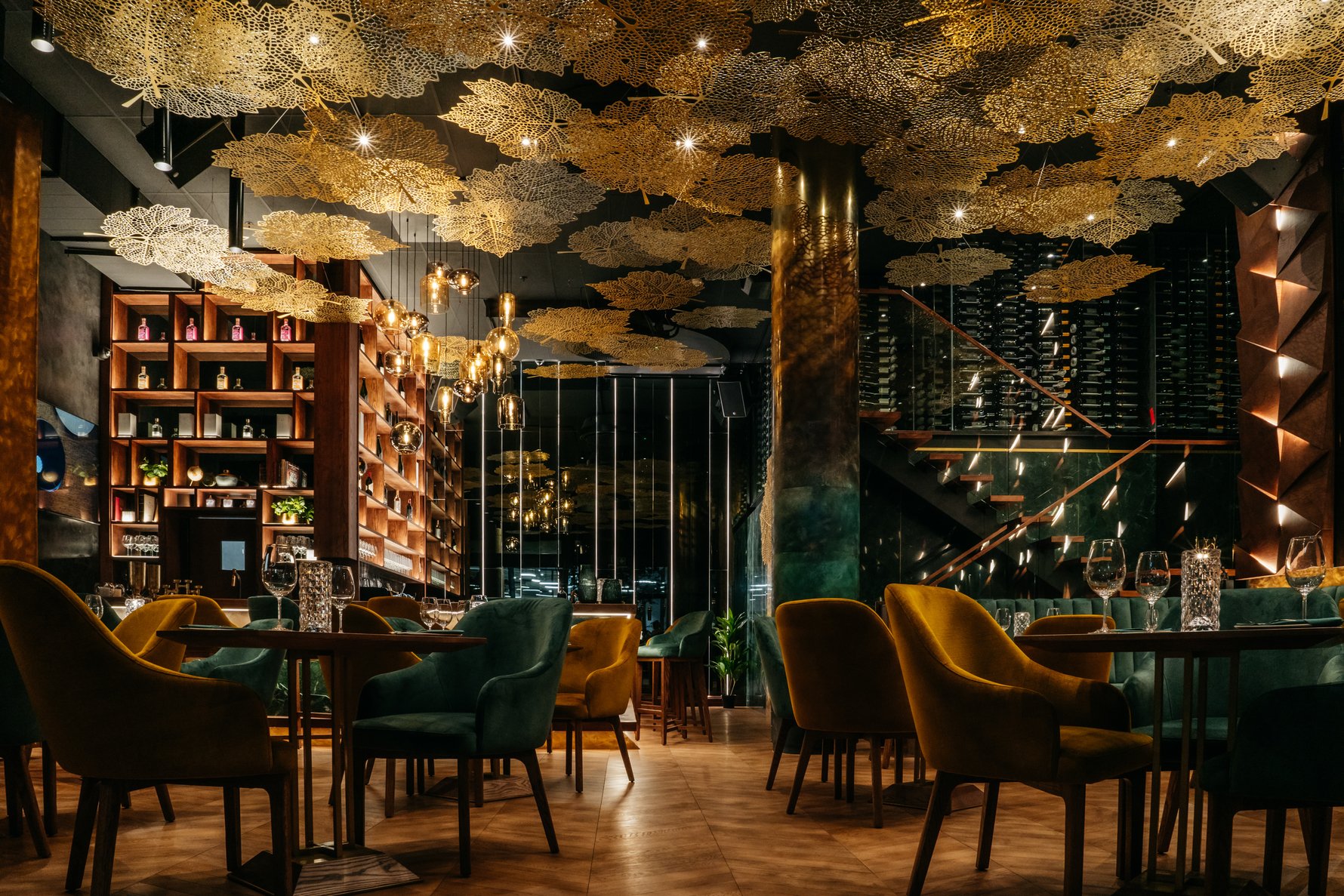 A glass of vino at Qbar is expensive, ranging from R165 to R300, but it's an experience with meticulous attention to detail. From a personalised sommelier service to the gilded cabernet sauvignon leaves adorning the ceiling, it feels like every element in the bar was carefully curated. 

We were lucky enough to taste a full flight of Quoin Rock wines starting with what turned out to be our favourite of the day – the white blend. Made from 100% sauvignon blanc from two farms, the wine had a crisp, saline quality without the abrasive green pepper notes common to most sauvignon blancs. To accompany the whites, Head Chef Brenden Fouché served the 'dirty bird' – crispy fried chicken goujons with sesame seeds and a soy ginger glaze.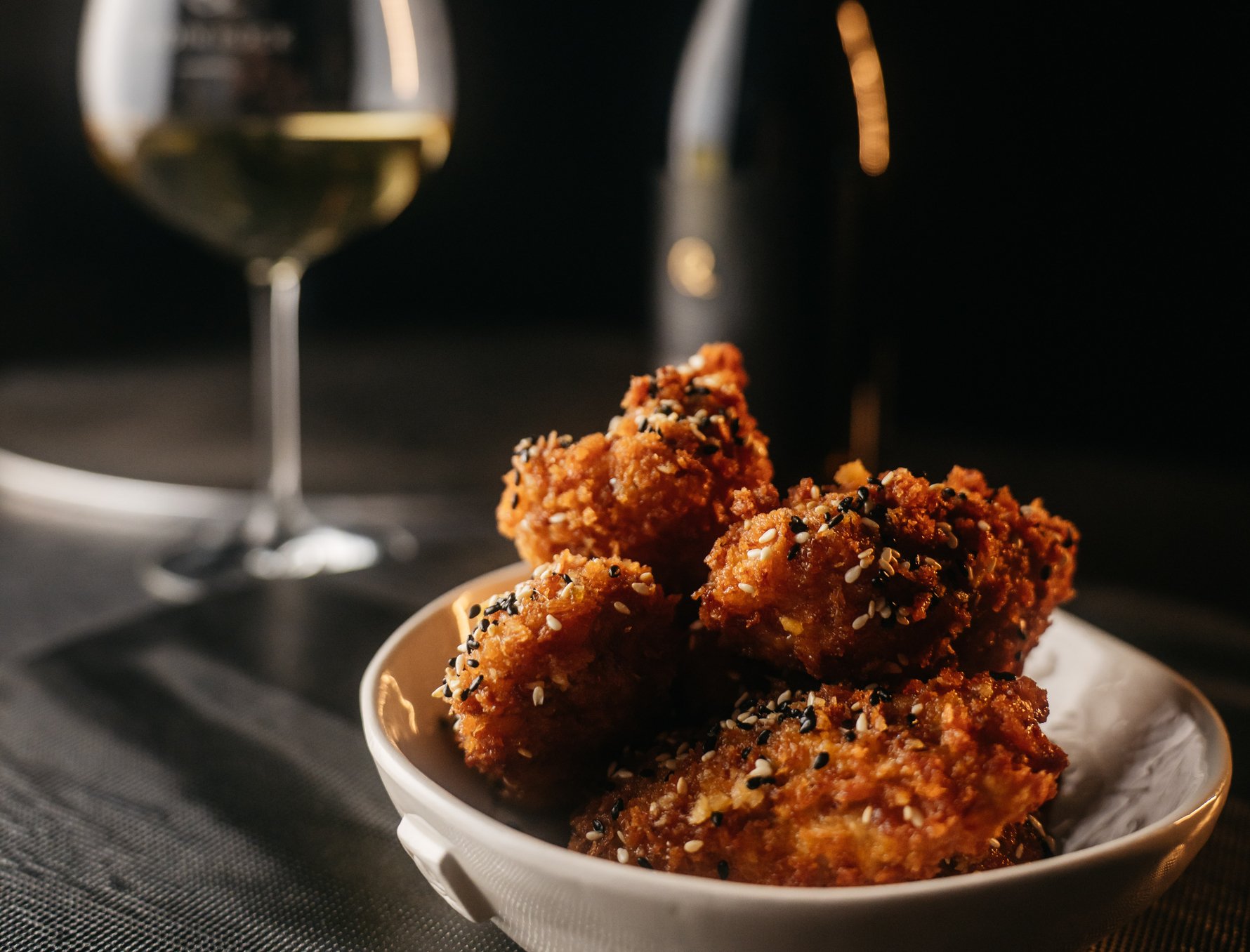 Chef Brenden explained that most of his dishes incorporate just three main ingredients with subtle Asian flavours to create depth but not overpower the wine. Since Qbar opened on Oct 1, Chef Brenden has changed the menu three times (because we Joburgers love our meat) so he's added a few steak dishes to accommodate our demand for red meat. 

We're lucky he acquiesced to our demands because the c-grade beef fillet is simply delicious. Wet-aged steak is served tataki-style with a blended chimichurri and miso salt. The richness of the steak paired perfectly with Quoin Rock's rich and robust chardonnay.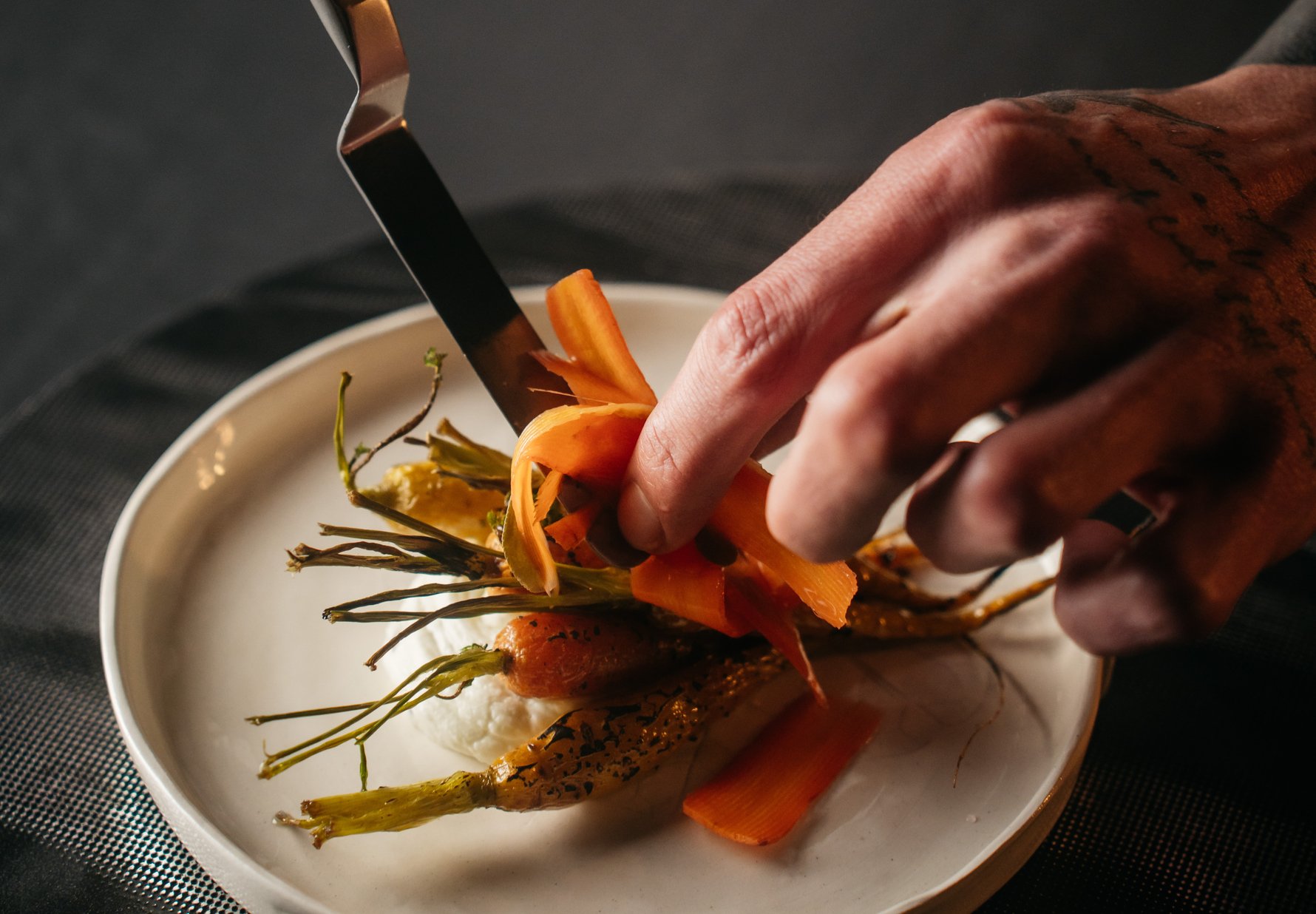 The red wines were accompanied by a stunning beetroot galette with baobab labneh. Chef Brenden cooks down Quoin Rock's red blend to form a sticky wine reduction. Super thin slices of beetroot are layered with the reduction and topped with a date puree and dollops of labneh. 

To end the meal, we savoured a chocolate peanut butter tart with a glass of Quoin Rock vine dried – a dessert wine made from 100% sauvignon blanc. Amos explained how select sauvignon blanc vines are pinched to concentrate the sugar. Stressing the vines diverts the water channels so less water reaches the fruit. The resulting wine is a careful balance of acidity and sweetness and the perfect end to our tasting. 

Qbar is open throughout December excluding Mondays and public holidays. Their wines are only available to purchase at the bar or online. 
GET THERE WITH GAUTRAIN
This attraction is within close walking distance of the Rosebank Gautrain Station. See our guide to the Gautrain here and download the Gautrain app for real-time updates on when the next Gautrain and Gautrain midi-bus is due. Visit www.gautrain.co.za for more information on the timetable and fares. #YourGautrainJourneyStartsHere