Bryanston Market is Joburg's original outdoor market. In existence for more than 40 years, it specialises in selling a superb range of organic foods and health products and beautiful traditional arts and crafts that are all proudly ethically sourced and eco-friendly. This is hands down one of the best places in Joburg to shop for local artisanal gifts.

Unfortunately, the market is not allowed to operate during lockdown, although you can order groceries online for delivery or collection (find out more here). This means that the market's many talented crafters currently have no source of income.

However, there will be a post-Covid world and Bryanston Market, with its eco-conscious and sustainable principles, is one of the many Joburg places that we look forward to enjoying again after lockdown.

While we wait for the market to reopen, buying a Bryanston Market gift voucher is a great way to support traders through lockdown and give you something to look forward to after lockdown. Vouchers are valid for three years and can be bought online here.

Here's a look at just some of the many beautiful things you can buy after lockdown with your Bryanston Market gift vouchers.
Hand painted gift cards by Michael Unga Ekandji
A gift card with a difference, Michael Unga Ekandji's handpainted gift cards are little artworks with vibrant colours and references to traditional African art. Ekandji was taught by his father to paint in 1994 and his favourite mediums include acrylic and oil paints.
Decorations by The Sonika Collection
The Sonika Collection was founded in 2008. Each one-of-a-kind piece is cast, hand-painted and glazed locally, with recurring themes including the baobab tree (considered sacred in many African cultures) and South Africa's wildlife. She also specialises in tableware painted with patterns inspired by a variety of African cultures. Sonika Nayar encourages visitors to view each piece as "a journey of self-discovery rather than see the piece as a novelty."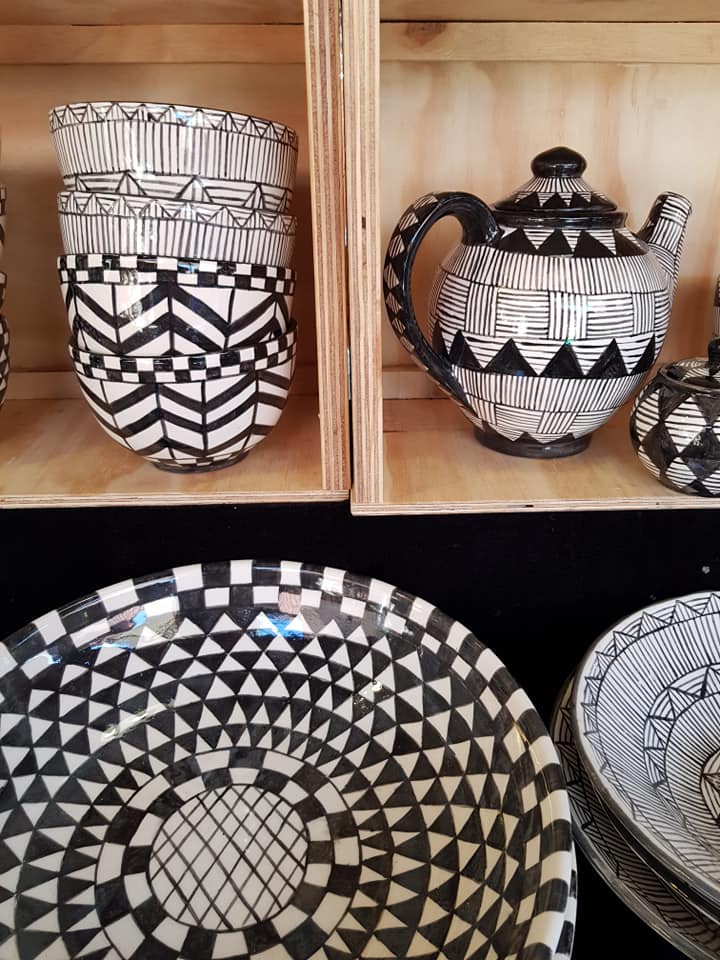 Ceramic Design & Artwork
Renowned, multi award-winning ceramic artist Peter Mthombeni's stall is one of the most eye-catching in the market. Known for his stylish and colourfully glazed crockery sets, decorative pieces and statement tableware, his unique ceramics can be found in collections of the Gallerie II Venturio in Belgium, the Toronto Museum, Pretoria Art Museum and Johannesburg Art Gallery. 
Hand-painted ceramics by Infinite Design
Infinite Design's handmade, hand-painted ceramics feature intricate textured detailing with quirky designs that make perfect housewarming gifts like this cool African mask-inspired wine cooler that master craftsman Bheki is seen painting here.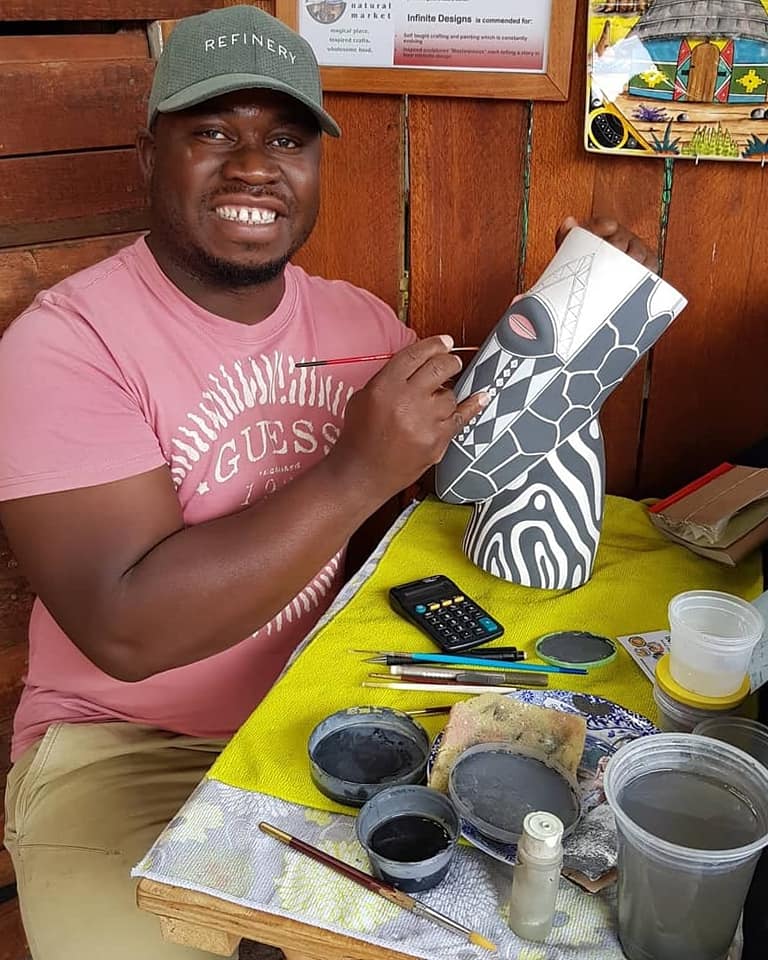 Handmade candles by the Candleworks
The Candleworks specialises in individually made hand-crafted candles, using the finest waxes, and essential oils and fragrances, as well as beautiful handmade bamboo candle holders.
Handwoven Zulu basketry from Ubuntu Crafts
Ubuntu Crafts specialises in colourful traditionally hand-woven Zulu baskets and also makes an array of toys and other decorative pieces such as photo frames and windchimes.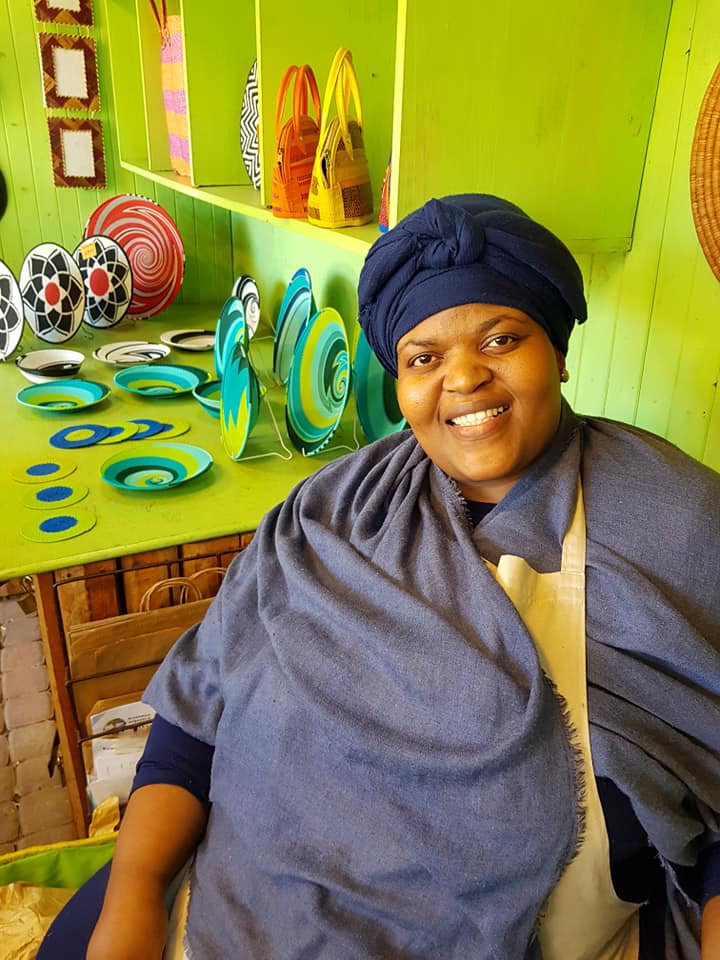 Margaret Nokothwane's Ndebele beadwork
Margaret Nokothwane has been making and selling her traditional Ndebele beadwork since 1980. She makes bracelets, necklaces, beaded aprons, traditional Ndebele dolls, and other ornaments and also has a wealth of knowledge to share about the traditions of the Ndebele culture. 
Beadwork from Rainbow Artz
Rainbow Artz was co-founded by three brothers who each specialise in constructing amazing creations from wire and beads and from recycled materials. They also offer custom-made services.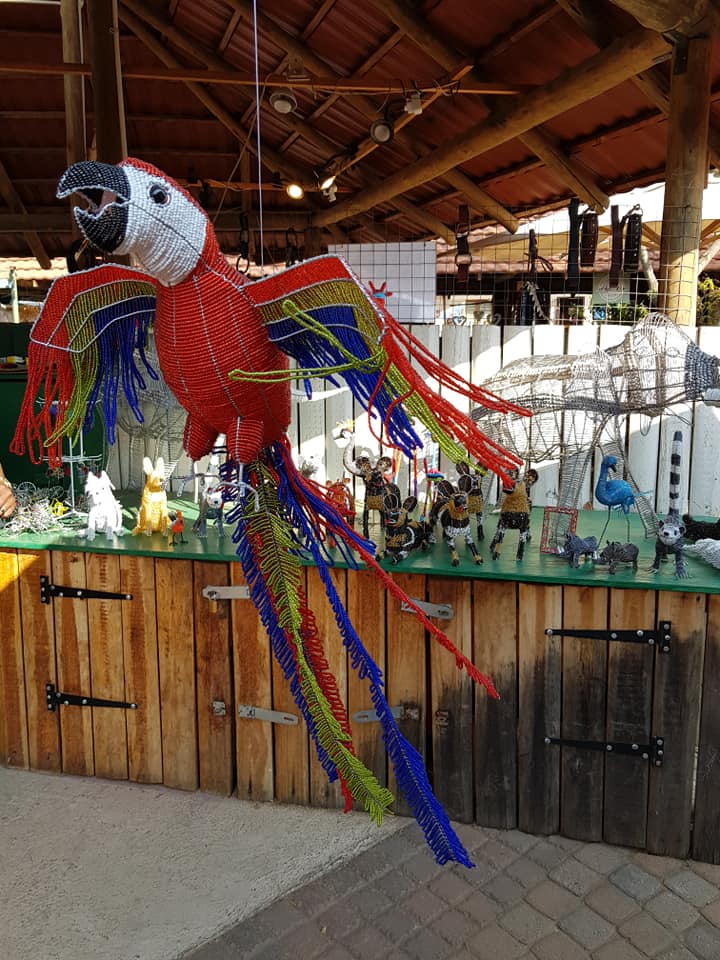 Birds Of Paradise 
Khulasni's remarkably delicate and whimsical birds of paradise are lovingly handmade from clay, wood and seed pods and are among the most instantly eye-catching of the many distinctive gifts that can only be found at Bryanston Market.