As you might suspect, Poland has a whole series of customs and traditions surrounding Easter, which range from pious to playful, to downright pagan.

As a deeply Catholic country, Poland takes its Easter ('Wielkanoc') celebrations very seriously. In fact, this is arguably the most important holiday of the year for devout Poles, but also an important time to spend with family for all Poles, regardless of their religious views. As such, you can expect bars and restaurants to be largely empty of locals or completely closed from Good Friday to Easter Sunday (April 10-12, 2020); shops are typically closed on Easter Sunday and Monday (April 12-13, 2020), which are official holidays.
Denoting the beginning of the Easter holiday season you'll see traditional handmade 'palms' for sale on Kraków's market square, particularly during the annual Easter Fair (March 29-April 8, 2020) in the days before Palm Sunday (April 5, 2020) - the Catholic holiday so named for the palm branches laid on the ground before Jesus on his entrance into Jerusalem. As the Polish climate isn't particularly conducive to palm trees, Polish Catholics invented their own 'palms' - essentially elaborately handwoven wands made from a variety of dried flowers and plants. Rather than trample them however, Poles take their palms to church on Palm Sunday, in order to have them blessed before they decorate the home for the season.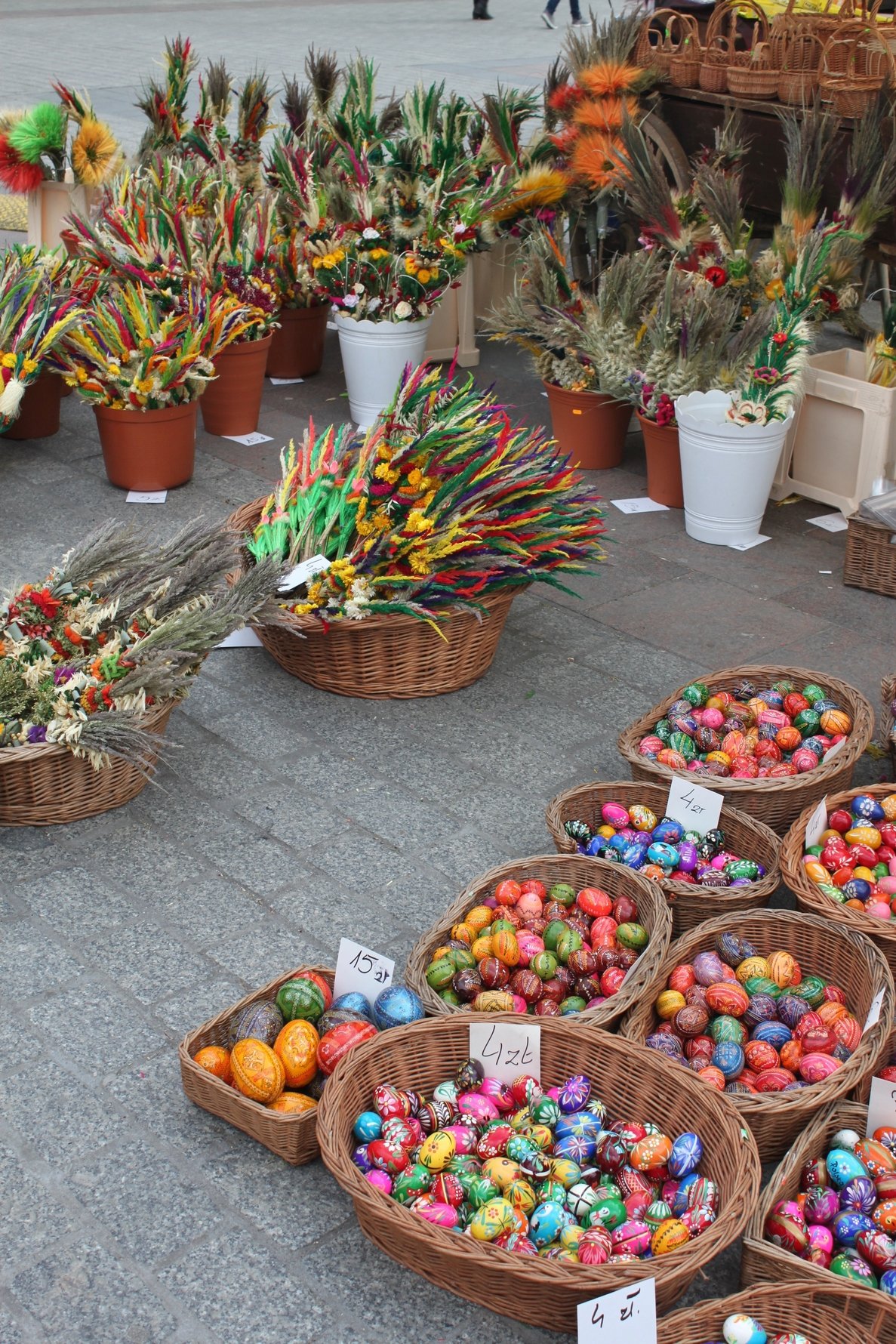 If you are in Małopolska on Palm Sunday, consider a trip out to the village of Lipnica Murowana, 30km east of Kraków, where an annual palm competition keeps the folk tradition of making these decorations alive and well. Each year some 15,000 people gather in the tiny town to enjoy the festival atmosphere, see palms that reach heights of over 30m, and have their own palms blessed in a morning mass service on Lipnica's market square. [Another reason to make the trip to Lipnica is the UNESCO-listed St. Leonard's Church - one of Małopolska's oldest and most beautiful wooden churches.]
As any true Polish mother will attest, you can't bring an Easter palm home to a dirty domicile, and the week leading up to Easter Sunday is traditionally a time of spring cleaning, as well as attending mass (again on Thursday to remember the Last Supper, and on Good Friday to attend stations of the cross). Easter eggs - known as 'pisanki' - are also hard-boiled, dyed (traditionally with onion skins) and hand-decorated by families in the lead-up to Easter. On Easter Saturday (April 11), these eggs are added - along with other small portions of food that will be eaten the following morning: sausage, bread, salt, beets, horseradish, and a symbolic ram made of dough - to traditional Easter baskets and taken to church to be blessed.

In the evening keep an eye and an ear out for orderly crowds walking through the streets crying "Hallelujah! Hallelujah!" Known as 'Rezurekcja' (Resurrection), this processional mass often features torches, tall crosses and loud speakers, and held  either Saturday night or Easter morning depending on parish tradition.

On the morning of Easter Sunday (April 12) - the most important day of the entire 'Wielki Tydzień' (Great Week) - families gather together for the Easter feast. With the dough ram on the table to symbolise Christ's resurrection, before the meal begins each person takes a small wedge of the blessed egg and exchanges wishes with the other members of the family, before capping it off with a big 'Hallelujah' and digging in. The Easter morning spread is usually a smorgasbord of cold dishes, including cold cuts of sausage, ham and pate, potato salad and beets, and pickled herring. While the only hot dishes traditionally served are 'żurek' (Polish rye soup) and white sausages, there are of course plenty of desserts, including 'mazurek' (a decoratively iced dessert pie), 'makowiec' (poppy seed cake) and cheesecake.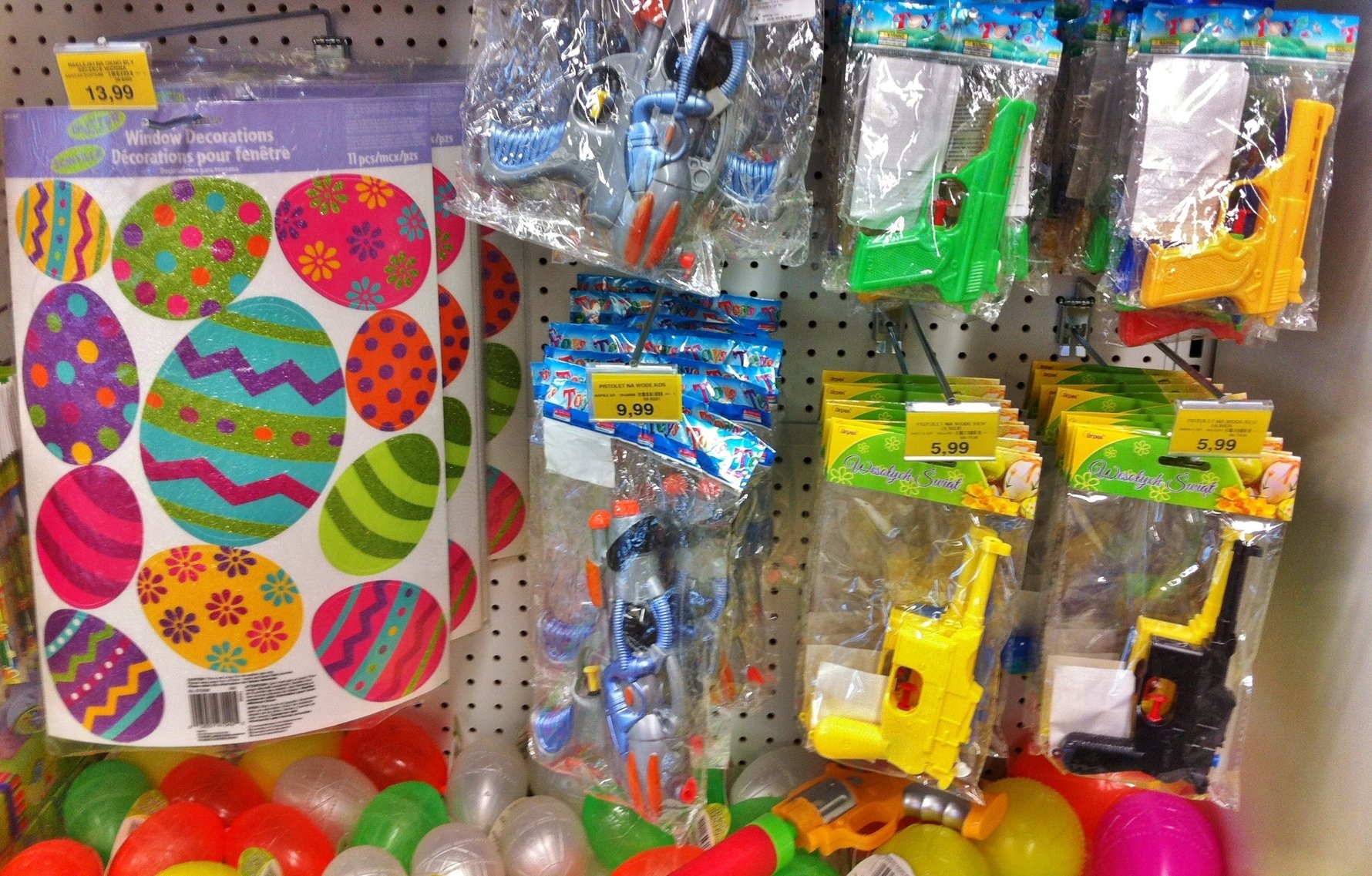 Although decidedly bunny-free, things do finally take on a more lighthearted air on Easter Monday (April 13, 2020). Known as 'Śmigus Dyngus,' the day is dominated by public water fights and everyone is given carte blanche to drench anyone they see with water. As a foreigner, you are not exempt from this practice, so move fast if you see someone armed with a water pistol or bucket and a grin. Although it's never pleasant to have a jug of water thrown over your head, this is an improvement over the past when young people were beaten with sticks from Palm Sunday trees; apparently either will bring you luck.

Easter Monday is also an official day off, and seemingly every family in town heads to the Emaus fair in Salwator, a tradition which dates back centuries. Then, once most Catholics are safely back at work on Tuesday (April 14, 2020), the pagan pageantry of the Rękawka Festival unfolds around Krakus Mound with swords clashing and fires blazing. Happy Easter!

[Note that the Emaus Fair and Rękawka Festival have been officially cancelled for 2020. It is unclear at this time how the Coronavirus crisis will affect other Easter festivities.]