Contrary to popular Cold War-era conceptions of Poland as a forever-frozen concrete tundra, the seasons do indeed change, and it inevitably gets hot enough to melt the balls off a brass monkey here in summertime. When it's simply too hot to conscience keeping their clothes on, locals flock to Krypisnów Lagoon - a man-made reservoir and artificial beach conveniently located on the site of an old sand mine. Located next to the village of the same name only 12km from Kraków, and minutes from the airport, the Kryspinów lake comprises a total area of 64 hectares, over half of the shore around which has been cultivated into a beach and recreation area. With clean, quality-controlled water and soft, sandy beaches (four of them actually, one of which is lifeguarded), Kryspinów is first and foremost a great place to beat the heat and take a dip, or soak up some sunbeams and just relax. If you're the kind of person who just can't sit still at the shore (or maybe that describes your kids), Kryspinów also features dozens of attractions and opportunities for adrenaline-pumping water sports, plus numerous events and activities organised throughout the season. Here you can escape the oppressive importance of Kraków's historical monuments and just feel like you're actually on vacation.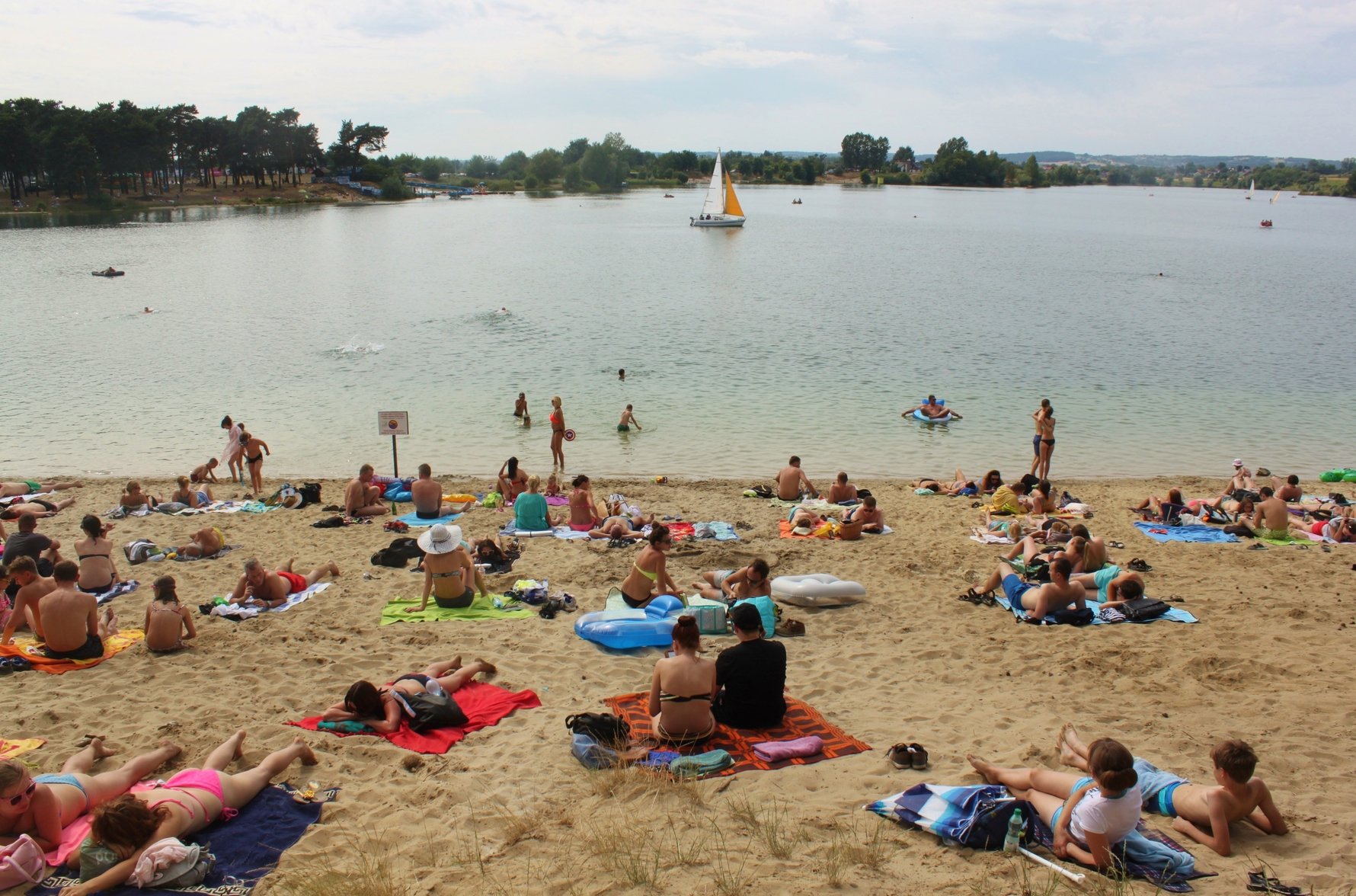 A popular complaint about Kryspinów has always been that it can be unbearably crowded on weekends; in fact we ourselves had been keeping our distance for this very reason, however our most recent visit (on a hot Saturday in July) proved this claim entirely untenable. The most popular areas are most certainly those along the oldest stretches of sand between the two bus stops, which includes (from west to east, starting at the main entrance near the 'Budzyń Plaża Główna' bus stop) the lifeguarded swimming area and 'Waterrr' attractions for kids, water equipment rental, basketball courts, water slide, volleyball courts, windsurfing school, ropes park and Hawana Bar. Despite its popularity however, that's still a very long stretch of sand - which you can probably infer just based on the number of attractions strung along it - and finding a place to decamp on the water is still possible if you don't insist on it being the first one you come to.

Investment and development in the last couple seasons has seen the total area for swimming and sunbathing at Kryspinów literally double, however, thanks to the opening of the new North Beach and Promontory ('Cypel') areas on the north side of the lake, stretching west along the shore from Karczma Rohatyna. This relatively new recreation area is still within easy walking distance of the 'Budzyń Zalew na Piaskach' bus stop, but far away enough to thin the herds considerably. North Beach has the freshest, cleanest sand at Kryspinów, and is close to a whole host of new attractions which keep the kids nearby, but make the beach itself feel almost reclusive. At North Beach's Cape Fun ('Przylądek Zabawy') your kids can enjoy bouncy castles, jungle gyms and obstacle courses - all of it safe and supervised, while the you sunbathe on the sand, or use the beach volleyball and tennis courts right there.

Students will want to wander even farther off to the Promontory ('Cypel') - a stretch of sand descending out into the water, which has a more mature vibe thanks to an outdoor stage and bar, which hosts concerts, salsa nights, DJ parties and even bonfires. Though essentially the furthest point to be developed along the shore of the lake, the Promontory has its own well-marked parking area, as does North Beach.

The company which manages Kryspinów claims that on hot weekend days after school is out, the lake can see up to 40,000 visitors. We've been among them, and though you can't expect to find your own private beach, you will certainly find a place to lay your towel without any trouble.

Access to the recreation area is paid from 08:00 - 22:00 (15/10zł, family tickets 30zł, kids under 6 free), but half-price after 18:00. Parking is 10zł/vehicle. The area also features a campground and guest rooms if you want to spend the night there; see their website - www.kryspinow.com.pl - for more details.

The season officially ends at the end of August, but Kryspinów will be open later if the weather is still hot. You can always check their Facebook page or call to confirm whether it's open if visiting after September 1st ((+48) 502 37 01 81).