Poles absolutely love ice cream, to the point that some Kraków ice cream parlours can stay open year round in high rent locales and still command long lines. The number of ice cream parlours in the high season is so out of control that if you're travelling with kids, you better have a plan or a special budget just for ice cream, because it will be in their faces at every turn, meaning they will be in your face begging you to buy some. Whether you have little ones or not, 'lody' - the Polish word for ice cream - is ubiquitous and resistance is futile.
What's so special about Polish ice cream?
Nothing really. Given the obscene amount of places selling it you'd think that there might be some kind of noteworthy local twist on this frozen dessert. There isn't. If you were to describe what specifically characterises Polish ice cream, it wouldn't be any special ingredients, flavours, consistency or serving method, but rather small scoops, a narrow field of flavours, lack of toppings and ridiculously long lines to get some. That said, standards are steadily improving (except for the long lines, which are only getting longer). In Kraków, the recent rise of local brand Good Lood has ushered in an era of increased portion sizes, natural ingredients and flavour diversity. If there's one trend in ice cream these days it's 'lody naturalne' - natural, hand-dipped ice cream. In Kraków you won't find many places serving ice cream made from powder in a machine, except maybe McDonald's.
Where Is the Best Ice Cream in Kraków?
As in life, so in lody: the longer the line, the better the ice cream. Right? Pretty much, but this seemingly sound logic doesn't always apply (Ooh, look at the line for this port-a-potty! said no one ever), and the Polish proclivity for standing in lines is often without reason. If you're an absolute ice cream addict, here are the top five places in Kraków you need to know about, followed by some honourable mentions.
1. Good Lood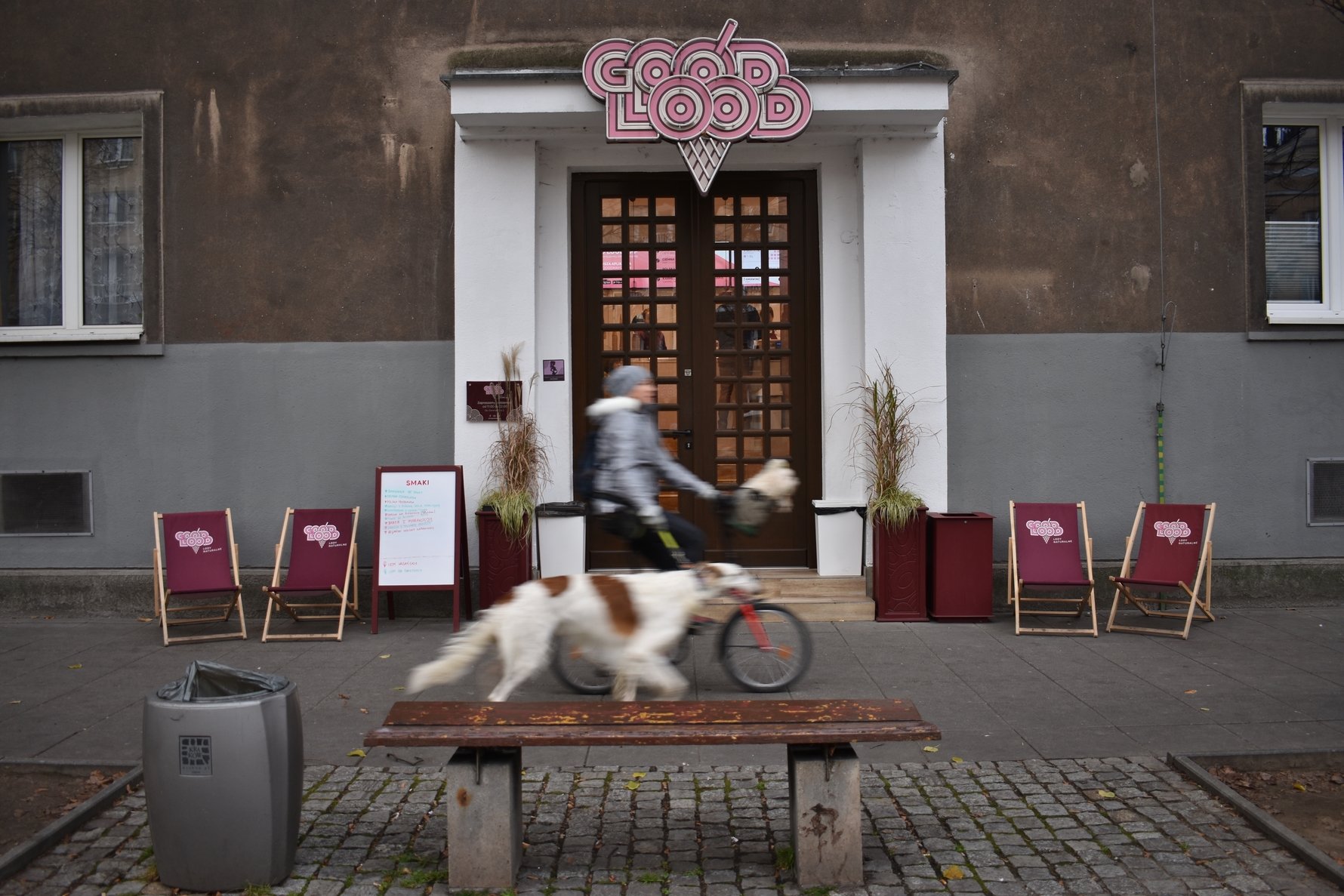 Look no further, this local brand has set the gold standard. And you won't have to look far because Good Lood is all over the city centre and present in almost every one of Kraków's neighbourhoods. What makes them so popular? Good Lood uses only local dairy products, fresh fruit and natural ingredients. They offer a diverse range of unique flavours (different every day, from Strawberry Basil to Nutella Pretzel), their portions are huge to excessive, and they'll even let you 'split' one 'scoop' between more than one flavour. Not only do they have a snappy logo, they also have a sexy app, which thousands of drooling daily devotees use to track the locations of different flavours and collect points, no joke. With over 16 locations in Kraków, Good Lood's popularity is best demonstrated by the fact that they have two parlours on Nowa Huta's Plac Centralny, directly across from each other. Also find them near the train station at Dwórek Food Truck Park, on Plac Nowy, Plac Wolnica, and in Podgórze at ul. Nadwiślańska 11. The lines are loooong, but it's worth it.
Most locations open 11:00 - 22:00.
2. Tiffany Ice Cream
Located right on Plac Szczepański, this tiny ice cream parlour offers authentic Persian ice cream, made by a local couple from original recipes. With some of the ingredients imported from Iran, they offer some truly unique flavours you won't find anywhere else. Their signature 'smak' is Saffron, but they also have Pistachio, Cashew nut, Brazilian nut, Sesame and dozens of fruit sorbets. Absolutely worth queuing for.
Plac Szczepański 7 | Open 11:00 - 20:00.
3. Donizetti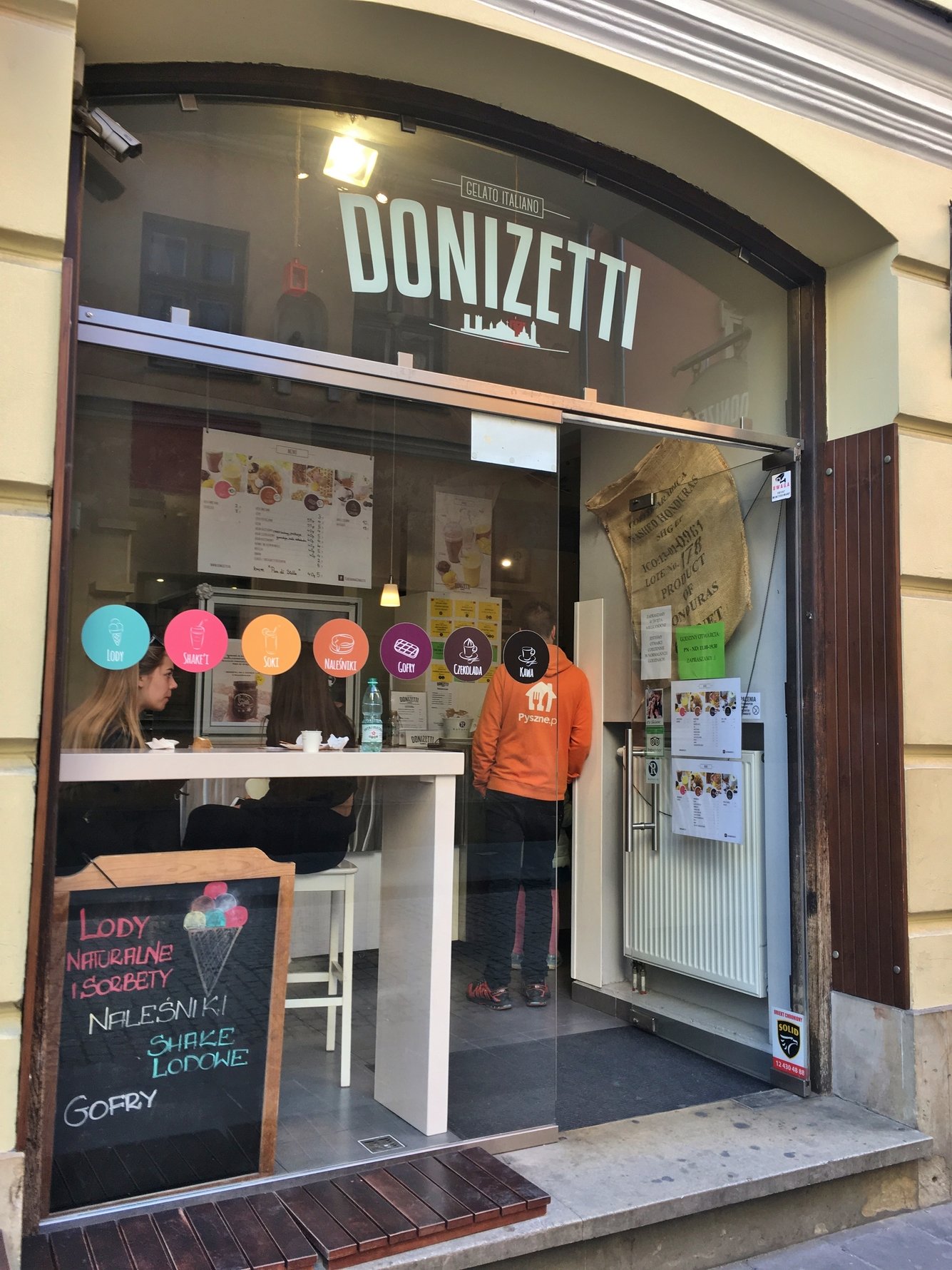 For whatever reason, the connection between Poland and Italy is strong, and it's places like Donizetti that forge these ties that bind. Serving authentic Italian gelato, you can literally see them making everything on-site using select, natural ingredients, most of which are sourced straight from Italy. Creamy gelato flavours include pistachio, almond and rhubarb, and all of them can be bought by the kilo to take home. Not only that, but they also offer great coffee, milkshakes, fresh juices, pancakes and waffles, and we know of no other place in Kraków that makes ice cream sandwiches(!). Ask a local about the best ice cream in town and Donizetti quickly comes to mind.
ul. Św. Marka 23 | Open 11:00 - 19:30.

This bears inclusion simply for the innovative food mash-up of a chimney cake filled with ice cream. What's a chimney cake? It's a hot, steamy, sugary dough roll which tastes pretty good on its own, but basically makes the ultimate ice cream cone. Find them near the train station, or in Kazimierz on Plac Judah.
ul. Basztowa 26A | Open 11:00 - 21:00.
 

5. Lody Na Starowiślnej
This modest ice cream parlour has been around since long before our time, perhaps since before time immemorial, as generations of Cracovians have stood in its absurd lines waiting for a wafer cone. Old, underexposed photographs are said to be of the lines outside this ice cream shop before the street was electrified (too dark to tell). Karol Wojtyła, the future Pope John Paul II, used to travel all the way from Wadowice as a young boy in order to see the lines here, but resisted the temptation of standing in one (or did he?). During World War Two, the Nazis deemed the power and influence of the ice cream line here dangerous and tried to tear it down, but failed (it's still there!). At any rate, this place is legendary and gets a lot of mileage out of its reputation for being the first good ice cream place in town according to whoever the anonymous pioneer was at the front of that first line. Just as noteworthy for its grumpy to indifferent service as its decent quality and range of basic flavours, we'd say this is a Kraków must-do, but we update our guides too often.
ul. Starowiślna 23