After Tartar raids in the 13th century left the original church in a heap of ruins, St. Mary's was rebuilt in Gothic style on the existing foundations and consecrated in 1320. In the early 15th century the towers took the iconic form they have today, when the northern tower was raised to 80m high and made into a watchtower for the city. It is from here that the hejnał mariacki - the city's famous bugle call - is played every hour on the hour. One of the city's most enduring traditions, the tune ironically breaks off mid-melody in honour of the mythical trumpeter who was shot in the neck while belatedly warning the city of Mongol invaders; don't miss it.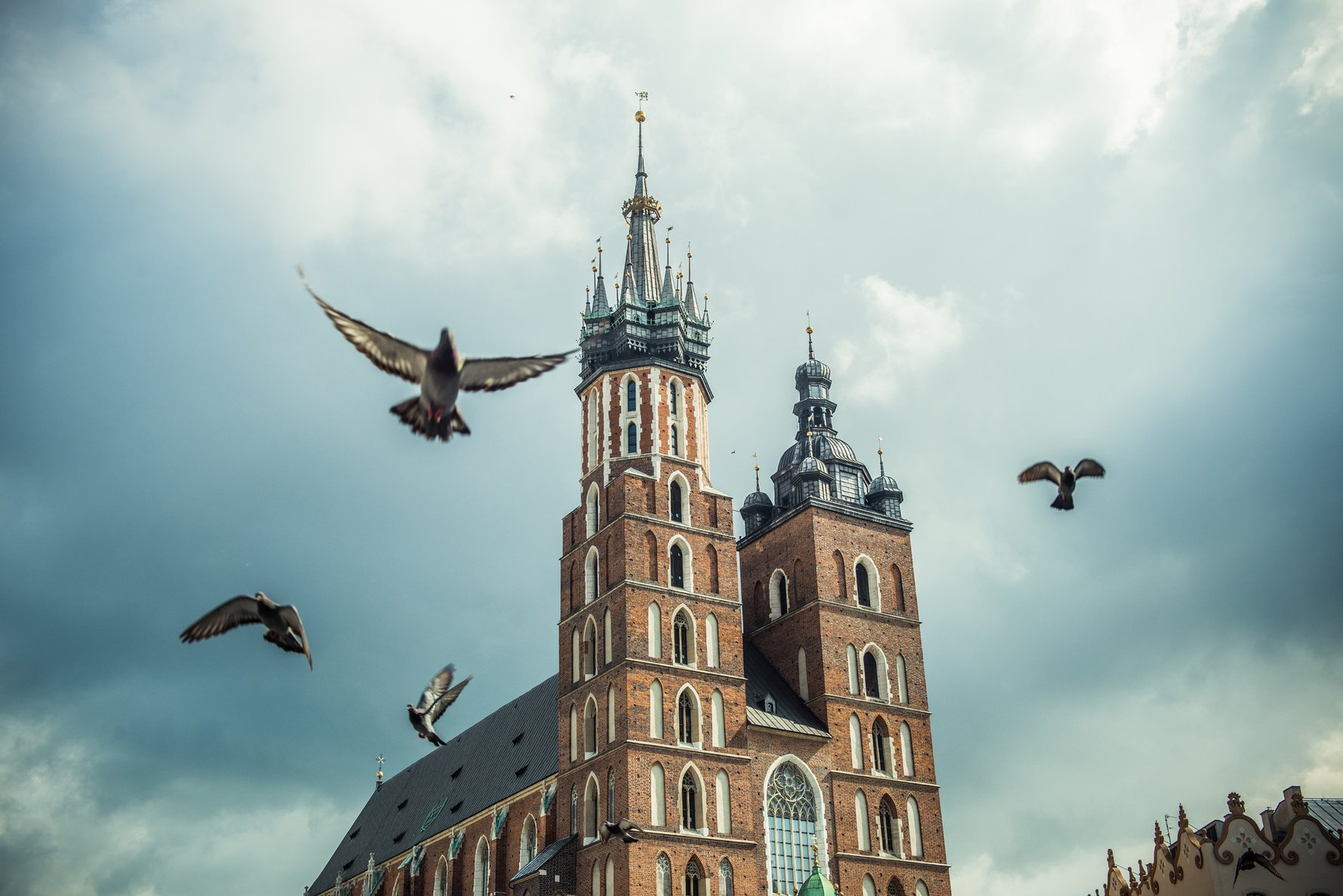 No matter how many times you see them - the altarpiece, stained glass windows , and the blue, starred ceiling on St. Mary's will take your breath away. The magnificent wooden altarpiece was the principal work of 15th century German artist Veit Stoss (aka Wit Stwosz) for 12 painstaking years, and depicts the Virgin Mary's Quietus amongst the apostles. A stone crucifix by Veit Stoss can also be found in a chapel at the end of the southern aisle. Covering the walls are colourful polychromes designed by Polish master Jan Matejko in the late 19th century, while the stained glass windows of the main nave were also carried out at this time by his students Stanisław Wyspiański and Józef Mehoffer.
Visiting St. Mary's Basilica
The church is typically available for worship without paying an entry fee via the main entrance. Tourists are asked to use a side entrance, however, not visit during services, and pay for entry; we list the tourist visiting hours below. Tickets are purchased in a separate building across from the tourist entrance (no online sales).

The church's Bugle Tower is also open seasonally to tourists (no kids under 8 though), but a separate ticket is required - 20/12zł; these tickets cannot be bought in advance and typically sell out very early in the morning, so be there when they open if you want the privilege. The Bugle Tower is open from April to December (weather dependent, ticket required) to groups of 10 people max every 30mins from Tue-Sat 10:00-17:30, Sun 13:00-17:30; Nov, Dec, March open Tue-Sat 10:00-11:30, 13:10-17:30.

Once open by appointment, the church's other tower - the Bell Tower - is no longer available to tourists.