Welcome to the annual Best of Ljubljana Awards voting!
Ljubljana's café culture has always been one of our favourite things about the city. When the weather's nice the entire Old Town is abuzz with activity at the pavement cafés that line nearly every street. During the colder months things move indoors, but thanks to the national smoking ban you're still apt to find a fair amount of patrons outside huddled under heat lamps and blankets. The most popular places can be found along the Ljubljanica River on Cankarjevo Nabrežje and along Petkovškovo Nabrežje on the opposite bank. Alternatively find a place by just wandering around until you find something you like the look of.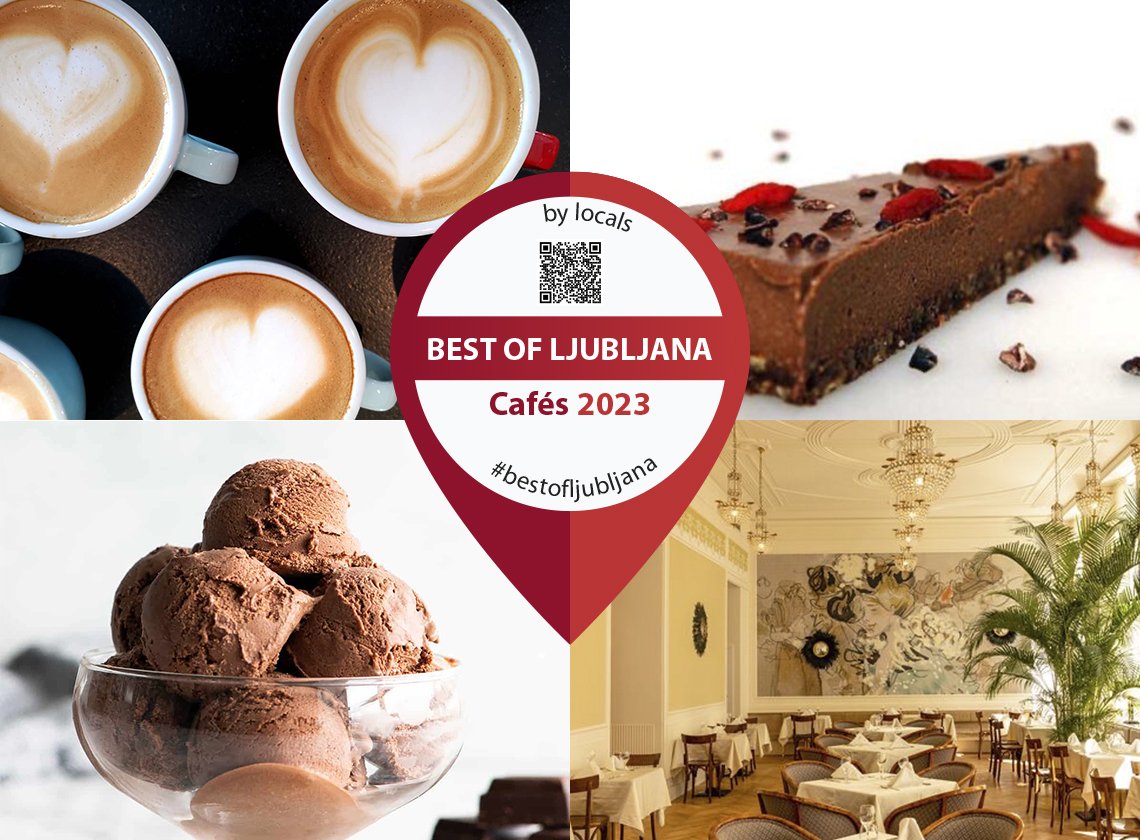 So once again, we give you the opportunity to vote for your favourite café, a category that's been part of our 'Best of' since 2010!

This year's categories are:

- Best ice cream 
- Best Cafe
- Best Desserts
- Best Specialty coffee places
- Best cafe terraces


Read more about the Best of Ljubljana Awards 2023 here.
And the finalists for this year are:

Best Cafe:
 Kavarna Maček, STA Travel Cafe, POLO cafe & bar, Špica Caffe, Kavarna Rog, Čopomana, Kavarna SEM, Drama Cafe, Kavarna Union, KavaČaj Slamič

Best ice cream
Vigo, Romantika Gelateria, Lučka na Bregu, DiMatteo Gelateria, Lolita, McCafé, Grefino, Zvezda, Cacao, Plato

Best desserts: Zvezda, Čopomana, Kavarna in Slaščičarna Maxi, Puffy Lil' Pancakes, Rustika, Lizin Vrt, Čokoladni atelje Dobnik, Zebra Patisseries, Fetiche Patisserie, Lolita

Best Specialty coffee places  STOW, Črno zrno, Čokl, Moderna, Cafetino,  R & B Cafe, Kavarna Natura
Tri Marije, Mariposa Coffee Roasters, TOZD

Best cafe terraces: Kavarna Lokus, Cafe Bienale, Nebotičnik, Čolnarna Park Tivoli, Petkovšek, Grajska kavarna
Le Petit Café, Kavarna Kiparna, Platana, Vrt Lili Novy

Please note that the list of finalists is written exclusively in random order.
Check out last year's finalists for Best of Ljubljana Cafes 2022:
Barbarella Juicebar
Čokoladni Atelje Dobnik
Črno Zrno
McCafé
Stow Specialty Coffee
Vigò