Poznań might not have such a busy cultural calendar as Kraków or Warsaw, but there is a good selection of music and film events to keep locals and visitors entertained - and the Next, Malta, Transatlantyk, and Jarocin festivals draw crowds from all around Poland each spring and summer. Here's a list of the most important annual festivals in Poznań organised by month...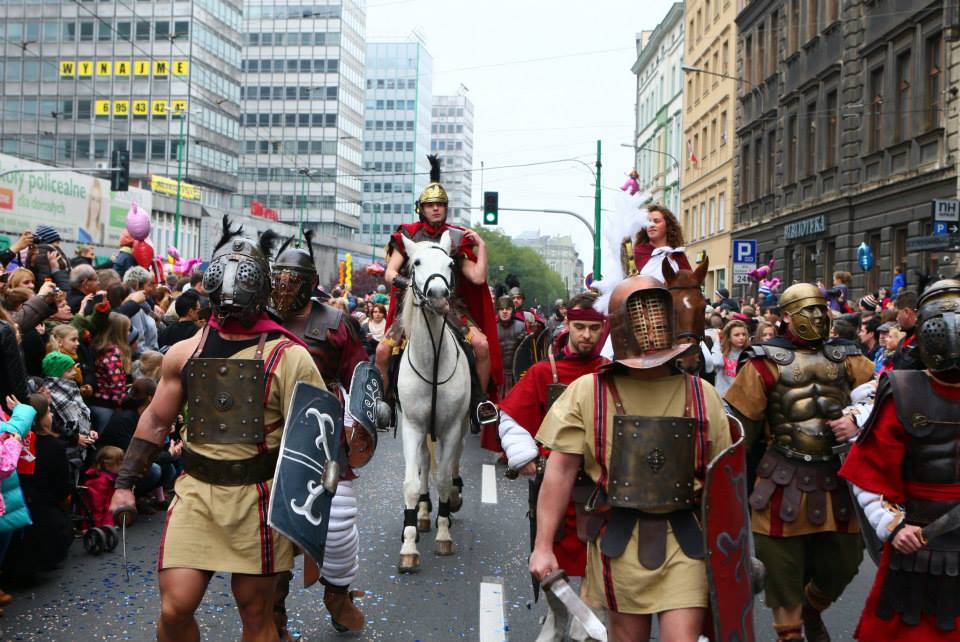 March
KAZIUK
The Kaziuko Fair is a Vilnius tradition, taking place each year on or near St. Casimir's Day, since the early 17th century. Recently, festivities have spread outside Vilnius, and indeed outside Lithuania. In Poznań, the festival is organised by the Vilnius Enthusiasts Society to honour Polish-Lithuanian history and St. Casimir, crown prince and patron saint of the two nations. Expect music, dance, traditional costumes, food, and plenty of hand-made goods that make lovely souvenirs. 
 

April
NEXT FEST
Poland's version of SXSW, Next Fest features three days of concerts by Polish music stars and breakout artists, some of them performing in front of large crowds for the first time. Taking place in multiple venues across Poznań, the festival is both a music showcase and conference for music industry reps full of meetings, workshops, lectures and networking events.

May
MADE IN CHICAGO
Ah, Chicago - according to all the stats we've heard, the Windy City has the biggest Polish populace of any metro area other than Warsaw. This jazz music festival featuring concerts and workshops is indeed organised in collaboration with the Jazz Institute of Chicago.

June
PYRKON FANTASY FESTIVAL
One of Europe's largest fantasy festivals, with gaming, movies, comics and literature offering fans a few slices of pop cultural/fantasy heaven. It's 56 hours of non-stop fun, with Q&As, gameplay, exhibition viewings, fantasy villages, and meeting fantasy creators from all over the world!


ETHNO PORT
We're always excited when Ethno Port rolls around - the festival means not just music from around the world (and we mean a legitimately diverse selection, with guests from places like Mali, India, and Lebanon), but also visual arts, literature, theatre, dance, and cinema.

July
ANIMATOR FILM FESTIVAL
Animated films end up on the back-burner of many film festivals, but not this one! Each year, the Animator Festival brings to Poznań a week's worth of screenings, concerts, workshops, and lectures.

JAROCIN MUSIC FESTIVAL
This festival dates back to the seventies - though the beginnings were humble, the festival has since grown to considerable proportions, with some of Poland's biggest bands making appearances each year. Get a tent, camp out, and enjoy the summer!

August
DANCING FAIRPLAYCE POZNAŃ
This is a week-long contemporary dance workshop, with no restrictions concerning age or level of ability. There's a dizzying array of classes to choose from (admittedly a bit heavy on jazz); apart from dance, there's also pilates and yoga.


TRANSATLANTYK FILM FESTIVAL
Combining concerts and film screenings has really become a thing for summer festivals. Transatlantyk may be only a couple of years old, but it's already drawing some big stars: past guests included Yoko Ono, Thurston Moore, and Thomas Struck.


GOOD TASTE FESTIVAL
A foodie holiday with an international food fair, culinary shows and workshops, concerts, and competitions!
November
Flamenco Duende -
The cure to the miserably grey Central European autumn, Flamenco Duende is full of sultry, sensual tunes, dynamic dancing, and Spanish temperament. The festival aims to bring the true spirit of the Andalusia Gypsy dance to Polish audiences.

POZNAŃ BAROQUE
Concerts of masterpieces by Baroque composers in rather fetching locations, such as the Imperial Castle. Ditch the chilly streets and come listen to international artists play the chitarrone, lirone, and arpa doppia.

ST MARTIN'S DAY
St. Martin's Feast Day is a holiday that has been celebrated in Poznań since the Medieval times. The festival in its current form has been around since 1994, and involves a colourful parade, pleasant kitsch, and literal tonnes of special pimped-out croissants.

December
Ice Sculpture Festival - An international winter festival that draws artists from all the Northern countries, and even some that don't usually get much snow.