A comparison of Sofia's most popular residential neighbourhoods
It's all about location, so they say and Sofia is no exception. Internationals tend to gravitate to certain parts of the capital either for proximity to the city centre, to their office, to their children's school or to the fresh air of the magnificent Vitosha mountain. Prices for investing in property in the capital tend to follow similar, if not identical patterns. This useful infographic provided by local property experts First Estates can help you find your way through the current purchase costs of real estate in Sofia.
The highest prices are commanded by properties in the southern and southwestern parts of the city, which are regarded as the most prestigious. Neighbourhoods are presented in terms of the average purchase price per square metre as well as in terms of general aesthetics and lifestyle opportunities.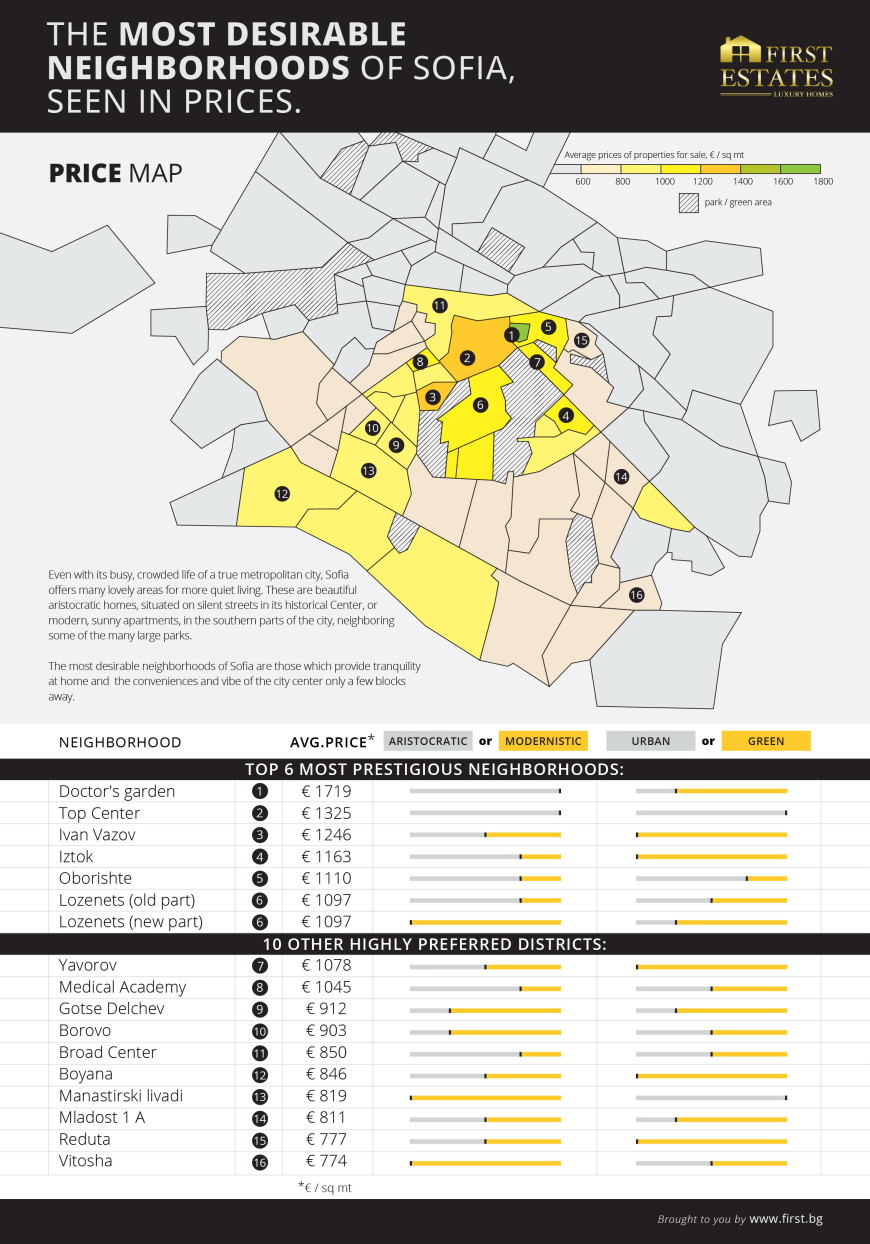 The Doctor's Garden area, with its aristocratic old apartments, freshly upgraded park and diplomatic residences, offers the most expensive living space in Sofia, beating even the top centre in pricing. The true centre lags somewhat with the main disadvantage being more traffic and less green space. There is also the drawback of apartments being on the fourth floor or higher, as many old buildings have no lift.
Purchase prices decline sharply for the northern, underdeveloped, parts of the good, old centre (towards the Central Station), where many building have fallen into disrepair. Yet the area offers great opportunities for investment with its spacious, Viennese-style apartments and with real potential to be transformed into another lovely part of Sofia's historic centre in the near future.
Costs become more favourable 4 km or more from the centre. Many of these neighbourhoods have recently acquired fast access to the city centre with the spread of Sofia's metro. The majority border with superb recreational areas, such as the enormous South Park or Hunter's Park, or the smaller but lovely Geo Milev park. The new areas of Lozenets, Manastirski Livadi and Vitosha offer multiple options for modern homes, often in secure buildings or compounds.
Real estate purchase prices in Sofia have been rising slowly for the last few annual quarters, most recently with an increase of 5-7 %, creating a stable investment climate. Properties located in the top centre or Oborishte rose faster at 15 % since the start of the year.