Gdańsk Wrzeszcz is a vibrant district located just outside of the city center. Known for its lively atmosphere and young-and-curious demographics, there's also a diverse range of restaurants, which make it a must-visit destination for foodies visiting Gdańsk. From traditional Polish cuisine to a plethora of international flavours, Wrzeszcz has something for every palate.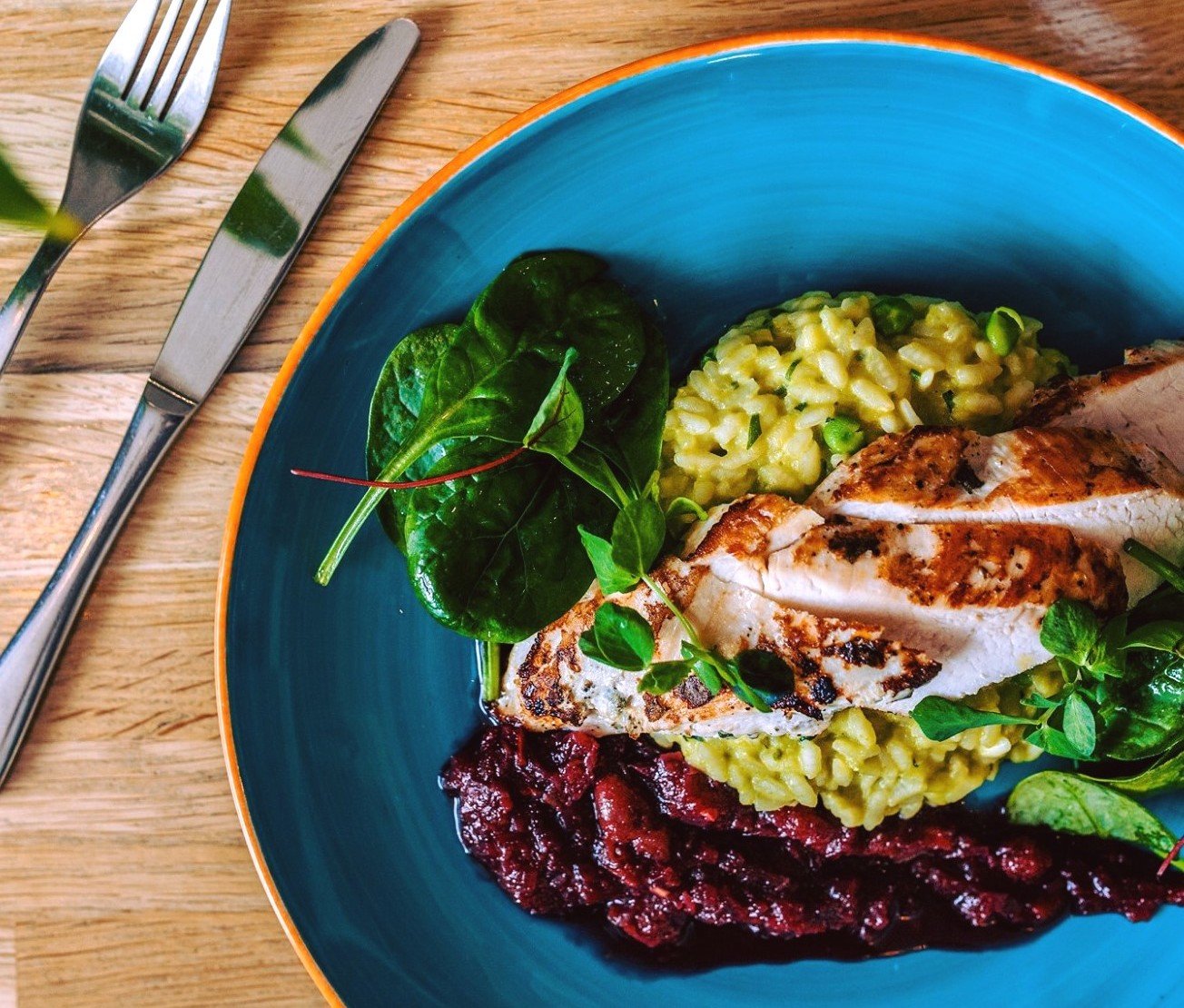 One of several outstanding food joints in the Garnizon development, this is a perfect place for a decent feed in relaxed surroundings if you find yourself in this part of town. The menu is extensive with a huge choice of easily imaginable dishes such as burgers, pizzas, fish, grilled meats, steaks and sandwiches. With seating for approximately 80 people, it's easy for Pobite Gary, translating as 'beaten pans', to fill up with regulars. On those occasions, it's still worthwhile, and with a good breakfast menu, a choice of locally brewed beers and a tasty kids' menu and range of snacks, it earns a recommendation at any time of the day.   The top floor of Galeria Metropolitan, which connects with Gdańsk Wrzeszcz train station (hence the name), is a bustling hub of dining, drinking and entertainment options, known as Food Stacja. Amongst the array of cuisines on the market, there are no-fuss options at The Burger Joint and The Mexican, sumptuous oven-baked Georgian delights from Przystanek Gruzja, far eastern flavours at the Tri-city's popular Neon Streetfood chain, The Brew Bar for craft beer lovers (featuring a selection of locally brewed beers and ciders) the self-explanitory Cocktail Bar, and endless others. Food Stacja regularly hosts live bands and DJs, providing a lively and energetic to complement your feed.
| | |
| --- | --- |
| Order tapas for friendly dining at Stacja Food Hall! | An ever-reliable program of live music and DJ sets in Wrzeszcz. |
For a more upscale dining experience, head to ELIKSIR Restaurant & Cocktailbar. This chic establishment is known for its delicious dishes and stylish atmosphere. The menu at ELIKSIR features a range of contemporary dishes, using only the freshest ingredients. In addition to its tasty food, ELIKSIR also boasts an impressive selection of cocktails, making it a great spot for a date night or special occasion.
| | |
| --- | --- |
| Beautifully-presented dishes at Eliksir in Wrzeszcz. | The stylish, modern cocktail bar at Eliksir in Wrzeszcz. |
Once a huge 19th-century industrial plant that dominated the skyline, Nowy Browar Gdański is a revitalised slice of the Wrzeszcz's former brewery site. While it may only be a slice, the new brewery is still sizeable: over 450 seats, 35 TV sets broadcasting key sports events, a huge kitchen operation presenting an extensive menu, and the all-important onsite brewery! Headed up by certified brewmaster and consultant Tomasz Biegański, Bavarian originals like lager, pils and wheat beer are outputted here, as well as American Pale Ale, a more substantial IPA, and the autumn-inspired Koźlak Gdański, all appearing under the Nowy Browar label. With a target capacity of 12,000 hectoliters, Nowy Browar Gdański is currently the largest restaurant brewery in Poland! Behind the bar, a total of 20 taps pour the best brands of craft beers that are sourced from all over Poland. Nowy Browar Gdański's menu is the whole 9 yards of pub food. The beer hall-styled pork knuckle or ribs are perfect for tall-glass beer drinkers, whilst the other end of the spectrum presents lighter choices such as salad, soup or fish. Additionally, the pizza from their impressive wood-fired oven covers all the gaps in between! Breakfast is also available from 9 to 12. Perfect for individuals, couples, groups of friends and big family events!  There are a bunch of vegan faithfuls on ul. Wajdeloty, the revitalised drag of Wrzeszcz, and they're all highly-recommended. However, the perfect balance of food vs. service vs. atmosphere vs. all the rest of it is AVOCADO. They serve up dishes, which are not only healthy and wholesome but also look and taste great. You literally cannot go wrong with any choice from the menu, as the burgers, salads and cakes have all proven to be delicious and would nearly make us go vegan full-time, if it wasn't our job to check out omnivorous restaurants as well! For visitors in Gdańsk, the biggest plus is being able to try some of the otherwise-meat-heavy Polish dishes like kotlet schabowy (ENG: pork cutlet) and pierogi z mięsem (ENG: meat pierogi) as there's plenty of traditional culinary inspiration to be found here. If you're in need of vegan products in general, Avocado has also expanded its venture by opening a café and a mini supermarket just a couple of doors down. That one restaurant that all the kids are talking about. Split over two floors this is a bar, restaurant, club, as well as an on-site barber shop and, for those with expendable skin, a tattoo parlour! The menu is eclectic, and you shouldn't have any problems finding you'll find something for everyone. AïOLI even employs childminders on the weekend who keep the kids entertained upstairs and have some great daily promotions. If we were in desperate need of an exceptional breakfast or brunch to save us from ante meridiem oblivion, AïOLI would be our number-one choice in Wrzeszcz!
| | |
| --- | --- |
| Fresh and vibrant breakfast options at the one and only AïOLI! | AïOLI's spacious bar is a great meeting place in Wrzeszcz. |
It's a thing these days: putting the words 'street food' into any new ethnic restaurant's name and the suggestion seems to be that the results will be cheap and snacky. Fortunately, that's not the case with Chang. While the place is very casual and the part-open kitchen spills out aromas to both make your mouth water and your clothes absord the smells (not much different to a Bangkok street stall) this is a well-priced restaurant rather than snack-on-the-run bar. The menu offers a short list of mains, but you can choose which core ingredient to have with it i.e. some offer a choice between tofu, chicken, duck or beef. The results are very good and we particularly liked the satays and soups to start. Worth a look if you're near near Gdańsk Wrzeszcz train station and you're not dressed to impress! Another card that Garnizon has up its sleeve is contemporary Israeli cuisine, which can be found at Jaffa Eat & Drink. The vibrant and distinct flavours of the Mediterranean Middle-East are best sampled in the form of Mezza platters, which for many keen diners can suffice as a main dish, however, the grill has plenty of other sumptuously-spiced meats offer. For a joyous evening out on Wrzeszcz town, a meal accompanied with the list of original cocktails is always fun to splash out on as well!