It's never too early to start thinking about Christmas and, if your planning to spend some time in Poland around this time of the year, then a visit to the Gdańsk Christmas Market should be in your calendar. So what can you expect to find here?

The historic city's Christmas markets centre around Targ Węglowy (ENG: The Coal Market) in the picturesque historic centre of Gdańsk Old Town, which is turned into a quaint little Christmas village, offering decorations, treats, woollen scarves and socks, handmade jewellery, children's toys, mulled wine, hot cider and steaming portions of Polish food. Close to the Golden Gate, you can witness the bizarre novelty of Łoś Lucek (roughly translating as 'Luey the Moose'), a mechanical moose that tells exceptionally-dry jokes in Polish, English, and German. It doesn't end there!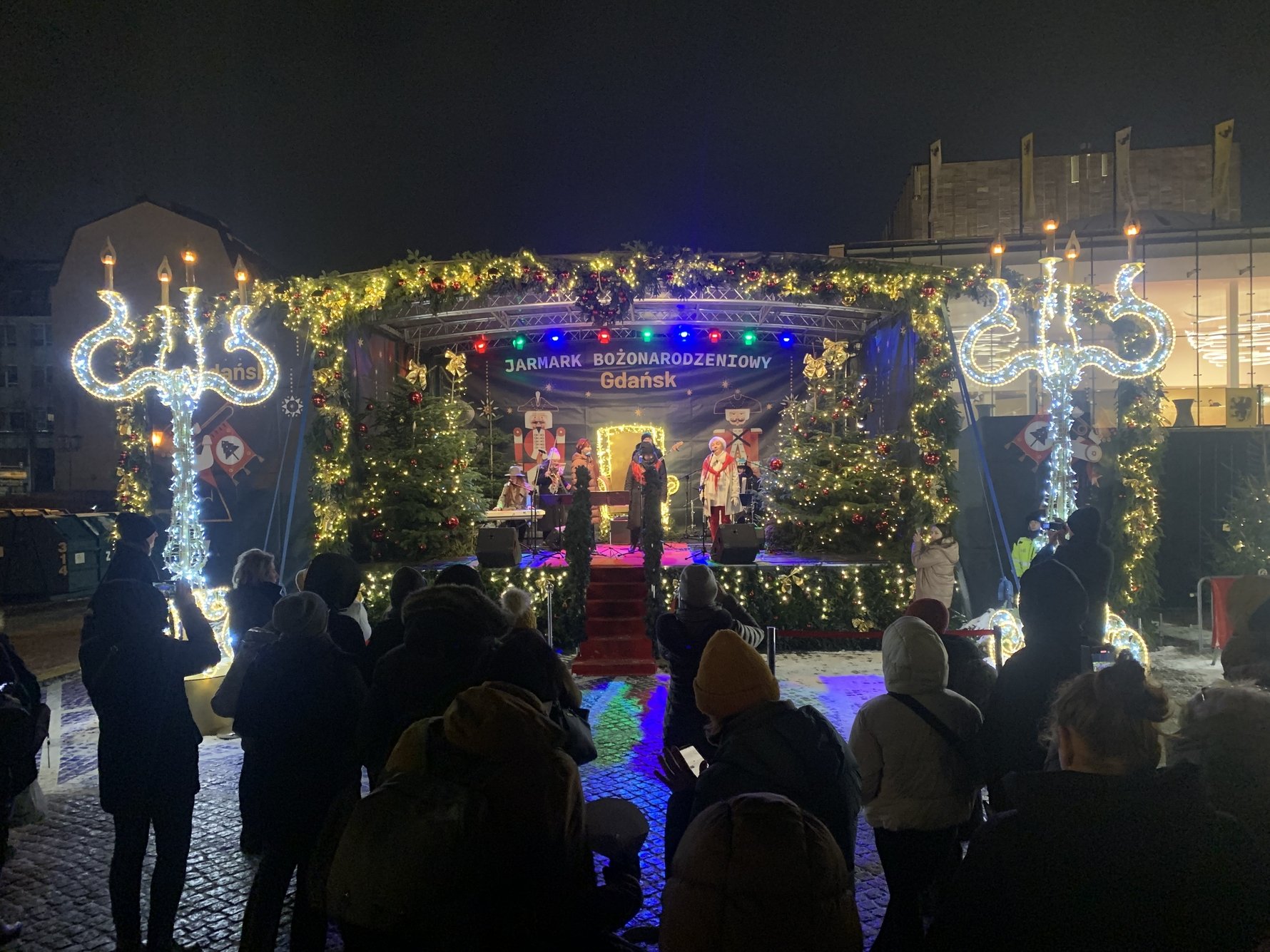 Passing through Brama Wyżynna and crossing the main road, the grounds around Forum Shopping Centre have scored this year's Christmas tree, as well as extra stalls and the all-important ice skating rink. In the other direction, through the Golden Gate and back down ul. Długa, you'll find another strip of crafts and food options on the next left - ul. Tkacka. The beautifully-imposing Great Armoury at the intersection of ul. Tkacka and ul. Piwna has become the 'Armoury of Arts & Crafts', hosting a number of stalls sporting artisanal goods, as well as Santa's Workshop, which has a bunch of creative arts & crafts sessions (SEE THE PROGRAM).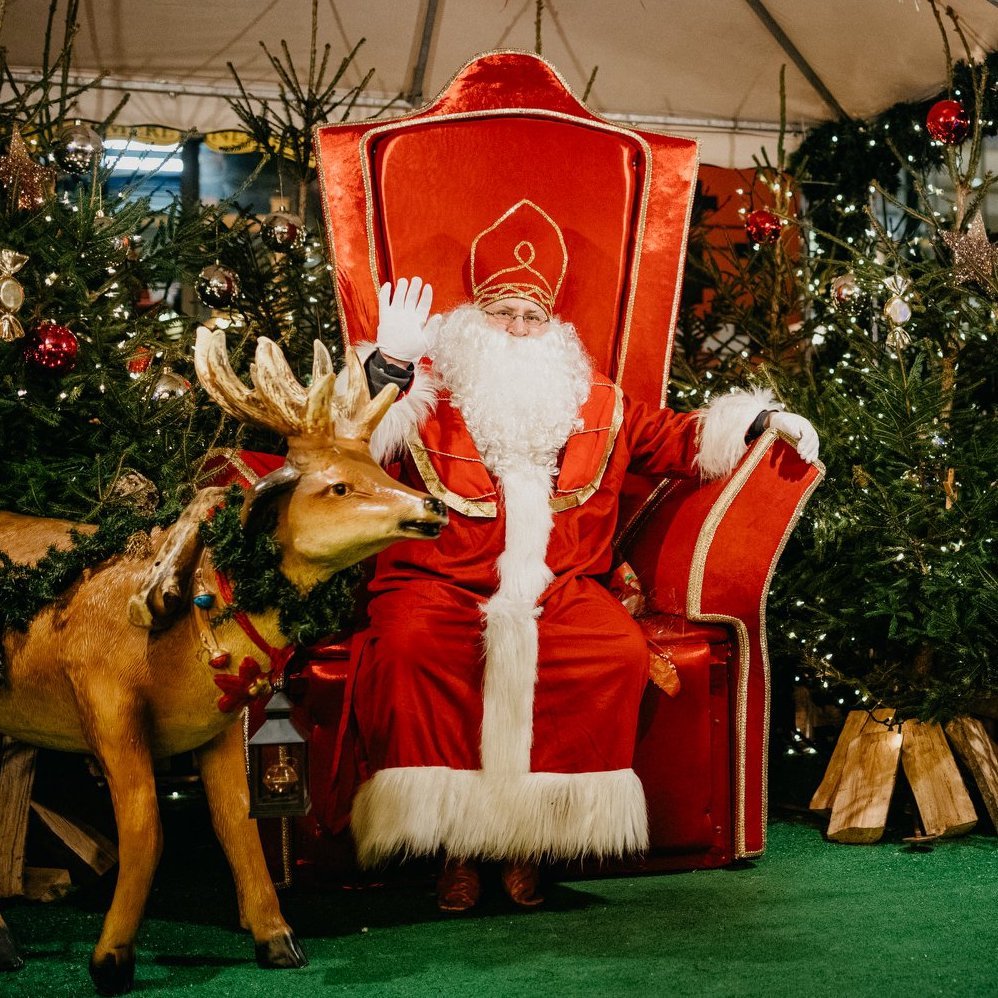 What's going on at the Gdańsk Christmas Markets in 2023?
CLICK HERE FOR THE FULL PROGRAM IN ENGLISH
Centred around the stage at Targ Węglowy, there are a whole bunch of events taking place at the Christmas Markets in Gdańsk. After the
official opening parade
on the afternoon/evening of Nov 25th, there will be frequent
performances and activities for children
taking place right through till the late December. This includes productions from various local theatre groups and 
Rudolph the Red-Nosed Reindeer
 running regular Christmas challenges. A few sessions of
Christmas Karaoke
will be making a return thanks to popular demand!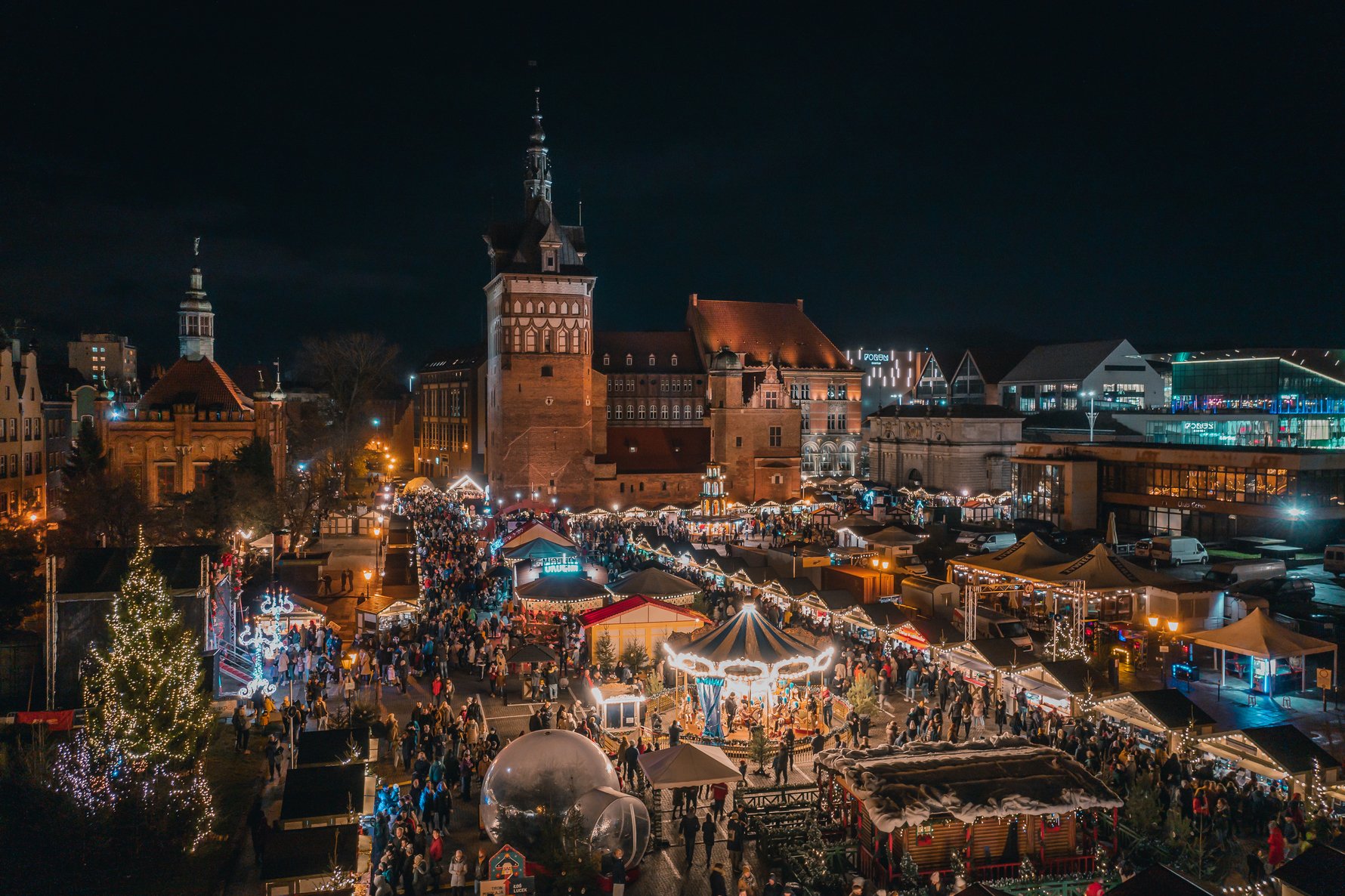 From Dec 1st - 23rd,
the advent gate in Targ Węglowy
will be opening a new window at 18:00 daily, whilst
Secrets of the Foregate Complex
is an edutaining opportunity that you can take a part of every evening at 18:30. Mikołaj (the saintly version Of Saint Nicholas AKA Santa Claus) will be taking the throne and posing for your official Christmas photos! The very same Santa will be doing the honours of switching on the big Christmas tree on Gdańsk Christmas Tree on
Długi Targ
at 18:00 Dec 5th! The last day of the Gdańsk Christmas Markets is 23rd December 2023.
We recommend you check the full program to see what's happening at the Gdańsk Christmas Markets!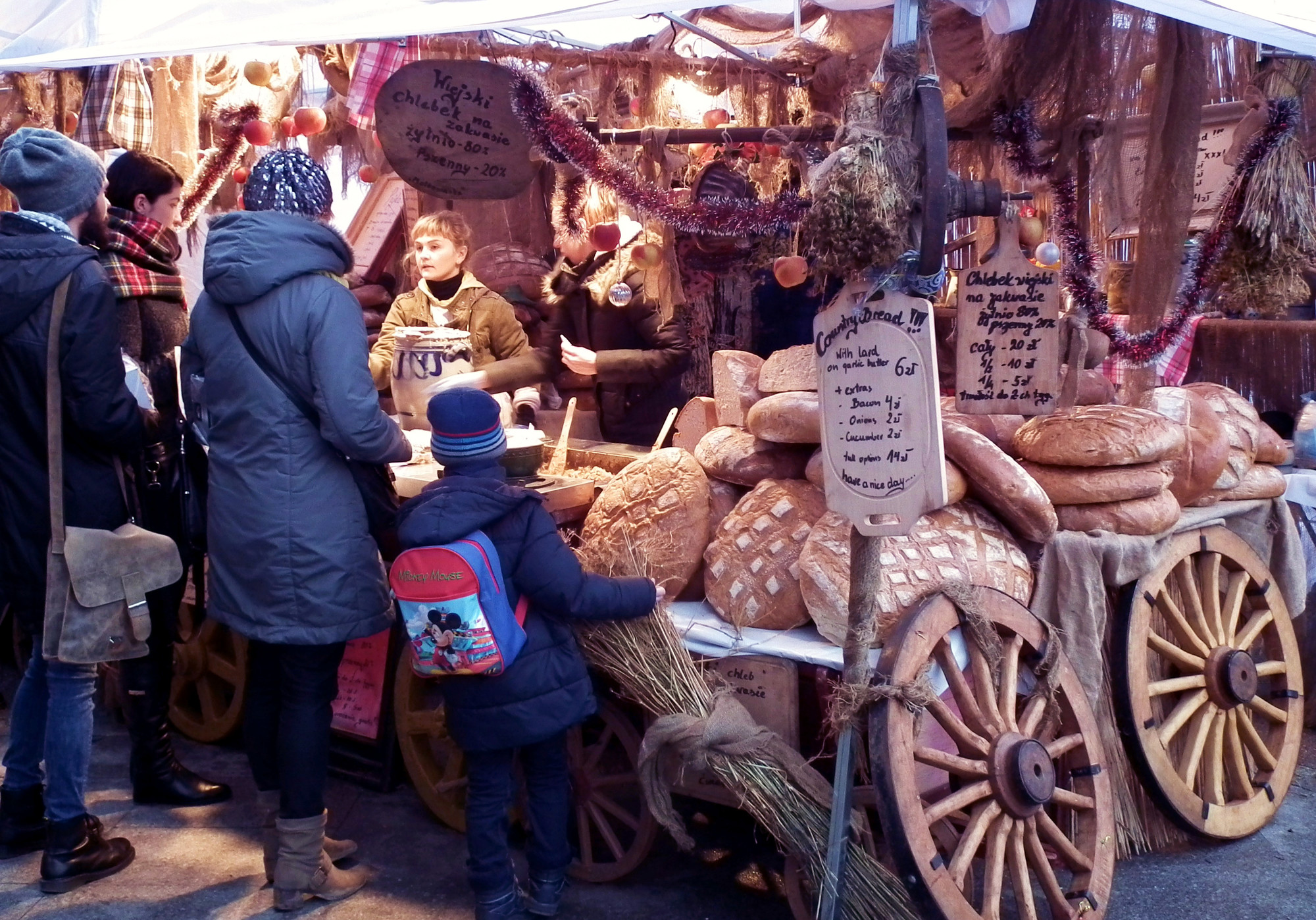 What to eat at Gdańsk Christmas Markets?
From the range of traditional Polish cuisine that you'll find at the Christmas Markets, servings of Oscypki (ENG: Smoked Cheese), Pierogi and Grilled Meat from one of the BBQ stations are standard fixtures. On the latter, hardcore meat-lovers may want to enquire about Kaszanka (ENG: Black Pudding / Blood Sausage). If you want something a little more balanced (fibre is important on evenings like this), try some Bigos (ENG: Hunter's Stew) which is actually not as wet as it sounds - shredded sour cabbage with chopped meat. Those searching for something more exotic will find a Tatar food stall, which offers foods from the Central Asian republic. Burgers, chip-sticks and other Americanised-standards can also be found.  Each to their own... however, we'd love you to be adventurous!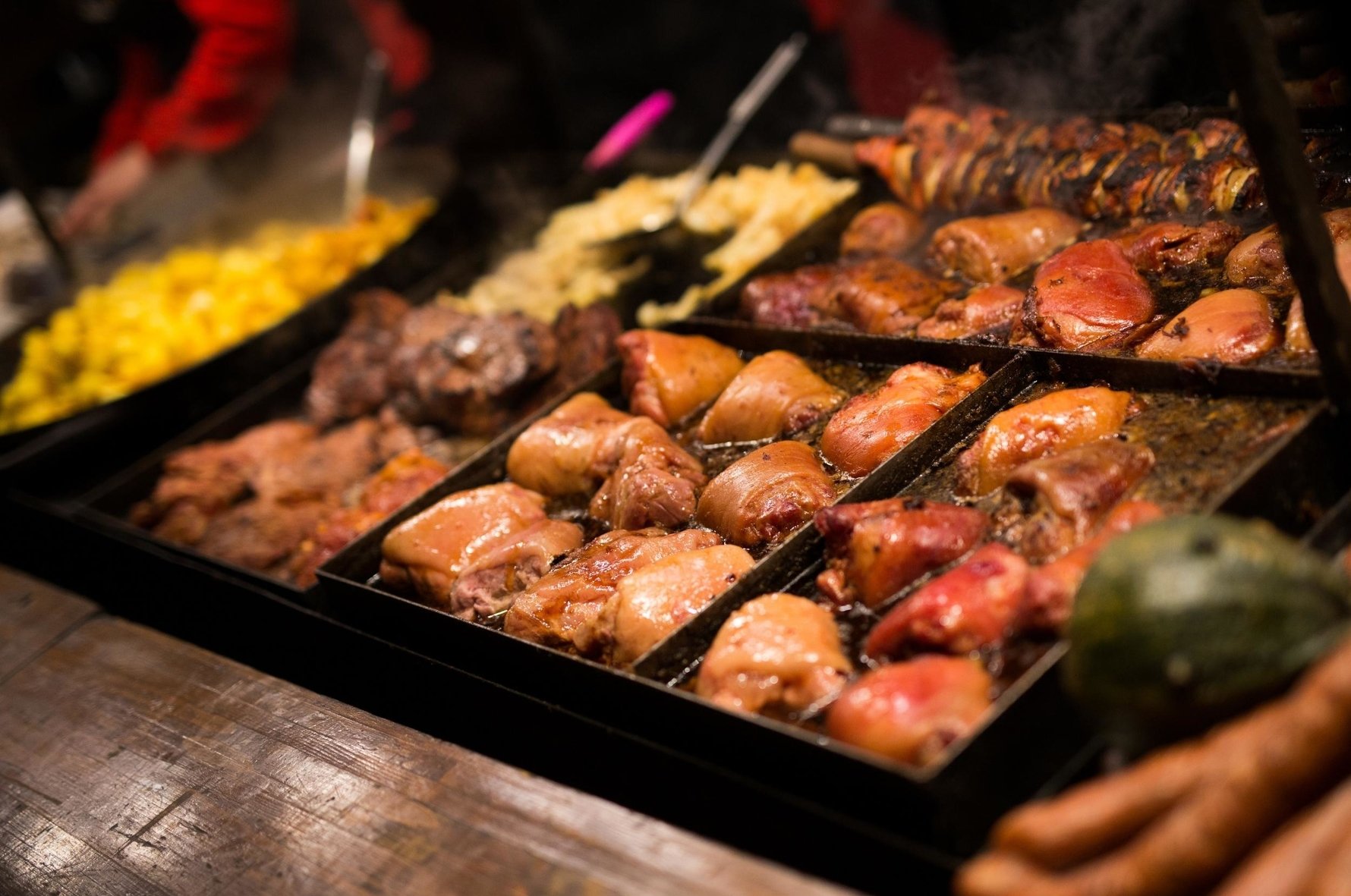 On the sweeter end of the palate, Ginger Bread makes a big appearance at Christmas time, but you'll spot other standards like Gofry (ENG: Waffles) which come with a number of toppings. Another notable non-Polish indulgence are the Hungarian Kurtosze stalls that sell 'Chimney Cakes' - steamy, hollow dough-tubes, baked and covered in sugar and cinnamon or chocolate and nuts. 
For more on traditional Polish food that can be found at Gdańsk's Christmas markets, read our article 'Polish Food: 13 Dishes You Must Try' 
​​​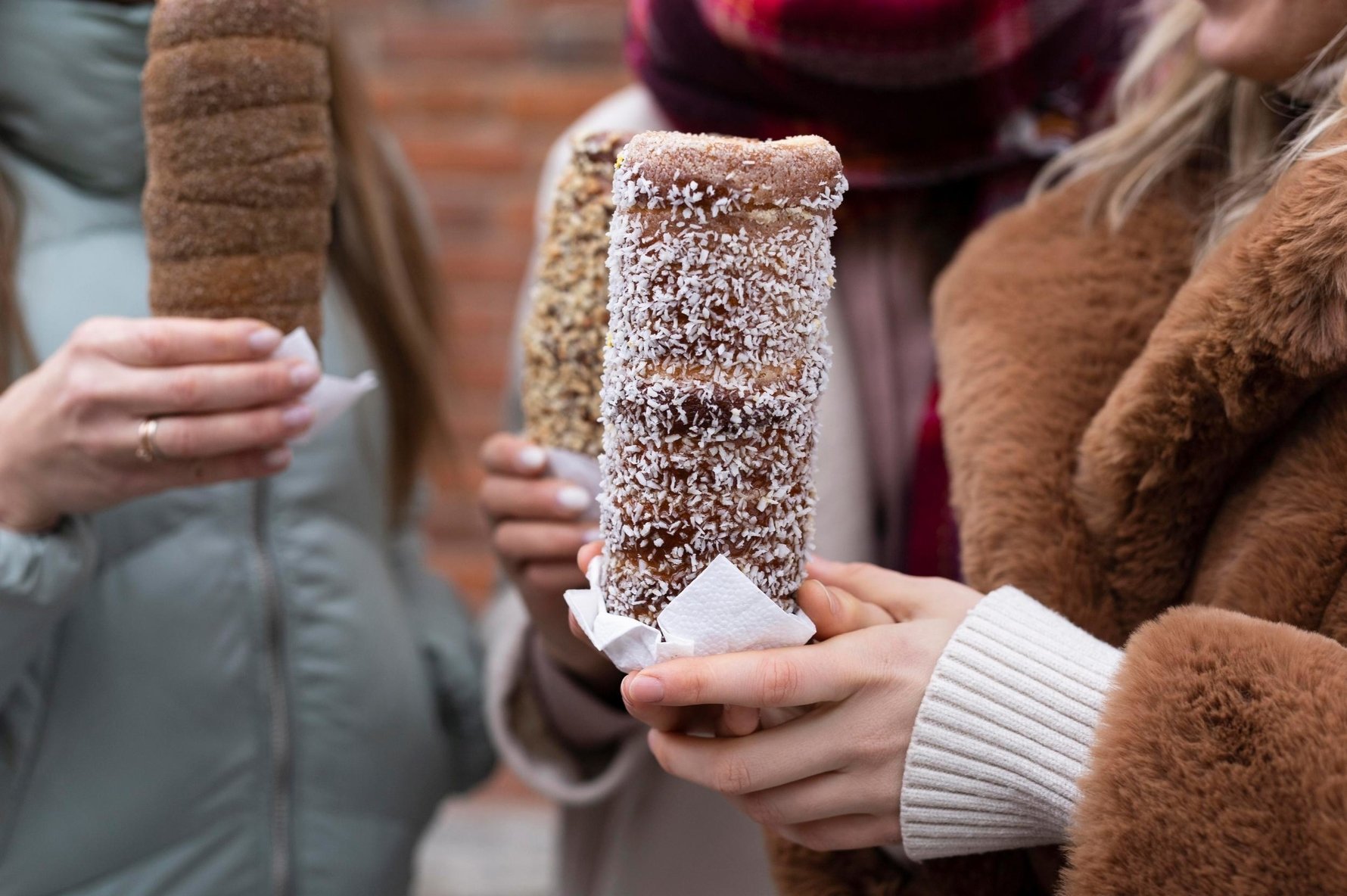 What to drink at Gdańsk Christmas Markets?
Christmas is the season of heated alcohol! A pint of Hot Beer (PL: Grzane Piwno) sounds fairly self-explanatory, though it is curiously-spiced with artificial ginger syrup, clove, cinnamon and other mulling spices. For some an acquired taste, for others an early Christmas present and others still an utter profanity, but an invention necessary for everyone to try at least once. Similarly popular is Grzane Wino – or Sweet Mulled Wine – which you'll find is suddenly okay to drink in public places once the holidays come around and barrels of it dispensed on Poland's market squares. You can also order it at the bar and even buy it in the shop and heat it up at home - a popular brand is Grzaniec Galicyjski. If you're looking for something with a bit more kick, take note of Polish flavoured-vodkas like Nalewki, Krupniki and others here!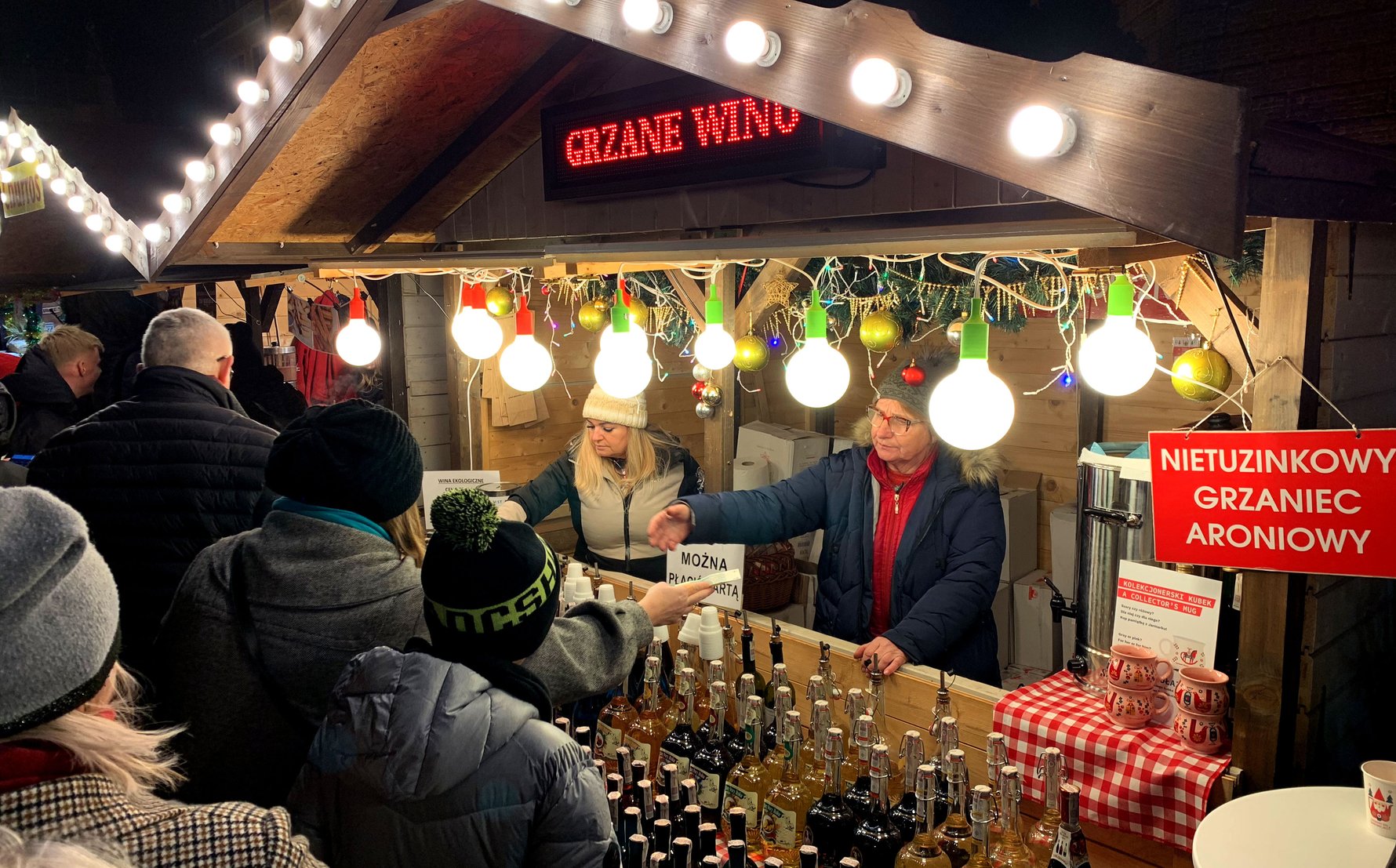 For more on the wondrous Christmas and New Year season in Gdańsk and the surrounding area, read our article 'Things to Do in Winter In & Around Gdańsk!
Gdańsk Christmas Program 2023
While reading this program, keep in mind that all of the events listed in the program are presented in Polish. The arts & crafts workshops for children, young families, and the mentally-challenged, may have some operators that speak English, though it is not guaranteed. Nevertheless, the staff is friendly, and body language and a smile goes a long way!

The Targ Węglowy Advent Gate is located on the south end near the Golden Gate, whilst the Targ Węglowy Stage is located on the opposite side (the north end). Santas Workshop is located in The Great Armoury, which is accessible from both Targ Węglowy and ul. Tkacka!
SATURDAY,
25th NOVEMBER
Christmas Market Opening Ceremony and Parade
16:00
Targ Węglowy Stage

Christmas Freeze Frames with The Orzechowskis
17:00 - 18:00
The Great Armoury
 
SUNDAY,
26th NOVEMBER
Christmas Freeze Frames with The Orzechowskis
15:00 - 18:00
The Great Armoury

Rudolph's Christmas Challenges
15:00 - 18:00
Targ Węglowy Stage

Teatr Qfer presents...
15:30 - 18:30
Targ Węglowy Stage
15:30 Christmas Hyde Park - Theatre sports for children
16:00 Emergency service in Elftown - games, fun and competitions
17:30 "Snow White and the 7 Elves" as told by Elf Koszałek Opalek
 
MONDAY,
27th NOVEMBER
Fair stalls are open from 12:00 to 20:00.
 
TUESDAY,
28th NOVEMBER
Christmas Freeze Frames with Mr. and Mrs. Orzechowski
16:30-19:30
The Great Armoury

Rudolph's Christmas Challenges
17:00
Targ Węglowy Stage

Teatr Wybrzeże Reads...
"The Little Match Girl" by Hans Christian Andersen
17:15
Targ Węglowy Stage

Rudolph's Christmas Challenges
17:45
Targ Węglowy Stage

Slavic Soul Christmas
Featuring Polish/Ukrainian/Belarusian group SŁOWIAŃSKA DUSZA
18:30
Targ Węglowy Stage
 
WEDNESDAY,
29th NOVEMBER
Christmas Tree Decorations Making Workshops
16:00-19:00
Santa's Workshop

Christmas Karaoke
presented by Rudolph
17:00-20:00
Targ Węglowy Stage
 
THURSDAY,
30th NOVEMBER
Welcome, Saint Nicholas!
16:00-19:00
Targ Węglowy / The Great Armoury

Christmas Freeze Frames with Mr. and Mrs. Orzechowski
16:30-19:30
Wandering around the Christmas Market

Rudolph's Christmas Challenges
17:00
Targ Węglowy Stage

Meet the exhibitors!
17:15
Targ Węglowy Stage

Teatr Wybrzeże Reads...
Hans Christian Andersen's "The Snow Queen"
18:00
Targ Węglowy Stage

Fire Theatre by Teatr Młodych
18:30
Targ Węglowy Advent Gate
 
FRIDAY,
1st DECEMBER
Rysiowe Christmas Tree Workshops
16:00 - 18:00
Santa's Workshop

The Snow Queen and Saint Nicholas in Mexico
17:00 - 19:00
Targ Węglowy Stage

Secrets of the Advent Calendar
Window #1 opens!
18:00
Targ Węglowy Advent Gate

Secrets of the Foregate Complex
18:30
Foregate complex

Winter Dance
19:00-20:00
Targ Węglowy Stage
 
SATURDAY,
2nd DECEMBER
Armoury For Young Adventurers
12:00-17:00
The Great Armoury

Welcome, Saint Nicholas!
14:00-18:00
Santa's Workshop

Winter Adventure with The Trefliks
15:00-18:00
Targ Węglowy Stage

Secrets of the Advent Calendar
Window #2 opens!
18:00
Targ Węglowy Advent Gate

Secrets of the Przedgate Complex
18:30
Foregate complex

Advent Songs from the Towers
Performed by Carillion, brass, and drum.
18:00 Church of St. Catherine
19:00 Foregate Complex/Targ Węglowy
20:00 Main Town Hall
 
SUNDAY,
3rd DECEMBER
St. Nicholas Fair
9:00-22:00
St. Nicholas Basilica Square

Armory For Young Travelers
12:00-17:00
The Great Armoury

Rudolph's Christmas Challenges
14:00-17:00
Targ Węglowy Stage

Welcome, Santa Claus!
14:00-16:00 Targ Węglowy Stage
16:00-18:00 Santa's Workshop

Historic Changing of the Guard
15:00
Foregate Complex/Targ Węglowy

"Brass & Bells" Concert
Featuring Gdańsk's unique mobile Carillon
17:00
Targ Węglowy Stage

Secrets of the Advent Calendar
Window #3 opens!
18:00
Targ Węglowy Advent Gate

Secrets of the Przedgate Complex
18:30
Foregate Complex
 
MONDAY,
4th DECEMBER
Secrets of the Advent Calendar
Window #4 opens!
18:00
Targ Węglowy Advent Gate

Secrets of the Foregate Complex
18:30
Foregate Complex
 
TUESDAY,
5th DECEMBER
Gdańsk Christmas Tree
Featuring Saint Nicholas switching on the lights!
18:00
Długi Targ

Secrets of the Advent Calendar
Window #5 opens!
18:00
Targ Węglowy Advent Gate

Secrets of the Foregate Complex
18:30
Foregate Complex
 
WEDNESDAY,
6th DECEMBER
Santa Claus Karaoke
17:00 - 20:00
Targ Węglowy Stage

Secrets of the Advent Calendar
Window #6 opens!
18:00
Targ Węglowy Advent Gate

Secrets of the Foregate Complex
18:30
Foregate Complex
 
THURSDAY,
7th DECEMBER
Art Workshops - Salt Dough Decorations
Run by Gdańsk's Local Integration Center for People with Mental Disabilities
16:00 - 19:00
Foregate Complex/Targ Węglowy

Christmas Freeze Frames – Mr. and Mrs. Orzechowski
17.00-20.00
Wandering around the Christmas Fair

Snow Queen and Saint Nicholas in Ancient Egypt
17:00 - 19:00
Targ Węglowy Stage

Secrets of the Advent Calendar
Window #7 opens!
18:00
Targ Węglowy Advent Gate

Secrets of the Foregate Complex
18:30
Foregate Complex
 
FRIDAY,
8th DECEMBER
Rysiowe Christmas Tree Workshops
16:00-18:00
Santa's Workshop

Rudolph's Christmas Challenges
17:00
Targ Węglowy Stage

Secrets of the Advent Calendar
Window #7 opens!
18:00
Targ Węglowy Advent Gate

Secrets of the Foregate Complex
18:30
Foregate Complex

Fairytale Concert
Performed by the Academy of Music in Gdańsk
18:30
Targ Węglowy Stage

Rudolph's Christmas Challenges
19:30
Targ Węglowy Stage
 
SATURDAY,
9th DECEMBER
Health and Beauty Workshops
12:00-18:00
Santa's Workshop

Rysiowe Christmas Tree Workshops
Run by Gdańsk Zoo
14:00 - 16:00
The Targ Węglowy side of The Great Armoury

Welcome, Saint Nicholas!
14:00-18:00
Targ Węglowy Stage

Outdoor Art Auction
17:00
Targ Węglowy Stage

Secrets of the Advent Calendar
Window #9 opens!
18:00
Targ Węglowy Advent Gate

Secrets of the Foregate Complex
18:30
Foregate Complex
 
SUNDAY,
10th DECEMBER
Herald of Hope
Run by St. Mary's Basilica and Caritas of the Archdiocese of Gdańsk
13:00 START
13:15 Community Team United in Spirit
13:40 Animations and Fun
14:00 Rooted in Christ band
14:25 EKS volunteering
15:05 God's Notes
15:40 Caritas Candle Lighting
16:00 FINISH
Targ Węglowy Stage

Welcome, Saint Nicholas!
14:00 - 18:00
Santa's Workshop

Writing Gdańsk Postcards
16:00
Santa's Workshop

Qfer Theater presents...
16:00 Christmas Hyde Park - Theatre sports for children
16.30 "Emergency service in Elfowo" - games, fun and competitions
17.00 "A Christmas Carol" - Puppet show and masked theatre performance
Targ Węglowy Stage

Secrets of the Advent Calendar
Window #10 opens!
18:00
Targ Węglowy Advent Gate

Secrets of the Foregate Complex
18:30
Foregate Complex
MONDAY,
11th DECEMBER
Secrets of the Advent Calendar
Window #11 opens!
18:00
Targ Węglowy Advent Gate

Secrets of the Foregate Complex
18:30
Foregate Complex
 
TUESDAY,
12th DECEMBER
City Center Resident's Day!
12:00-20:00

Welcome, Saint Nicholas!
16.30-17.30 Targ Węglowy Stage
17.30-19.30 Santa's Workshop

Secrets of the Advent Calendar
Window #12 opens!
18:00
Targ Węglowy Advent Gate

Gospel Carols
Featuring Ola Cybula's Vocal Ensemble
18:30
Targ Węglowy Stage

Secrets of the Foregate Complex
18:30
Foregate Complex
 
WEDNESDAY,
13th DECEMBER
Forest-scented Christmas Decorations Workshop
16:00-19:00
Santa's Workshop

Christmas Karaoke
17:00 - 20:00
Targ Węglowy Stage

Secrets of the Advent Calendar
Window #13 opens!
18:00
Targ Węglowy Advent Gate

Secrets of the Foregate Complex
18:30
Foregate Complex
 
THURSDAY,
14th DECEMBER
Forest-scented Christmas Decorations Workshop
16:00-19:00
Santa's Workshop

Welcome, Saint Nicholas!
16.30-17.30 Targ Węglowy Stage
17.30-19.30 Santa's Workshop

Rudolph's Christmas Challenges
17:00
Targ Węglowy Stage

Secrets of the Advent Calendar
Window #14 opens!
18:00
Targ Węglowy Advent Gate

"For Health, For Happiness This New Year" Parade
18:00
Starting on ul. Tkacka

Secrets of the Foregate Complex
18:30
Foregate Complex

Meet the Exhibitors
19:00
Targ Węglowy Stage
 
FRIDAY,
15th DECEMBER
Forest-scented Christmas Decorations Workshop
16:00-20:00
Santa's Workshop

The Snow Queen and Saint Nicholas in Italy
17:00 - 19:00
Targ Węglowy Stage

Secrets of the Advent Calendar
Window #15 opens!
18:00
Targ Węglowy Advent Gate

Secrets of the Foregate Complex
18:30
Foregate Complex

Winter Dance DJ Set
19:00
Targ Węglowy Stage
 
SATURDAY,
16th DECEMBER
Forest-scented Christmas Decorations Workshop
13:00-20:00
Santa's Workshop

Sing with Santa Claus for the Hospice Foundation
13:00 Christmas Carols performed by MAGDALENA LEWANDOWSKA
13:40 Christmas Carols performed by Youth Music Band of the School of Economics and Commerce
Targ Węglowy Stage

Welcome, Saint Nicholas!
16:00-18:00 Santa's Workshop
18:00-19:00 Targ Węglowy Stage

"God was truly born"
Performed by the Neptune Song and Dance Ensemble
17:00
Targ Węglowy Stage

Rudolph's Christmas Challenges
17:30
Targ Węglowy Stage

Secrets of the Advent Calendar
Window #16 opens!
18:00
Targ Węglowy Advent Gate

Secrets of the Foregate Complex
18:30
Foregate Complex

Christmas Carols
Featuring the Gdańsk Song and Dance Ensemble
18:30
Targ Węglowy Stage
 
SUNDAY,
17th DECEMBER
Forest-scented Christmas Decorations Workshop
13:00-19:00
Santa's Workshop

Welcome, Saint Nicholas!
16:00-18:00 Santa's Workshop
18:00-19:00 Targ Węglowy Stage

Gdańsk Christmas Eve
16:00
Targ Węglowy / Długi Targ

Secrets of the Advent Calendar
Window #17 opens!
18:00
Targ Węglowy Advent Gate

Secrets of the Foregate Complex
18:30
Foregate Complex
 
MONDAY,
18th DECEMBER
Secrets of the Advent Calendar
Window #18 opens!
18:00
Targ Węglowy Advent Gate

Secrets of the Foregate Complex
18:30
Foregate Complex
 
TUESDAY,
19th DECEMBER
"Wrap Your Gifts!" Present-wrapping Workshop
16:00-19:00
Santa's Workshop

Rudolph's Christmas Challenges
17:00
Targ Węglowy Stage

Children's Christmas Carols
Performed by children from the Pomeranian Art Studio Puls
18:00
Targ Węglowy Stage

Secrets of the Advent Calendar
Window #19 opens!
18:00
Targ Węglowy Advent Gate

Secrets of the Foregate Complex
18:30
Foregate Complex

"Among the Silence" Concert
Christmas Carols by the Choir of the Medical University of Gdańsk / Conducted by Błażej Połom
19:00
Targ Węglowy Advent Gate
 
WEDNESDAY,
20th DECEMBER
Christmas Tree Decorations Making Workshop
16:00-19:00
Santa's Workshop

Christmas Karaoke
17:00 - 20:00
Targ Węglowy Stage

Giga Elves Take Over the Fair!
17:30-19:30
Wandering around the Christmas Fair

Secrets of the Advent Calendar
Window #20 opens!
18:00
Targ Węglowy Advent Gate

Secrets of the Foregate Complex
18:30
Foregate Complex
 
THURSDAY,
21st DECEMBER
Welcome, Saint Nicholas!
16:00-18:00 Santa's Workshop
18:00-19:00 Targ Węglowy Stage

"A Christmas Carol" Reading Competition for Children
17:00-18:00
Targ Węglowy Stage

Secrets of the Advent Calendar
Window #21 opens!
18:00
Targ Węglowy Advent Gate

Secrets of the Foregate Complex
18:30
Foregate Complex

Rudolph's Christmas Challenges
18:30
Targ Węglowy Stage
 
FRIDAY,
22nd DECEMBER
Decoupage Art Workshop
16:00-19:00
Santa's Workshop

Rudolph's Christmas Challenges
18:00-19:00
Targ Węglowy Stage

Secrets of the Advent Calendar
Window #22 opens!
18:00
Targ Węglowy Advent Gate

Winter Dance DJ set
18:00-20.00
Targ Węglowy Stage

Secrets of the Foregate Complex
18:30
Foregate Complex
 
FRIDAY,
23rd DECEMBER
Welcome, Saint Nicholas!
14.00-18.00
Targ Węglowy Stage / The Great Armoury

Rudolph's Christmas Challenges
15:00-18:00
Targ Węglowy Stage

Secrets of the Advent Calendar
Window #23 and #24 opens!
18:00
Targ Węglowy Advent Gate

Secrets of the Foregate Complex
18:30
Foregate Complex