It's never too early to start thinking about Christmas and, if your planning to spend some time in Poland around this time of the year, then a visit to the Gdańsk Christmas Market should be in your calendar. The Market will open on the 1st of December and stay open till the 23rd. Every year one can expect new attractions at the fair. This time it will be a beautiful, two-level Gdańsk Carousel and Food Court. The list of attractions is overwhelming! Throughout December, Targ Węglowy (Eng: The Coal Market) in the picturesque historic centre, Gdańsk Old Town, will turn into a quaint Christmas village offering decorations and treats galore, woollen scarves and socks, handmade jewellery, children's toys, mulled wine, hot cider and steaming portions of Polish food.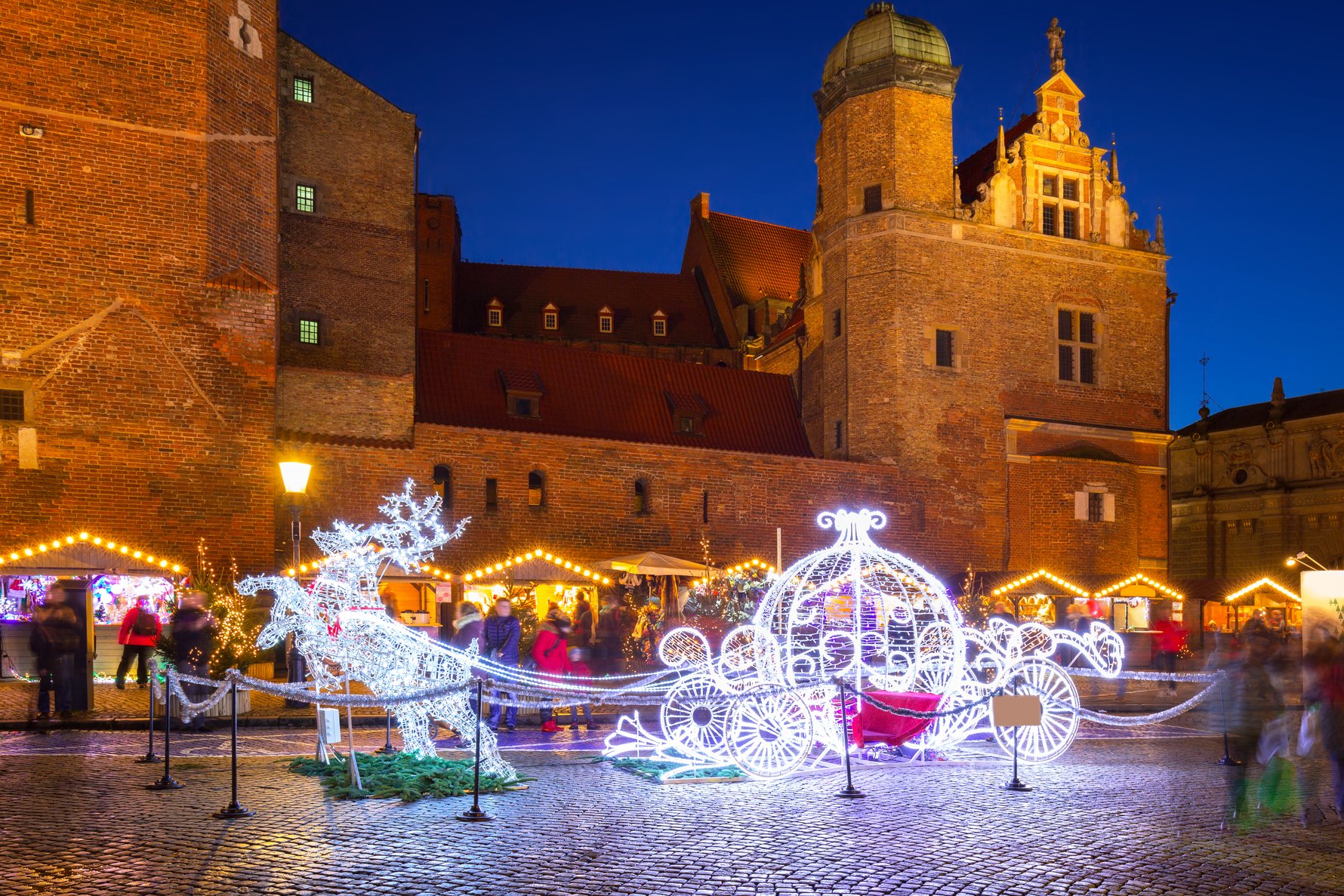 What to Eat at Gdańsk Christmas Markets?
From the range of traditional Polish cuisine that you'll find at the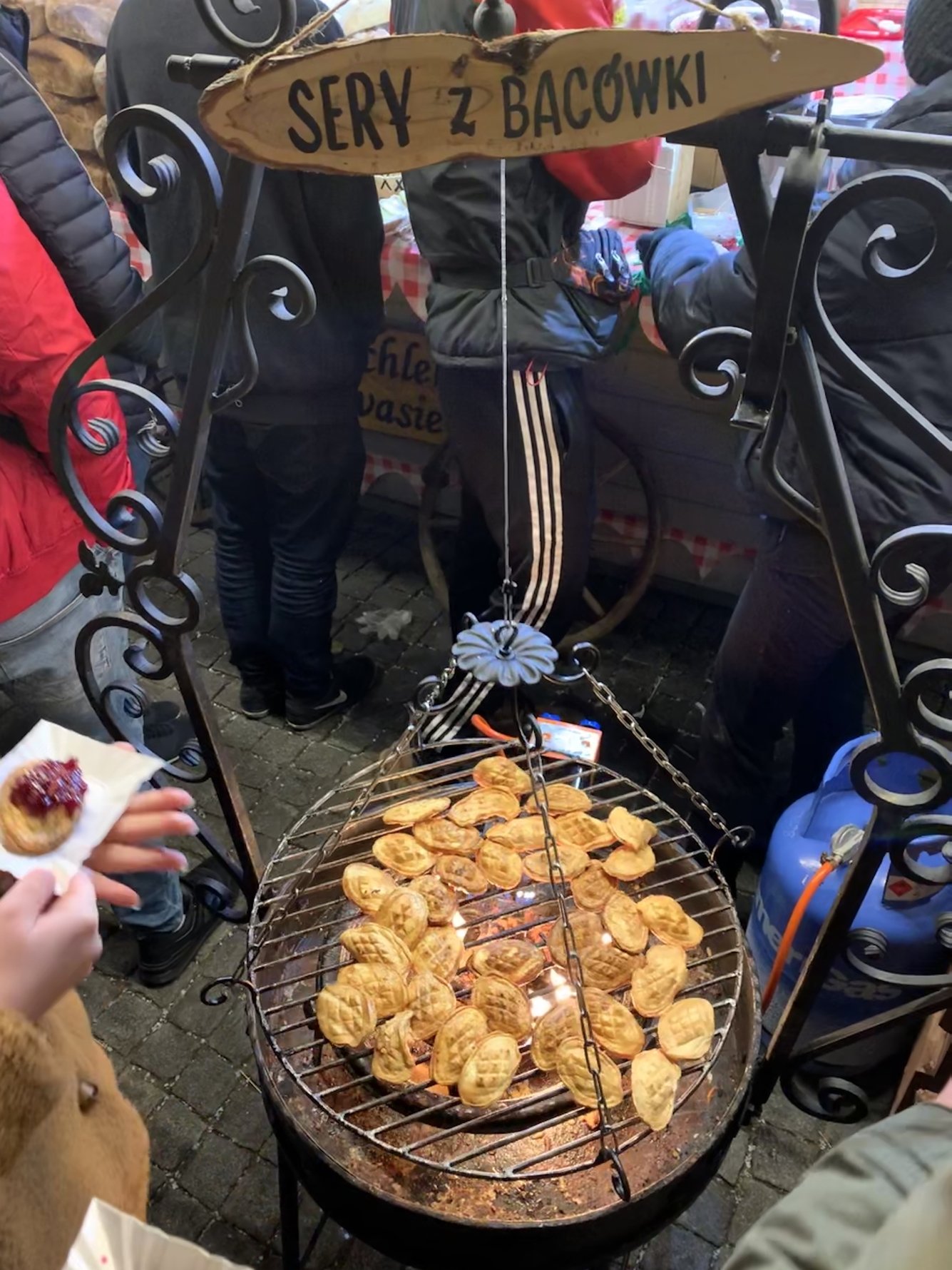 Christmas Markets, servings of Oscypki (Eng: Smoked Cheese), Pierogi and Grilled Meat from one of the BBQ stations are standard fixtures. On the latter, hardcore meat-lovers may want to enquire about Kaszanka (Eng: Black Pudding / Blood Sausage). If you want something a little more balanced (fibre is important on evenings like this), try some Bigos (Eng: Hunter's Stew) which is actually not as wet as it sounds - shredded sour cabbage with chopped meat. Those searching for something more exotic will find a Tatar food stall, which offers foods from the Central Asian republic. Burgers, chip-sticks and other Americanised-standards can also be found.  Each to their own... however we'd love you to be adventurous!

On the sweeter end of the palate, Ginger Bread makes a big appearance at Christmas time, but you'll spot other standards like Gofry (Eng: Waffles) which come with a number of toppings. Another notable non-Polish indulgence are the Hungarian Kurtosze stalls that sell Chimney Cakes - steamy, hollow dough-tubes, baked and covered in sugar and cinnamon or chocolate and nuts. 
What to Drink at Gdańsk Christmas Markets?
Christmas is the season of heated alcohol! A pint of Hot Beer (Polish: Grzane Piwno) sounds fairly self-explanatory, though it is curiously-spiced with artificial ginger syrup, clove, cinnamon and other mulling spices. For some an acquired taste, for others an early Christmas present and others still an utter profanity, but an invention necessary for everyone to try at least once. There are a couple things to consider with regards to hot beer: Firstly, it takes a while (5-10 minutes) to properly heat the drink without exploding it, so prepare to wait and be patient. Secondly, there is a tendency to immediately stab a straw into the glass to mix the syrup at the bottom throughout the drink. If the beverage is too hot this will result in it erupting all over you. This common rookie mistake is an event many twisted bartenders wait for with relish; you can avoid it by simply letting your drink cool slightly and gingerly testing its reaction to the straw. (We're telling you this to save you some face. Ours has had egg on it too many times.) Similarly popular is Grzane Wino – or Sweet Mulled Wine – which you'll find is suddenly okay to drink in public places once the holidays come around and barrels of it dispensed on Poland's market squares. You can also order it at the bar and even buy it in the shop and heat it up at home - a popular brand is Grzaniec Galicyjski. If you're looking for something with a bit more kick, take note of Polish flavoured-vodkas like Nalewki, Krupniki and others here!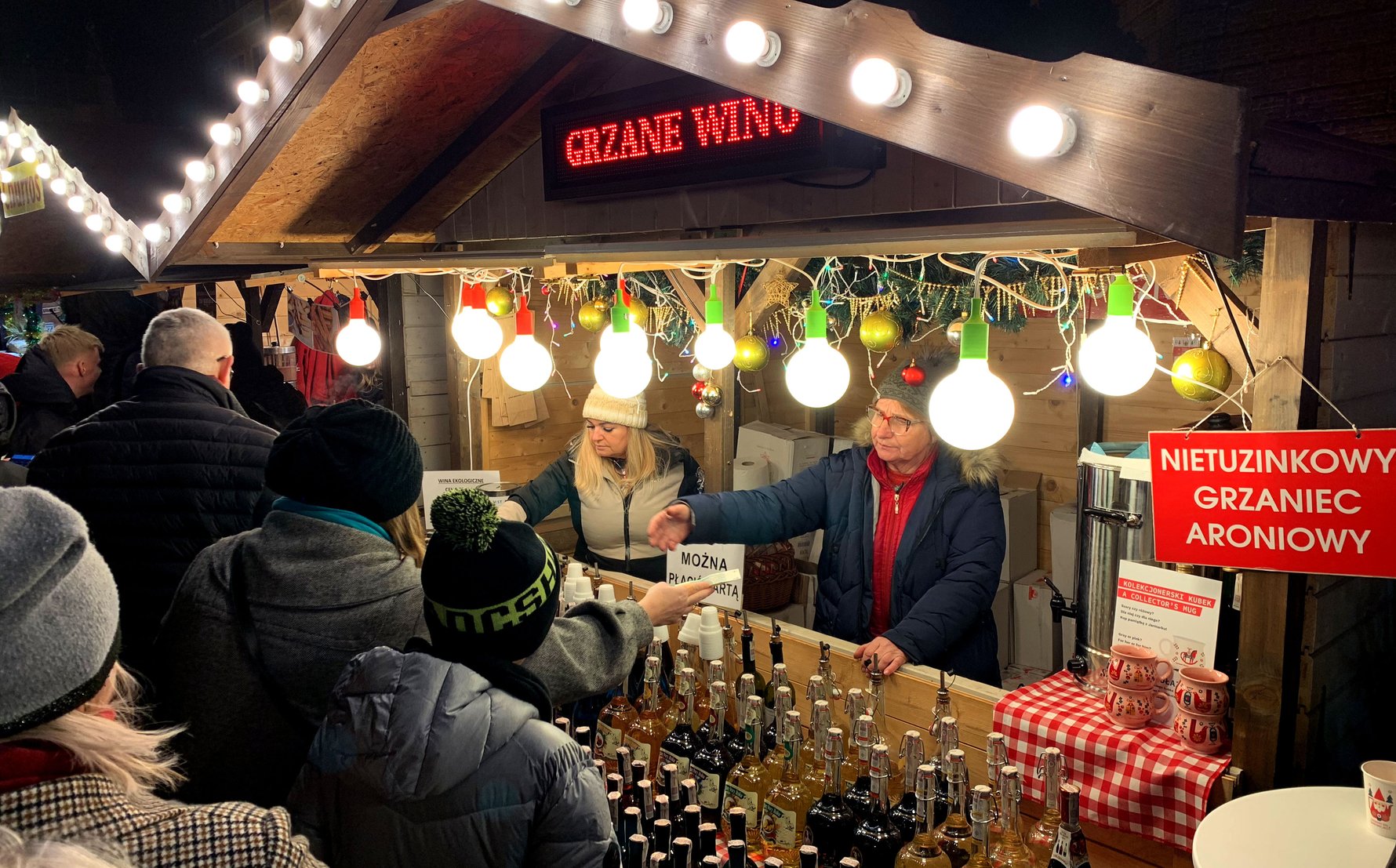 What's on at the Gdańsk Christmas Market?
Most of the days the Market will be open from 11 am to 7 pm. The market stays open for an hour longer on Fridays, Saturdays and Sundays.

Dec 1st - The Christmas month kicks off with The Elves Parade from 5 pm to 6.30 pm, the light show at 6 pm and 8 pm, sledding competition at 4 pm.
Dec 2nd - Light show; 6 pm, 8 pm.
Dec 3rd and 4th - Elves Parade.
Dec 5th - Santa Claus lights the Christmas Tree at 5 pm.
Dec 6th - An evening with Santa Claus; 5-6.30 pm.
Dec 8th - Search for Santa Claus 1-6 pm
Sledding competition 4 pm
Light show; 6 pm, 8 pm.
Dec 9th - Light show; 6 pm, 8 pm.
Dec 10th to 13th - The Winter Snow Queen's retinue; 5-6.30 pm.
Dec 15th - Search for Santa Claus; 1-6 pm
Angels play for the hospice 3 pm
Christmas carols; 3.30 pm
Light show; 6pm, 8 pm
Sledding competition; 4 pm
Dec 16th - Search for Santa Claus 1-6 pm, light show; 6 pm, 8pm.
Dec 17th to 20th - March of the Carol Singers; 5-6.30 pm.
Dec 22nd - Search for Santa Claus; 1-6 pm
Sledding competition; 4 pm
Light show; 6 pm, 8 pm.
Dec 23rd - Search for Santa Claus; 1-6 pm
Light show; 6 pm, 8 pm
Christmas Eve at Long Market; 4 pm.