Appealing to the ever-growing digital nomad workforce of creative entrepreneurs, freelancers and telecommuters, more and more Joburgers are ditching the classic office model for the conveniences of co-working. Offering convenient perks like meeting rooms and free printing plus great networking events and skills workshops and lots of opportunities to socialise with people from beyond your immediate industry, for an increasing number of people hot-desking and flexible office spaces are the future of work.

Co-working spaces are also particularly appealing to business travellers, and with Johannesburg being the corporate and economic capital of southern Africa, this city has no shortage of visitors for whom a day or a week spent hotdesking while in town on business makes an awful lot of sense. While good coffee, a plug point and a stable wifi connection is enough for some to turn any busy coffee shop into an office for the day, renting a desk at a co-working space is the smarter way to work.

Here's a look at five cool Joburg co-working spaces to suit every lifestyle.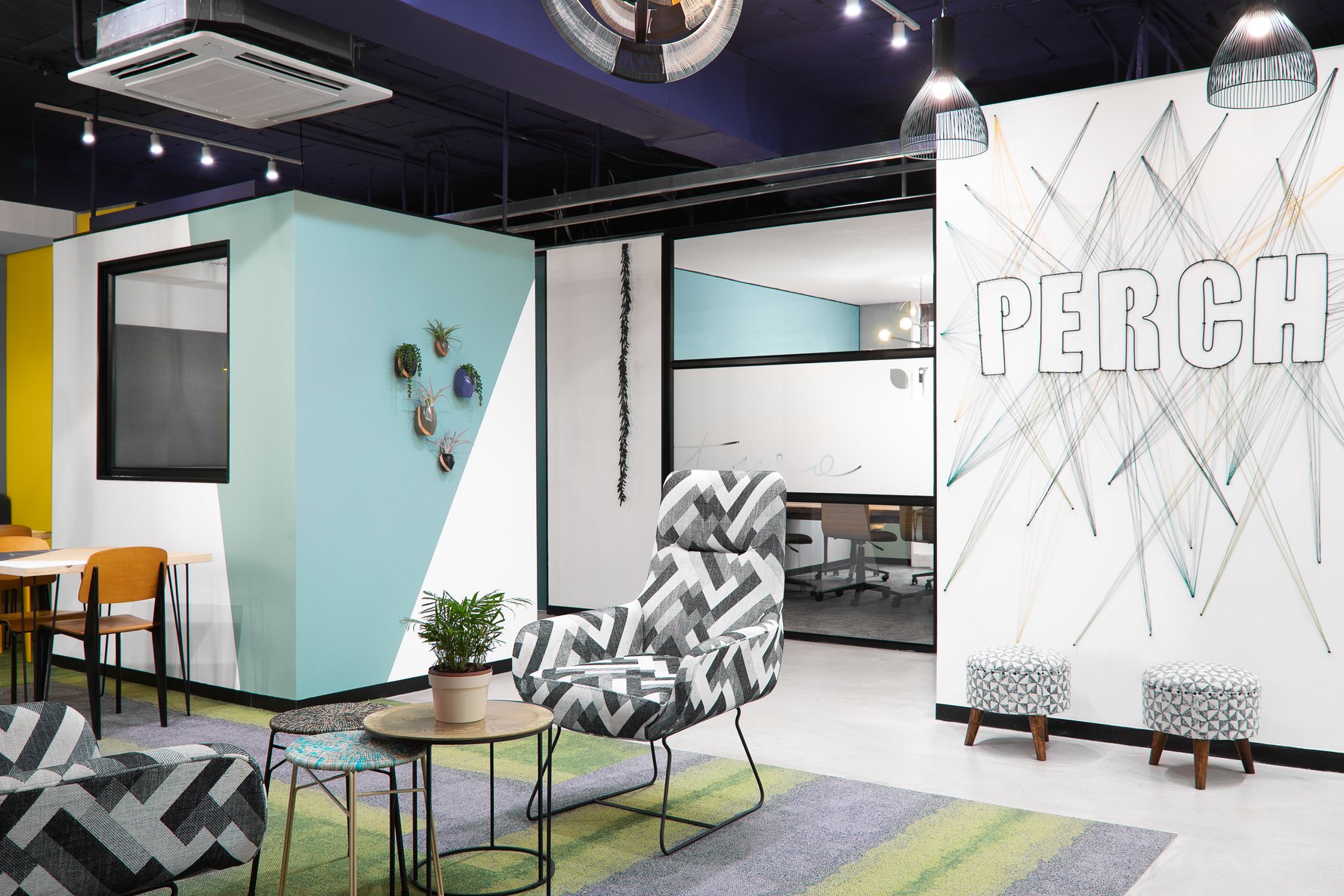 This popular Rosebank flexible office space describes itself as 'like gym for people who need to work'. Offering over 40 hot desks, 20 dedicated desks, 22 private offices and five meeting rooms as well as team booths, lounges and other breakaway areas for when you need to make a long phone call in privacy. Keeping things fun and fresh, the decor and design is bright, light and contemporary endowed with funky yet comfortable furniture and an enviable collection of artworks by top local artists hanging on the walls.

Perch's super-friendly team of office managers ensure that everything runs like clockwork and deftly create a friendly down-to-earth working environment that feels like being part of a 'community'. The regular programme of social and professional events is also a major plus, ranging from show and tell coffee mornings, to professional skills-sharing workshops and informal cocktail parties, all of which are free. For coffee or lunch there's the Clipboard Society Cafe coffee bar with a choice of snacks and an order-in lunch menu, or the Rosebank Mall is just a five-minute walk away.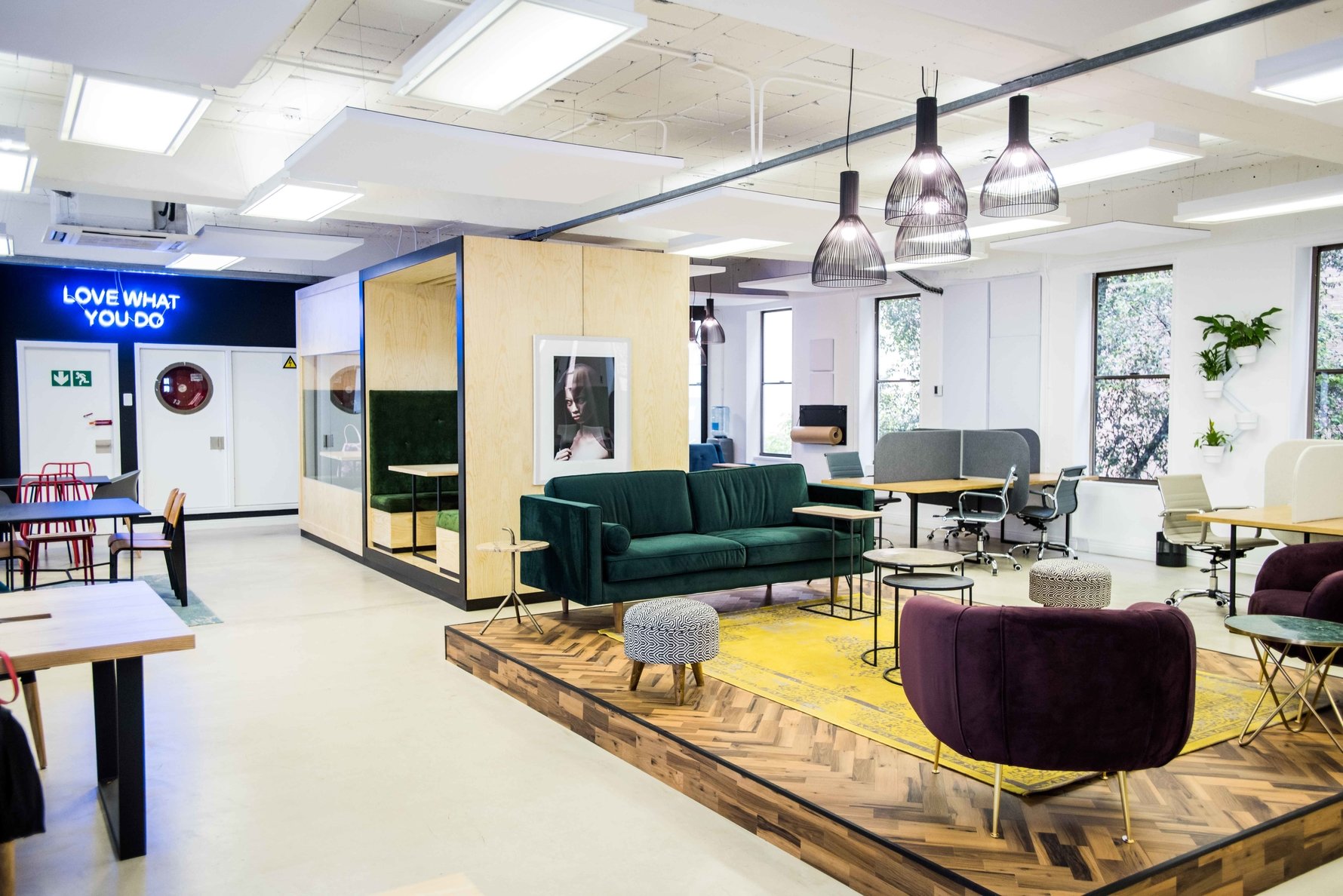 POPULAR WITH: Freelancers, small businesses, professional consultants and people working in creative industries such as media, marketing and design. Flexible membership packages and day rates also make Perch a very popular space with business travellers and those who are self-employed part-time.

PRICES: Dedicated desks with 24/7 from R3,200 per month, hot desking from R2,000 per month or R1,000 for a week. Pay-as-you-go day rate R250. 
LOCATION: 37 Bath Ave, Rosebank
FIND OUT MORE: perchoffices.co.za Africa's first curated members' club is a super-stylish and exclusive work and play space for budding and established entrepreneurs. Taking up one floor of the landmark Trumpet building along Keyes Art Mile in Rosebank, the space is designed for both working and networking with a mix of public and private areas, small office spaces, meeting rooms and hot-desking facilities. Other amenities include a screening room, lounge, dining area, coffee station and an acclaimed cocktail bar Mix. With Keyes Art Mile being a centre for art and design, MESH Club has been designed around an outstanding art collection featuring murals by New York-based South African artist Louis de Villiers (also known as Skullboy) and Jane Alexander's astonishing sculpture Serviceman 1994. 

There's not much they haven't thought of including lighting designed around circadian rhythms, ensuring the space follows your body clock and urge for a different pace of activity throughout the day. There's a community manager to provide information on members, ensuring you'll never find yourself in the awkward position of not knowing who someone is, and a concierge managing regular members' events which might include anything from a wine tasting evening to a movie screening.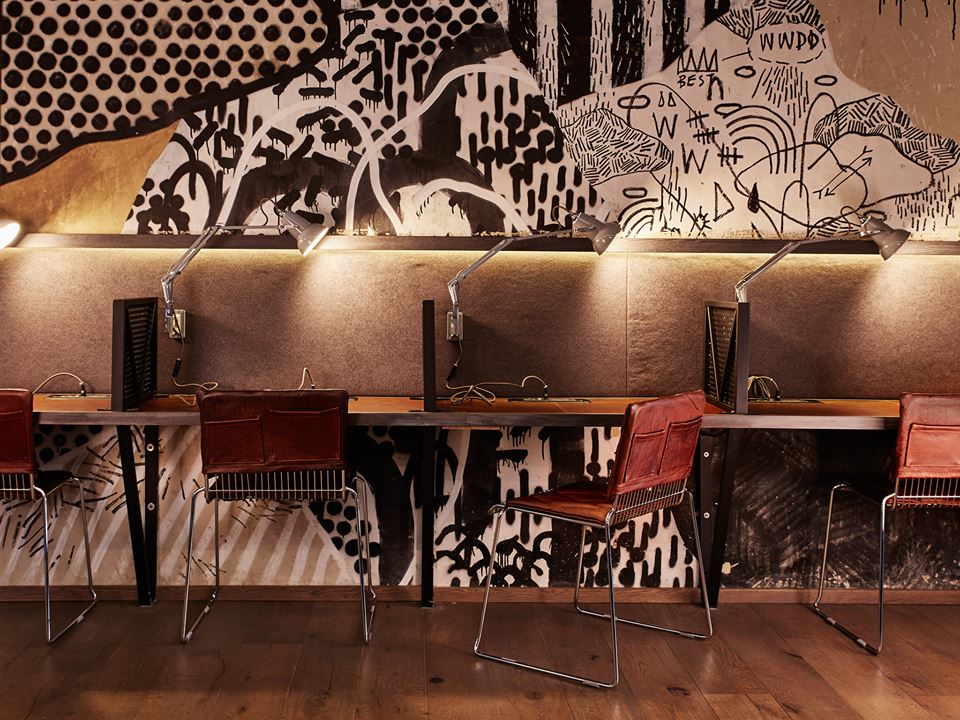 For those who like to travel in style, a major perk of a Mesh Club membership is the club's reciprocity agreements that also give you access to stylish members clubs in New York, London, Paris, Budapest, Madrid, Stockholm, Singapore, Mumbai and Cape Town.

POPULAR WITH: Joburg's creative crowd, particularly those work in media and entertainment and the arts and culture industries.

PRICES: Hot-desking membership from R3,891 per month, dedicated desks from R5,950 per month.
LOCATION: 21 Keyes Ave, Keyes Art Mile, Keyes Ave, Rosebank
FIND OUT MORE: www.meshclub.co.za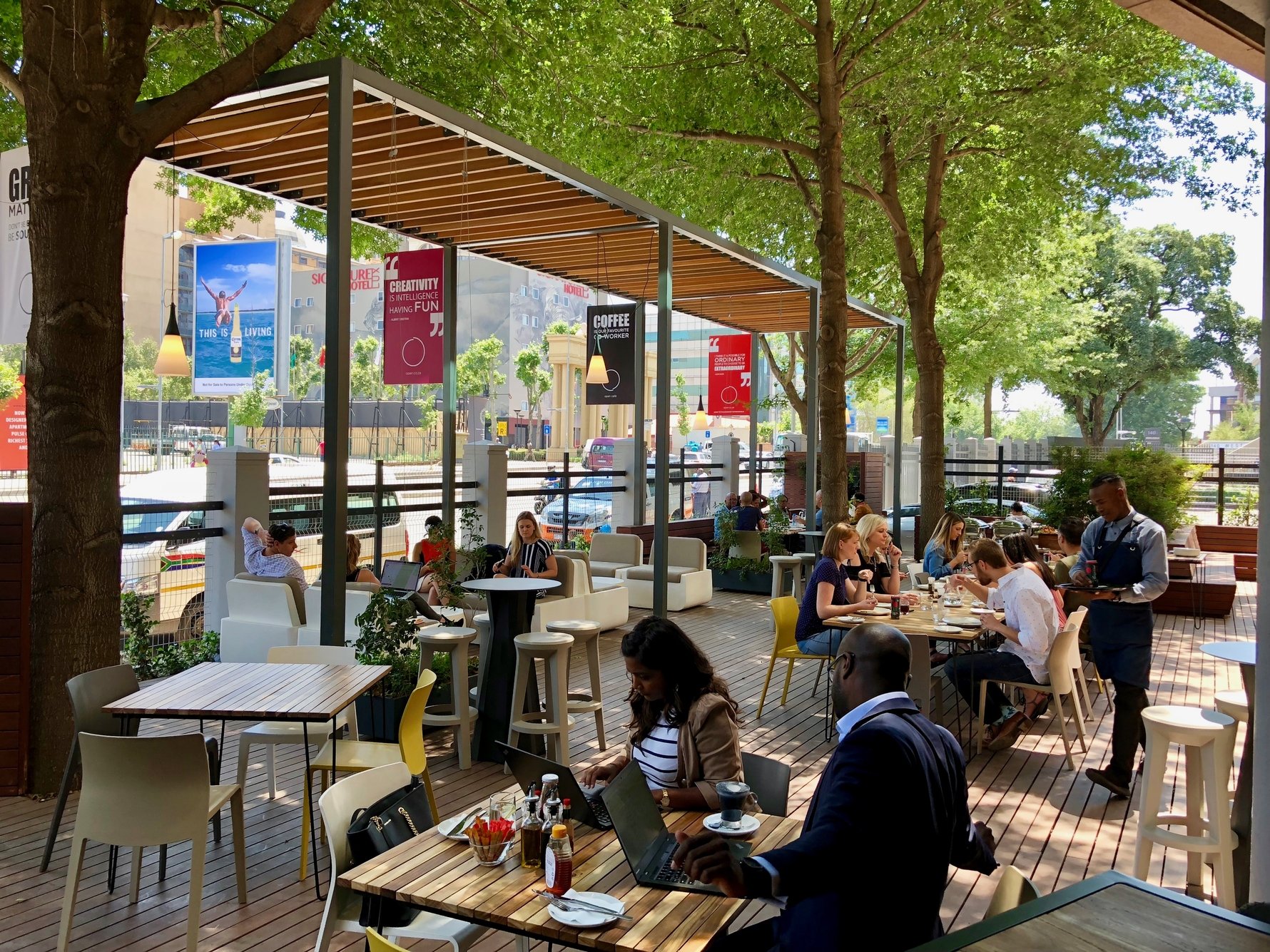 This chic South African co-working brand has three Joburg locations, plus four offices in Cape Town and runs on a membership model meaning that Workshop17 members can access any of their numerous South African co-working spaces. Membership plans are flexible and there's also the option to simply pay per day (day use starts from R280) without becoming a member or to buy a five, ten or twenty-day hot desk package.

Workshop17's beautiful Rosebank co-working space is located at Firestation Rosebank, a stylish redevelopment of the historic Art Deco Rosebank fire station. The building boasts spectacular views from the rooftop terrace and enticing ground floor co-working areas that open out onto a patio facing into the tree-lined Bath Avenue. Another added bonus of the Rosebank branch is the excellent cafe downstairs, Brik, which serves inventive contemporary fare with lots of delicious vegetarian and vegan options paired with a good boutique wine menu.

The Sandton Central branch at 138 West Street has 210 hot desks as well as meeting rooms and 24 'silent' hot desks for when you need quiet time to focus and chase that deadline undistracted. There's also a purpose-designed auditorium which is used as a venue for regular industry talks and launches and a lively cafe-bar terrace, Fudio, that is positively buzzing come 4pm with people sipping wine while they wait out the rush hour traffic. Workshop17's third location is situated in the downtown Maboneng Precinct and has 120 hot desks.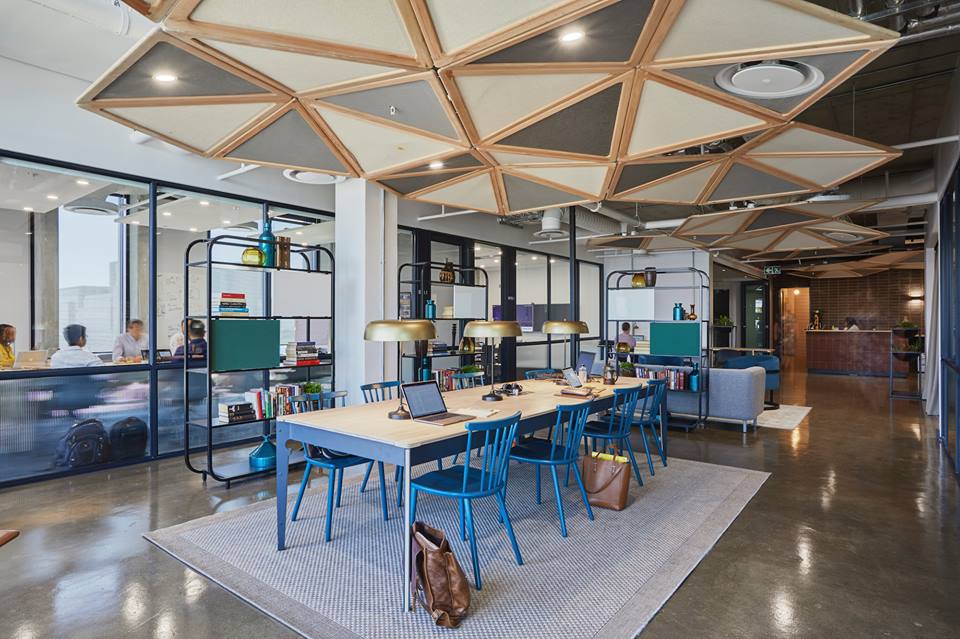 POPULAR WITH: Anybody who needs to commute between Cape Town and Joburg regularly for work. The Sandton location is ideal for anybody looking to be close to the city's corporate heartland with the option of excellent meeting spaces to link up with clients, while the Rosebank office has become very popular with corporates who want to set up project teams.

PRICES: R282 per day, R1,242 for a five-day package, R2,300 for a ten-day package, R4,370 for twenty days (you can use days as and when you need to). Hot-desking memberships start from R2,220 per month. 
LOCATIONS: Firestation Rosebank, 16 Baker St, Rosebank / 138 West St, Sandton Central / 20 Kruger St, Maboneng
FIND OUT MORE: workshop17.co.za
JOZIHUB
Describing itself as a 'co-creation' space, this flexible office space at the delightful boutique shopping and lifestyle centre 44 Stanley (situated between Melville and the City Cente) is aimed squarely at entrepreneurs, particularly those working in information technology, design and social change. Jozihub has its own startup support programme and offers mentorship opportunities as well. For hot desking, you have the option of becoming a resident workspace member with 24/7 access or opt to become a pay-per day 'ad hoc' workspace member. You can also hire Jozihub's meeting rooms and function areas for workshops, launches and other professional events whether you are already a member or not.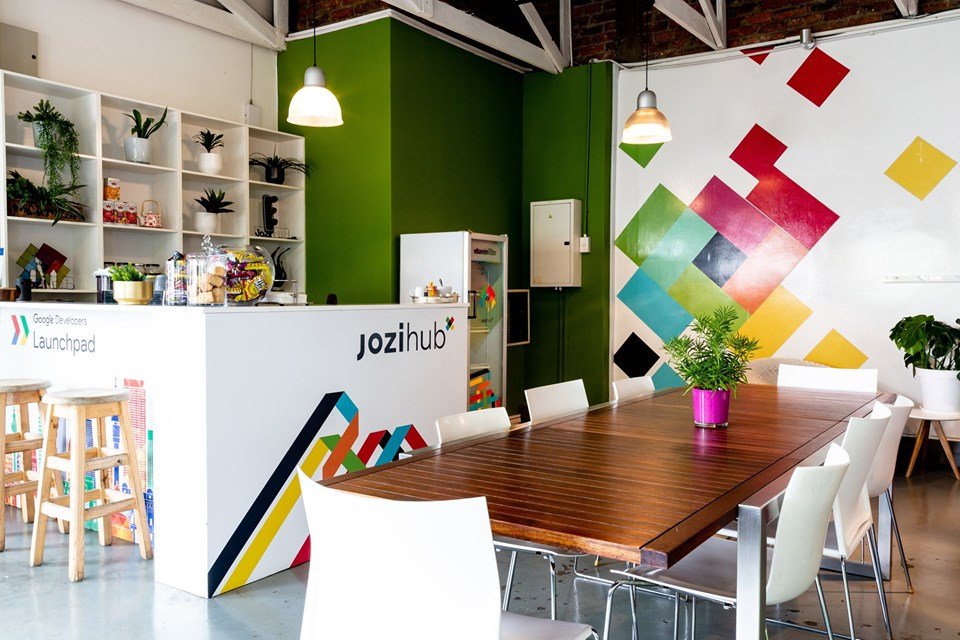 POPULAR WITH: Startups and entrepreneurs working in the tech industry and those who are involved in academia (44 Stanley is located between the UJ and Witwatersrand university campuses).

PRICES:  Resident workspace member R850 per month, ad hoc R100 per day
LOCATION: 44 Stanley, 44 Stanley Ave, Milpark
FIND OUT MORE:  jozihub.org
WEWORK
The American co-working giant WeWork arrived in Johannesburg in early 2019, opening its first offices at the Rosebank Link building opposite the Rosebank Gautrain station. WeWork has more than 280 offices in more than 80 cities worldwide and for people who frequently have to travel overseas for work, the biggest perk of a WeWork membership is the possibility to use WeWork offices in other parts of the world. Meanwhile other famous WeWork member perks include free barista-made coffee, access to the global WeWork social network, free beers and 'Taco Tuesdays'.

Their huge offices in Rosebank are spread over six floors with lots of small 'private offices' as well as dedicated desks and hot desks, all with access to the WeWork community areas. WeWork also have a building in Sandton Central at 155 West Street which is due to open by 2020.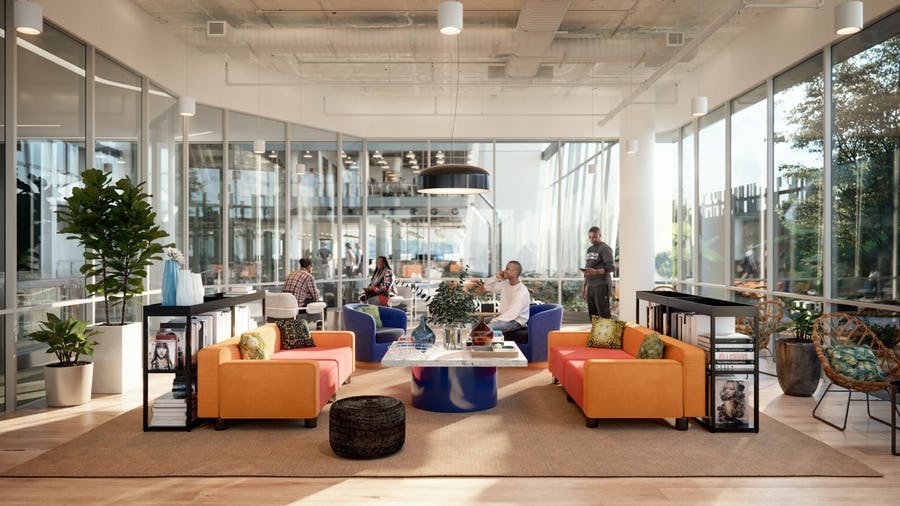 POPULAR WITH: Business travellers who frequently travel overseas for work. WeWork's larger work areas are also popular with companies needing larger dedicated office spaces for big teams working on temporary projects.
PRICES:  Dedicated Desks start from R3,630 per month, hot-desking in the open workspace common areas from R2,860.
LOCATION: Rosebank Link, 173 Oxford Rd, Rosebank
FIND OUT MORE:  wework.com