Tucked away on the busy Jan Smuts Avenue in Parkwood, Che Argentine Grill is one of only two Argentine restaurants recommended by the Argentinian Embassy in South Africa. You know it has got to be legit. Originally starting off as an empanada stand at Joburg's food markets, Che has expanded to an Argentine institution for Joburgers, originally located in Maboneng and now based in Parkwood. 

Che Argentine Grill is much more spacious than it looks from a glance from the street. The dining room is expansive and leads to a patio with hanging lights, perfect for a Che's Caipirinha sundowner, tapas, and getting some great pictures during the late afternoon golden hour. The open kitchen sends delicious wafts of the aroma of grilled meat your way no matter where you're seated.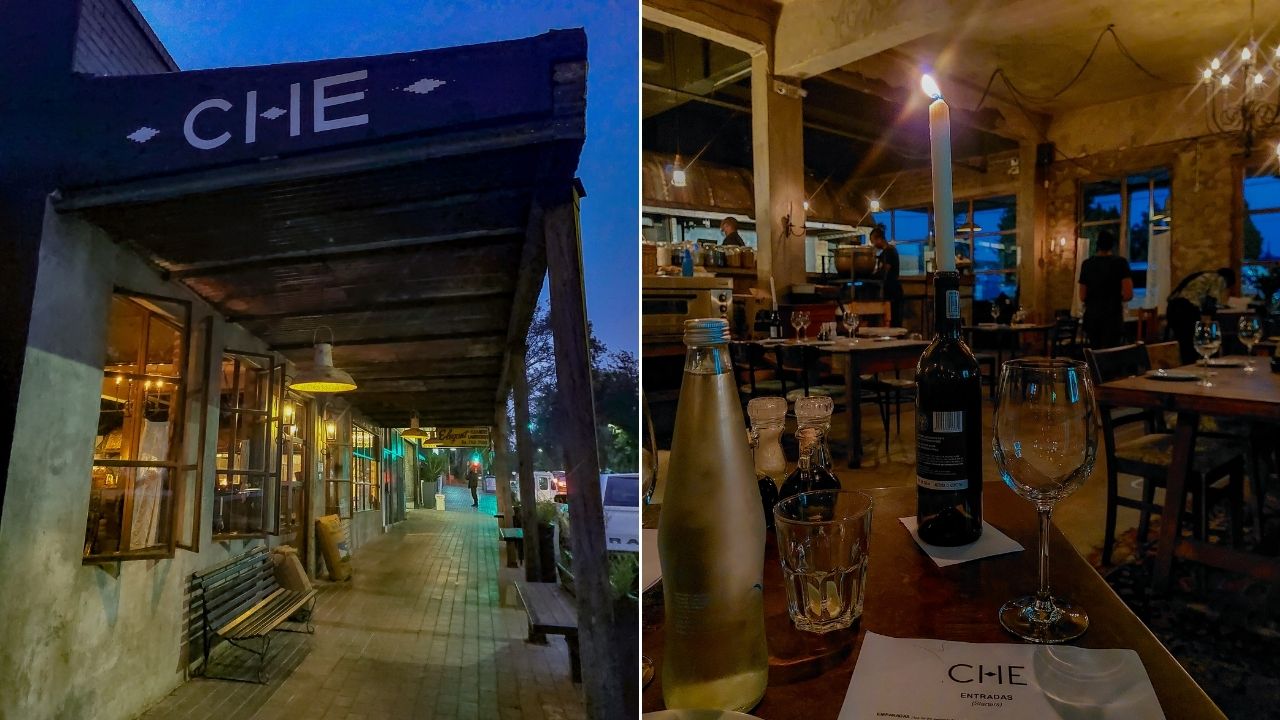 We recommend heading to Che for a late lunch or dinner. The dim lighting (most of the restaurant is illuminated by candles) and an old-fashioned film reel playing in the background provides a soft and romantic touch to the evening. Whether you're with friends or someone special, you're guaranteed a memorable time, that atmosphere just has that special something to it. 

Start the evening with some sourdough bread and the house Chimichurri, a bright Argentinian sauce made with parsley and other herbs. Keep this sauce to pour on everything! A visit to Che wouldn't be complete without enjoying some empanadas for starters too. These authentic pastries bring all the flavours from chefs Oscar and Bernardo's native Argentina. The beef empanadas are a classic, but surprisingly chicken had even more flavour.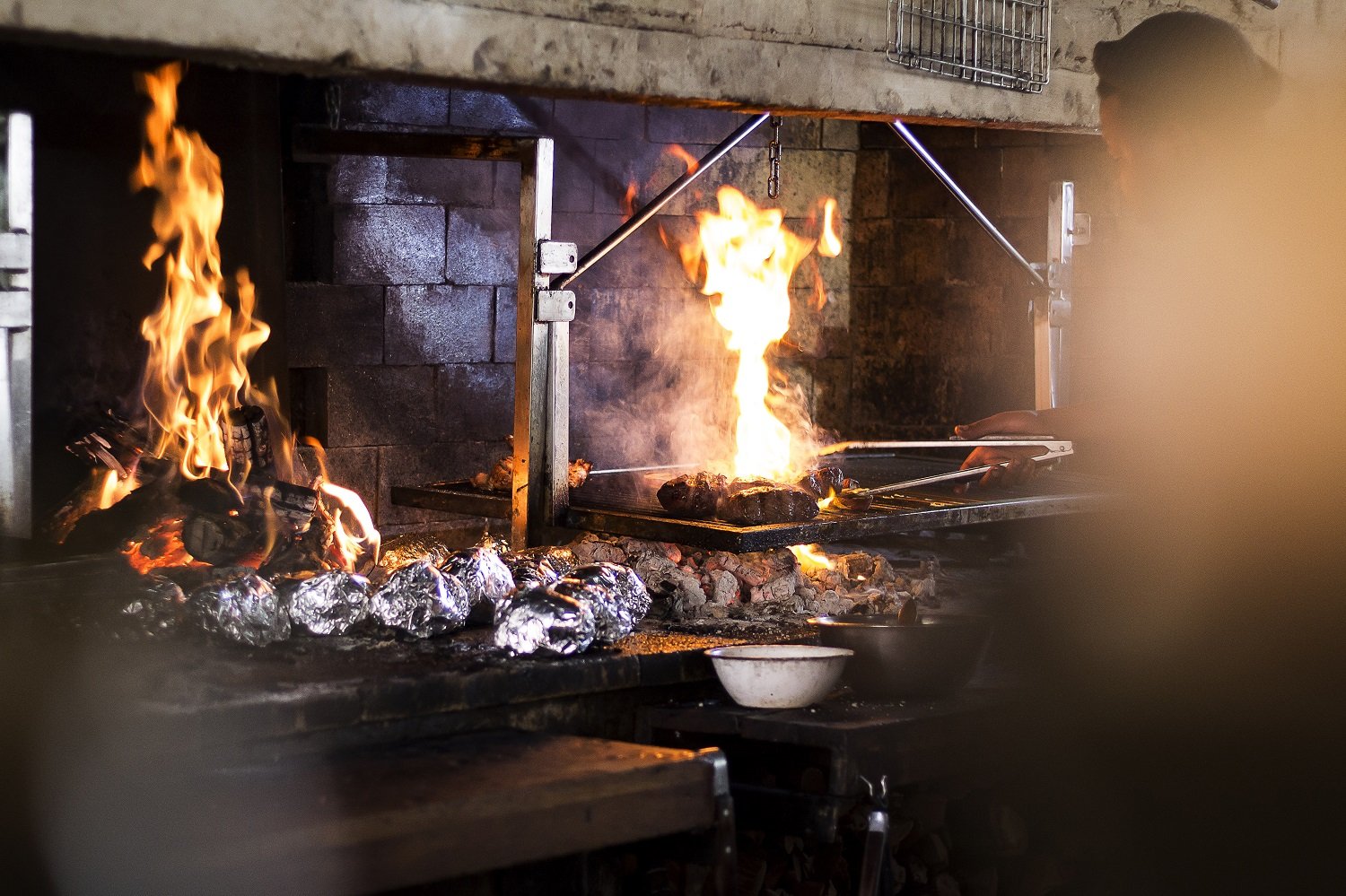 With nine steak options to choose from, Che is a paradise for meat-lovers. We enjoyed the Asado (short ribs) – grilled to a perfect medium, bringing out all the flavours and the Arañita (spider steak), which was juicy and tender. Spider steak, you ask? This is just one of the few spots in Joburg that offers this cut from the inner part of the hip bone. Steaks are accompanied by a tasty cauliflower sauce, papa fritas a la Provençal and a salad. The garlic and parsley topping on these fries was so good and they are worth choosing as a side option no matter what else you're ordering. 

The Che service staff are attentive and very knowledgeable about all the dishes. Not sure what kind of steak you're in the mood for? Definitely ask for a recommendation about what's particularly good that day. If you're not feeling up to the full red meat experience, the fish of the day and chicken dish of the day are also options that will satisfy your hunger.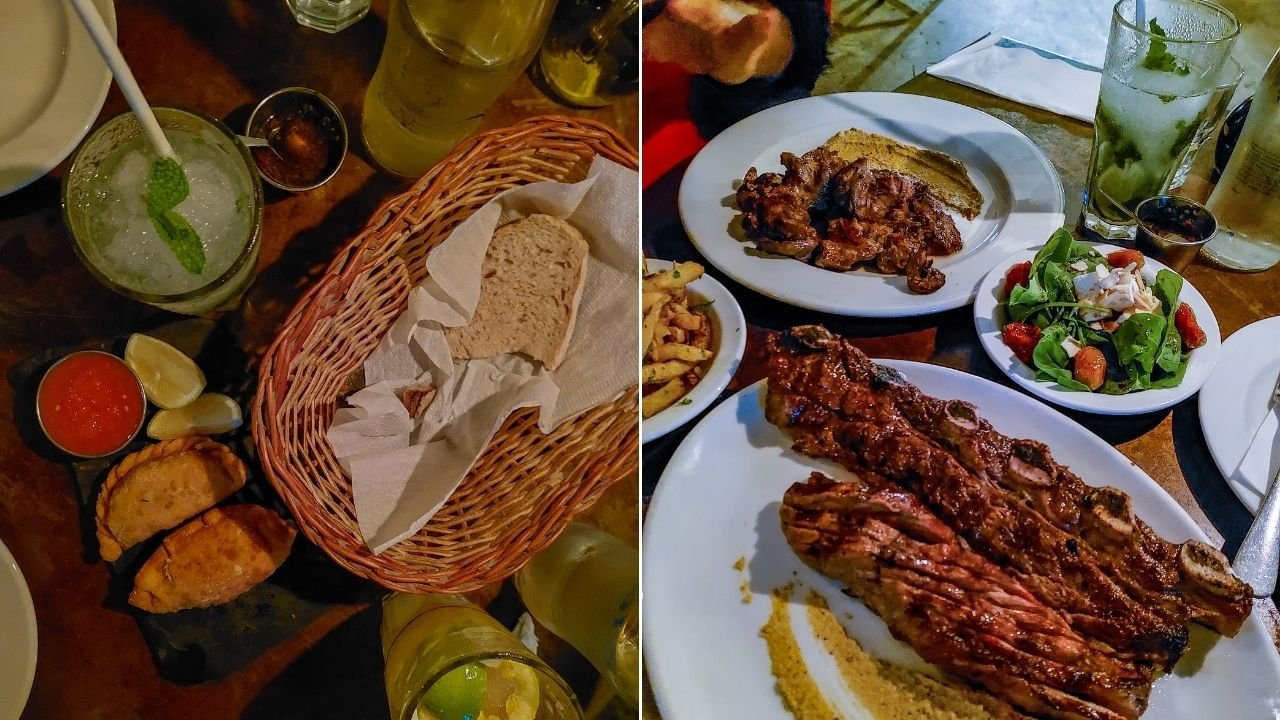 It's not all meat. Vegetarian folk will also enjoy Che. There are a number of starter options (including vegetarian empanandas), a range of tapas, and tasty sides that when all added up are plenty to satisfy a vegetarian. From the mains the ravioli filled with spinach, ricotta and walnuts, served with Napolitana sauce also sounds like a winner. 

Save room for dessert. Churros are a standard offered at Che, but those looking for something unique (and less sweet) will love the Alfajor Helado; dulce de leche cream encased in a biscuit crumble and topped with a chocolate glaze and mixed berry sauce. So very good. You may not want to share this dessert… 

With a meal for two costing around R700, make a reservation and plan to splurge even more for some speciality Argentinian wine too. You can also find Che continuing to honour its food market roots with stalls at some of the best markets around town including The Playground in Braamfontein (on Saturdays) and Fourways Farmers Market in Modderfontein (Saturday and Sunday). 

*Our reviewer, @thescribsandnibs (Attiya Sayyed) was invited by the restaurant. The views expressed in this review are her own. Follow the Scribs and Nibs travel and food blog online at thescribsandnibs.com.