The Peech boutique hotel, located amid the quiet tree-lined streets of Melrose (a short walk from Melrose Arch) has never looked better since its inception in 2004. Named for owner James Peech (who together with his wife Vicky run the property) the 32-room boutique hotel prides itself on its environmentally conscious ethos, personalised service, the feeling of privacy and space that each room offers and award-winning contemporary design. 

Originally a heritage house, The Peech Hotel expands out into two acres of lush gardens, a mini Eden in the suburbs, filled with birdsong.

There are four different kinds of rooms; classic, suite, luxury and villa, all of which are tastefully decorated in a contemporary style where no item is superfluous. Even the clock doubles as a bluetooth speaker so you can create your own soundscape in your room. 

We love that The Peech Hotel has always embraced the idea of being a 'Joburg' hotel and celebrates its connection with the city and its many talented artisans by supporting small businesses. The walls are decorated with artworks by local artists (we love the delicate architectural drawings of Joburg landmarks by Shaun Gayland of Blank Ink Design), there are sculpted side tables and chairs by top furniture designer Houtlander and an all-round focus on supporting local craftsmanship.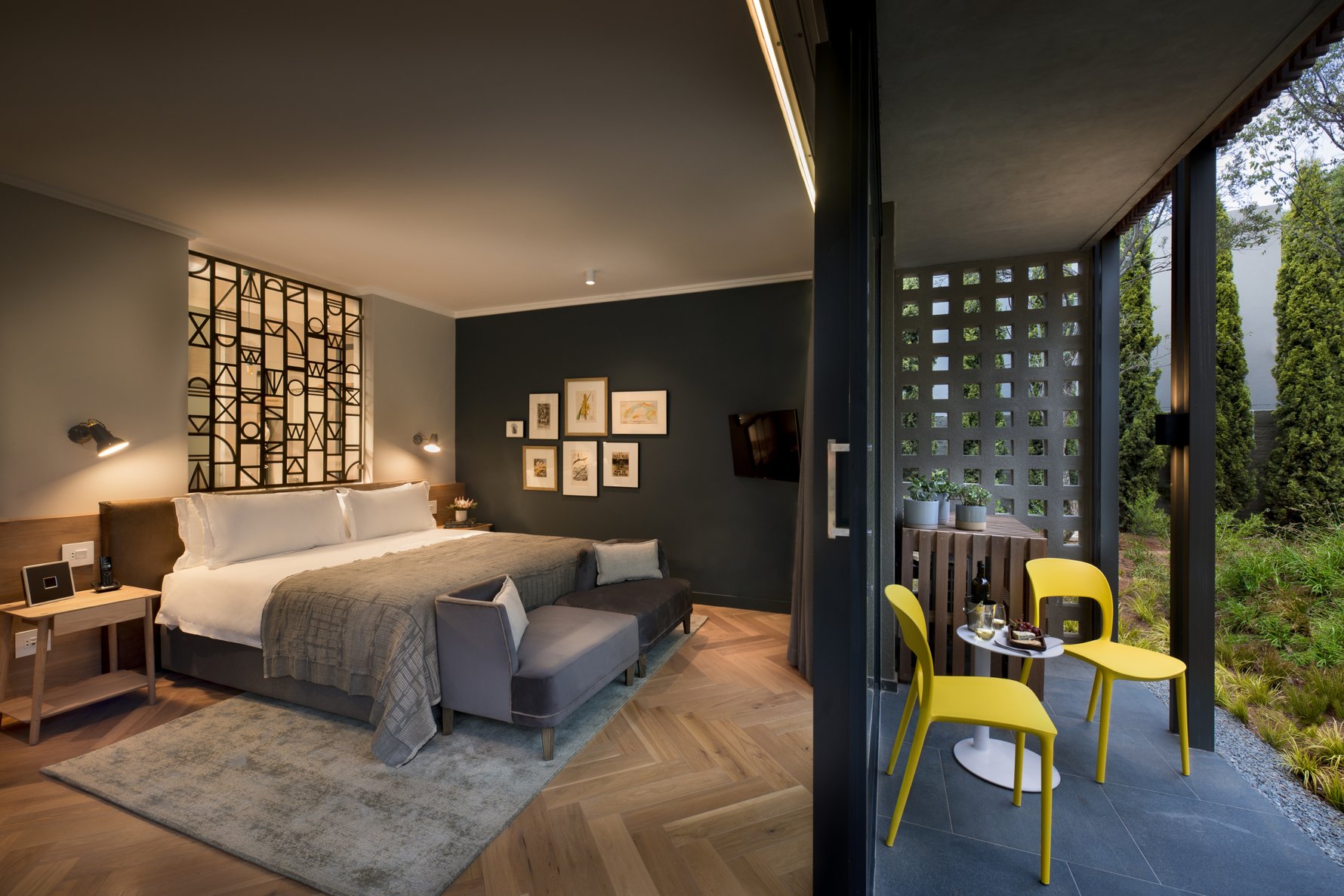 In the newer luxury rooms, which come with huge sliding glass walls that open out onto sheltered private patios, a​ standout feature is a screen that was handwoven by participants in an empowering skills craft programme at Bethany House, a shelter for abused women. The screen also has a functional element, serving as a divider to create a separate office space for a desk.

As well as the boundless sense of quiet and privacy, the magic of The Peech Hotel also lies in the personal touches. The team view each guest as royalty. Depending on your wishes, your favourite fruits will be waiting in a bowl in your luxury suite, extra vegetarian options added to the menu for you, a cold glass of water ready for your return from your run in the nearby park, your favourite reading chair waiting under the shade of a tree. And if you want to have lunch served at your sun lounger by the pool – why not? 

The Peech also has its own restaurant, The Garden restaurant (exclusively for in-house guests), which  is a casual venue with a patio that enjoys a leafy view and which serves lighter meals.
Meeting and events spaces
For our most recent visit to The Peech Hotel in February 2021, we spent the day working from one of the two fully-equipped meeting rooms. The boardroom comes complete with refreshments, 65'inch wall-mounted TV, flip charts, high speed wi-fi and like all of the spaces at The Peech Hotel, opens out into the gardens.

During the week The Peech Hotel also offers its spaces for smaller events. As with everything at this boutique property, every element of guest experience is carefully considered and top of mind is ensuring guests enjoy the tranquillity of the space. Hence events tend to be small and low-key gatherings such as micro-weddings or intimate product launches.